Axios Markets
June 23, 2023
😎 Summer Friday. You love to see it. Today's newsletter is 1,150 words, 4.5 minutes. Shall we?
1 big thing: States gang up on noncompetes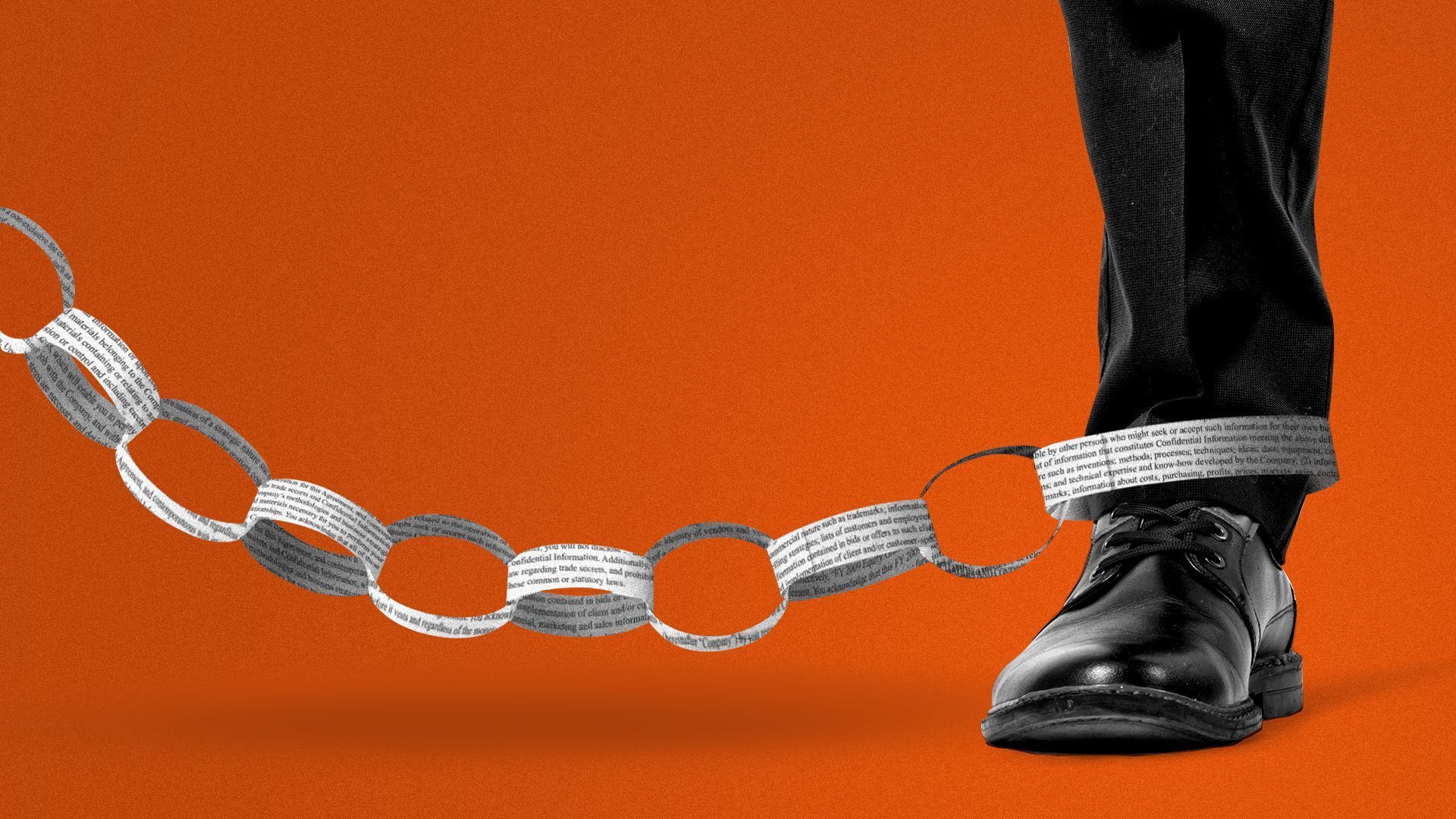 New York could become the latest state in the U.S. to ban noncompete agreements. A bill passed the state's Assembly earlier this week and is now on the governor's desk, Emily writes.
Why it matters: There's new energy around banning or limiting the use of these often-criticized agreements, which prevent people from working for a new employer for a period of time after they leave a job.
That new buzz is thanks in part to the Federal Trade Commission's proposal earlier this year to ban them nationally.
State of play: Minnesota passed a law banning noncompetes last year; it will go into effect July 1.
Washington, D.C.'s ban went into effect this year, making the agreements unenforceable for those earning less than $150,000 a year, or medical specialists who make under $250,000.
Nine other states, including Colorado, Illinois, and Oregon, have laws — all passed since 2019 — limiting noncompete agreements to higher earners.
Three states have had noncompete bans in place for more than a century: California (since 1872), North Dakota (1865) and Oklahoma (1890).
There's a feedback loop happening between the states and the federal government, "acknowledging that noncompetes in any way, shape or form are a real problem," said Pat Garofalo, director of state and local policy at the progressive American Economic Liberties Project.
Yes, but: It's unclear whether New York's Democratic governor Kathy Hochul will sign the bill into law — her office didn't respond to emailed questions.
"We hope the governor would veto," said Patrick Bailey, director of communications at the Business Council of New York, which represents about 3,200 businesses in the state.
Employers think the law would make it more difficult to retain talent, he said.
Catch up fast: Banning these agreements has been on the Democratic agenda since President Obama first urged the states to act in 2016.
The move to limit noncompetes, especially for entry-level or low-wage workers, comes after years of stories about how they were prevented from taking new jobs.
The FTC estimates that about one in five workers — 30 million people — are bound by these kinds of agreements.
One example: When a chiropractor in New York was fired from her job last year, her boss told her they would still enforce her noncompete — prohibiting her from working within a 25-mile radius of her employer for two years, according to testimony she gave on New York's legislation.
"So now, I am jobless, in a lot of student loan debt and not allowed to work within a 25-mile radius of my home," she said in prepared testimony.
What we're watching: The future of the proposed FTC ban is murky. Experts have told Axios that if enacted, it could get overturned in court.
But state laws — in place for hundreds of years without controversy — don't face the same kind of legal hurdles.
2. Catch up quick
3. Wall Street takes crypto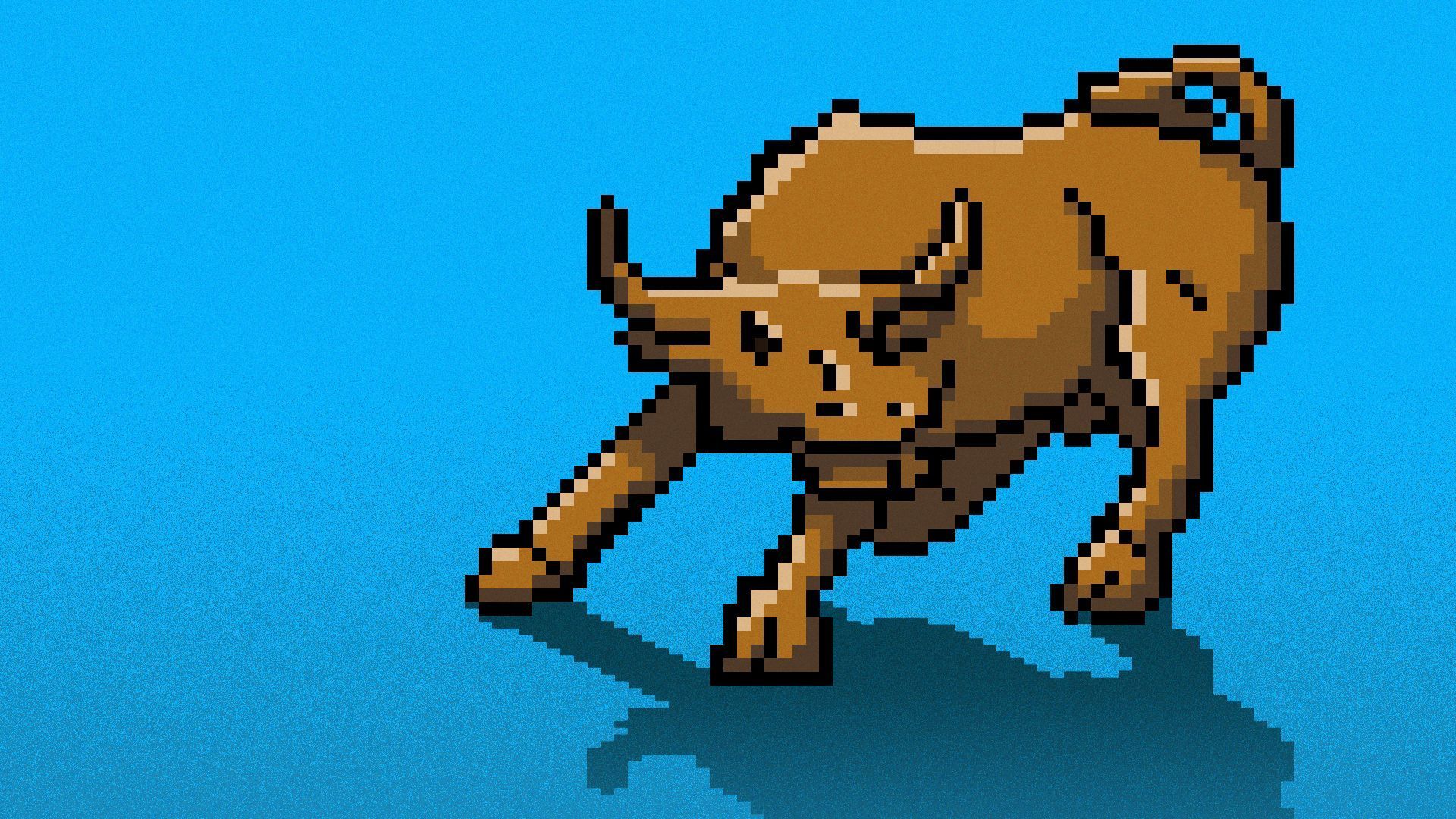 It may not seem like an opportune time to launch a crypto exchange — after all, the SEC just sued two of the largest ones, alleging they're illegal.
But here we are: EDX Markets, a new crypto exchange, just launched this week. It's backed by Wall Street bigwigs including Citadel Securities, Fidelity and Charles Schwab.
Why it matters: Big Money is still being wooed into crypto, only this time it's Wall Street firms — not crypto natives — doing the beckoning, Axios' Crystal Kim writes.
While the crypto natives are busy battling regulators, shutting down businesses, or slogging through bankruptcy proceedings, the group often derided by the OGs as "crypto tourists" is stepping in to fill a void.
What's happening: In addition to EDX, Cboe Digital this month got licensed to offer crypto futures trading on margin. Both services are for institutional investors only.
Meanwhile, WisdomTree's Prime app, slated to launch any day now, will allow customers to buy and sell, funds, bitcoin, ether and gold.
And BlackRock submitted an application for a spot bitcoin ETF last week.
The big picture: These new products and services are more Wall Street than crypto — they're regulated, and in some instances, limited to the well-heeled.
EDX's structure more closely resembles a traditional stock market than a centralized crypto exchange in several key ways — the most visible of which is that it doesn't take custody of customer funds.
WisdomTree's personal finance app, while open to regular folks, has a limited set of digital assets; it does not include alternative tokens implicated as securities in recent SEC enforcement actions nor the more speculative "dog coins."
The bottom line: Traditional finance firms may be the next big thing in crypto, at least according to John Palmer, president of Cboe Digital.
4. Charted: WFH 4 ever
With the pandemic long behind us, evidence continues to mount that working from home will be a lasting feature of the American economy, Matt writes.
Why it matters: It's hard to overstate the importance of the fact that more than one-third of American workers aren't schlepping into the workplace each day.
Newly vacant office space, surging demand for housing, and massive shifts in consumption patterns — suppressing spending, for example, at the businesses that cater to office districts — are just a few of the big economic changes that can be traced to the WFH revolution.
The latest: The Bureau of Labor Statistics' annual survey on Americans' time use provides some of the most authoritative readings on the trend, showing that nearly 35% of American workers worked from home on an average day last year, up from just 22% a decade earlier.
Yes, but: Peak work-from-home — nearly 40% in 2021 — may be behind us.
Between the lines: The work-from-home trend is far more pronounced among those with college degrees, of whom about 54% work from home on an average day, according to BLS.
👴 5. U.S. of Aging
The median age in the U.S. reached a record high last year, rising to 38.9 years, and it's likely only going up from here, per Census Bureau data out yesterday, Emily writes.
Why it matters: Decades of lower birth rates and increasing (until recently) life expectancy means older folks make up an ever larger share of the population.
This has all kinds of implications for the economy, particularly in the workforce where the aging population is keeping the labor market tight.
The aging workforce could drive worker shortages for years to come — especially in health care, which will become even more crucial as we gray.
Flashback: In 1980, the median age was 30.
Zoom out: The U.S. is still a younger country than its European peers, as the New York Times points out. "Immigration has historically kept the United States young," writes Dana Goldstein.
But immigration has slowed in recent years.
Was this email forwarded to you? Subscribe here.
Today's Axios Markets was edited by Kate Marino and copy edited by Mickey Meece.