Axios Markets
April 13, 2023
🌼 Good morning! We're looking at a beautiful spring day here in New York, and we're working from home.
But over at JPMorgan, they're telling senior execs to come in five days a week, as Axios' Hope King reports.
Pushing workers back looks to be a big spring thing. Amazon CEO Andy Jassy touts the advantages of in-person collaboration in his annual shareholder letter this morning. Of remote work, he writes, "We don't think it's the best approach."
Today's newsletter is 1,176 words, 4.5 minutes.
1 big thing: Signs of a rent inflation peak
Rent inflation is coming back down to earth, Emily writes.
Driving the news: The month-over-month pace of rent growth was 0.5% in March; a drop from the second half of 2022 when the monthly numbers were hovering at 0.8%.
That could signal further drops to come. "The rollover in rents is finally underway," wrote Kieran Clancy, senior U.S. economist at Pantheon Macroeconomics, in a note.
Why it matters: The monthly data is a bright spot for rent prices because the annual number is still coming in hot — with rents up nearly 9% in March compared to last year, it was the highest number since 1981.
The big picture: The shelter component of CPI comprises 40% of the index overall, and is a big reason inflation remains stubbornly high.
"The index for shelter was by far the largest contributor to the monthly all items increase," the Labor Department emphasized in its news release. (Overall inflation in the last year is just under 5%.)
Zoom out: The way the department measures rent in the CPI is different from other data sources, which only look at new asking rents, i.e., what a landlord charges on a new lease.
CPI essentially takes in all rent prices; what everyone is paying in a certain month. (We've explained this before.)
Zeroing in on the asking rent data serves as a good leading indicator of where the CPI rent measure is headed. And those numbers have been moderating since last year.
Zillow's rent index shows that rent increases peaked in February 2022. Data from RealPage, a real estate analytics and software company, shows a March 2022 peak.
What they're saying: "The rapid cooldown in rent growth continues to show up everywhere except in the one place that arguably matters most," said RealPage chief economist Jay Parsons in a LinkedIn note Wednesday.
The intrigue: Falling rents, or at least rent that's not rising at a rapid clip, is undoubtedly good for renters who've been getting crushed over the past few years. But for the real estate sector, it's a growing problem.
Property values on multifamily apartments are falling at the same time that interest rates are soaring and landlords' ability to push rents up even higher is weakening.
That's an issue for anyone who bought buildings in 2021, when rates were rock-bottom, using a floating rate mortgage, as the WSJ explains. The market's already seeing some foreclosures.
The bottom line: Rents are still pretty high, but the astronomical increases we've seen are likely going away.
2. Catch up quick
3. Falling energy prices might be short-lived
Easing energy prices helped pull U.S. inflation under 5% for the first time in almost two years, Matt writes.
State of play: The Consumer Price Index was up 4.98% in March, compared to the prior year.
The energy component of the CPI was actually down 6.4% compared to last year, driven by a 17.4% tumble in gasoline prices and a 14.2% dive in fuel oil.
Yes, but: Some of the relief coming from lower energy prices may soon be reversed, following OPEC and Russia's recently announced plans to prop prices up by cutting production, wrote Paul Ashworth, chief North American economist at Capital Economics, in a note yesterday.
The bottom line: Prices for crude oil — which feed into prices for consumer products like gasoline — were down about 25% from the end of 2022 before the April 2 announcement by OPEC+.
They're up more than 10% since the production cuts were unveiled.
4. The post-layoff "morale crisis"
Laying off thousands of people, while announcing more job cuts to come, might make you friends on Wall Street — but inside your company...not so much, Emily writes.
What's happening: Workers at the company formerly known as Facebook are facing a morale crisis, per the New York Times.
Catch up fast: CEO Mark Zuckerberg declared 2023 the "year of efficiency." Last month, the company — now called Meta — said it would lay off 10,000 people and cut 5,000 open roles, in order to flatten the company's management structure.
That was on top of a November chop that eliminated more than 11,000 people, or 13% of staff.
Wall Street cheered: The stock has gained 72% this year.
Meanwhile, Zuckerberg went all-in on remote work at the outset of the pandemic, and a lot of employees did, too.
The NYT points out that some of the company's top executives are now remote; even as Zuckerberg — once a work-from-home booster — has been encouraging people to come back to the office.
Zoom in: This is all a pretty big bummer for the remaining folks at Meta who worry they're next to go — and who don't have the top brass around to help set a new tone.
"So many of the employees feel like they're in limbo right now," Erin Sumner, who was laid off from Facebook in November, told the NYT. "They're saying it's 'Hunger Games' meets 'Lord of the Flies,' where everyone is trying to prove their worth to management."
The bottom line: Facebook isn't really unusual; of course, layoffs are bad for morale. They're possibly bad for other reasons, too — like productivity.
And studies show that over the long term, job cuts might also impact the financial performance of a company, as Kevin Delaney explains in a recent column for Time.
"Even the stock bump can prove fleeting," he writes.
5. You can't build EVs without China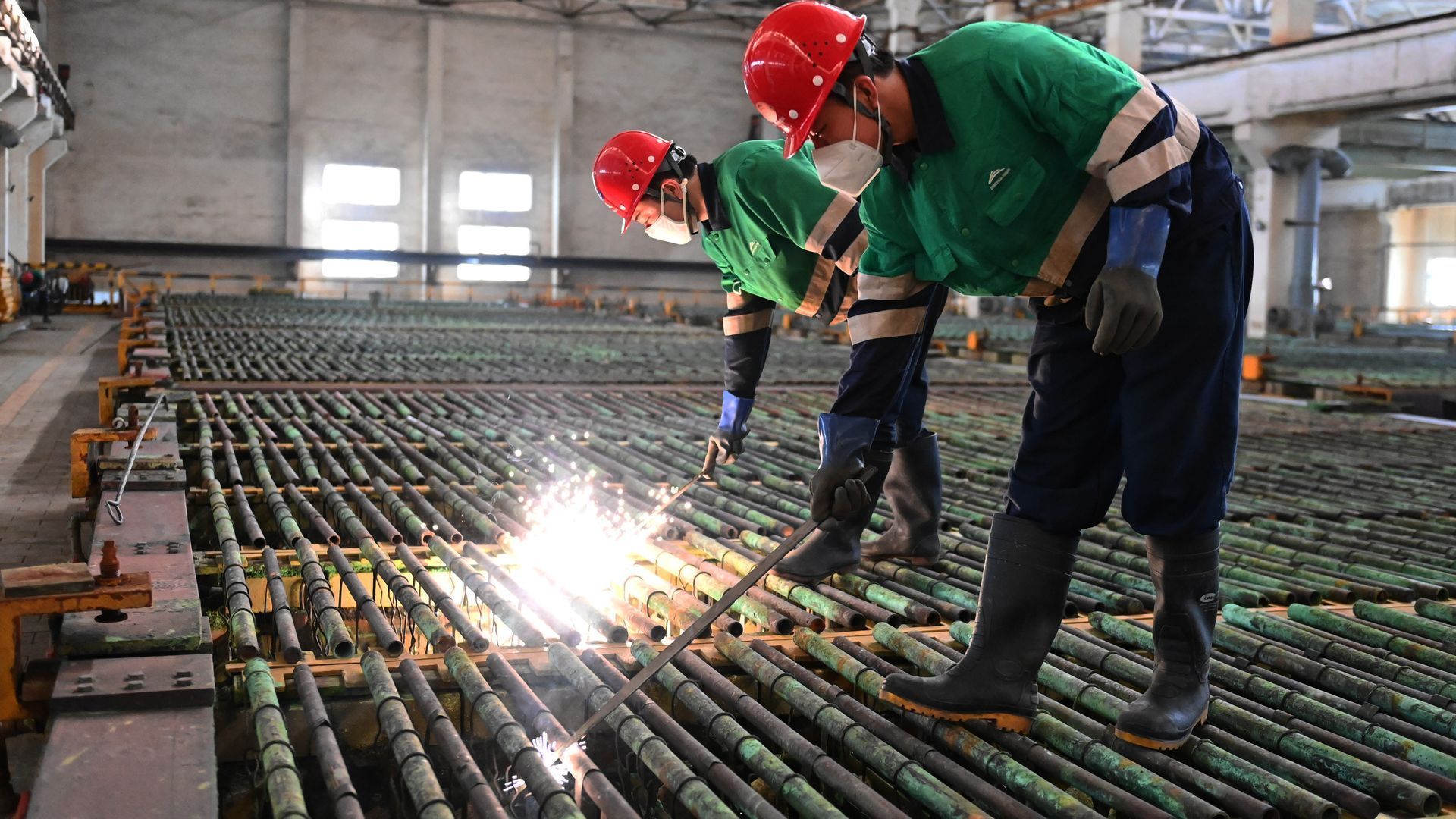 The Biden administration's effort to spur domestic battery manufacturing is running into a problem: Some critical raw materials are only found abroad, and China controls much of the supply, Axios' Joann Muller reports.
Why it matters: The provenance of raw materials used in electric vehicle production — including lithium, nickel, cobalt and graphite — is about to have a huge impact on tax credits designed to put these cars within reach of average Americans.
Details: Consumers can earn up to $7,500 in federal tax credits on EV purchases — but only when buying cars that meet certain sourcing requirements.
New rules issued last month under last year's Inflation Reduction Act exclude EVs with components from "foreign entities of concern" — a category that remains hazy but will likely include China.
Reality check: Many of the minerals essential to EV batteries are primarily mined and processed in China — it's poised to control a third of the world's lithium supply by 2025, for example.
The intrigue: Navigating such geopolitics while trying to master rapidly evolving technology can be dicey for automakers, which are lining up for lucrative tax credits of their own to produce batteries in the U.S.
Was this email forwarded to you? Subscribe here.
Axios Markets is edited by Kate Marino and copy edited by Mickey Meece.