Axios Markets
September 26, 2023
👋 Good morning and happy Tuesday.
Today's newsletter is 1,034 words, 4 minutes.
1 big thing: Biden hits the picket line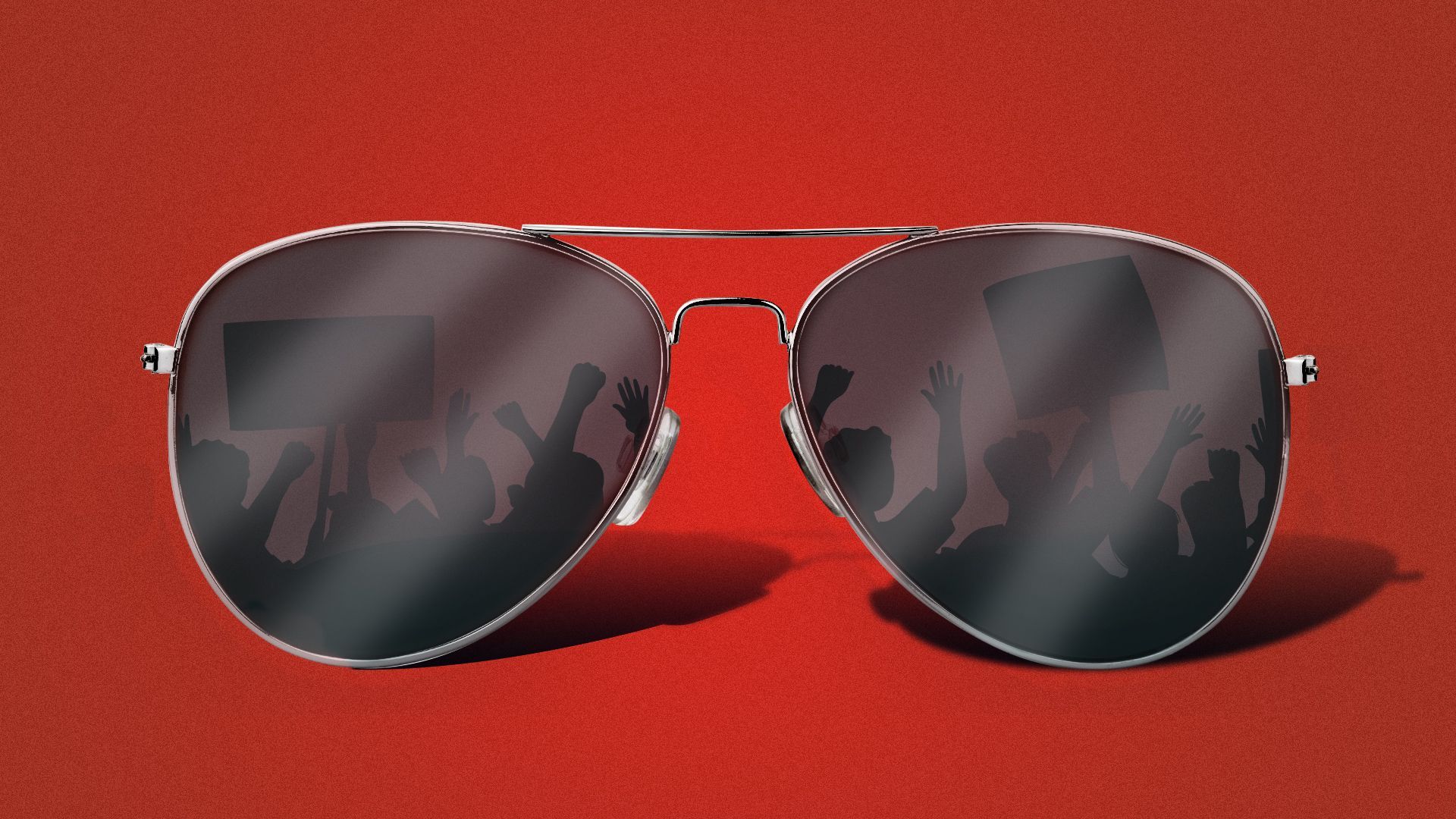 President Biden is scheduled to visit striking workers on a UAW picket line in Michigan later today, Emily writes.
Why it matters: It's the first time a sitting president has ever visited a picket line, and a sign of just how critical a resolution of the autoworkers strike, now in its 12th day, has become for the president.
Biden's full-throated support for the union comes at an unusually pro-labor moment for the country — a time when the Republican party is also making more of a play for union votes.
Former president Trump is set to speak in Michigan on Wednesday.
The big picture: The strike —which now covers 38 plants and distribution centers across 20 states — has forced Biden onto a tightrope.
He's balancing his pro-union stance and the need for the UAW's endorsement in Michigan, a battleground state for 2024, with his administration's support for a fast transition to electric vehicles.
The union wants to make sure workers don't lose out in a green transition — a fate met by unionized workers in the coal industry, for example.
Biden makes a similar argument: EV jobs should be high-quality; a "win-win" for unions and automakers, as he puts it.
Context: "Candidates for president have often appeared on picket lines, but not a sitting president," Nelson Lichtenstein, a labor historian at the University of California, Santa Barbara, said in an email.
As a candidate, Biden visited three picket lines. A White House official said he'd been mulling a visit to a UAW line since the strike was announced.
Zoom out: Even before he announced the Michigan visit, Biden's been unusually supportive of the union. In August, he said the UAW workers deserve "a contract that sustains the middle class."
"Presidents typically don't get this involved because they oppose unions (most Republicans) or take labor support for granted (most Democrats)," said Kate Bronfenbrenner, a professor at Cornell's School of Industrial and Labor Relations, in a message to Axios.
Plus, "Democrats do not want to anger business donors to their campaigns or anger Republicans so much they are unable to pass their key legislation," she added.
The UAW under newly elected president Shawn Fain has been playing hard to get with the White House; the union has yet to endorse a presidential candidate for 2024.
When asked how Biden could earn the UAW's support earlier this month, Fain said, "We expect action, not words."
Trump is faring worse with the union: Fain has said that a second Trump presidency would be a "disaster." And upon the news of Trump's visit, Fain said, "Every fiber of our union is being poured into fighting the billionaire class and an economy that enriches people like Donald Trump at the expense of workers."
2. Catch up quick
3. A "manageable headwind"
The U.S. economy should be able to shrug off the recent rise in oil prices, according to Goldman Sachs analysts, Matt writes.
Why it matters: While the American economy has been much stronger than expected in 2023, the recent rise in oil prices has emerged as a potential vulnerability.
For consumers and companies, higher spending on gasoline and fuel can act as a tax, eating into their ability to continue spending elsewhere.
Prices for oil — a cost component embedded in prices for every product that needs to be shipped to market — have also reinvigorated inflation in recent months.
Catch up fast: Production cuts from large oil producers Saudi Arabia and Russia have driven up prices of crude oil.
Since the end of June, the benchmark U.S. oil price is up over 27% to roughly $90 a barrel.
The big picture: In response to rising energy costs, Goldman reduced its Q4 GDP forecast by 0.4 percentage points to a 0.7% annualized rate; and its Q1 2024 forecast by 0.2 percentage points to a 1.9% annual rate.
Yes, but: The growth hit will be limited for a few key reasons, Goldman analysts wrote.
Energy consumption is a relatively small share of the total consumer spending pie.
Though oil prices are up, coal and natural gas prices have gone down, which should deliver lower utility bills to consumers in the coming months.
Higher energy prices won't push the Fed to raise interest rates further, as the central bank looks through short-term swings in fuel costs, the analysts argue.
💭 Matt's thought bubble: Another key hedge that the U.S. economy has against higher oil prices is that the U.S. is the world's largest producer of oil.
Energy-rich states like Texas, New Mexico, North Dakota and Louisiana all stand to benefit from the price jump.
4. Investors still love private debt
Private debt funds are on pace to raise more than $200 billion in new capital for the fourth year in a row, according to a new report out this morning from data provider PitchBook, Axios' Kate Marino writes.
By the numbers: Private debt funds, which pool money from investors and then use it to lend directly to companies, raised $95 billion during the first half of the year, beating 2022's first-half total.
The second half is usually seasonally stronger than the first.
The bottom line: After overtaking venture capital, private debt is now the second-largest fundraiser in the private markets, behind private equity, PitchBook says.
5. Moody's warning
"Fiscal policymaking is less robust in the U.S. than in many Aaa-rated peers, and another shutdown would be further evidence of this weakness,"
— Moody's Investors Service
In a note out yesterday, credit rating firm Moody's appears to warn that if a government shutdown ensues, the U.S. could kiss its triple-A credit rating goodbye, Matt writes.
Why it matters: Moody's is the last of the big three credit rating firms that still bestows the cherished "triple-A" rating on the U.S., which indicates U.S. government bonds are among the safest investments on earth.
House Republicans are preparing one more push to try and fund the government ahead of an Oct. 1 deadline, as right-wing factions demand deeper budget cuts.
Was this email forwarded to you? Subscribe here.
Today's Axios Markets was edited by Kate Marino and copy edited by Mickey Meece.