Axios Markets
December 14, 2021
☀️ Good morning, Markets crew!
🎁 From now until my holiday break, this space right here is officially a holiday movie space. I'll share favorite films recommended by my colleagues — and by you, readers. (Give me a shout!)
My personal fave — and I'm sure I'm not alone here — is "A Christmas Story." It's where I first learned about the tongue + flagpole issue, and the Italian pronunciation of "fragile." 😉
⏳ Today's newsletter is 1,253 words, a 5-minute read.
1 big thing: Retail's foot traffic problem
Just as department stores were aiming to get back on their feet this holiday season, shoppers walked in the other direction, Axios' Richard Collings writes.
Net sales rose in 2021 compared to pre-pandemic levels, but department store chains can't yet claim full recovery: Foot traffic has fallen sharply.
Why it matters: Investors are paying more attention to foot traffic, especially because a number of department stores are splitting off the e-commerce businesses that are now fetching higher valuations.
"The holy grail in retail investing is the retailer with positive [foot] traffic," Ryan Cotton, Bain Capital's global head of consumer and retail, tells Axios.
By the numbers: Traffic for all apparel stores is down 5% for the year (as of Dec. 6) compared to 2019, according to data provided to Axios by Placer.ai.
In the month of November, apparel suffered a 9.4% decline in foot traffic versus November 2019.
Traffic at Macy's and Kohl's, both of which are being targeted by activist investors, was down 19.1% and 12.6%, respectively, from January through November.
JCPenney and Belk saw foot traffic at their chains drop by 28.1% and 21.9%, respectively, over the same period.
On the flip side: Saks Fifth Avenue saw traffic actually grow 6.2% in 2021 from 2019.
State of play: November marked a significant setback in retailers' push to bring more people in the door. Much of this was due to the receding role of Black Friday in shoppers' lives — and retailers like Walmart opting to close on Thanksgiving Day, Ethan Chernofsky, VP of marketing at Placer.ai, tells Axios.
The big picture: Declining foot traffic is the persistent retail trend, Cotton says.
"The traditional mall stands as one of the starkest examples of this phenomenon — the place we all couldn't wait to go in our teens is now the place we all work to avoid," he adds.
The bottom line: With price increases skewing year-over-year sales comparisons, foot traffic may become a better barometer for measuring retailers' health and determining valuations.
Join the waitlist for Axios Pro, including Richard's daily Retail Deals newsletter, here.
2. Catch up quick
The U.K. competition regulator said today that Google and Apple have a "vice-like" grip over how consumers use mobile phones. The agency expects to issue a final report on the matter by June. (Reuters)
Selling pressure is hitting the value of meme stocks. A basket of 37 stocks favored by retail investors lost 5.5% yesterday — and has shed 24% in the last three weeks. (Bloomberg)
Meta Platforms is facing increasing pressure from shareholders to reduce harmful content on its Facebook platform and to appoint an independent board chair. (WSJ)
3. The world is moving quickly on central bank digital currencies
The world is moving ahead with central bank digital currencies (CBDCs). The U.S., it increasingly appears, isn't.
Driving the news: Since the summer, a host of countries leaped forward in their development of CBDCs. The largest economy in Africa — Nigeria — launched one that's now in use. And new collaborations between nations took shape.
This interactive map by the Atlantic Council's GeoEconomics Center, newly updated yesterday, shows where each country in the world stands in its development of a CBDC.
Why it matters: While the U.S. is still in the research phase, 39 countries have advanced to development, pilot programs, or actual launches.
The Federal Reserve and Treasury Department could be weighing in on global standards and technologies. "In the absence of that, countries are figuring it out for themselves, and we may or may not like what they end up figuring out," Josh Lipsky, director at the Atlantic Council's GeoEconomics Center, tells Axios.
Catch up quick: CBDCs are digital versions of existing currencies — legal tender issued, governed and backed by a central bank.
The Fed was planning to release two papers on CBDCs by the late summer, laying out its views on whether and how the U.S. should proceed. Those papers haven't been published yet.
By the numbers: Since the late summer, nine new countries have formally begun research on developing a digital currency — and four more have launched actual currencies into their markets, the Atlantic Center data shows.
Go deeper: Partnerships — like Project Dunbar, a CBDC collaboration between Australia, South Africa, Singapore and Malaysia — are cropping up as countries seek to learn and scale up more quickly, Lipsky says.
And South Korea started a pilot digital currency in August, the first of its economic size to do so based on distributed ledger — or decentralized — technology.
What we're watching: Those Fed papers should be out any day now.
4. The rise and fall of Peloton
The pandemic was fantastic for Peloton — at first, Axios' Felix Salmon writes.
Over the two years since the at-home fitness company's IPO, revenues have more than quadrupled, from $1 billion to $4 billion. The company was also a poster child for pandemic-era share prices going parabolic, with the stock rising 760% between mid-March 2020 and mid-January 2021. Then, it plunged.
Why it matters: Peloton's share price peaked during the meme-stock frenzy of January 2021.
The company has had a string of bad news since then, including the recall of its treadmill; supply-chain problems; a greater-than-expected pent-up desire to get out of the house again after the vaccine arrived; and, now, a major HBO character being killed off by exercise bike in a premium cable premiere.
By the numbers: The share price is down almost 80% from its highs, and although it's still almost double its pre-pandemic level, the stock is trading at significantly lower multiples than when it went public.
Flashback: Peloton's IPO valuation of $8.1 billion worked out to 7.9 times trailing revenues.
That ratio rose to as much as 16.7 at the market peak in January; it's now just 3.2.
The big picture: Some of Peloton's fall is due to very real weakness in its fundamentals. But a lot of it is simply a function of the way in which meme stocks can rise just because they're rising, creating an air bubble under the share price and the potential for massive drops.
The bottom line: Peloton is still a $13 billion company — a great achievement for a firm that's less than 10 years old. Last year's meme-stock mania, however, makes it look like a massive disappointment.
5. Buying talent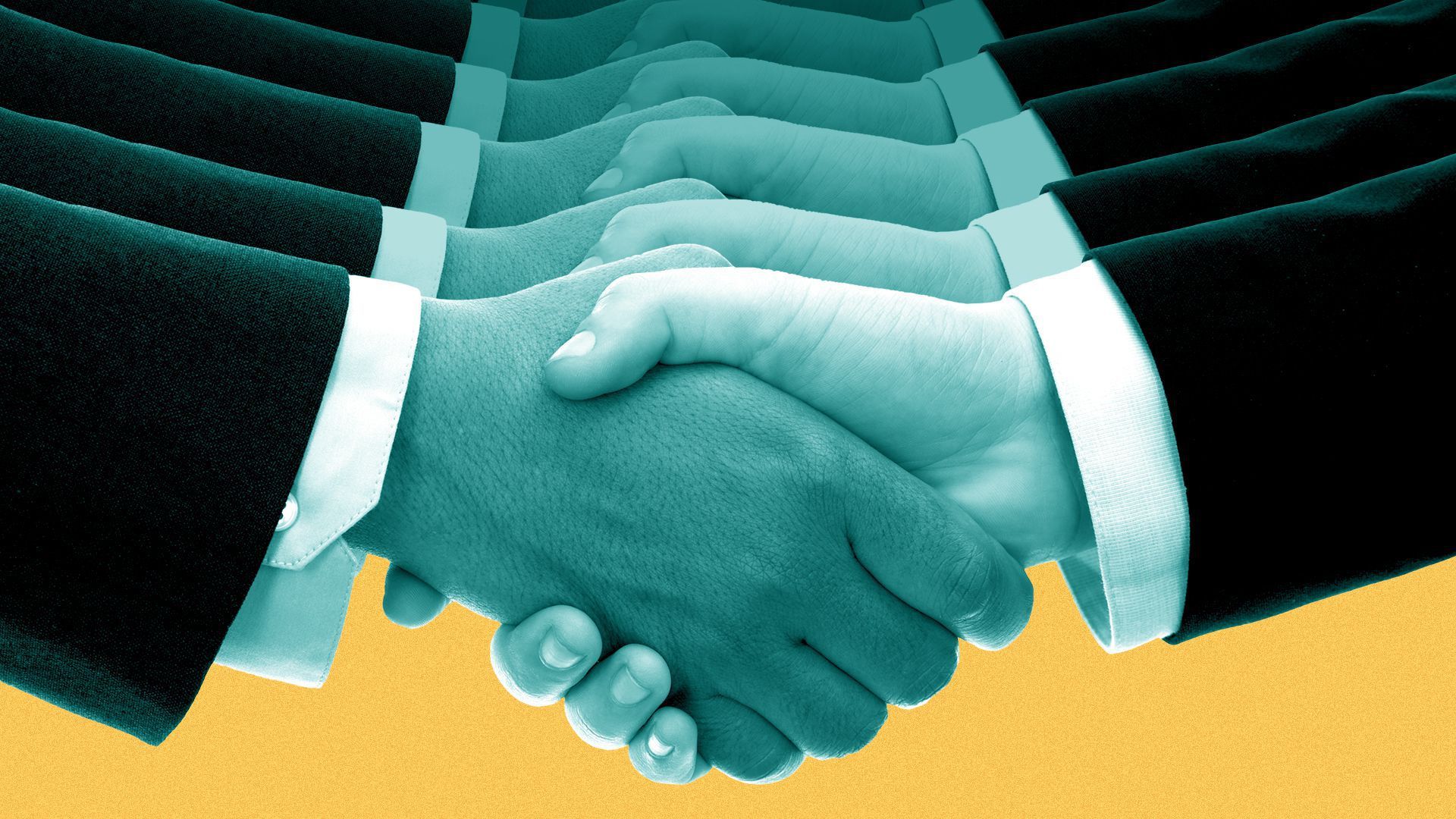 CEOs are weighing buying other companies to solve their hiring woes, Axios' Erica Pandey writes.
Driving the news: A third of executives surveyed in a new KPMG report say they want to use mergers and acquisitions to acquire talent in 2022.
The big picture: As we've reported, 2021 was a record-breaking year for M&A — and 2022 could top even that. And M&A can be a quick way to bring in new talent as companies navigate the Great Resignation.
What they're saying: "We're all experiencing this shortage of job seekers," Philip J. Isom, global head of M&A at KPMG, tells Axios. Companies that might have tried to grow organically in different times are instead looking into acquiring other firms as a quicker solution to their recruitment problems, he says.
KPMG added the question about using M&A to obtain talent to its annual survey just this year — as recruiting is a particularly salient problem.
But, but, but: It's not always easy to retain employees after a merger or acquisition.
Firms may have to offer incentive packages to hang onto top talent post-M&A, per McKinsey.
And it's not just about higher pay. Employees are focused on health care, flexibility in our new age of hybrid work, and benefits. "Child care especially has become a sticking point for working parents," Isom says.
Editor's note: The story and chart in the top item have been corrected after Placer.ai revised its figures to show that November foot traffic to apparel stores fell 9.4% compared to November of 2019 (not 63%).