Axios Markets
September 21, 2022
📚 Welcome back. We'll keep it short. Today we're extra-inspired by "Smart Brevity," the book by Axios' founders just out yesterday that will help you write like us. It's already a top seller on Amazon.
🚨Situational awareness: The 30-year-mortgage rate just hit 6.25%, up nearly a quarter-point from last week, per the Mortgage Bankers Association's report out this morning.
Today's newsletter is 1,003 words, 4 minutes.
1 big thing: Hard times in real estate
After getting laid off from her job at mortgage provider Better.com in March, Charmaine Steele interviewed at eight other mortgage companies. Each one subsequently announced layoffs of their own, she tells Axios. At least one has gone out of business, Emily writes.
It was a grim job search, says the 30-year-old Steele, who lives in Charlotte, North Carolina. "Nobody was hiring anybody."
Why it matters: It's lean times in the real estate business. The slowdown is a warning for the economy more broadly, and a rare labor market weak spot at a time of strong overall employment.
With interest rates hitting 14-year-highs, and lending activity way down from the peaks of the past two years, layoffs and shutdowns are happening with alarming frequency.
"The housing market tends to lead the broader economy both into and out of recessions," Mike Fratantoni, chief economist at the Mortgage Bankers Association, tells Axios.
State of play: On Tuesday, real estate brokerage Compass announced the second round of layoffs. Just the day before, Opendoor — which is in the business of buying and flipping houses — announced it lost money on 42% of its transactions in August.
Steele's former employer Better.com has done four rounds of headcount cuts, including the famously botched mass layoff via Zoom in December 2021, Tech Crunch reported.
Real estate company Redfin laid off 8% of its staff in June.
Rocket, one of the largest non-bank mortgage lenders, has done two rounds of cuts. Briefly a meme stock in 2021 when it traded at over $25, Rocket is now at less than $8.
Small fintechs in the mortgage space, like Reali, closed up shop. Sprout, a mortgage company, also went out of business. First Guaranty Mortgage Corp. filed for Chapter 11.
Catch up fast: Mortgage companies hired like crazy over the past couple of years, as low-interest rates drove a surge in refinancing.
For a while, things were great for workers in the industry — some companies were paying seven-figure signing bonuses, Fratantoni told MarketWatch recently. (A spokesman for the MBA confirmed the eye-popping number with Axios yesterday.)
Steele says she was earning around six figures at Better.com, her first job at a lender after working as a real estate agent. She's now working in the small business lending space, making 50% less.
The bottom line: For those getting financial crisis flashbacks, this is different. Two-thirds of the mortgage business is now the province of small non-bank lenders — and Fratantoni estimates there are 4,500 companies in the space (see the chart below).
Though banks have made cuts to their mortgage businesses, too, in recent months, they're much less exposed to housing overall.
And there's far less likelihood of the kind of systemic spillover we saw nearly two decades ago. Improved underwriting standards mean borrowers have better credit (foreclosure rates are still low), and most of them have mortgages with rates under 5%.
Cold comfort to folks getting laid off. That you? Email me.
Editor's note: This story was corrected to show the Redfin layoffs happened in June, not August.
2. Charted: Rise of the little guys
3. Catch up quick
4. Charted: German price shock
German industry is facing its greatest price shock on record, Matt writes.
Driving the news: Germany's producer price index — a measure of wholesale inflation that producers face — burst through economist estimates to hit 49% in August, the highest year-over-year increase on record stretching back to 1949.
Energy prices were up 139% compared to the prior year.
Electricity prices were up 175%, compared to August 2021.
Why it matters: Soaring input prices in Germany and throughout the continent — largely due to energy costs related to Russia's war on Ukraine — are making it uneconomic for major European industries such as chemicals, fertilizers and metal making to keep operating.
Power providers are only operative with extensive support and in some cases outright nationalization, by governments.
Today, Germany agreed to nationalize gas company Uniper.
What to watch: We'll be looking for signs that a recession, which appears increasingly inevitable, is underway.
5. What to watch: Bank CEOs in Washington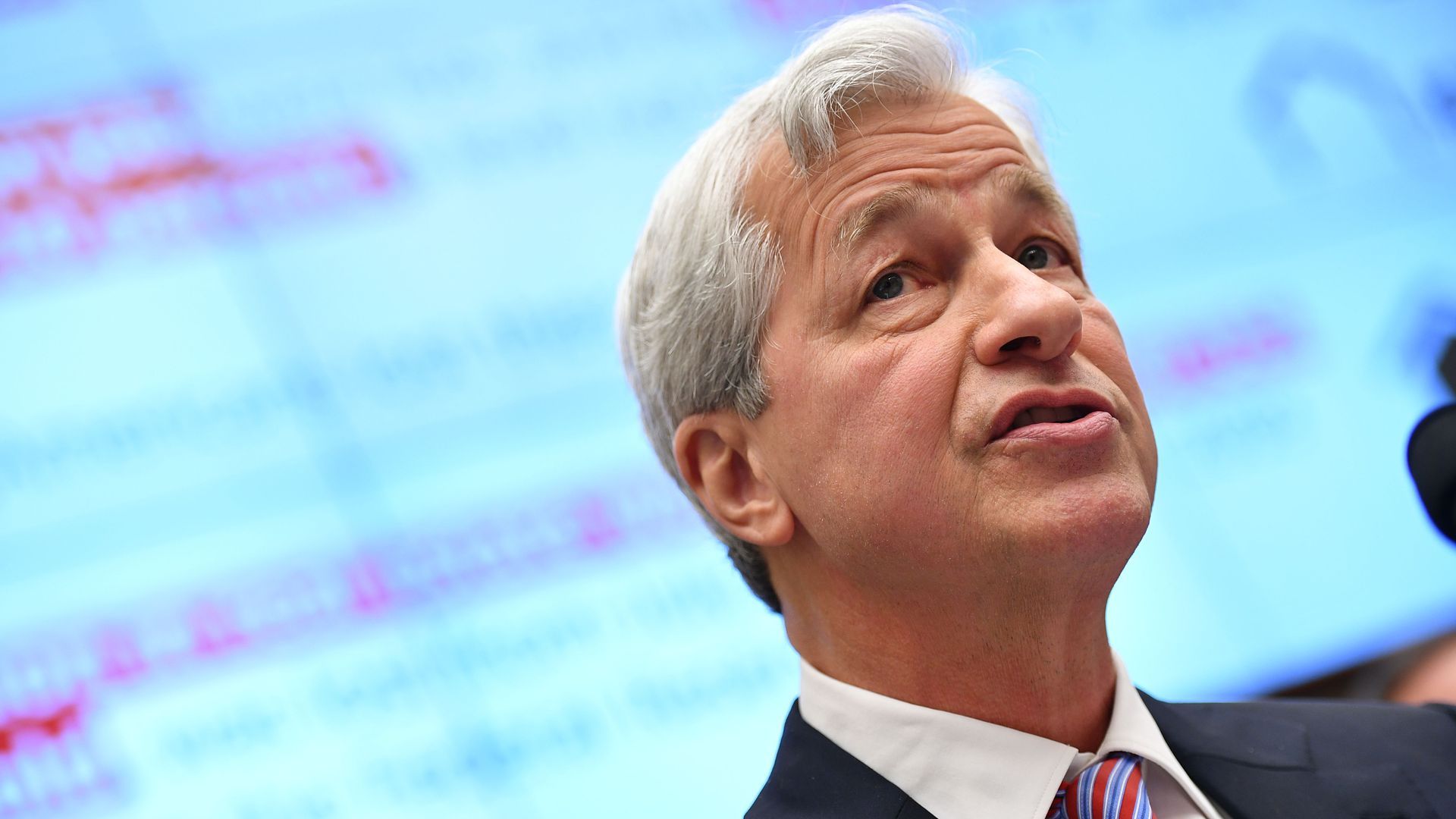 The CEOs of the country's seven largest commercial banks will appear before Congress this morning, Axios' Courtenay Brown writes.
Regulatory issues like bank capital requirements are expected to come up — but topics related to consumer protection may take center stage.
Who's testifying: Out are some banks that have long been the target of criticism of Wall Street greed, like Goldman Sachs. In are some of the largest regional players — including U.S. Bank, Truist and PNC — on the frontlines of consumer banking. 
The CEOs of Citibank, JPMorgan Chase, Bank of America and Wells Fargo will also testify.
Flashback: The most heated exchange last year came when JPMorgan CEO Jamie Dimon and Sen. Elizabeth Warren (D-Mass.) went back and forth about overdraft fees.
This year, bank CEOs are expected to tout how their overdraft policies have evolved. Dimon's written statement submitted to the House dedicates a whole section to the issue (versus a single bullet last year). 
Banks' go-to defense: Eliminating overdraft services altogether will push cash-strapped consumers to costlier alternatives, like payday lenders.
Industry sources anticipate Democratic lawmakers will also grill the group about fraud on instant payment platform Zelle, prompted by a New York Times story in June that outlined "widespread fraud." Customers couldn't recoup payments mistakenly sent to scammers. 
But trade groups have released stats that show a smaller share of transactions disputed as fraudulent on the platform — which is owned by a consortium of most of the banks represented on today's panel — compared to competitors like PayPal or CashApp. 
Of note: Prepare to hear about ESG-related issues. In the past Democrats have probed the banks about, for one, what they are doing to combat climate change. Republicans have railed against calls for banks to curb lending to oil and gas industries. 
What to watch: The CEOs will appear before the House Financial Services Committee at 10am EDT today. 
Tomorrow, they will appear before the Senate Banking Committee.
Today's newsletter was edited by Kate Marino and copy edited by Mickey Meece.