Axios Markets
January 26, 2022
🌅 Rise and shine! It's the worst January for stocks — ever. The Fed is about to meet. Things could get wild.
Today's newsletter is 1,058 words, 4 minutes.
1 big thing: No 4-day workweek for you
The four-day workweek isn't coming to save us anytime soon, despite a flurry of announcements, media coverage and intense interest from worker bees (👋) worldwide, Emily writes.
Why it matters: With the pandemic throwing work-family dynamics into chaos and a labor market favoring workers, there's demand for this.
Driving the news: In a bid to attract top talent, tech startup Bolt and Japan-based Panasonic recently announced they're doing four-day weeks.
Starting this spring, 35 companies in the U.S. and Canada, including Kickstarter, a few nonprofits and even an RV manufacturer, will test shorter weeks with help from 4 Day Week Global, a nonprofit founded in New Zealand in 2018.
They're piloting a similar program in the United Kingdom.
Yes, but: Each time a company does this it gets a lot of attention — but overall, the needle isn't moving.
In January, there were just 1,700 job postings advertising four-day workweeks for every million listed on Indeed.com.
"There are not a lot of clients looking to do this," Bill Schaninger, senior partner at McKinsey, tells Axios.
The big picture: Cutting the workweek could be a solution to growing reports of burnout among professionals.
"It's a workers' market," says Rep. Mark Takano (D-Calif.), who has introduced a bill to reduce the standard workweek to 32 hours. "This is the exact right time to propose this idea."
How it works: The idea is to work fewer hours, for the same amount of money, without losing productivity — making everyone happier (like in Iceland!).
Remote work makes this more possible. Whereas socializing in-office had benefits and could be fun, let's be real: Zoom yoga sessions and happy hours are lame.
Companies pulling this off say the key is fewer meetings and more asynchronous work, meaning less email and Slack messages and more shared work schedules on Trello and Airtable.
What they're saying: The few companies that have done this talk up the benefits, in part to attract workers in a fiercely competitive environment:
One example: Jennifer Christie, chief people officer at Bolt (which has Fridays off), says people are reducing meeting times and getting more done.
Of note: Other firms simply are offering more days off. Twitter is doing a "day of rest" every month.
The bottom line: Until the early 20th century, a five-day workweek seemed impossible — so never say never. Still, work has taken over white-collar workers' lives seven days a week — it just might not be possible to truly dial it down to four.
"It's a mindset shift," Christie said. She spoke to Axios on a Friday, acknowledging that sometimes work does come up.
2. Catch up quick
🪙 Meta's stablecoin project, Diem, is now trying to sell its assets after regulators at the Federal Reserve failed to greenlight the project. (Bloomberg)
🌎 The IMF downgraded its 2022 global growth forecast by half a percentage point, to 4.4%, due to lower expectations for the U.S. and China. (CNBC.com)
😞 The chip shortage won't be any better in six months. (Reuters)
3. It's official: Worst start ever for the stock market
It's been a decidedly ugly start to the year for the stock market, with particular pain in the tech trade, Matt writes.
State of play: As of the end of trading yesterday — the 16th session of the year — 2022 is now, officially, the worst-ever start in the history of the S&P 500, according to data from Ned Davis Research, a stock market research shop.
The 8.6% decline for the month edges out the 8.57% drop experienced in January 2009.
S&P 500 data goes back to 1929.
Between the lines: The sell-off has been even worse for the tech-heavy Nasdaq composite index.
Big tech is also a major driver of the S&P 500. Apple, Alphabet, Microsoft and Tesla generated over 25% of the index's total return last year.
As we've written, tech shares tend to get disproportionately dinged up when interest rates rise.
What's next: Big Tech earnings are on tap this week, and any surprises could add to the pressure on stocks — or provide relief. Microsoft released good numbers last night, and Tesla and Apple are on deck today and tomorrow.
4. Robinhood's fall from favor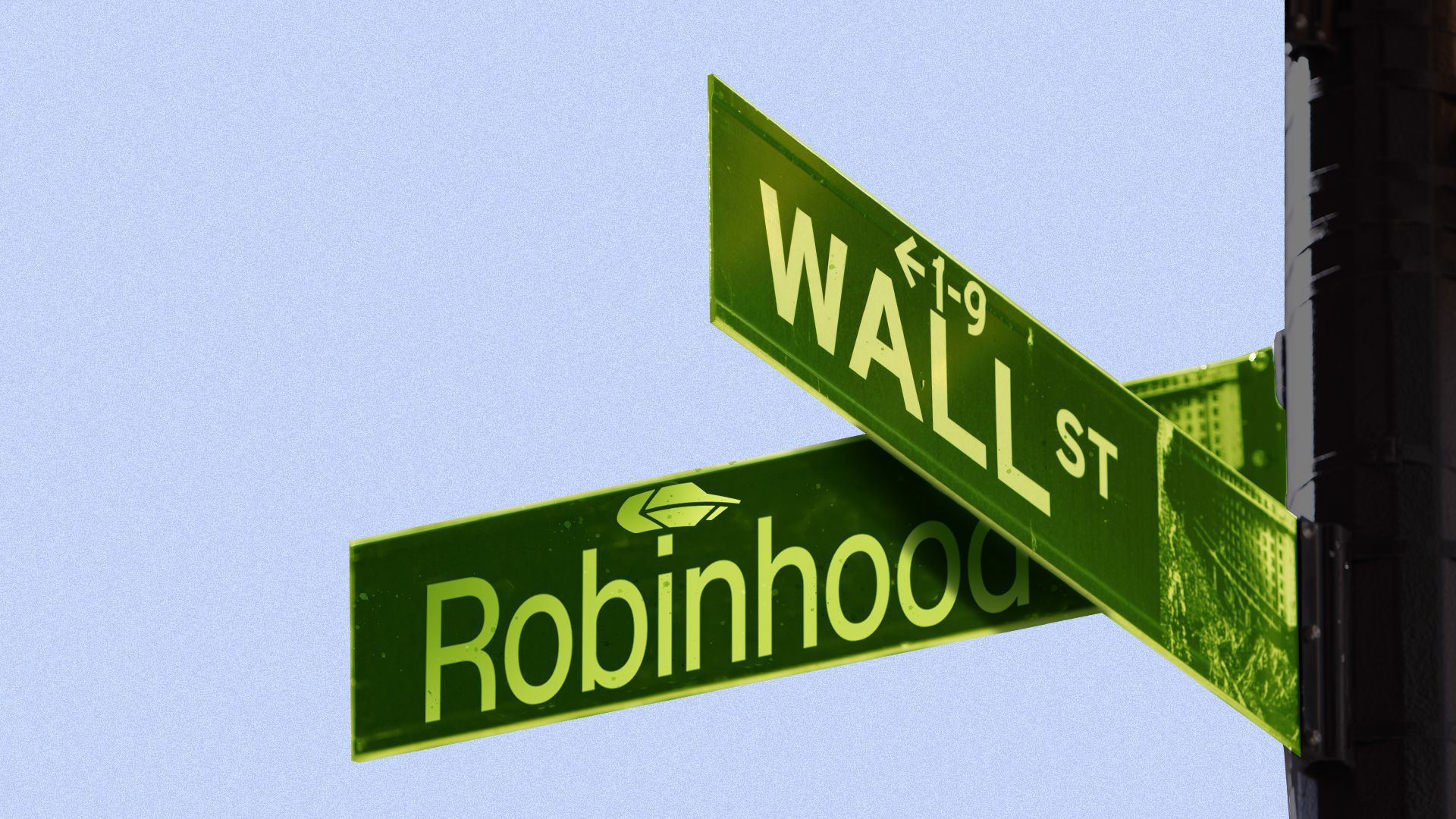 Robinhood's valuation is now just over $11 billion, a fraction of where it traded in August and below that of its last private round of funding, writes Axios Pro's Lucinda Shen.
Why it matters: Robinhood's fall out of favor is a good indicator of what's happening so far this year in the stock market.
And it's not just Robinhood — falling values of growth-oriented tech stocks have raised speculation that formerly high-flying fintechs could be snapped up by more well-capitalized buyers.
Equity investors are cycling out of riskier assets and into more traditional ones amid concerns about rising interest rates.
Robinhood makes about a third of its revenue from one of the riskiest assets around — cryptocurrency.
What to watch: Robinhood reports earnings tomorrow.
If things get worse, you could see Robinhood, and other formerly hot fintechs, get snapped up by some deep-pocketed buyer — say, a Microsoft.
Go deeper: The Robinhood M&A rumor mill churns
Lucinda and Ryan Lawler co-author our new Axios Pro newsletter on fintech deals. Subscribe at AxiosPro.com.
5. Savings shrivel for lower-income workers
Families with lower incomes are seeing their financial cushions eroded as we get further away from pandemic-era government support, Axios' Kate Marino writes.
Driving the news: About 40% of adults earning less than $50,000 per year said in January that their savings wouldn't cover one month of expenses — that's up from 32% who said so last month, and 28% the month before.
Why it matters: The growing financial vulnerability among lower earners is one aspect of widening inequality between income groups in the U.S., as measured by the Morning Consult/Axios Inequality Index.
How it works: The index measures whether economic inequality is rising or declining — as opposed to providing a snapshot of the distribution of income or wealth.
The headline index ticked up in December, indicating that inequality widened, for the third month in a row.
The bottom line: Economic hardships presented by rapid inflation and the Omicron variant have been experienced differently across income groups.
For lower-income Americans, price increases have outpaced wage gains in most industries.
Coupled with the removal of many government support programs, and savings drawdowns around the holidays, this led to a deterioration of household balance sheets among the most vulnerable, says John Leer, Morning Consult chief economist.