🏠 I'm back. Much love to everyone who sent me things to do in Lisbon. My favorites were Ze da Mouraria, Bifanas do Afonso, Pasteis de Belem and visiting the city of Sintra, home to the Castelo dos Mouros. Special thanks to readers Mark P. and Bill A., who sent me an encyclopedic level of recommendation lists.
Situational Awareness: President Trump tweeted this morning that he would restore steel and aluminum tariffs on goods imported from Argentina and Brazil in response to the weakening of their currencies.
Of note: Both currencies are freely traded and have been devalued by the market, which has punished Argentina in particular for its weak economic growth and the expectation that its new government will default on outstanding bond payments.
Was this email forwarded to you? Sign up here. (Today's Smart Brevity count: 1,419 words, < 6 minutes.)
"Victory belongs to the most persevering." Who said it and why it matters is at the bottom.
1 big thing: Holiday shoppers unfazed by recession fears
More Americans say they are worried about a recession next year and are getting more cautious about their spending habits and debt, but that didn't slow down their holiday shopping.
Driving the news: Data from Adobe Analytics shows Black Friday spending increased by nearly 20% this year over 2018, rising to $7.4 billion, even as fewer retailers offered big in-store discounts. Brick-and-mortar stores saw an overall 6% decline in sales, according to preliminary data from ShopperTrak.
Thanksgiving sales totaled $4.2 billion online, a 15% increase from last year and a record high, according to Adobe.
"The drop in Black Friday physical shopping mirrors a year-long share pullback in departments stores including Macy's, Kohl's and Foot Locker, all of which are down more than 25% this year," CNBC notes. "Meanwhile, Amazon, the dominant U.S. e-commerce retailer, has gained about 20% this year."
What it means: The big boost in spending, particularly online, is diametrically opposed to the worry and apprehension seen in surveys leading up to the holidays.
A NerdWallet survey conducted in early November of 2,023 U.S. adults found that almost "two in five (37%) Americans say the U.S. economy is headed toward a recession, and 30% of those planning to purchase gifts this holiday season say they'll spend less because of their view of the current economy."
"Nearly half (48%) of Americans believe holiday gifts will cost more this year compared with years past as a result of new tariffs on imports from China."
"Roughly 48 million Americans are still paying off credit card debt from the 2018 holiday season, far more than the 39.4 million who were paying off 2017 debt" in its 2018 survey.
A study from credit reporting company Experian showed U.S. consumers similarly unenthusiastic about the holidays, based on their survey of 1,159 consumers. The year-over-year drop in the number of people who said they felt "thoughtful" was the largest in the history of the company's survey.
Experian's survey also found that 66% of consumers said they would be doing their holiday shopping in cash, up 13% from just two years ago. Those who planned to make purchases with credit cards dropped to 38%, down 6% from 2017.
Watch this space: Despite the changes in how they planned to pay, Experian found consumers expected to spend an average of $1,649 during the holiday season, a "whopping" 75% increase over 2018.
2. Catch up quick
India's GDP growth fell to a six-year low of 4.5% in the third quarter, the sixth consecutive quarter that growth has slowed and a far cry from the 8.1% growth in the first quarter of 2018. (FT)
Bank of England governor Mark Carney will become the UN's special envoy for climate action and finance when his BOE term ends on Jan. 31. (BBC)
"We still feel that we're on the right side of this, in the sense that we're quite miserable with regard to the economic outlook," said James Athey, a London-based portfolio manager at Aberdeen Asset Management. (Bloomberg)
3. Trade war deal looking unlikely in 2019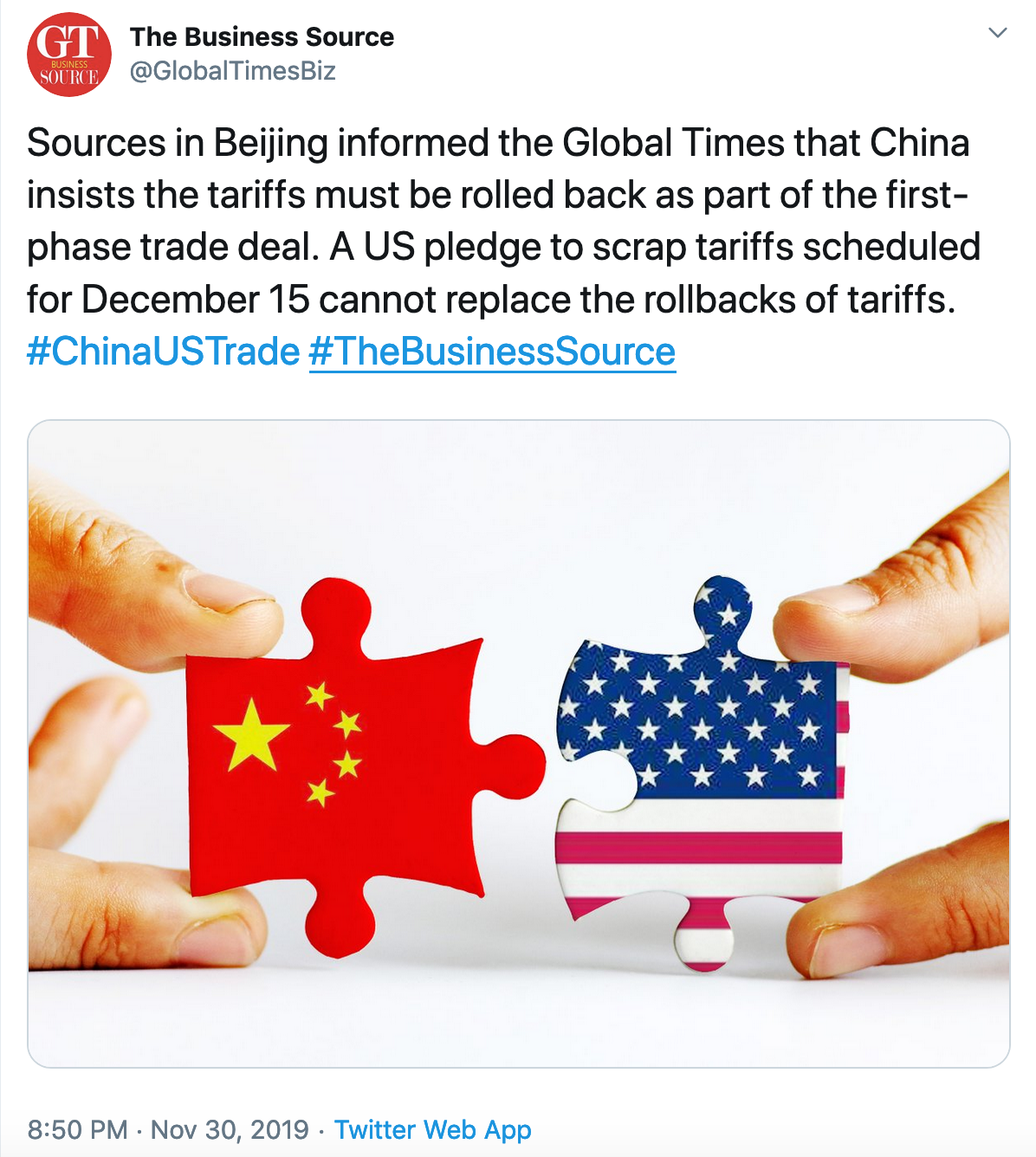 Screenshot of a tweet from China's Global Times' financial arm, The Business Source.
The financially focused arm of China's Global Times newspaper this weekend posted a number of new details on Twitter about how Chinese negotiators are positioned in trade discussions.
What they're saying, per The Business Source's twitter feed: A former Chinese vice minister of commerce says he expects the "phase one" trade deal will be signed before Chinese New Year, which begins Jan. 25, but that "[r]olling back tariffs levied by the US is a must."
22 of 25 "experts" surveyed say the possibility of reaching a trade deal is "greater than 50 percent." However, just "nine out of 25 experts surveyed said that a deal could be reached before the New Year, while seven think the deal will come after the New Year."
Tweets also quoted "experts" who said the "longer the #tradetalks drag on, the more difficult it gets to reach a phase one deal given the increasingly out-of-control anti-China movement in Washington."
Why it matters: Global Times is affiliated with the Chinese Communist Party and is therefore considered to have a direct line to top policymakers and reflect the party's thinking.
4. What to watch this week: manufacturing
The ISM's manufacturing report will be released today and will provide important insight on whether things are bottoming out or getting worse in the U.S. manufacturing industry.
Surveys have shown manufacturing output declining for more than a year and the ISM's index has shown the industry in contraction for the last three months.
However, November's reading is expected to rise.
Of note: China's manufacturing data has been steadily improving with a private and a government survey both showing the sector growing more than expected last month. This was after six straight months of the government's metric showing contraction.
The big picture: The most important piece of U.S. manufacturing data will likely not be the ISM's reading on Monday — it will be the Labor Department's November U.S. nonfarm payrolls report on Friday.
Manufacturing has added just 2,000 net jobs in 2019, Barron's notes. That's due not only to a slowing pace of job growth from 2018's 264,000 manufacturing jobs added, but also to net job losses the past two months, including 36,000 net job losses in October.
5. Story time: This is why we need digital currencies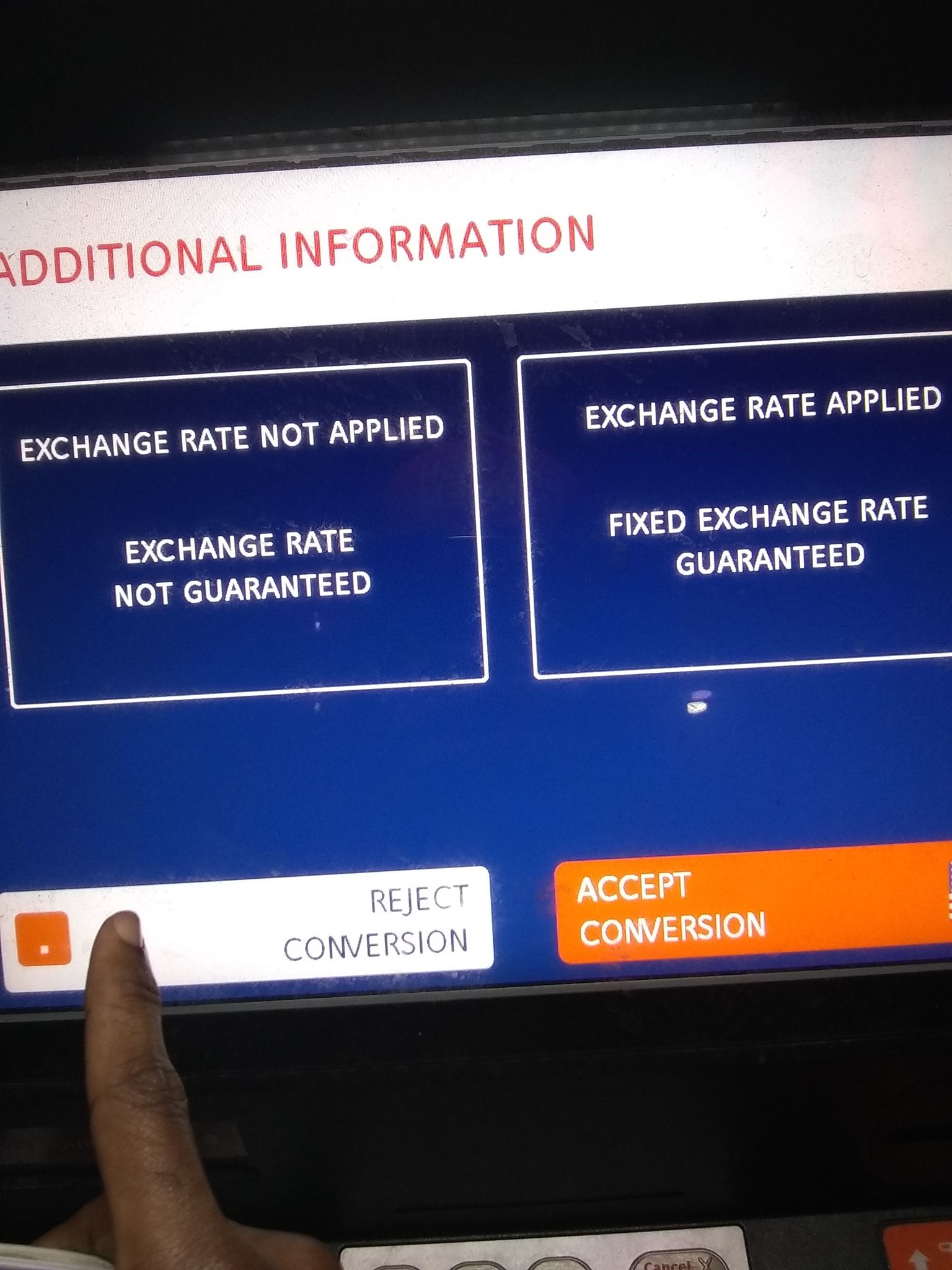 Photo by Dion Rabouin, live from Lisbon.
My recent trip to Lisbon made it crystal clear why Facebook and a number of central banks see a need for digital currencies.
What happened: Before I went on vacation, I made sure to transfer money into my Schwab High Yield Investor Checking account. The account offers no ATM or foreign transaction fees, which is the entire reason I got it. I made the transfer on Thursday, Nov. 12, in anticipation of landing in Lisbon on Sunday, Nov. 14.
Initially the message I got from the bank told me I wouldn't have access to the money until Monday, Nov. 15, which was annoying, but fine.
On Sunday, I found a Santander ATM and withdrew funds from my Santander checking account, expecting that I could avoid rapacious ATM fees.
I got two surprises. First, Santander charged me $6 (six!!!!) to use the ATM because Santander Portugal is not connected to Santander U.S.
Then, naturally, they also charged me a foreign transaction fee. (Fun fact: In Lisbon, Santander doesn't own or operate the ATMs that are inside the Santander bank; they are Multibanco ATMs. This was true of every single bank I went to — they were all operated by outside entities.)
Second, Schwab said my money would not be available for five (5!!!) business days, meaning I wouldn't be able to access it until the following Thursday.
Schwab had taken the money from the Santander account, meaning it was no longer there, but would not make it available to me. So, in essence, Schwab just planned to hold my money from Monday, when it was removed from the Santander account, until Thursday.
Between the lines: Many vendors in Lisbon, even fairly large restaurants and bars, don't accept credit/debit cards.
This meant I had to take more money out of my Santander account and pay more of their outrageous $6 per transaction fees until I finally got Schwab to release the money.
Watch out: Some ATMs in Lisbon offered an absurd "fixed" exchange rate that was $0.12 per euro more than the market exchange rate. That's significantly higher than even the airport foreign exchange places charge. On top of this, the Euronet ATMs charge you nearly 5 euros per transaction.
If I had chosen to take the "fixed" exchange rate, which is presented as the only choice (but is not), taking 100 euros out of an ATM would've cost me around $18 in fees.
Why it matters: Digital currencies administered by central banks could potentially cut the banking sector out of foreign exchange transactions and make this process significantly easier and less expensive.
Similarly, Facebook's Libra could provide a way to send or withdraw money in any currency without the need for ATMs or banks and their ridiculous fees.
Also, no one would have to wait five business days for their money to transfer from one bank account to another.
On this day in 1804, Napoleon Bonaparte was crowned emperor of France at the Notre Dame Cathedral in Paris, a position he would hold for 10 years.
Interestingly, Dec. 2 is also the day Fidel Castro officially became president of Cuba, U.S. President James Monroe declared his Monroe Doctrine for Latin America, and U.S. President James Polk proposed the "Manifest Destiny" expansion into the West.
Unrelated: Lisbon is the strangest city I have ever visited. It's simultaneously a very historical, classical city and also outrageous and modern. It's sleepy and quaint but also giant and daunting. Truly beautiful, though.
Even more unrelated: I made it down to Texas for Thanksgiving and my Auntie Denise still makes the best greens.