Axios Markets
March 09, 2020
Buckle up! We are in for quite a day. Was this email forwarded to you? Sign up here. (Today's Smart Brevity count: 1,321 words, 5 minutes.)
Situational Awareness: The N.Y. Fed announced it is increasing the amount offered in daily overnight repo auctions to $150 billion from $100 billion and the amount offered in two-week term repos to at least $45 billion in an action that is definitely not quantitative easing. (NY Fed)
🎙"[T]he only thing we have to fear is fear itself — nameless, unreasoning, unjustified terror which paralyzes needed efforts to convert retreat into advance." - See who said it and why it matters at the bottom.
1 big thing: Boeing's continued woes will add to coronavirus damage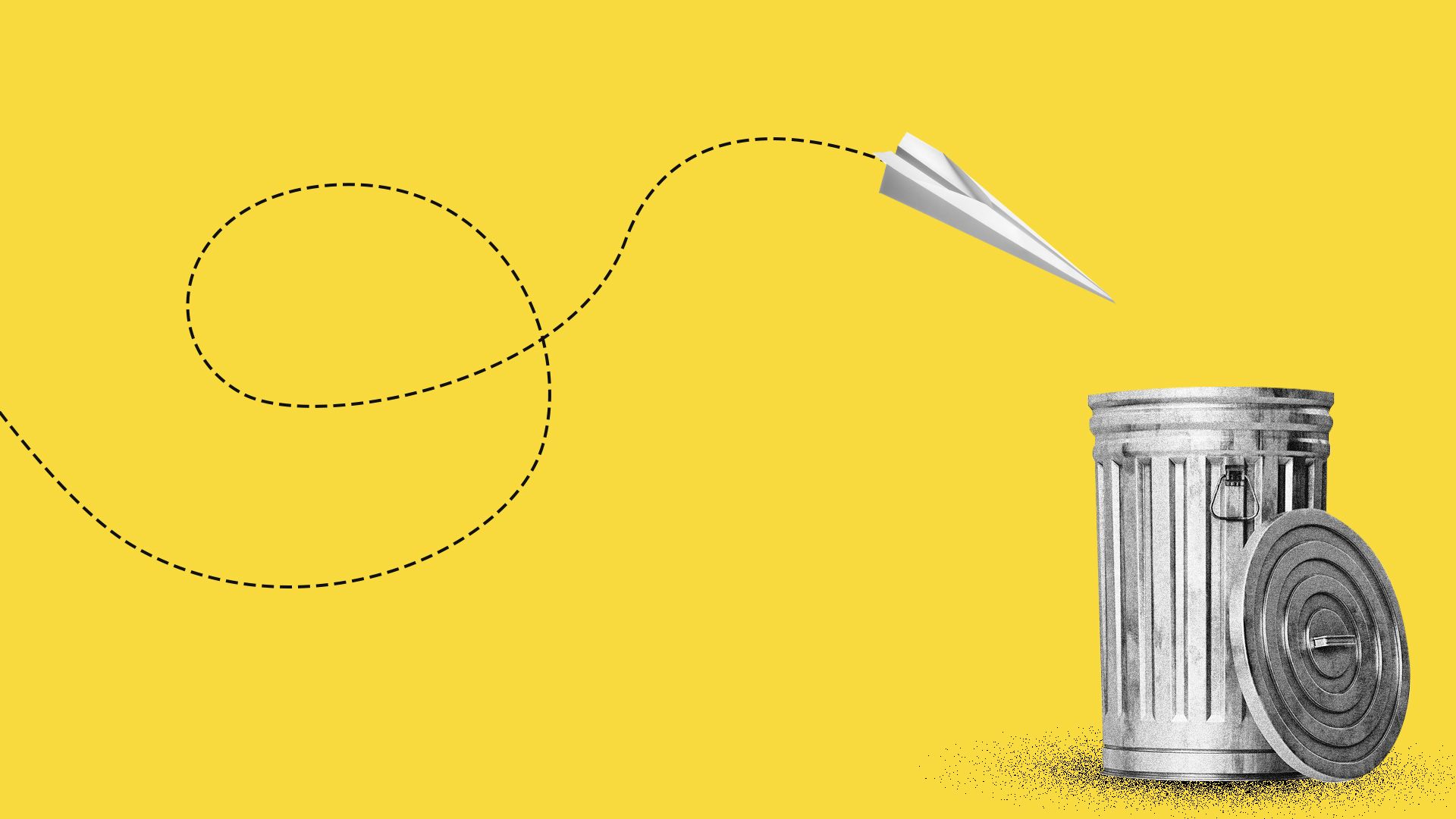 Somewhat forgotten in the evaluation of the current state of the U.S. economy is the ongoing debacle at Boeing, a flagship American company whose production shutdown led to the New York Fed estimating it would shave 20% off of 2020's GDP growth — and this was before the coronavirus outbreak.
Things could be getting worse for Boeing.
Driving the news: A new report is due this week from airline safety investigators to coincide with the one-year anniversary of the Ethiopian Airlines crash that was the second in six months for Boeing's 737 MAX jets.
On Friday, the House Transportation and Infrastructure Committee released its report outlining a laundry list of Boeing's reckless and unforced errors that led to the two plane crashes and the deaths of 346 people.
Over the weekend, co-CEO Dave Calhoun backtracked from a scathing New York Times interview bashing his predecessor that could land him and more top execs in front of lawmakers for congressional hearings.
Why it matters: Boeing is the largest manufacturing exporter in the U.S. and a major employer. Its products cost hundreds of millions of dollars and require thousands of suppliers, some of whom count Boeing as their sole client.
Boeing had to reduce production last year amid a recession in U.S. manufacturing and declining business investment that economists and industry insiders expected to bounce back this year.
The Council of Economic Advisers estimated that the slowdown cut U.S. GDP in Q2 2019 by 0.4 percentage points, so its outright production halt through Q1 2020 and possibly longer could deliver a much worse financial shock.
What's happening: Friday's congressional report detailed Boeing's efforts to avoid putting pilots through flight-simulator training to save money, and alleged that the company's penny-pinching was pervasive, stretching across engineering, marketing and management.
The report said this resulted in the company misleading or withholding information from FAA officials.
Both crashes occurred after pilots were unable to undo the automated flight-control feature that they were supposed to be trained on when it misfired repeatedly and pushed down the nose of their plane leading to the crash, WSJ reported.
The bottom line: The U.S. economy needs Boeing to get back on its feet, but the widespread malfeasance detailed in the report could mean it stays grounded for even longer as a further spate of government hearings and investigations unfold.
2. Catch up quick
Japan's economy, the world's third-largest, shrank an annualized rate of 7.1% in Q4, revised data showed. (Reuters)
Britain's Competition and Markets Authority want to probe Facebook and Google's dominance in digital advertising, and could order that they be broken up. (Daily Mail)
3. Risk markets crumble
Benchmark U.S. 10-year Treasury yields fell to under 0.5% with the 30-year below 1% for the first time ever, oil plummeted by as much as 31%, Australia's ASX index lost 7.3% (its worst day since the financial crisis) and markets in Asia and Europe cratered.
In the U.S., S&P 500 E-mini futures fell so quickly they almost immediately hit a limit triggered when the index falls 5% from its close the previous session.
What happened: The economic shock of the coronavirus looks set to worsen as more places around the world, including the U.S., may institute quarantine measures that would severely reduce consumer activity.
More than half of the 50 U.S. states now have reported cases of COVID-19. As the virus spreads, concerts and conferences have been canceled and universities are telling students to stay home.
Top government officials have made a complete 180-degree turn from earlier statements from the president and others that the virus in the U.S. was contained.
Further, Saudi Arabia, the world's top oil exporter, slashed its official selling price and plans to increase production significantly after a deal with Russia to coordinate a widespread reduction collapsed, Reuters reported. The actions were reminiscent of a move in 2014 that caused prices to fall by around two-thirds.
The drop in oil prices will be a major additional drag on oil-producing countries already contending with the economic shock of the virus outbreak.
What it means: Economic data shows that parts of China's economy suffered a shock from the COVID-19 outbreak greater than at any time during the great financial crisis, and market participants are beginning to factor in the possibility that more countries will face a similar hit.
Most economic forecasts so far have assumed the virus will contained before it becomes a global pandemic.
The bottom line: Multiple countries are likely already in recession.
This includes economic heavyweights Japan, Germany and Italy, which have seen low growth in recent years and are being hit by dramatically decreased demand from top trading partner China and by the negative shock of their own coronavirus outbreaks.
The Institute of International Finance found that the impact on global capital flows already has been worse than during the global financial crisis and predicted the world's growth would slow to near 1% this year, its weakest since the 2007–2009 recession.
4. "Blood in the market": A wave of oil company defaults awaits
Already struggling with mounting debt and falling market valuations, energy companies are at serious risk for mass bond defaults, especially those rated below investment grade, as oil prices now have fallen by more than 50% from their early January peak.
What's happening: Oil explorers and producers have around $86 billion of debt maturing over the next four years and companies with junk-rated debt were expected to have a hard time getting new financing this year, even before the COVID-19 and the weekend's OPEC fallout.
Moody's Investors Service warned in February that the likelihood oil and gas companies would see a wave of defaults was growing, the result of "continuing overproduction, depressed natural gas prices and widespread investor risk aversion toward the exploration and production sector."
Plus, the ratings agency said in a separate note in early February that the spike in energy junk-bond defaults last year was a "stalled not finished" cycle of fallout from the commodity crisis.
Debt-servicing problems have been "moving down the chain," from exploration and production companies to oil-field services, support transportation, and midstream pipeline companies.
The big picture: Energy companies are the biggest issuers of junk bonds, accounting for more than 11% of the U.S. high-yield market.
"This was literally the last thing U.S. high-yield energy producers needed," John McClain, a portfolio manager at Diamond Hill Capital Management, told FT. "There will be blood in the market on Monday."
5. The world's other deadly pandemic: locusts
Coronavirus is not the only plague threatening the world. In East Africa, the Middle East and South Asia, traveling swarms of locusts the size of Manhattan are putting potentially hundreds of millions at risk of starvation in what the UN has called the worst outbreak in a quarter of a century.
What it means: "Millions will starve because clouds of approximately 80 million desert locusts per square kilometre are voracious," writes Robert Rotberg, founding director of the Harvard Kennedy School's Program on Intrastate Conflict.
"In one day they consume wheat, barley, sorghum, or maize crops that feed 35,000 people. Masses the size of cities can consume 1.8 million metric tons of vegetation every day – enough to feed 81 million people."
"The United Nations is to test drones equipped with mapping sensors and atomizers to spray pesticides in parts of east Africa battling an invasion of desert locusts that are ravaging crops and exacerbating a hunger crisis."
What's happening: The outbreak had been mostly confined to Kenya, Ethiopia and Somalia initially, but the UN Food and Agriculture Organization (FAO) says it's now tracking 15 countries in Africa, the Middle East and South Asia affected by the locusts, Scientific American reports.
"The swarms have appeared in a swath hundreds of miles wide, from South Sudan in the west to parts of Pakistan in the east."
What's next: Authorities in East Africa are already undertaking a coordinated campaign of aerial pesticide spraying, "but experts say the scale of the infestation is beyond local capacity as desert locusts can travel up to 150 km (95 miles) in a day," the World Economic Forum notes.
This threatens to increase food shortages in a region where up to 25 million people are reeling from three consecutive years of droughts and floods.
Quote: "[T]he only thing we have to fear is fear itself — nameless, unreasoning, unjustified terror which paralyzes needed efforts to convert retreat into advance."
Why it matters: On March 9, 1933, President Franklin Delano Roosevelt called the U.S. Congress into a special session beginning its "100 days," a precedent for presidential agenda setting that has been followed (or at least attempted) by just about every American president since.