Update on our survey from last week: 78.3% of you said you love the word count at the top. (Smart Brevity count: 1,237 words / <5 minutes.) Was this email forwarded to you? Sign up here.
Situational awareness:
Since the start of 2018, China has cut tariffs on products from other WTO countries and raised them on the U.S. (CNBC)
Gains in global personal wealth rose just 1.6% last year, the weakest growth in 5 years. (Bloomberg)
Slack's direct listing hits the NYSE today with a reference price of $26, but the company wants to avoid price pops and volatility, and has increased the number of shares that can be sold to 194 million from 181 million. (Bloomberg)
1 big thing: What to make of the Fed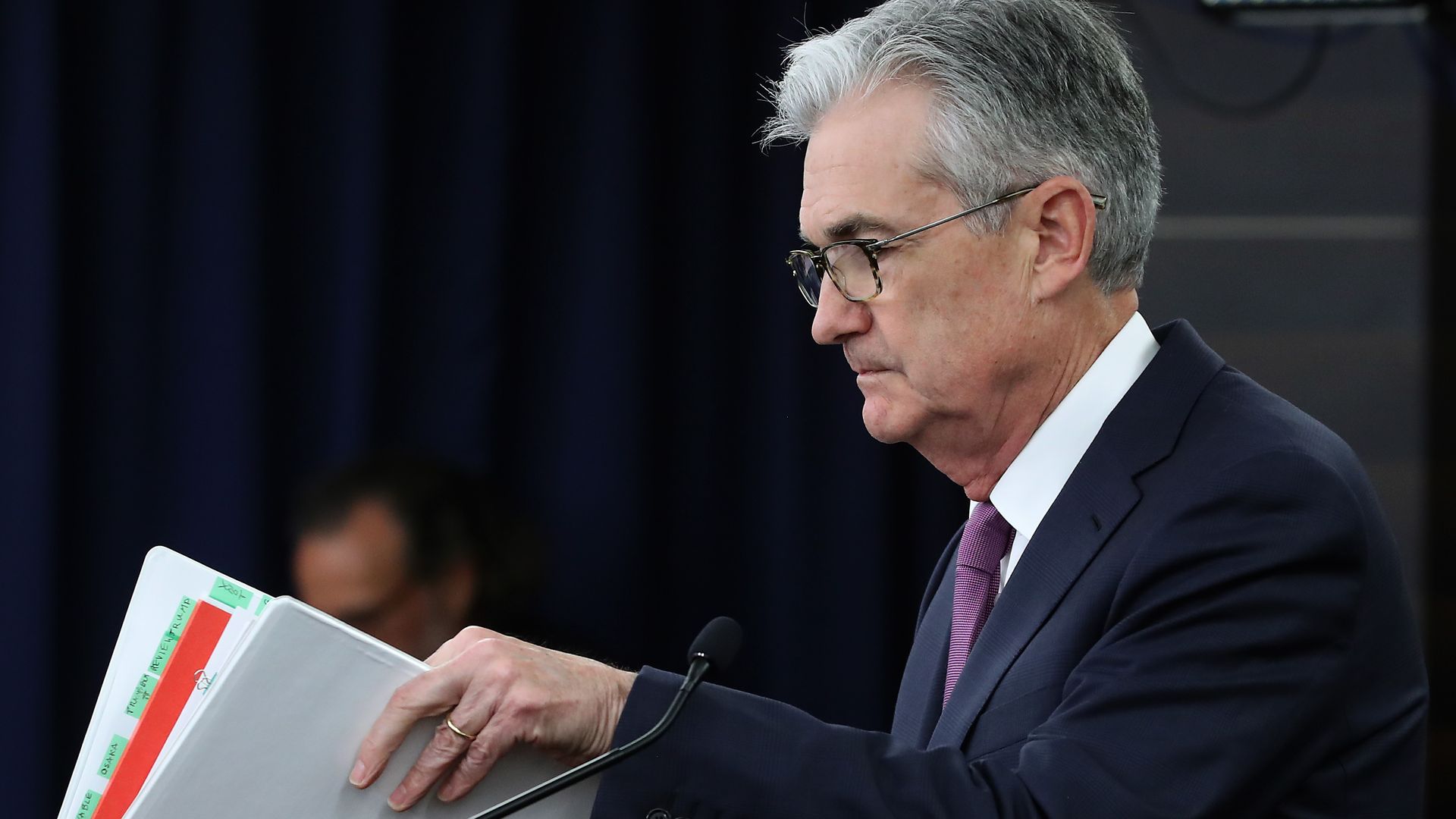 Fed chair Jerome Powell made clear at the Fed's June policy meeting that the U.S. central bank is ready to cut interest rates — just not yet.
What it means: Powell looks to be facing pressure from all sides — President Trump, other central banks and even members of the Fed's rate-setting committee — to lower interest rates. His press conference suggested that his heart's not in it, but he's ready to go.
U.S. stocks rallied for the 3rd straight day and yields on short-dated U.S. Treasury bonds tumbled after the release of the Fed's statement. The dollar weakened against every major currency.
Why it matters: The cut itself is inconsequential, analysts say. With the Fed funds rate still barely above the rate of inflation, cutting it 25 basis points makes little to no difference to the economy.
"The real impact is limited, but the sentimental impact is that the Fed stands at the ready to send a lifeline to markets," Brown Brothers Harriman Chief Investment Strategist Scott Clemons told Axios last month.
"Even talk of a Fed rate cut sends the message to markets that 'We're watching your back.'"
Without the Fed taking any concrete policy action, the yield on the 10-year U.S. Treasury note has fallen to its lowest in 2 years, dragging U.S. mortgage rates to near record lows.
Falling rates in the bond market could help reverse auto loan rates, which recently rose to the highest for new car financing since 2008 and the highest for commercial bank lending since 2011, according to the Fed's data.
What he said: "Uncertainties about this outlook have increased.... The Committee will closely monitor the implications of incoming information … and will act as appropriate to sustain the expansion."
Between the lines: "The Fed left rates on hold but sent a clear message — the next move is a cut. The only question now is the timing," analysts at Bank of America-Merrill-Lynch wrote in a note to clients.
Of note: As with the shift away from central bank policy tightening at the beginning of the year, Powell is following, not leading, the charge. European Central Bank President Mario Draghi has cleared the path for both policy pivots globally, as Europe's steadily weakening economy has led deteriorating figures on trade from the U.S.
2. Powell's not dumbing it down
Fed chair Powell has made FOMC statements shorter and spoken more often, but he hasn't actually spoken more plainly — at least not when compared to predecessors Ben Bernanke and Alan Greenspan.
Be smart: A 2014 report from the St. Louis Fed found that what increased the complexity of the reports was the Fed's quantitative easing program.
"During Federal Reserve Chair Alan Greenspan's tenure ... FOMC statements averaged 210 words with a reading grade level of 14. The statements continued on this track with Chair Bernanke from March 2006 until the end of 2008, when they started to change dramatically with the onset of the financial crisis and the beginning of so-called unconventional monetary policy.
"By January 2009, the statements were over 400 words with reading grade levels around 16.
"Under Chair Yellen, the FOMC issued five statements from March to September 2014. All five exceeded 800 words and had reading grade levels of 18 or 19, suggesting that readers would require an education level of about three years beyond a four-year college degree to understand them."
About the Flesch-Kincaid index: St. Louis Fed researchers explain, it "combines two measures of text complexity — average word length and average sentence length — to generate a reading level that corresponds to a U.S. grade level or the number of years of education generally required to understand the text."
3. Chinese A-shares escape the trade war trap
While China's most well-known equity indexes have underperformed this year, its onshore stocks — so-called A-shares — have driven returns well above the U.S. and index maker MSCI's all-world stock index.
What it means: The A-shares are primarily domestic companies and therefore less exposed to the U.S.-China trade war.
Asha Mehta, an emerging and frontier market portfolio manager at Acadian Asset Management, told me last year that was a big reason she was leading her firm's new China A-shares fund, the second asset manager to get licensed for A-share market access. She said that she was expecting the fund to draw $2 billion in assets.
Unfortunately for most investors, they are still little owned by those outside of China. But that's changing quickly.
What's happening: Researchers at the IMF reported Wednesday that aggregate portfolio inflows to China had more than tripled to $159 billion in 2018 from $50 billion in 2016, with overseas purchases of A-shares "especially strong."
"Add the widely expected inclusion of Chinese bonds and equities into FTSE and JP Morgan indexes, and China can expect to see benchmark-driven portfolio inflows of as much as $450 billion, or 3 percent to 4 percent of GDP, in the next two to three years," analysts wrote.
"These preliminary estimates may be conservative."
4. Argentina's "Macrisis" continues
Argentina's economy is falling apart, further evidenced by its second straight quarter of negative GDP growth.
But no one has bothered to tell its Merval stock index, which has risen almost 18% in June and 32% year to date.
Driving the news: The country's GDP fell 5.8% in the first quarter after a 6.2% fall in the fourth quarter of 2018.
Argentina is firmly in a recession, but analysts say the improved prospects of market friendly Mauricio Macri, who has overseen the country's "Macrisis," winning re-election are buoying the market this month.
What's happening: Under Macri Argentina has seen record high inflation and poverty rates and its peso currency has fallen to what is by far the lowest level on record.
However, his opponent in October's presidential race, Alberto Fernández, is running with former president Cristina Fernández de Kirchner, who investors worry could lead the country into yet another default on its sovereign bonds and end its record $57 billion IMF bailout program.
Go deeper: Argentina's Mauricio Macri has the country in a "Macrisis"
5. A-Rod says he's beaten Blackstone, KKR, Starwood on deals
Former Yankees third baseman Alex Rodriguez was the keynote speaker for EisnerAmper's Alternative Investment Summit in New York Wednesday.
While he spent most of his time onstage crushing softballs Eisner's CEO lobbed to him, Rodriguez, now chief executive of investment firm A-Rod Corp, did make a particularly interesting observation about the state of the market.
"The one thing you don't need today is capital because everybody has it. There's more liquidity out there than ever before chasing deals, so I think we are the scarce asset, we have opportunities and then we'll go out there and be strategic."
Rodriguez said its A-Rod Corp's ability to leverage both his and partner Jennifer Lopez's social media reach and "global impact" as well as the firm's experience and wealth of diverse perspectives that have allowed the much smaller company to " beat out Blackstone, KKR, Starwood," and other massive private equity shops for deals.
Editor's note: Situational awareness has been corrected to reflect that Slack's listing is today (not tomorrow).