Axios Markets
February 08, 2023
🐪 Welcome back. Today Matt has the latest on the Russian economy, and we offer up a quick check-in on the office market. Oh, and a new report is out with an estimate of the cost of happiness.
Last night in his State of the Union address, President Biden touted his economic record, pushed new economic policies like raising taxes on stock buybacks, and got the room all kinds of fired up when he said some in the GOP wanted to cut Social Security and Medicare.
Today's newsletter is 885 words, 3.5 minutes.
1 big thing: How streaming saved our quality of life
While the cost of living is up overall, the cost of living well has been falling, according to an innovative index that measures the cost of bare recreational necessities, like short vacations and money for gifts and holidays, Axios' Felix Salmon writes.
Why it matters: Just because an activity is recreational doesn't mean it's unnecessary. Household budgets across the country have to find space for some such activities, lest their absence cause real problems with physical and mental health.
Driving the news: LISEP, the Ludwig Institute for Shared Economic Prosperity, has put together a basket of the bare recreational necessities, to see what's happened to their cost over the past 20 years. They call it the Minimal Quality of Life (MQL) Index.
Components include eating out twice a month; basic adult sports equipment like running shoes or a bicycle; the cost of sports at school for children; tickets to a minor league baseball game; a three-day annual vacation; and some money for gifts, decorations and holiday dinner in December. Plus, one television subscription.
By the numbers: The cost of the bundle, in nominal terms, rose from $2,586 in 2001 to $3,577 in 2021. That's lower than the overall rate of inflation, albeit still high enough to make such necessities unaffordable for any American family earning the median income of $70,784 in 2021. (The more children the family has, the more unaffordable it becomes.)
Between the lines: The MQL index has actually been coming down in nominal terms since 2013. That's when streaming services started to replace a cable TV subscription in the bundle.
The TV component of the index has fallen from $746 per year in 2012 to $277 in 2021 — a 63% decline. That helped the overall MQL cost fall from a high of $3,900 in 2012 to its most recent level of $3,577.
In other words: The falling cost of TV dwarfed the modest 1.2% rise in the cost of eating out over the same period, or even the 9% rise in vacation costs.
The bottom line: The greatest corporate force in terms of reducing household recreation budgets might no longer be Walmart. Rather, it looks like it's the rotation away from the cable bundle and towards streaming.
2. Catch up quick
3. Russia's deficit explodes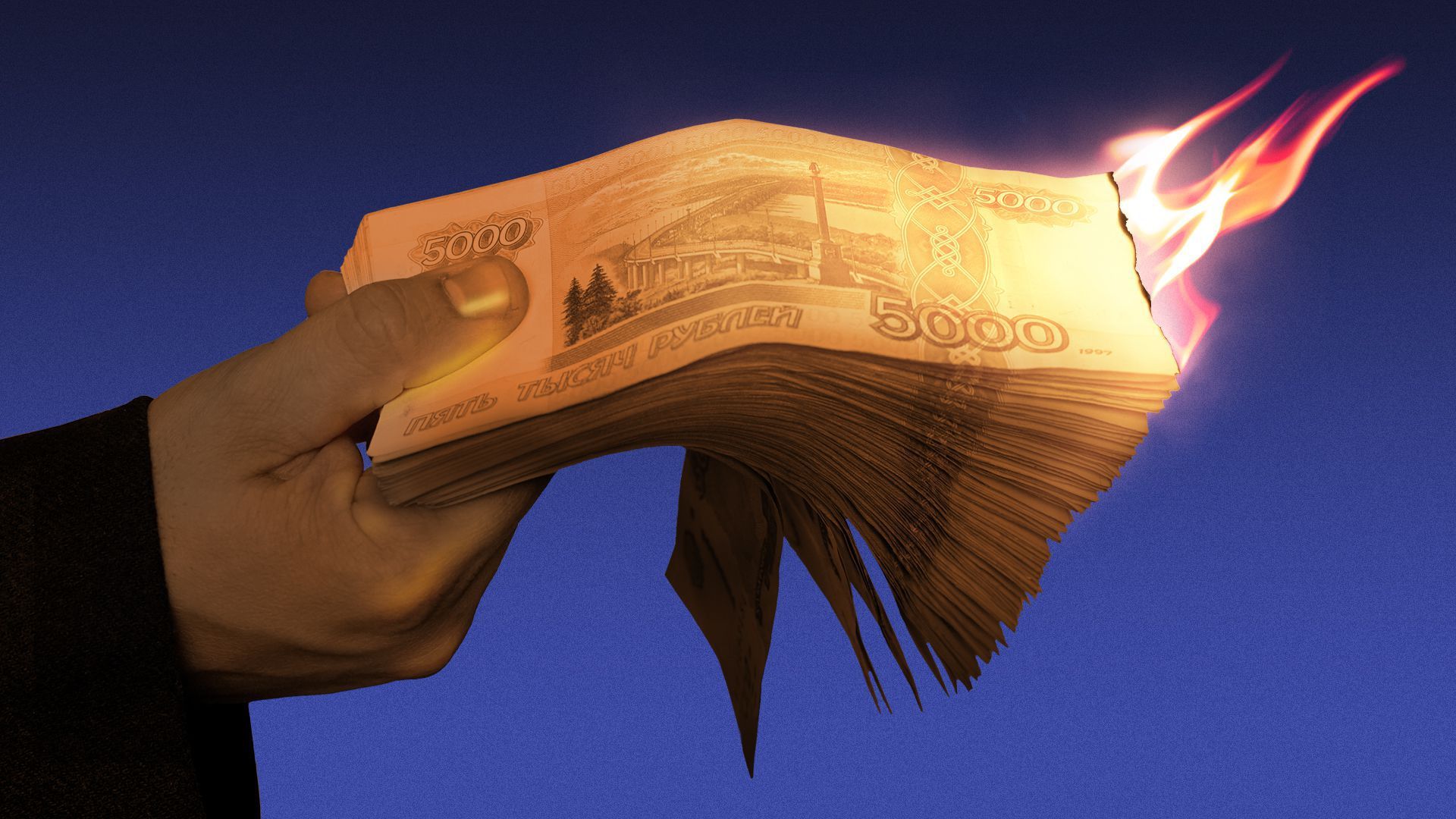 Russia's budget deficit widened sharply in January, as the latest sanctions on Russia's energy exports — and the mounting expense of its brutal war on Ukraine — may be starting to erode the Kremlin's heavily fortified finances, Matt writes.
Why it matters: Since Russia's invasion nearly a year ago, Western officials warned that it would take time for the full impact of sanctions to be felt in Moscow. That moment could be drawing closer.
Driving the news: Russia's Ministry of Finance reported that its budget deficit for January exploded to 1.8 trillion rubles — or around $25 billion — up roughly 14 times from last January's deficit of roughly $2 billion.
Oil and gas revenues dropped 46% from January 2021 levels.
Military spending drove government outlays up 59%, according to the Wall Street Journal.
What they're saying: Janis Kluge, an expert on Russian state finances with German Institute for International and Security Affairs, wrote on Twitter that the deficit is "highly unusual and points to a larger deficit for the full year."
The big picture: The report suggests that recent Western efforts to tighten the screws on Russia may be bearing fruit.
In December, Europe moved to fully ban Russian imports of crude oil, in response to the invasion.
The G7 also imposed a price cap on Russian oil, which it's enforcing through its leverage over the maritime insurance industry.
Russia has also been forced to reroute crude shipments to countries such as India and China, who have been big buyers, but at discounted prices.
Yes, but: Russia isn't anywhere near being out of money. Vladimir Putin has focused for years on building up the country's financial defenses, which remain formidable.
They include Russia's national wealth fund, a kind of rainy day fund comprised of money from oil and gas revenues that have been socked away.
The finance ministry announced on Monday that it has roughly $155 billion in the fund, or about 7% of GDP, according to Reuters, that it can use to help cover deficits.
The bottom line: The financial pressure on Russia appears to be building.
4. Office occupancy dips back below 50%
Office occupancy fell by nearly five points after ice storms in Texas kept workers at home, per Kastle swipe data for the week ending Feb. 1, Emily writes.
Why it matters: The drop comes just one week after office occupancy hit a post-pandemic high — crossing the 50% threshold — and underscores how sensitive the workplace has become to weather events.
"The impact of severe weather events is more pronounced as the hybrid workweek trend takes hold," Kastle said in its weekly note.
By the numbers: Office occupancy in Dallas and Austin dropped by more than 23 and 25 points, to 30.3% and 42.2%, respectively.
What to watch: With office occupancy stagnating, there are increasing signs of distress in the commercial real estate space.
Was this email forwarded to you? Sign up here to get Axios Markets in your inbox.
Today's newsletter was edited by Kate Marino and copy edited by Mickey Meece.