Good morning! Was this email forwarded to you. Sign up here. (Today's Smart Brevity count: 991 words, < 4 minutes.)
"When you begin to see the possibilities of music, you desire to do something really good for people, to help humanity free itself from its hangups." - See who said it and why it matters at the bottom.
1 big thing: The trade war is working ... kind of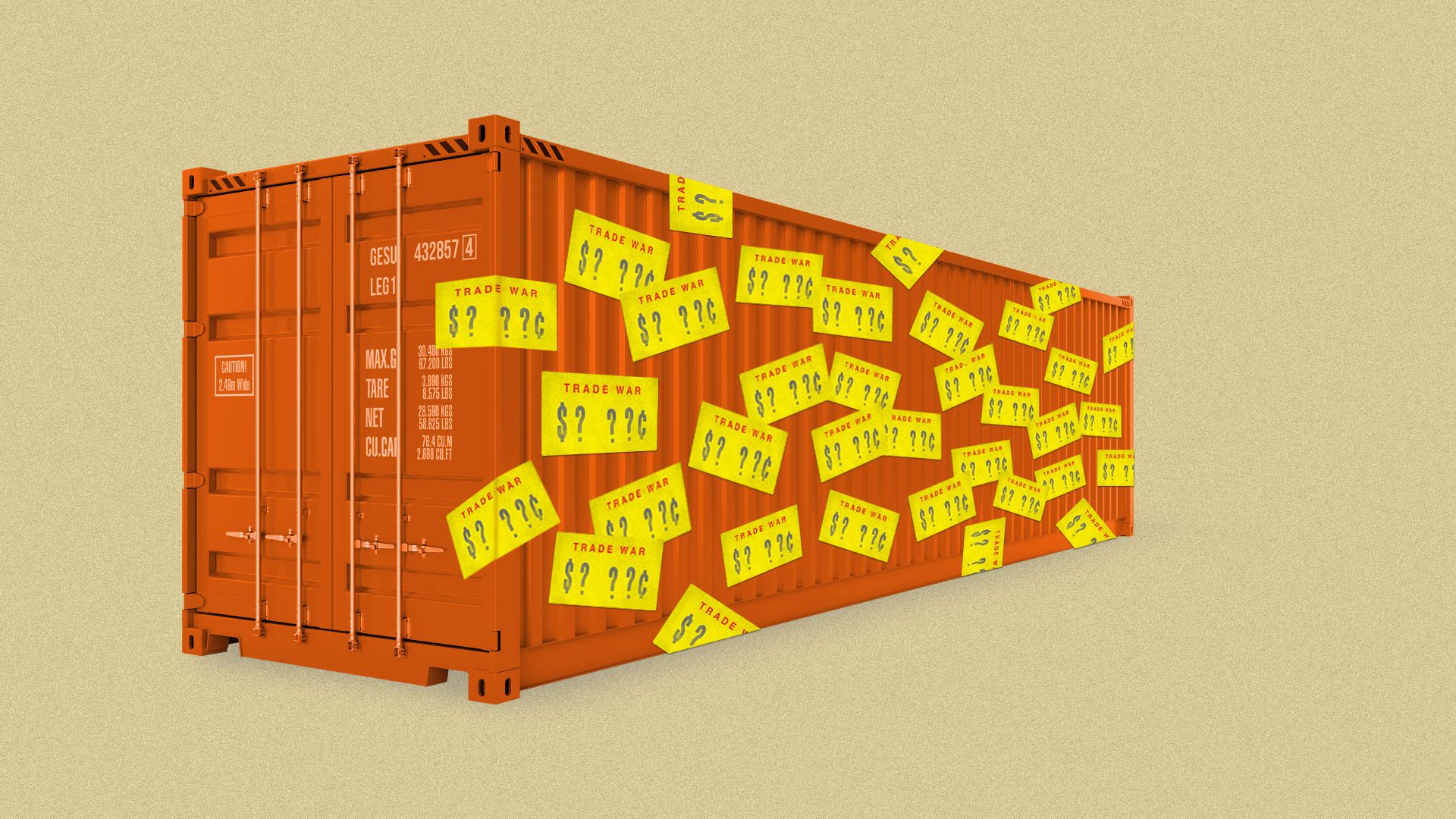 U.S. manufacturers and small businesses have been hit hard by the trade war, but recent data shows that China is really suffering.
Driving the news: China's total exports fell for the 12th straight month in November, dropping 1.1% from a year ago, and exports to the U.S. have fallen more than 20%, according to China's customs administration.
Economists had expected shipments to rise 1%, as retailers and companies stock up for Christmas, per Reuters.
What's happening: The U.S. trade deficit declined 7.6% in October to $47.2 billion, the smallest since May 2018, as both imports and exports of goods fell. It was the second straight month the trade deficit has fallen and the largest drop since January.
The goods trade deficit — a key benchmark of the Trump administration — is at its lowest since September 2017.
China's trade surplus fell to $38.73 billion in November, about $8 billion below what it was expected to be.
By the numbers:
27.4% drop in the goods trade deficit in October.
23.1% year over year decline of U.S. imports from China.
2.8% year over year decline in U.S. exports to China.
What they're saying: "There's little reason for the Trump administration to back away from tariffs as the pressure on China is working," analysts from S&P Global Market Intelligence note.
But, but, but: The goods trade deficit with the EU increased 20% during the month, with U.S. imports from the EU surging to a record high, so American business owners aren't necessarily reaping the benefits.
The Commerce Department also reported that factory orders increased 0.3% in October, but shipments were unchanged and unfilled orders were flat, indicating the recession in the U.S. manufacturing sector could continue for some time, Reuters notes.
2. Catch up quick
The Trump administration is poised to cripple the WTO's panel for hearing trade dispute appeals by blocking new members from being appointed. (N.Y. Times)
T-Mobile and Sprint are expected to be in court today to defend their $26 billion merger against 13 state attorneys general who have sued to block the deal. (WSJ)
Organizers estimate that 800,000 people turned out for protests in Hong Kong over the weekend, the largest demonstration in months. (Reuters)
There is a structural problem in the U.S. repo market, new analysis from the Bank for International Settlements finds. The September rate spike that prompted the Fed to begin daily cash injections was caused largely by over-reliance on four unnamed big banks and increased appetite for financing from hedge funds. (Bloomberg)
3. New York learns a valuable lesson about subsidies
Without getting billions in tax write-0ffs or a signature helipad for CEO Jeff Bezos, Amazon announced it had signed a new lease for 335,000 square feet of real estate in the developing Hudson Yards neighborhood of Manhattan.
What's happening: The company said the building will be home to 1,500 employees, and represents "Amazon's largest expansion in New York since the company stunned the city by abandoning plans to locate its second headquarters" there, WSJ's Keiko Morris reported Friday.
The deal followed a story from WSJ that Facebook was in talks to lease 700,000 square feet in the city.
"Combined with Facebook's other recent deals in the city, such a move would catapult the social-media company into the top ranks of the city's largest corporate tenants," Morris noted.
Why it matters: The move brings Amazon to New York in a major way and shows that it doesn't take billions of dollars in giveaways for the city to attract the top names in tech.
The N.Y. Times notes that the "lease does not qualify for the kind of tax credits and other government sweeteners the company had won in exchange for building a huge campus in Long Island City."
Of note: Critics charged that Amazon's HQ2 would have brought with it 25,000 jobs. However, that number was an estimate of jobs from Amazon that was not vetted by any outside party, and the jobs theoretically would have been created over 10 to 20 years.
The company had planned to hire just 700 people in its first year of operation and increase that to 3,000 the following year.
4. Jobs reports diverge
Last week's ADP private payrolls report was a serious head fake for Friday's blockbuster U.S. jobs report from the Labor Department.
By the numbers: The 266,000 jobs added was the second highest total this year, trailing only January's 312,000, and was in sharp contrast to the slowing trend seen for most of the year.
It was also the most the two reports have diverged for all of 2019, and by a significant margin.
5. A record amount of money has been pulled out of stocks in 2019
Traders still don't trust the stock market's run and are moving money out of equities at a historic level, despite a 25% year-to-date gain for the S&P 500.
What's happening: Data from the Investment Company Institute shows money has been pulled out of equity mutual funds and ETFs in every month this year except January.
In total, more than $130 billion has been drawn from equity funds in 2019, making it already the largest year of outflows on record.
ICI's data on equity flows go back to 2010.
The company's estimates for November show market participants also pulled money out of equity funds in every week, except one.
Similarly, a report from Refinitiv Lipper cited by WSJ shows the largest outflows in its history, which dates back to 1992.
6. Watch this space: Lagarde's first meeting
After Friday's jobs report, there's near certainty that the Fed will hold U.S. interest rates firm this week.
The one bit of drama will be what Fed chair Jerome Powell says about the future of monetary policy, but the market is expecting the Fed to sit on the sidelines for the foreseeable future and Powell seems happy to do so.
The intrigue: Much less known is what to expect when Christine Lagarde makes her debut as ECB president on Thursday. There are no expectations for a change in policy, but Lagarde's language and the ECB's statement will be closely watched.
In particular investors will be looking for signs of whether she plans to continue former president Mario Draghi's extreme stimulus and whether she is willing to lower the central bank's already negative interest rates if the 19-member bloc's collective economy hits turbulence in 2020.
Bankers have been complaining for months that the negative interest rates hurt their bottom lines and some have even started charging wealthy clients for holding their cash.
Money managers recently have begun to grumble that the negative rates have not helped and in fact have hurt growth prospects for Europe.
On Dec. 9, 1964, John Coltrane's Quartet recorded "A Love Supreme" at Van Gelder Studio in Englewood Cliffs, New Jersey.
Editor's note: This piece was corrected to show 13 attorneys general were suing to stop the merger between T-Mobile and Sprint (not 26).