Axios Markets
March 23, 2020
Good morning! Was this email forwarded to you? Sign up here. (Today's Smart Brevity count: 1,294 words, 5 minutes.)
🎙"Is life so dear, or peace so sweet, as to be purchased at the price of chains and slavery?" - See who said it and why it matters at the bottom.
1 big thing: What we're living through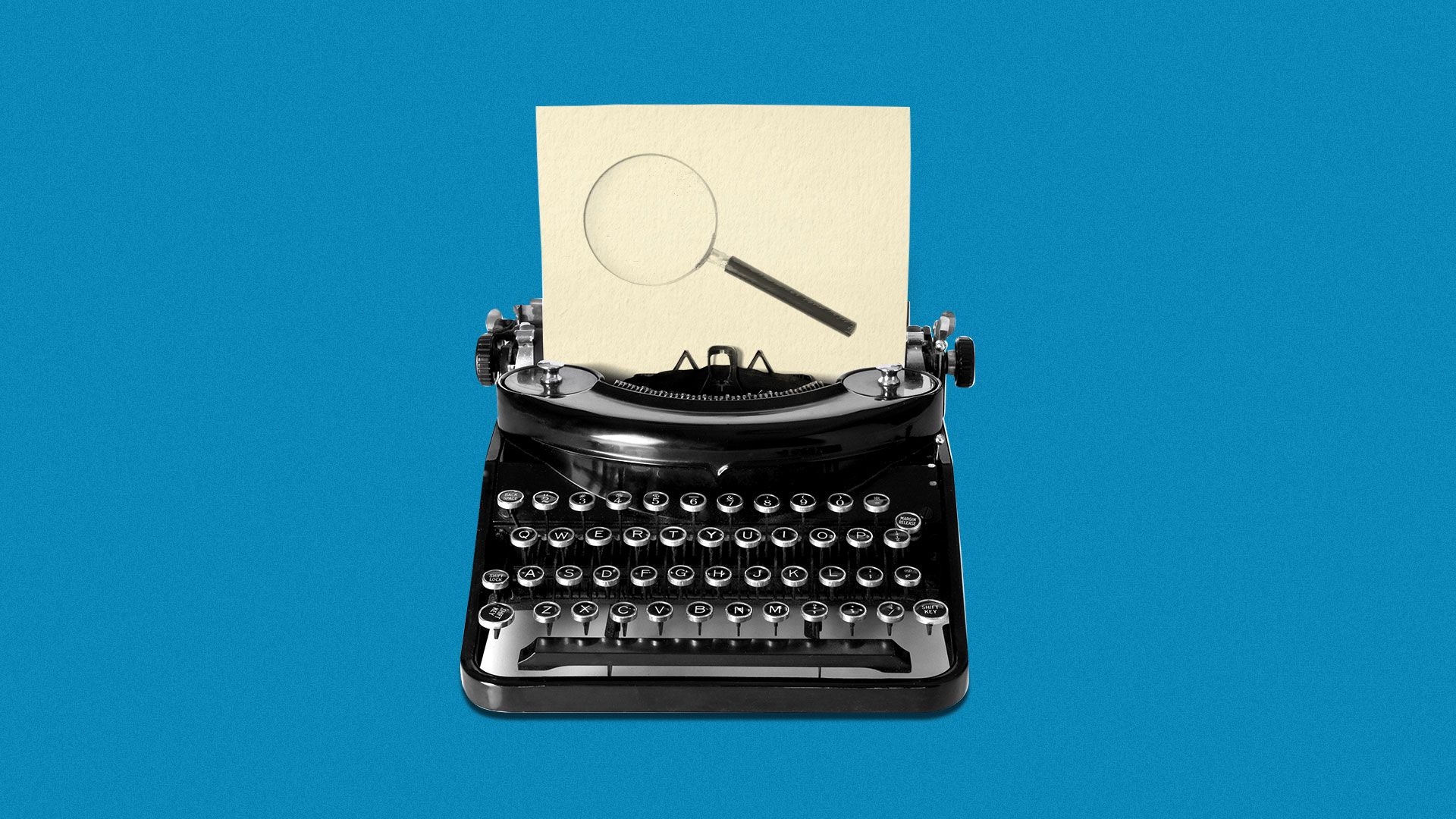 I wanted to write something bright and hopeful about our current situation this morning to counter all the doom and gloom I've written over the past two weeks. But there is nothing bright and hopeful to say.
State of play: Congress' failure Sunday night to pass a major stimulus program illustrates once again how dysfunctional our government has become and how at risk the world is for a catastrophe.
Threat level: Lawmakers weren't able to get the trillion-dollar proposal passed despite St. Louis Fed president James Bullard warning that U.S. unemployment could rise to 30% and GDP (overall, not growth) could decline by 50% in the second quarter.
"Millions of people are going to lose their jobs," Minneapolis Fed president Neel Kashkari said on "60 Minutes."
What's happening: Wall Street traders and money managers are scrambling for cash like nothing I've ever seen before, fire selling even safe assets like U.S. and German government bonds, and economists are throwing out and rewriting their economic projections on a near daily basis.
The National Association for Business Economics even scrapped its first quarter projection altogether, noting that "the effects of the pandemic are currently making a timely and accurate forecast impossible."
Between the lines: "The bigger concern here is that you have all these small- and medium-sized businesses which will be under extreme stress and forced to shut down, and we don't have a benchmark for how to recapitalize them or to keep them in business," Matt Luzzetti, chief U.S. economist at Deutsche Bank Securities, tells me.
Small business owners seem more scared than stock traders.
I've spent the past week talking to restaurant and bar owners who are literally in tears because they are certain that the businesses they've spent their lives building are about to be torn apart.
As a result, we are in the midst of the worst wave of job losses in American history — and a majority of Americans have no savings and nearly half were making just enough to survive before.
The big picture: Over the past few years I have written about a lot of things that could go wrong.
What it means: I have feared for some time that all of those chickens were due home to roost, but thanks to COVID-19 they could now all hit home at once.
The last word: From a Slack conversation I had with Axios Pro Rata editor Dan Primack on Wednesday.
Me: "You know this is gonna be way worse than everyone realizes, right? That's the thing I realized today. Way worse."
Dan: "Oh yeah. Worst of my lifetime. By a lot."
Bonus: Majority of Americans say they have no savings
The shock of the U.S. economy coming to a halt as more cities and states shut down businesses will be severe if lawmakers don't act quickly.
What's happening: AARP's latest study tracking U.S. household savings is based on a "yes" or "no" response to the following question: "Does your household have an emergency savings account?"
Why it matters: A majority of respondents answered "no," and even respondents who answered "yes" may not have a significant amount saved.
In fact, researchers note, "A broad interpretation of the question could count any plan for coping with an emergency, including borrowing from family and friends, as having an emergency savings account."
"Under this interpretation, even a household without savings in cash or a bank account may still answer 'yes' to the survey question."
Of note: A quarter of Americans who earn more than $150,000 a year don't have a savings account.
Further, "Fed data shows that 40% of US households would not be able to come up with $400 for an emergency expense," Deutsche Bank Securities chief economist Torsten Sløk notes.
2. Catch up quick
U.S. stock futures hit the "limit down" and trading was stopped as Dow futures fell as much as 800 points, following the failure of the stimulus agreement. (CNBC)
Senate Majority Leader Mitch McConnell said he would bring up another vote to advance COVID-19 stimulus legislation at 9:45 ET on Monday. However, five GOP senators will be in self-quarantine after Sen. Rand Paul tested positive for coronavirus. (The Washington Post)
S&P Global expects the default rate for high-yield bonds rise to 13% in the next year, more than quadruple the rate at the end of 2019. (CNBC)
SoftBank shares rose nearly 20% after the company announced it is selling off assets to buy back $41 billion in stock. (Reuters)
Leon Black's Apollo Global also recently took a short position against SoftBank. (FT)
3. U.S. counties expect coronavirus response to cost billions
Axios' Kim Hart writes: County officials are urging Congress to make their governments eligible to directly receive coronavirus relief funds to offset the ballooning costs of responding to the crisis.
Why it matters: The country's 1,900 public health departments are run by counties, which also manage roughly 1,000 U.S. hospitals. More than 500 counties have already declared a state of emergency to trigger additional funding and resources.
Driving the news: Senators failed to move a third stimulus package forward in Congress Sunday, and it's unclear what the package will include for state and local efforts, and whether counties will be required to apply for funds from state governments.
The big picture: State and local governments have cut public health staffs by over 25% — or about 60,000 workers — since 2008 due to federal funding cuts. Since then, funding has been restored to handle a specific health crisis, such as ebola or the opioid epidemic.
"What we're seeing now is the result of those cuts in federal funding," said Matthew Chase, executive director of National Association of Counties. "You can't ramp up in a public health epidemic. You need a baseline capacity."
Between the lines: Costs are only part of the picture. Adding to the budgetary pressure is the anticipated lost tax revenue due to businesses shutting down for weeks if not months, which makes it even more challenging to absorb the extra costs.
Smaller counties will likely see larger percentages of impact on their budget. Over six months, a small county may see deficits of 10% or higher. And that's before projected revenue loss is factored in, said Teryn Zmuda, chief economist for the National Association of Counties.
Larger counties may run deficits of 2%. That may sound small, but 2% of a populous county's budget can mean $80 million to $100 million. In addition to that, large counties face a potential loss of 7%–8% within a six-month time frame.
Context: Some services, such as homeless programs, may be joint efforts provided by the city and the county, and some counties operate as a consolidated city-county entity.
But when it comes to public health services, counties typically take the lead.
Even before this crisis, a little over a quarter of counties had not recovered from the Great Recession of 2007–09, while also seeing "unprecedented" demands on public health programs, Chase said.
4. Curve-flattening belief increases with education
New data from CivicScience provided first to Axios shows that marketing of the phrase "flatten the curve," encouraging people to slow the spread of COVID-19 through measures such as social distancing, is most effective for people with higher levels of educational attainment.
Why it matters: "Those with less education report varying degrees of skepticism and denial," CivicScience analysts say in their latest report accompanying the data.
"And that skepticism may remain for some, at least until more on-the-ground data can confirm whether social distancing, mandated closures and other measures to flatten the curve are making a difference."
Quote: "Is life so dear, or peace so sweet, as to be purchased at the price of chains and slavery?"
Why it matters: Patrick Henry is considered one of the most influential champions of the American Revolution and its fight for independence.
He gave an impassioned speech on March 23, 1775, that concluded: "Is life so dear, or peace so sweet, as to be purchased at the price of chains and slavery? Forbid it, almighty God! I know not what course others may take; but as for me, give me liberty or give me death!"