Axios Markets
November 13, 2020
Welcome back. If this email was forwarded to you, sign up here. (Today's Smart Brevity count: 1,228 words, < 5 minutes.)
👑 "When life seems hard, the courageous do not lie down and accept defeat; instead, they are all the more determined to struggle for a better future." - See who said it and why it matters at the bottom of the newsletter.
1 big thing: The Fed's possible Shelton era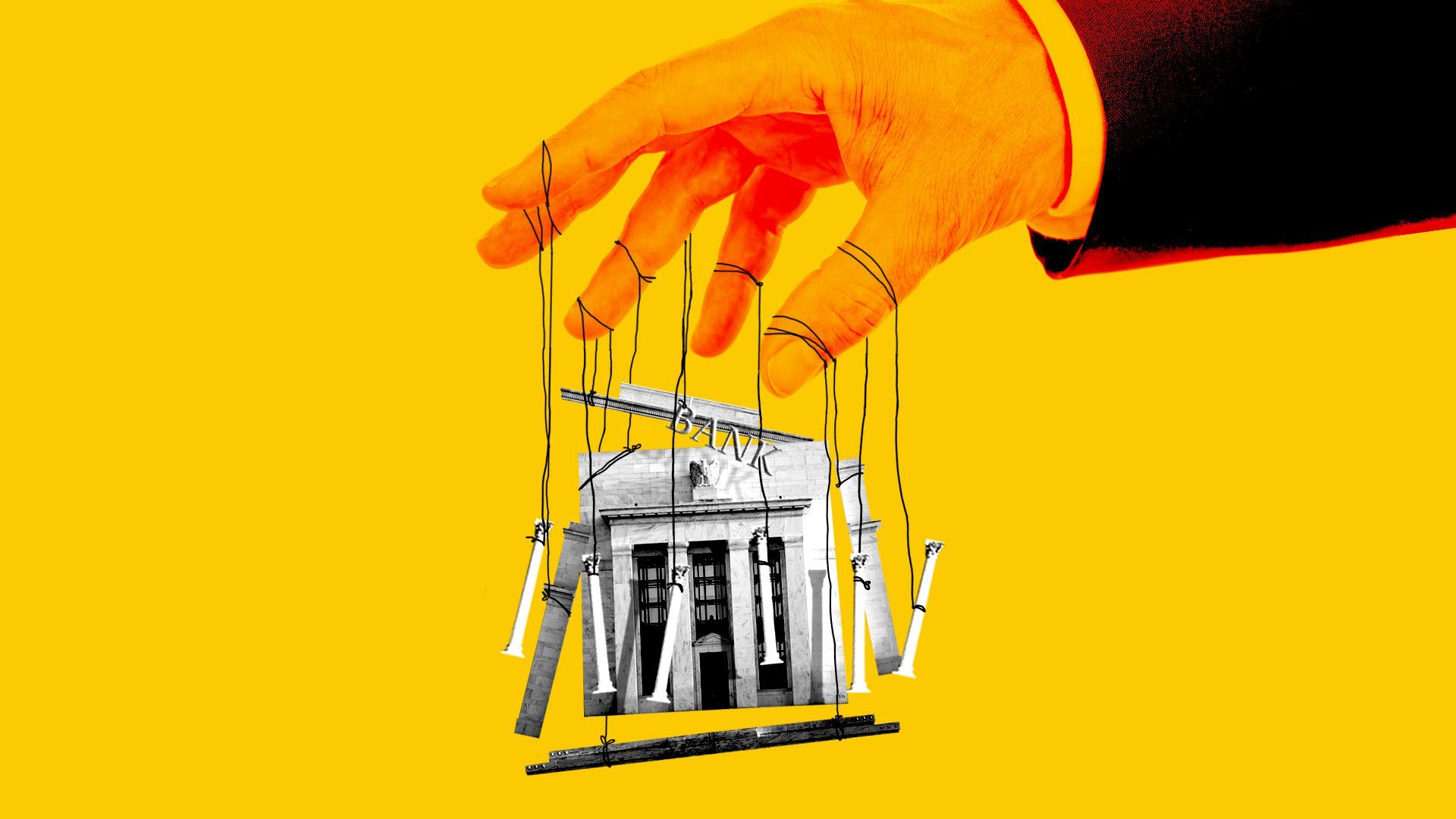 Judy Shelton looks to be within striking distance of getting a seat on the Federal Reserve Board.
Why it matters: Her political background is unprecedented for a Fed candidate, and threatens the central bank's critical apolitical stance.
Our thought bubble, per Axios' Felix Salmon: Of all the tools in the Fed's arsenal, its independence from political influence is the most powerful and most important.
Driving the news: The former Trump campaign advisor is likely to cinch a position as one of the crucial decision-makers at one of the most powerful economic institutions in the world.
A full Senate vote on Shelton's nomination is expected to happen as soon as next week.
Sen. Lisa Murkowski (R-Alaska) revealed she would support Shelton's candidacy on Thursday — all but guaranteeing Shelton for now has the votes to be confirmed for the Fed governor post.
Where it stands: Shelton's economic stance is unclear to Fed watchers, as she's flip-flopped between unconventional views before her candidacy to post-election statements in line with President Trump.
"The hallmark of the Powell Fed is flexibly policymaking, but Shelton has taken that flexibility to a whole new level over the course of her career. It doesn't inspire confidence," Lou Crandall, a decadeslong Fed watcher and chief economist at Wrightson ICAP, tells Axios.
Case in point: Shelton long supported a return to the gold standard. But she said at a hearing earlier this year that she "would not advocate going back to a prior historical monetary arrangement."
She questioned the importance of the Fed's political independence in an op-ed last year. But at the onset of her congressional hearing, she nodded at the Fed's "political independence and operational autonomy."
She criticized the Fed for cutting interest rates to near zero in the depths of the financial crisis. But then advocated for a steep rate cut last year — at the same time Trump was calling on Powell to slash rates.
The latest: Shelton's fate at the Fed went from possibly doomed when she was first nominated in January to a near lock.
Senators on both sides of the aisle were initially skeptical about Shelton. Senate Banking Committee Republicans voiced concern about her non-mainstream views and questioned her ability to uphold the Fed's political independence, the Washington Post reported at the time.
But ultimately in July 2020, all the Republicans on the panel voted to advance Shelton to a full Senate vote.
Christopher Waller, a director of research at the St. Louis Fed and the far less controversial candidate nominated by Trump, picked up some Democratic votes. No word yet on a full Senate vote on Waller's nomination.
The big picture: Earlier this year, concerns about Shelton's candidacy snowballed into fears that, given the right sequence of events, Trump could eventually appoint her to succeed Fed chair Jerome Powell. (That's not likely now since Joe Biden won the 2020 election.)
Her seat — which would expire in 2024 — may have little impact among the Fed's 12-member (if you include Waller's potential confirmation) voting panel.
"Anything she wanted to do outside of convention would be voted down," says Brandon Barford, a partner at research firm Beacon Policy Advisors and former Senate Banking Committee staffer.
The bottom line: Former Treasury official Tony Fratto tweeted, "It's not just a question of what damage she could do (not much) it's that it is a discredit to both the Senate AND the Fed. It screams, Nothing at all is serious. Not us. Not you. Not them."
2. Catch up quick
New coronavirus cases topped 152,000 in the U.S. on Thursday, the first day over 150,000 since the pandemic began. (NYT)
A Trump executive order bans U.S. investment in 31 Chinese-military linked companies, effective days before Joe Biden's inauguration. (Reuters)
Disney said its streaming service Disney+ had more than 73 million paid subscribers at the end of last quarter. (Axios)
The company is also canceling a dividend payout this year — seemingly a win for activist investor Dan Loeb.
3. Out of work for longer (and longer)
A staggering number of Americans continue to fall into a troubling labor market category: out of work for so long that regular unemployment programs have expired. And, that number is rising.
What it means: People are falling off the state unemployment rolls and likely getting work. But that's being offset by people who are falling off because they are simply no longer eligible to collect state unemployment.
They're transitioning to the Pandemic Emergency Unemployment Compensation (PEUC) program, which provides 13 extra weeks of support.
What they're saying: "The decline in continuing claims exaggerates the improvement in total employment," Conrad DeQuadros, an economist at Brean Economics, wrote in a note.
By the numbers: Roughly 160,000 more people moved onto PEUC in the week ending Oct. 24, bringing the total number of claimants to 4.1 million, according to the Department of Labor.
Remember: PEUC expires on Dec. 26, which will rip financial support out from right underneath millions of people (unless it's extended by Congress, which appears unlikely).
The same is true for Pandemic Unemployment Assistance, the program for gig and freelance workers, where 9.4 million people are said to be collecting benefits.
What to watch: Over half a million people are tapping Extended Benefits, an option for eligible unemployed workers in most states that have exhausted regular state and PEUC benefits — 21,000 fewer people than last week.
4. The vaccine's daunting challenge for airlines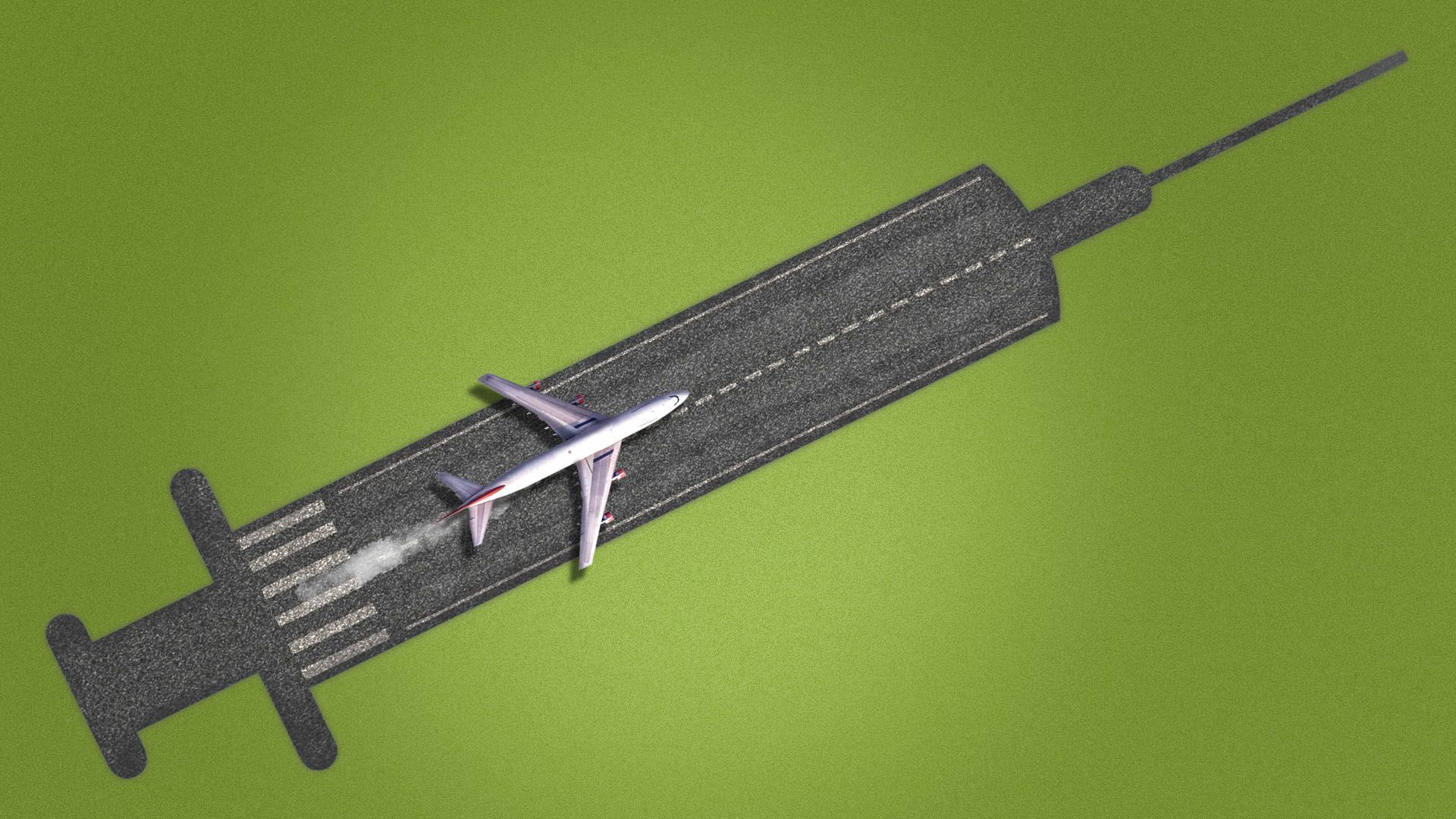 Axios' Joann Muller reports: The vaccine news airlines have been waiting for arrived this week, raising hopes for a recovery in passenger air travel — but only if the crippled industry can muster the resources to deliver billions of life-saving doses to the world.
The challenge is enormous: Just providing a single dose to the world's 7.8 billion people would fill 8,000 747 freighter planes, says the International Air Transport Association (IATA).
If half the needed vaccines are transported by land, it would still be the biggest single challenge the air cargo industry has ever faced, IATA says.
The problem: Most cargo flies in the belly-holds of passenger aircraft — not on cargo planes — and one in four airplanes have been grounded during the pandemic because people aren't flying.
The majority of those parked planes are wide-body jets typically flown on international routes — precisely the ones needed to distribute vaccines.
An added complication: The Pfizer-BioNTech vaccine (and similar ones) would require ultra-cold temperatures throughout the supply chain.
Few airlines are equipped to maintain shipments below -25°C, reports Skift, a travel industry publication. Germany's Lufthansa is an exception, with cold-chain capacity in 35 markets.
Others, including Korean Air and United Airlines, are scrambling to prepare now.
Yes, but: The industry is hardly in top shape to pull off such a massive undertaking.
What's needed: Airlines will need government help, industry officials say.
The industry is urging Congress to renew the payroll support program for airline employees that expired Oct. 1 so they'll be prepared to jump into action when a vaccine is ready.
✈️ Sign up for Joann's weekly Navigate newsletter, out later today.
5. 1 📺 thing: Gen Z's take on the finance world
HBO's "Industry" wants to give a fresh look at something that's been the subject of countless shows and movies: working in finance.
Here's what stands out: The new series focuses on Gen Z characters — including Harper (Myha'la Herrold), a Black woman from New York who's determined to succeed despite her low-income background, and Yasmin (Marisa Abela), who seeks to prove herself as more than a pretty, privileged face.
What they're saying: "The key that unlocked it was the 'kids' thing … writing about the experiences of people with the least amount of power in those industries," show co-creator Mickey Down (a former investment banker) tells Axios' Kia Kokalitcheva in an interview.
Almost any other attempt at writing about the finance world would feel "kind of derivative of something that's come before it," he adds.
Note: Axios partners with HBO for "Axios on HBO."
The quote: "When life seems hard, the courageous do not lie down and accept defeat; instead, they are all the more determined to struggle for a better future."
Who said it: Queen Elizabeth II, during a 2008 Christmas address.
Why it matters: Here's how I'll be spending part of my weekend: fully immersed in the new season of "The Crown," which drops on Sunday.
See you back here on Monday.