Axios Markets
May 22, 2020
Happy almost long weekend. Courtenay Brown here filling in for Dion, who's getting a much-deserved early start on his.
Today's Smart Brevity count: 988 words, about 4 minutes.
If this newsletter was forwarded to you, welcome! Sign up here.
1 big thing: The pandemic class of CEOs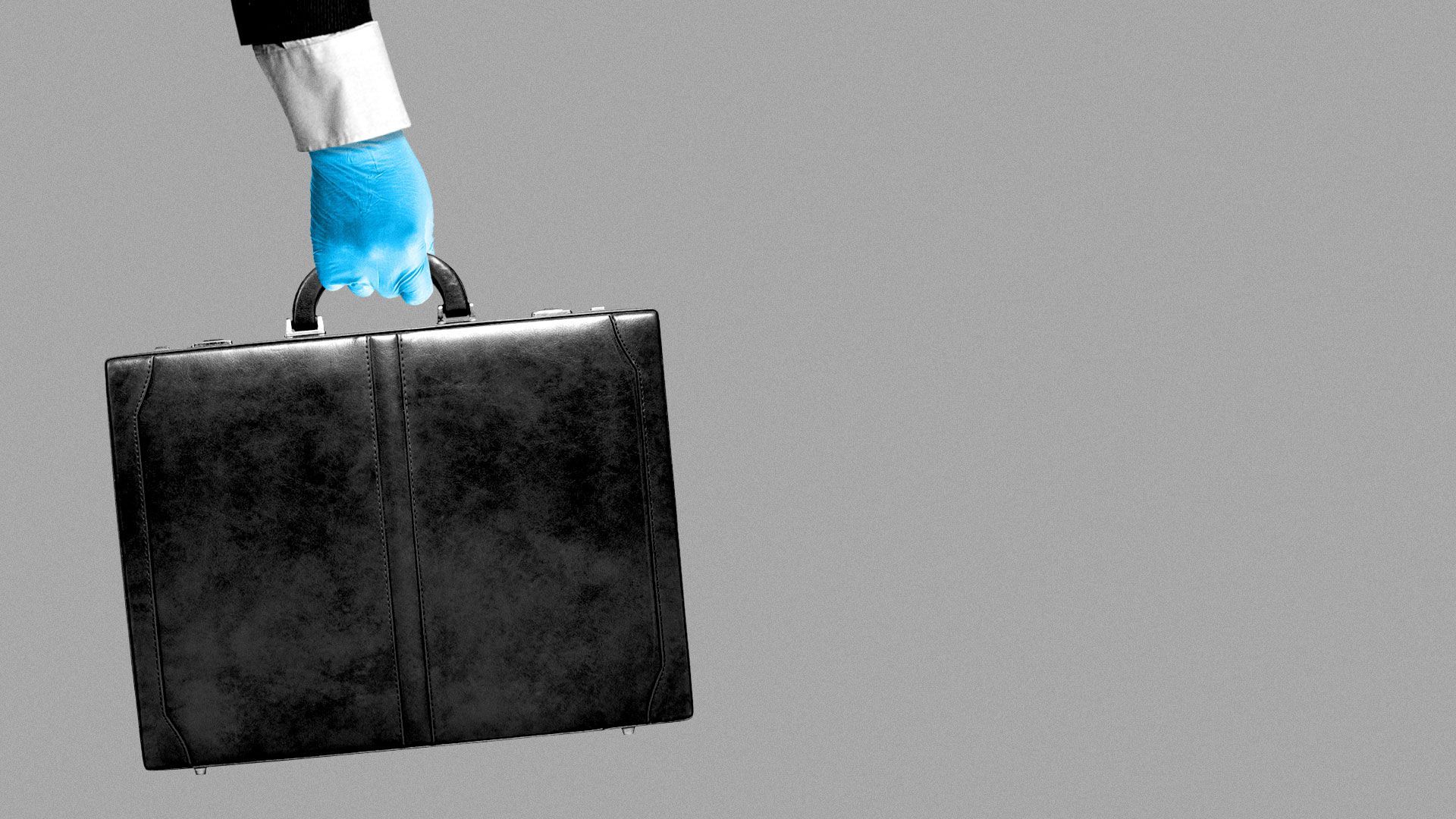 Investors are getting acquainted with a new class of CEOs, who are making crucial decisions about how to steer the companies that are in some cases taking the worst hit from the coronavirus crisis.
The problem: No one has experience dealing with an economy-shuttering global pandemic.
The backdrop: A record number of CEOs stepped down in prior months amid a thriving economy. Their successors are now taking the helm but under unprecedented circumstances.
Wednesday marked Day 1 for United's new chief, Scott Kirby. The transition was long-planned, but "no one knew that our world was going to change so considerably" when he took over, Kirby said in an email to customers this week.
Among the other companies debuting CEOs during the pandemic: L Brands, Expedia and IBM.
Hertz unexpectedly named a new CEO this week, its fifth leader in just as many years. He'll take the helm of the car rental company that was struggling pre-pandemic but is now fighting to avert bankruptcy as demand collapses and used car prices plummet.
Why it matters: These CEOs will be the face of tough decisions — including about layoffs — as their businesses are forced to change.
We're already seeing it: IBM CEO Arvind Krishna said yesterday the company was reducing its workforce by an unspecified amount.
Yes, but: In certain cases, while some titles have changed, predecessors are lingering in the background.
United's former CEO Oscar Munoz is now the executive chair of the company.
Meantime, former Disney CEO Bob Iger, who announced he would step down in February, "has effectively returned to running the company," the New York Times reported last month.
The other side: Retirement plans are being put on ice. Their companies are halting the time-consuming searches for new leaders. But no amount of tenure could have prepared someone to navigate the coronavirus pandemic.
One example: The CEO of California State Teachers' Retirement System, one of the largest pension funds in the U.S., is delaying retirement in part to focus on its response to the coronavirus economic downturn.
Another: International Airlines Group, the parent company of British Airways, is keeping its chief executive on as it navigates the crisis.
What they're saying: "A company that a year ago was focused on growth and international expansion might now need to shift much more towards cost-cutting," Yo-Jud Cheng, a professor at the University of Virginia's business school, tells Axios.
"The types of leadership qualities necessary to deal with that might be very different," she says.
2. Over 25 million Americans collecting unemployment
Before the coronavirus hit, 1.7 million jobless workers were collecting unemployment benefits.
In just over two months, that number has skyrocketed. More than 25 million workers are now on the unemployment rolls.
Why it matters: The number of new claims applications continues to be devastatingly high, though the pace has steadily slowed from the peak. Continued claims, which show the number of Americans on unemployment rolls after the initial application, keep climbing to new weekly records.
Even as states reopen their economies or businesses bring workers back, the tide of Americans continuing to receive benefits is stronger than those who may be falling off the rolls of unemployment and going back to work.
What they're saying: "We don't know how many people have fallen off unemployment because they got rehired," Heidi Shierholz, an economist at the Economic Policy Institute, tells Axios.
But continued claims show that "on net we're still seeing a deterioration" in the labor market, Shierholz says.
"When continued jobless claims peaks and start to fall, it's an important turning point for the economy," says Michelle Meyer, head of U.S. Economics at Bank of America.
Bonus: Questions about economy overtake virus
Axios' Stef Kight writes: Questions about the economic fallout from the coronavirus pandemic are beginning to overtake questions about the virus itself, according to a new analysis of Google search data from around the world.
Why it matters: Even with the global death toll rising, search data indicate that the coronavirus has become a fact of life for much of the world. Now, people have more questions about jobs, unemployment, furloughs and government aid.
How it works: Axios, Google Trends and research firm Schema analyzed more than 8,000 search terms in six countries — the U.S., Canada, Great Britain, Australia, India and Singapore.
These are all top English-language searches, related to coronavirus, that begin with "what is/are" or "how to."
What we found: General knowledge searches, such as "what is the coronavirus." surged in each country in January and February as the virus began to spread. But over the past several weeks, those queries have slowed.
In the U.S., Canada, Australia and Singapore, searches about topics like furloughs and unemployment — repercussions of necessary coronavirus shutdowns — are more likely to be top searches than questions about the virus or its spread.
3. Catch up quick
China won't set an annual GDP target for the first time in decades because of the "great uncertainty regarding the [C]ovid-19 pandemic and the world economic and trade environment," Chinese Premier Li Keqiang said. (CNBC)
Facebook is planning to shift the majority of employees to remote work in the next 5-10 years. Also ... Shopify said its employees can work from home indefinitely. (Axios)
The Federal Reserve bought $1.8 billion worth of corporate debt ETFs total since the facility launched last week. (Bloomberg)
4. 1 Spam thing
Sales of Hormel products — including Skippy peanut butter and Spam — to groceries skyrocketed, thanks to food stockpiling and the quarantine diet.
Why it matters: Some companies are seeing business (or parts of their business) collapse as Americans lock down. Others are getting a lift as people shelter in place.
"Early on in the crisis, there was this view that it was all just stocking up or pantry loadings," but there's sustained demand for the products, Hormel CEO Jim Snee told investors on Thursday.
Snee also said longer shelf-life items "are as important to consumers as they've ever been" with millions of Americans out of work.
The big picture: Bigger parts of its business are being slammed. Demand for its foodservice business, where it distributes products to restaurants, hotels and school cafeterias, has plummeted.
Costs of safety measures at plants, higher plant worker pay and more supply chain expenses cut into profits.
And late last month, it closed three turkey processing plants in Minnesota when several workers tested positive for COVID-19, as the Star Tribune reports.
Have a safe Memorial Day weekend. Dion will be back in your inbox on Tuesday.