February 24, 2021
Good morning! Was this email forwarded to you? Sign up here. (Today's Smart Brevity count: 1,252 words, 5 minutes.)
🌍 Trivia: A decorated professor with two earned doctorates and a master's degree, Maulana Ndabezitha Karenga is the chair of the Africana Studies Department at California State University, Long Beach. His studies of Swahili, Arabic, political science and social ethics led him to found this holiday in 1966.
1 big thing: Oil's revenge
Over the past two years, electric vehicle and emerging renewable technology stocks have soared as investors priced in the transition away from fossil fuels, but so far in 2021 that narrative has reversed.
By the numbers: XOP, an ETF that tracks the largest U.S. oil and gas companies, has gained nearly 40% so far this year as oil producers like Diamondback Energy and Occidental Petroleum have seen their shares jump by more than 50%.
The S&P 500 energy sector has been far and away the best performing of the index's 11 sectors (delivering 15 percentage points better return for investors this year than the second best sector, financials).
Diesel, crude oil and gasoline have been the world's top performing major assets in 2021, each gaining more than 25%.
On the other side: Clean energy has suffered, led by the swoon of 2020's world-beating stock, Tesla, which has dropped into "bear market" territory having fallen by 20.6% from its last record high on Jan. 8.
The decline in renewable energy names has been broad with companies as diverse as Chinese EV manufacturer Nio, California battery maker Romeo Power, hydrogen power company Plug Power and electric tractor trailer producer Hyliion Holdings all seeing big drops.
What they're saying: UBS Global Wealth Management CIO Mark Haefele is recommending "investors with a high risk appetite ... seek direct exposure to oil," even as crude prices reach one-year highs.
"As border closures and quarantine measures are eased, this should release pent-up demand for holiday travel and other types of recreational activity, boosting demand for oil," he said in a client note.
He expects global oil demand to reach 100 million barrels a day in the second half of the year, nearly equaling the global record of 102 million bpd.
Alternatively: "Given their aggressive discounting to present of long-term cash flows, they're suffering from the same effects as investment grade corporate bonds and anything else that pushes cash flow far into the future," Bespoke Investment Group said in a Monday post.
The big picture: Tech companies have broadly seen a turndown so far in February, but renewable energy companies have fared much worse. ICLN has declined 7.1% this year, while the Nasdaq Composite is up 4.5 % and the Nasdaq 100 is up 2.4%
The last word: The 2021 malaise is happening despite good news for the industry coming into the year: President Biden is expected to increase renewable energy investment in the U.S., oil prices are rising, and early estimates of global 2020 EV sales jumped to more than 3 million, reaching a market share of 4.4% — almost double 2019's 2.5% share.
Bonus photo: The mailman's new whip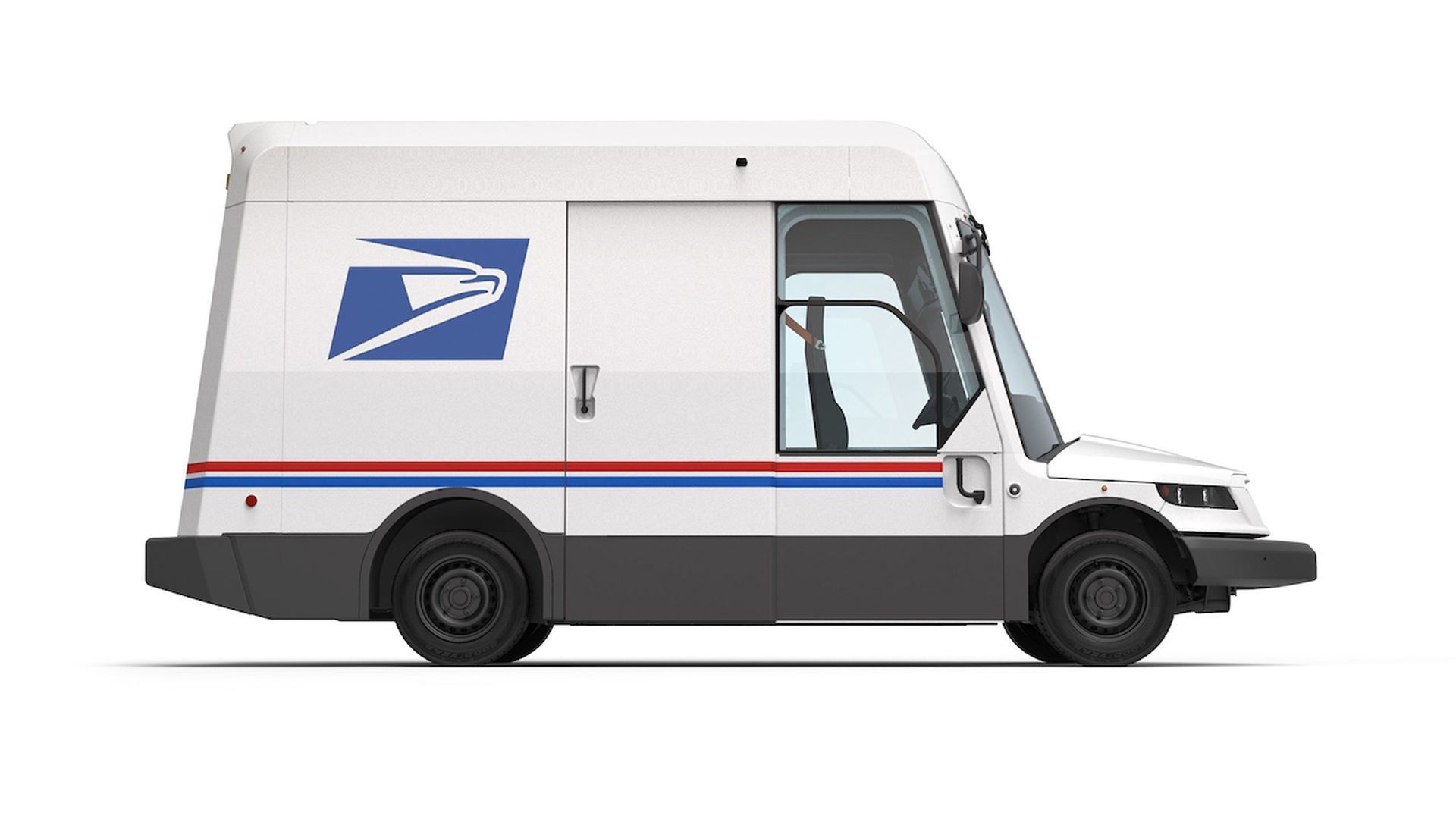 Axios Generate author Ben Geman writes: The U.S. Postal Service is going electric — well, just sort of.
Driving the news: USPS is awarding Oshkosh Defense a contract to complete design and ultimately build up to 165,000 "Next Generation Delivery Vehicles" over 10 years.
How it works: The vehicles can accommodate either internal combustion or battery drivetrains and "can be retrofitted to keep pace with advances in electric vehicle technologies," Tuesday's announcement states.
USPS is initially granting $482 million as the first phase of what will ultimately be a multibillion dollar fleet modernization contract.
Why it matters: Electrification of delivery fleets is considered an important way to increase market penetration of EVs and curb greenhouse gas emissions.
Winners and losers: Shares of Wisconsin-based Oshkosh rose but the news took a toll on Ohio-based EV startup Workhorse Group, which had been vying for the deal.
Its shares fell over 47% and kept dropping in after-hours trading.
What they're saying: "It is disappointing that today's announcement does not immediately commit to electrifying one of our nation's largest vehicle fleets," says Robbie Diamond, head of the pro-EV group Securing America's Future Energy.
The new vehicles should be electrified with "urgency" as a way to compete with China's aggressive moves in EV tech, he adds.
The other side: Postal officials touted the option to install both types of drivetrains as a way to phase in battery-powered deliveries.
"This contract gives us a good foundation to expand our use of electric vehicles," Postmaster General Louis DeJoy said at a briefing yesterday.
Quick take: Getting back to Workhorse, the USPS announcement signals the peril that young EV startups face in the wild, when the whims of a single potential customer can wield outsized influence.
2. Catch up quick
The Chinese city of Chengdu will hand out roughly $6 million in the latest test of the central bank's digital currency. (CNBC)
The board chairman, vice chairman, two directors and a board nominee of the Electric Reliability Council of Texas (ERCOT), all of whom live outside of Texas, resigned. (Reuters)
President Biden and Canadian Prime Minister Justin Trudeau said their two nations would work together to strengthen industrial supply chains, "tackle climate change" and "better compete with China." (Bloomberg)
Moderna and Pfizer both said they plan to at least double vaccine shipments to the U.S. government. (Axios)
AstraZeneca told EU leaders that it expects to deliver less than half the COVID-19 vaccines it was contracted to supply in the second quarter. (Reuters)
3. More parents leave jobs to care for children
Axios @Work author Erica Pandey writes: As the pandemic drags on, child care is not getting any easier for working parents, and more and more are hitting their limits and leaving their jobs, per a new report from the think tank Third Way, provided exclusively to Axios.
The big picture: Lack of child care is now the third-most cited reason for not working, behind layoffs and furloughs. At the very beginning of the pandemic, it was No. 5.
What's happening: Prices at child care centers have gone up nearly 50% since the onset of the pandemic due to increased sanitization and staffing costs, making them unaffordable for many Americans.
And the 56% of Americans who rely on relatives or grandparents to take care of their kids can no longer do so because it's unsafe.
So more parents — especially mothers — are dropping out of the labor force for their children.
Superstar cities are seeing big increases in labor market dropouts related to child care, Third Way found.
Since late April, New York has had 240,000 such cases; San Francisco, 50,000; and Houston, 110,000.
Worth noting: The pandemic is hurting child care providers, too. One in five jobs in the child care industry — which disproportionately employs women of color — are now gone.
The bottom line: "The crumbling child care industry is increasingly holding back economic recovery across the country," writes Jillian McGrath, an economic policy adviser at Third Way.
4. U.S. growth expectations go higher still
Fed chair Jerome Powell was the latest to cosign higher U.S. growth expectations on Tuesday, agreeing that he could see the U.S. economy growing in the range of 6% in 2021, and reaching its pre-pandemic level by the first half of this year.
Why it matters: Powell joins a growing chorus of economists and investors who see the U.S. growing much faster than expected this year, reaching annual GDP growth not seen since the 1980s and about three times the average growth rate of the past 15 years.
State of play: Banks and asset managers are going even bigger with their predictions. Deutsche Bank chief U.S. economist Matthew Luzzetti revised his GDP projection up by 1.5 percentage points on Tuesday to 7.5%, based on fourth quarter comparisons.
That's as high as Goldman Sachs' economists, who had previously been far more bullish than other major Wall Street banks.
Luzzetti's projection is largely based on expectations for Congress to pass a fiscal stimulus bill closer to Biden's $1.9 trillion target than initially thought.
Most economists had been expecting the stimulus to top out at around $1 trillion.
Thanks for reading!
Trivia: A decorated professor with two earned doctorates and a master's degree, Maulana Ndabezitha Karenga serves as chair of the Africana Studies Department at California State University, Long Beach. His studies of Swahili, Arabic, political science and social ethics led him to found this holiday in 1966.
Answer: Kwanzaa.
Shout out to reader Jennifer Thomson for the suggestion.