Axios Markets
June 27, 2022
Wow. So, last week was a week.
Emily starts us out with a report on the potential economic fallout from the U.S. Supreme Court's decision to overturn Roe v. Wade.
And I — it's Matt, by the way — bring up the rear with a few updates from my beloved financial markets. It was a big week for stocks, though you may have missed it with all the other headlines.
Today's newsletter, edited by Kate Marino, is 1,234 words, 5 minutes.
1 big thing: Economic fallout
Lower-income women will likely bear the brunt of Friday's U.S. Supreme Court ruling overturning the constitutional right to an abortion, Emily writes.
Why it matters: Though it may seem solely personal and political, abortion access is also an economic issue for women in the U.S., where they often face a steep wage and career penalty for becoming mothers.
In its majority opinion, the court did not substantively address any of the economic arguments in favor of keeping abortion legal — though these points garnered much attention in recent months.
Instead, the court said the notion that women need abortion access to participate equally in the economic and social life of the nation — as held in Roe and Planned Parenthood v. Casey — was "intangible."
In their dissent, Justices Sonia Sotomayor, Stephen G. Breyer and Elena Kagan dispute that. "Above all others, women lacking financial resources will suffer from today's decision," they write.
State of play: About 100,000 women who want abortions over the next year will likely not be able to get one due to financial and logistical constraints, Caitlin Knowles Myers, an economist at Middlebury College and a leading scholar on this issue, tells Axios.
She helped write an amicus brief, signed by 154 other economists, summarizing the economic scholarship linking Roe to women's social and financial advancement.
Most women in the states that now ban abortion will figure out a way to reach providers, Myers says. "About a quarter won't. Disproportionately they'll be the poorest and most vulnerable people. And this will severely impact their lives."
Probably the best hard data on the financial consequences of losing abortion access comes from a paper published in 2020, part of the Turnaway study.
The study uses credit reports to compare the financial outcomes of women who were able to access abortion to ones who were turned away from clinics because they were past the gestational cutoff; 68% of whom wound up giving birth.
The women who gave birth faced much higher rates of financial problems that persisted over the five-year period the researchers looked at — these included an increase in the amount of debt past due, bankruptcies and evictions.
The other side: Abortion opponents argued against those economic studies, calling them flawed and asserting that women's progress over the past half-century is due to other factors. Abortions hurt women, they say.
Go deeper: Overturning Roe could reverse economic gains
2. Companies scramble to adapt health benefits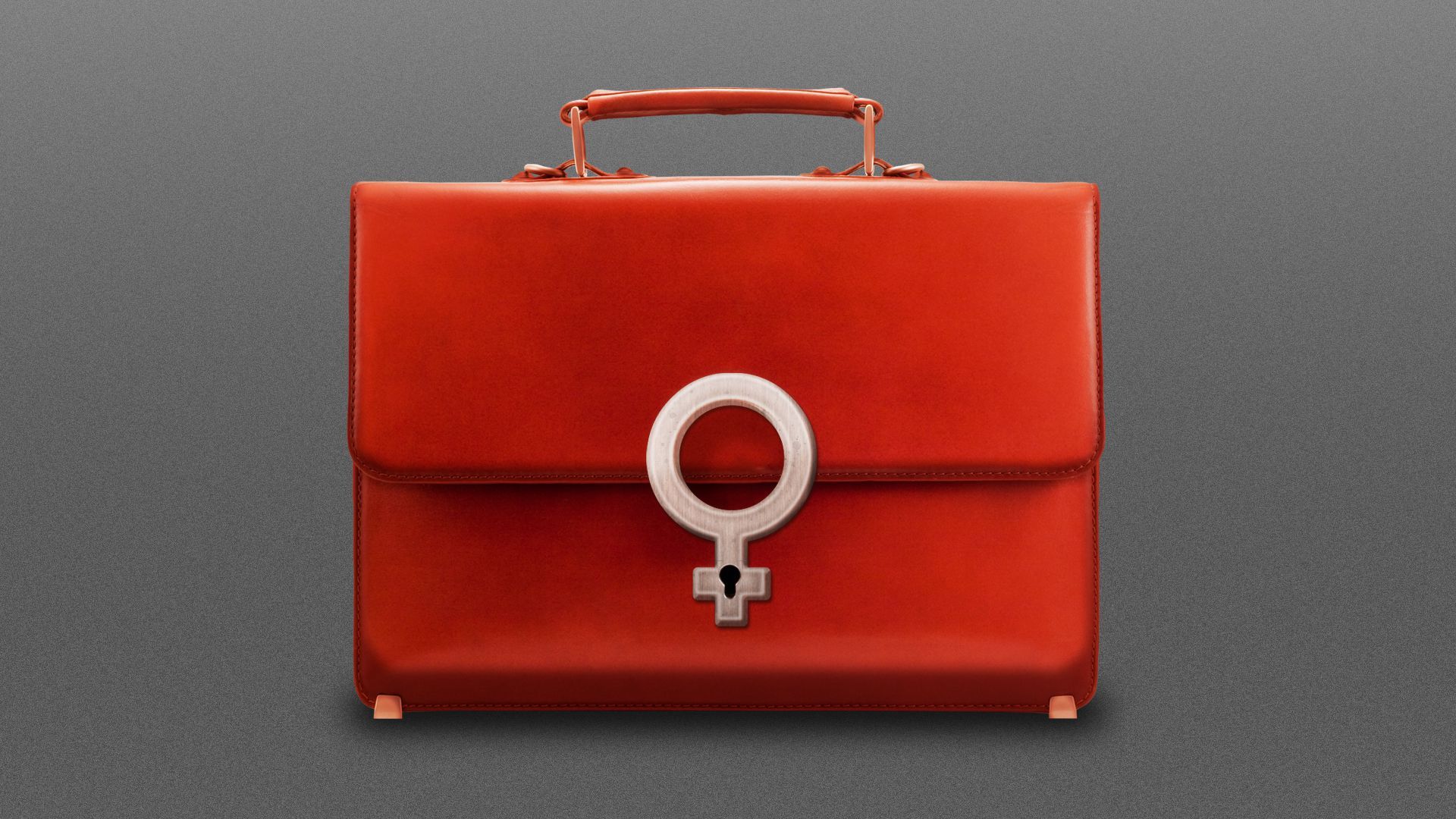 The overturn of Roe v. Wade means that U.S. employers — that provide health insurance to nearly 180 million Americans — must now contend with abortion; a controversial subject most have long tried to ignore, Emily writes.
Why it matters: Many large employers' insurance plans cover abortion, and now these benefits are suddenly political, the WSJ reports: Companies and insurers are now adding travel benefits so that workers can access care, but that opens up a raft of legal questions.
"We're going to be in years of litigation over these issues," Kerri Willis, a senior vice president at Aon, told the WSJ.
The big picture: Before the U.S. Supreme Court's ruling on Friday, "I don't know that it fully resonated with the private sector that corporations are now the backstop on women's ability to access abortion care," says Erika Seth Davies, the CEO of Rhia Ventures, a nonprofit advocacy group that also owns a venture fund investing in reproductive health.
State of play: Before the ruling, a handful of companies — including Yelp, Citi and Apple — said they'd pay for workers to travel to access the procedure in states where the practice was curtailed. More issued statements or sent internal memos after the ruling including...
Dick's Sporting Goods, JPMorgan Chase, Goldman Sachs, Bank of America, Meta and Microsoft.
Statements from companies supporting the ruling are hard to find. (Have you seen any? Send them our way.)
Meanwhile, about 10% of employers exclude abortion coverage in some way from their health plans, according to a Kaiser survey from 2019.
What's next: Employers are changing benefit plans and prepping for legal battles, as well as possible backlash from politicians and others who support the ruling.
3. Catch up quick
4. Charted: Dr. Copper takes a turn
Copper prices are down sharply this month, yet another sign that the outlook for global growth is softening, especially in China, Matt writes.
Futures prices for the metal — used in the wires in everything from cars to houses to electronics — are down roughly 13% this month.
Why it matters: Copper prices are widely seen as offering a useful reading on the health of global industry, especially China's factory and construction-heavy domestic economy. Lower prices are traditionally viewed as a sign of softness.
The downturn in copper confirms other indicators of weakness in the world's second-largest economy, which has been hard hit by COVID-related lockdowns in massive economic centers like Shanghai and Shenzhen.
Let's nerd out: Markets geeks sometimes refer to the metal as "Dr. Copper," in reference to its supposed acumen at calling economic turning points, something actual Ph.D. economists are notoriously bad at.
The bottom line: The global economy seems to be slowing, which could take some of the pressure off of supply chains — and by extension prices, such as those of copper.
5. What bear market?
Stocks last week posted their second-best showing of the last 12 months, leaving investors to puzzle over whether it was just a colossal bear-market bounce or a sign that the worst of the market meltdown is over, Matt writes.
Driving the news: Last week's rally!
Then S&P surged 6.5%.
The Nasdaq jumped 7.5%.
The Russell 2000 small-cap index rose 6%.
Why it matters: The upswing is a welcome change for investors in 2022, which had been the worst first half for the S&P 500 since the Kennedy Slide of 1962. (This was not one of the era's nifty dance crazes.)
The big picture: Investors seemed to feel slightly more optimistic about several of the issues that have been bedeviled shareholders this year.
Interest rates: Rising rates have killed stocks this year. But last week they went the other way, as signs of economic slowdown make people think the Fed might not hike as hard as they had thought just a couple of weeks ago.
Interest-rate-sensitive stocks — often tech companies with super high valuations and no profits — soared last week, supercharging the Nasdaq.
COVID: Virus deaths continued to remain low, relatively speaking. And shots for the youngest Americans are now available, suggesting, at least to some, that we're effectively nearing the end of the pandemic era.
Share prices of airlines, hotels, casinos, cruise lines, retailers and restaurants — the most exposed to virus-related issues — went gaga. For instance, airlines in the S&P 500 rose roughly 5%, the best weekly showing this month.
China: Indications that China's gradual easing of lockdowns coaxed some investors into shares of firms with significant sales and/or supply chains in China.
Goldman Sachs' custom baskets of stocks of companies with large customer or supply chains in China were up roughly 7% and 6%, respectively, last week.
The bottom line: While it's nice to get a bit of a bounce, bear markets are notorious for short-lived rallies. And remember, the S&P 500 is still down 18% this year.
🎧 1 thing Matt loves: Memorizing musical intervals. I'm about as amateur a musician as there is. But I've finally gotten around to learning a bit of theory. And I can't tell you how satisfying it is to know that the dreadful two-note leitmotif from "Jaws" is the minor second. Or the first two notes of "Here Comes the Bride" is the perfect fourth. The start of the main sequence of the "Star Wars" theme? It's the perfect fifth. Anyway, if you're interested in ear training at all, I highly recommend "Echo Drills" an incredibly useful podcast.