July 11, 2019
Was this email forwarded to you? Sign up here. (Smart Brevity count: 1,073 words / ~4 minutes.)
Situational awareness:
1 big thing: A Fed fight may be brewing
The market got the signal loud and clear from Fed Chair Jerome Powell yesterday — an interest rate cut is coming in July. But that rate cut may push forward tensions within the central bank.
What's happening: At June's meeting, the Fed delivered the first non-unanimous rate decision of Powell's tenure, and judging by the minutes of the FOMC meeting released Wednesday, there is disagreement among members about whether a cut next month is warranted.
Several FOMC members "didn't see a strong rate-cut case" and a few saw a rate cut as a risk that could create "financial imbalances" in the economy, the minutes showed.
The intrigue: Bank of America-Merrill Lynch research analysts say they're now anticipating 3 more rate cuts this year, 1 at each of the Fed's next 3 meetings. But they're also expecting some pushback from members who have been on board with the pivot to "patience," but may not be as amenable to cuts.
"The FOMC is not in agreement," BAML's research team said in a Wednesday note to clients. "We will likely see a number of hawkish dissents at the upcoming meeting (potentially as many as three)."
Between the lines: Powell is well respected by the market and his colleagues on the Fed, but he does not hold the sway of decorated economists like his predecessors Janet Yellen, Ben Bernanke and Alan Greenspan.
So far, St. Louis Fed President James Bullard has been the only voting member of the Fed's rate-setting committee to formally break with Powell. But if other, more influential, members of the committee begin to oppose him, it may foment larger rebellion.
The last word: The Fed's most recent dot plot showed a growing schism among FOMC voters about whether to hold rates steady or cut. For now, the expectation is that Powell's vision will win out, but he looks to be losing support, and a few dissents at July's meeting may be just the beginning.
2. June was a historic month for gold
Gold-backed ETF holdings have risen to the highest level since early 2013, with June showing the largest inflows in more than 3 years, data from the World Gold Council's June report shows.
What's happening: Investors have flocked to gold as expectations have risen for the Fed to lower interest rates, which is expected to push down the value of the dollar, and as continued global uncertainty has sent money into safe-haven assets.
Gold-backed ETF assets under management grew 15% last month, the largest monthly increase in 7 years, with flows from North America, Europe and Asia all rising during the month.
What they're saying: The last time gold ETFs saw this level of inflows gold was trading for $1,600 an ounce, 14% higher than its current level, Juan Carlos Artigas, director of research at World Gold Council, tells Axios.
"It was a combination of both tactical and strategic investors building positions."
3. Legal marijuana looks to be boosting snack sales
Despite still being illegal at the federal level, marijuana is now legal for recreational use in 11 states and Washington D.C., and it's having an impact on a number of other businesses.
Why it matters: New data from market research firm Nielsen shows states that have legalized have also seen a notable pick-up in the consumption of what Nielsen calls "munchies," creating "big opportunities for the American food and beverage market—particularly for the snack and confectionery category."
What they're saying: "Within the U.S., Nielsen data shows that sales of both salty and sweet snacks have increased over the past 52 weeks (ending April 27, 2019) with salty snacks reaching sales of $29.9 billion and sweet snacks hitting sales of $6.5 billion."
Further, Nielsen notes, "Edible hemp-based cannabidiol (CBD) products, which include the cannabinoid compound found in marijuana with little to no THC, present a $6 billion opportunity for the food and beverage industry."
The compound annual growth rate — a number representing the rate at which an investment would have grown if it grew the same rate every year and profits were reinvested each year — has grown demonstrably faster in legal recreational marijuana states than it has in those where it is still illegal.
4. Facebook's Libra takes center stage at Fed testimony
Axios' Kia Kokalitcheva and Courtenay Brown write: Powell acknowledged the risks associated with Facebook's Libra cryptocurrency, saying that any problems "would arise to systemically important levels just because of the mere size of the Facebook network."
Why it matters: Bitcoin has been around for a decade, but Facebook's plan to delve into cryptocurrency has lawmakers paying attention to the issue like never before. While Wall Street looked to Powell's testimony for confirmation of an interest rate cut this month, a big chunk of the 4-hour testimony reflected bipartisan skepticism about Big Tech.
What they're saying: Powell said the process of evaluating potential risks posed by Libra — in areas like money laundering, privacy and consumer protection — "should be a patient and careful one ... not a sprint."
"I don't think the project can go forward without there being broad satisfaction with the way the company has addressed" these concerns, Powell said.
A Facebook spokesperson told Axios in an email: "This is why we along with the 27 other Founding Members of the Libra Association made this announcement so far in advance, so that we could engage in constructive discourse on this and get feedback."
What's next: Powell is back on the Hill on Thursday to testify before the Senate Banking Committee. Meantime, the head of Facebook's Libra project, David Marcus, will testify in a pair of congressional hearings next week.
5. S&P 500 hits 3,000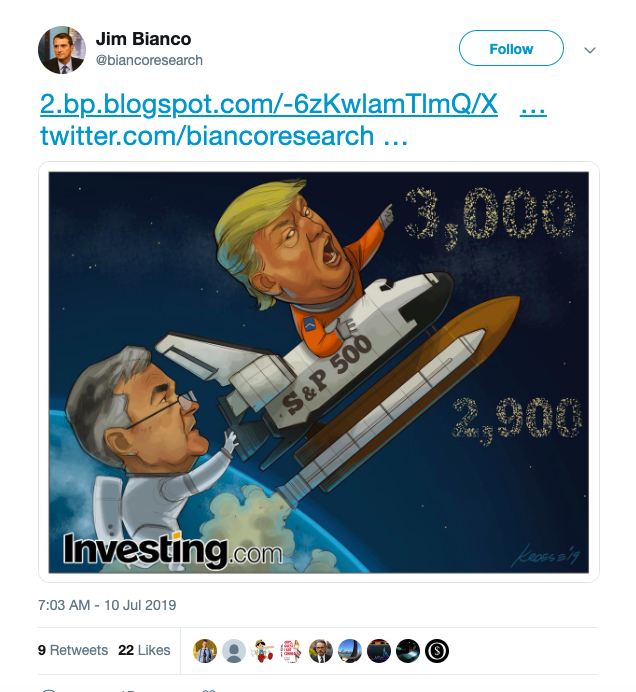 The S&P 500 rose above the 3,000-point mark for the first time on Wednesday as Powell's dovish commentary before the House Financial Services Committee reassured investors an interest rate cut was on the menu for the Fed's July meeting. The index closed at 2,993, up 0.45% on the day.
Investors view the expected cut as a sign Powell and the U.S. central bank will be responsive to troubles for the stock market and "act as appropriate" if and when prices begin to drop.
The Dow also hit an intraday record high and the Nasdaq closed at an all-time high.