Was this email forwarded to you? Sign up here.
Situational awareness:
1 big thing: Unstoppable tariffs take on immovable U.S. inflation
A logjam of inflationary pressures is starting to hit the U.S. all at once, and will challenge the persistent low inflation that has been a hallmark of the economy for more than a decade.
What's happening: The biggest single inflationary catalyst is the trade war between the U.S. and China. Major companies, including Walmart and Macy's have already warned that tariffs will force them to raise prices.
UBS analyst Jay Sole said in a weekend note to clients that 25% tariffs on Chinese imports could accelerate pressure on companies' profit margins and put $40 billion of sales and 12,000 stores at risk.
And that's just one inflationary input.
Oil prices hit a 3-week high Monday and look poised to rise further given the possibility of OPEC production cuts and U.S. sanctions on Venezuela and Iran.
Gas prices have managed to hold steady throughout much of the U.S. this year, but they now are facing a doubled-edged sword: the transition to more expensive summer gasoline blends and lower U.S. gasoline stocks, which are currently at a 7 million barrel deficit from 2018.
U.S. wages have picked up, particularly among low-wage workers as more municipalities and companies like Amazon and Target push through minimum-wage increases.
Perhaps most importantly, U.S. interest rates, which have remained low thanks to the Fed and market expectations for rates cuts, are facing "exploding US deficits and debt and foreign investors' waning appetite for US debt," says Lisa Shalett, chief investment officer at Morgan Stanley Wealth Management.
Yields on the benchmark 10-year Treasury note have fallen to the lowest levels of the year but a spate of weak auctions recently — producing the lowest bid-to-cover ratios since the financial crisis — have analysts like Shalett looking for a reversal.
Yes, but: The country has faced many of these headwinds before. The big question now is whether these catalysts will lead to higher prices for consumers or if businesses will eat the increased costs, lowering profit margins and reducing revenue.
The bottom line: Data shows that near- and even medium-term inflation expectations remain low for the public and for Wall Street. The stock market continues to rise, backed by high profit margins and revenues. Something has to give.
2. The world's most resilient country
Norway is the world's most resilient country in 2019, according to a report from commercial property insurer FM Global.
What it means: The resilience index ranks 130 countries and territories according to their resilience to disruptive events. It ranks countries by economic productivity, political stability, control of corruption and corporate governance.
Winners: Norway was followed among the top 10 countries by Denmark, Switzerland, Germany, Finland, Sweden, Luxembourg, Austria, the Central U.S. (because the U.S. and other large and diverse countries were divided into regions) and the U.K.
Surprise: The biggest mover on the list from 2018's report was Rwanda, which FM Global notes is the "Singapore of Africa." It climbed 35 places to No. 72.
3. Viacom hopes for big returns from the original "Rocketman"
Disney has been a box office hegemon for much of the past few years, with blockbuster releases from Marvel, Pixar and the "Star Wars" franchise. But Viacom's Paramount Pictures is hoping it has found a new recipe for success.
Driving the news: Its upcoming Elton John biopic, "Rocketman," will be closely watched by the market as the genre could set the stage for the next phase of box office winners, writes the New York Times' Brooks Barnes.
"Paramount has delivered nine consecutive quarters of improved financial results for Viacom, its corporate owner, but a turnaround is still tenuous. A big hit — and one that's not a sequel, spinoff or reboot, at that — would provide a morale boost and send an important message to Hollywood's creative community and Viacom investors: that even in the age of Netflix and Marvel, Paramount can deliver."
Why it matters: With audiences perhaps feeling some superhero saturation, "film executives are dreaming of finding another 'Bohemian Rhapsody.' The Queen bio-musical collected a jaw-dropping $908 million worldwide last year and won four Academy Awards, including one for Rami Malek as Freddie Mercury."
Why it matters to the market: Viacom's stock has been underwhelming in 2019, up just 7% year-to-date. That's about half the S&P's rise and less than one-third of Disney's 23% gain.
4. Record CEO turnover in 2018, as "ethical lapses" prompt firings
More CEOs than ever before at the world's 2,500 largest companies left or were removed from their position last year, new data from PwC shows, a record high of 17.5%.
That's 3 percentage points higher than the rate in 2017 and above what has been the norm for the last decade.
The big picture: Most strikingly, analysts noted, was that the reason CEO were fired. For the first time in the study's history, more CEOs were dismissed for "ethical lapses" than for financial performance or board struggles.
PwC noted that overall "forced turnovers" were in line with recent trends at 20% of overall leadership changes.
What they're saying: "We define dismissals for ethical lapses as the removal of the CEO as the result of a scandal or improper conduct by the CEO or other employees; examples include fraud, bribery, insider trading, environmental disasters, inflated resumes, and sexual indiscretions."
Why you'll hear about this again: The last kind of ethical lapse stood out, as corporate boards finally began adopting zero-tolerance policies toward executive mistreatment of female staffers.
"The growing presence and power of activist investors could also be a contributing factor to the higher rate of CEO turnover," PwC analysts noted.
5. Jokowi rescues Indonesia's stock market
Sitting Indonesian President Joko Widodo, known affectionately in the country as Jokowi, was declared the winner of April's hard-fought election on Tuesday by a double-digit margin.
It was not a second too soon for equity investors. The country's benchmark index has fallen off a cliff since voting began on April 17.
Details: After rising a respectable 5% from Jan. 1 through Election Day, the stock market not only erased all of its gains but declined by 10% during the country's month-long election process.
Through Monday, the exchange was in the red by 5% for the year.
Last week was the index's worst in 13 months, as political instability and security risks weighed on the market ahead of the election results being revealed.
Jokowi's win helped equities bounce 2% overnight Tuesday.
6. Jack in the Box feels Kim Kardashian's wrath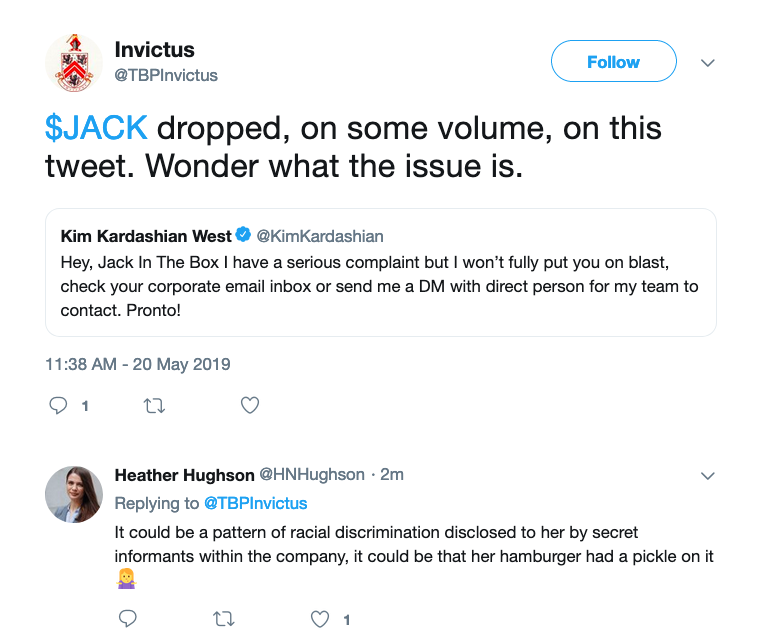 Screenshot from TBPInvictus' Twitter feed.
Jack in the Box's stock price fell by half a percent in the wake of this tweet by criminal justice reform advocate Kim Kardashian West, who recently welcomed her 4th child.
The stock had been rebounding from its sell-off to start the trading day. It closed Monday 0.21% lower.
Editor's note: The spelling of the Indonesia president's nickname was corrected to Jokowi in story no. 5.