Axios Markets
April 05, 2023
🐪 Welcome back. And Happy Wednesday.
Today's newsletter is 1,076 words, 4 minutes.
1 big thing: Tesla's not the only game in town anymore
Electric vehicles are no longer just for early adopters, Axios' Joann Muller writes.
EVs accounted for 7% of new vehicle registrations in the U.S. in January, up from 4.1% in January 2022.
Why it matters: It's a sign that the EV transition is gaining momentum. With a broader selection and some signs of moderating prices, mainstream car buyers are increasingly turning their EV curiosity into purchases.
The big picture: At the end of 2022, there were 47 electric models available for sale in the U.S., up from 33 the prior year.
And as the overall EV pie grows, sector pioneer Tesla's market share is continuing to shrink.
State of play: Axios has been tracking the historic shift away from gasoline, using vehicle registration data from S&P Global Mobility.
EVs made up 5.6% of all new U.S. car registrations in 2022.
That's up from 3.1% in 2021 and 1.8% in 2020, but still way behind China and Europe.
Zoom in: Since January 2022, Tesla's share of the EV market fell from 72% to 54% — and it will likely slide below 50% in the next month or two, says Tom Libby, associate director of industry analysis at S&P Global Mobility.
What's next: Consumer tax credits for EV purchases are being reworked — again — in part to bolster U.S. manufacturing and reduce reliance on China.
Changes to the existing $7,500 tax credit will likely affect the pace of adoption.
The U.S. Treasury Department on March 31 spelled out how new sourcing requirements for battery components and critical minerals under the Inflation Reduction Act will be implemented — rules that affect which vehicles will qualify for tax credits moving forward.
A list of qualifying vehicles will be announced in mid-April, but few of today's EVs are expected to meet the new standards.
Reality check: Less than 1% of the 279 million cars and light trucks on American roads are electric.
Even in California, the country's leading EV market, they represent just 2.6% of all registered automobiles.
The bottom line: The slow transition from gasoline to electric vehicles may take a couple of decades.
2. Catch up quick
3. 10 industries where job openings are declining
The number of job openings declined across almost all industries in February from this time last year, according to government data out yesterday, Emily writes.
Why it matters: Employers took a chill pill, and the hiring frenzy we saw over the past two years is fading out a bit.
Details: The industries with the biggest pullbacks in job openings are ones that had an easier time staffing up in the ultra-hot labor market — like white-collar business services.
Those professional sectors take a longer-term outlook when it comes to hiring, says Nick Bunker, head of economic research at the jobs site Indeed.
A consulting or media firm might see a slowdown in demand ahead, leading it to cut down on open positions. Restaurants, on the other hand, don't operate like that.
"Industries tied to the prospect of future growth, they're pulling back the most," Bunker says.
The big picture: There are still many more job openings now than there were in February 2020. And this isn't the same job market we had back then.
Notably, workers are still quitting their jobs at historically high levels, as Axios Macro reported. And layoffs are also at historically low levels (with the tech industry being a notable exception).
4. Growth jitters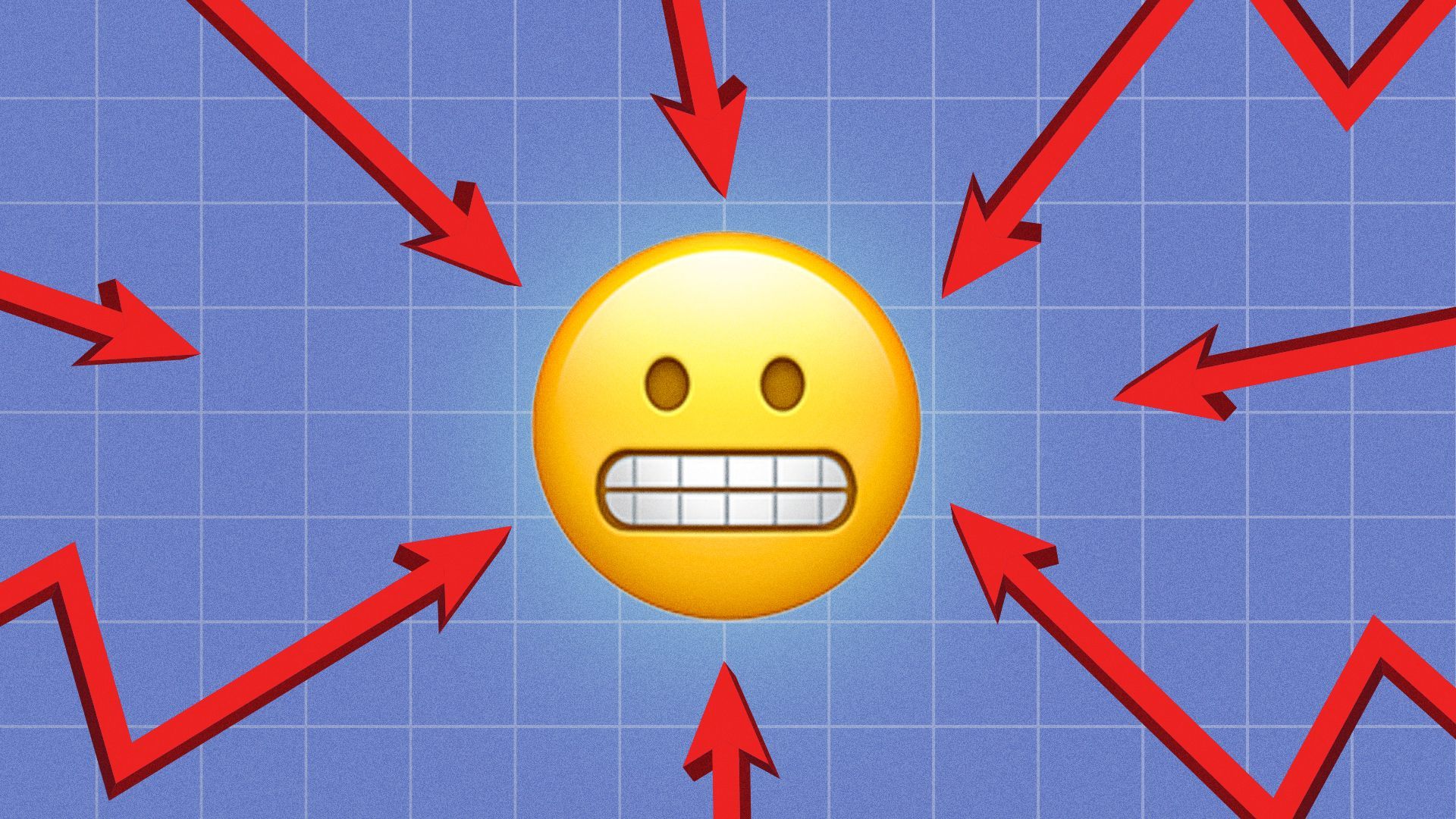 Investors seem to be getting more nervous about growth, Matt writes.
Driving the news: Another day of weak economic data.
💭 Our thought bubble: The data du jour wasn't top shelf, but the numbers were consistent with others showing that parts of the economy — like the industrial sector — are losing steam.
Between the lines: Under-the-hood indicators from yesterday's trading session told a similar tale.
Cyclical parts of the stock market, such as energy and industrial shares — whose performance mirrors expectations for near-term growth — led yesterday's drop, falling 1.7% and 2.3%, respectively.
Smaller companies also got banged up, as the small-cap Russell 2000 index dropped 2%. (The Russell is considered heavily dependent on the domestic U.S. economy, while the S&P 500 has more global giants in it.)
Yields on U.S. government bonds set to mature over the next couple of years fell sharply. That could mean investors are now expecting the Fed to stop raising rates, which could happen if the economy seriously stumbles.
Yes, but: It could also be that investors are simply taking a breath after four straight consecutive daily gains. We'll have to wait and see.
5. He said, she-shed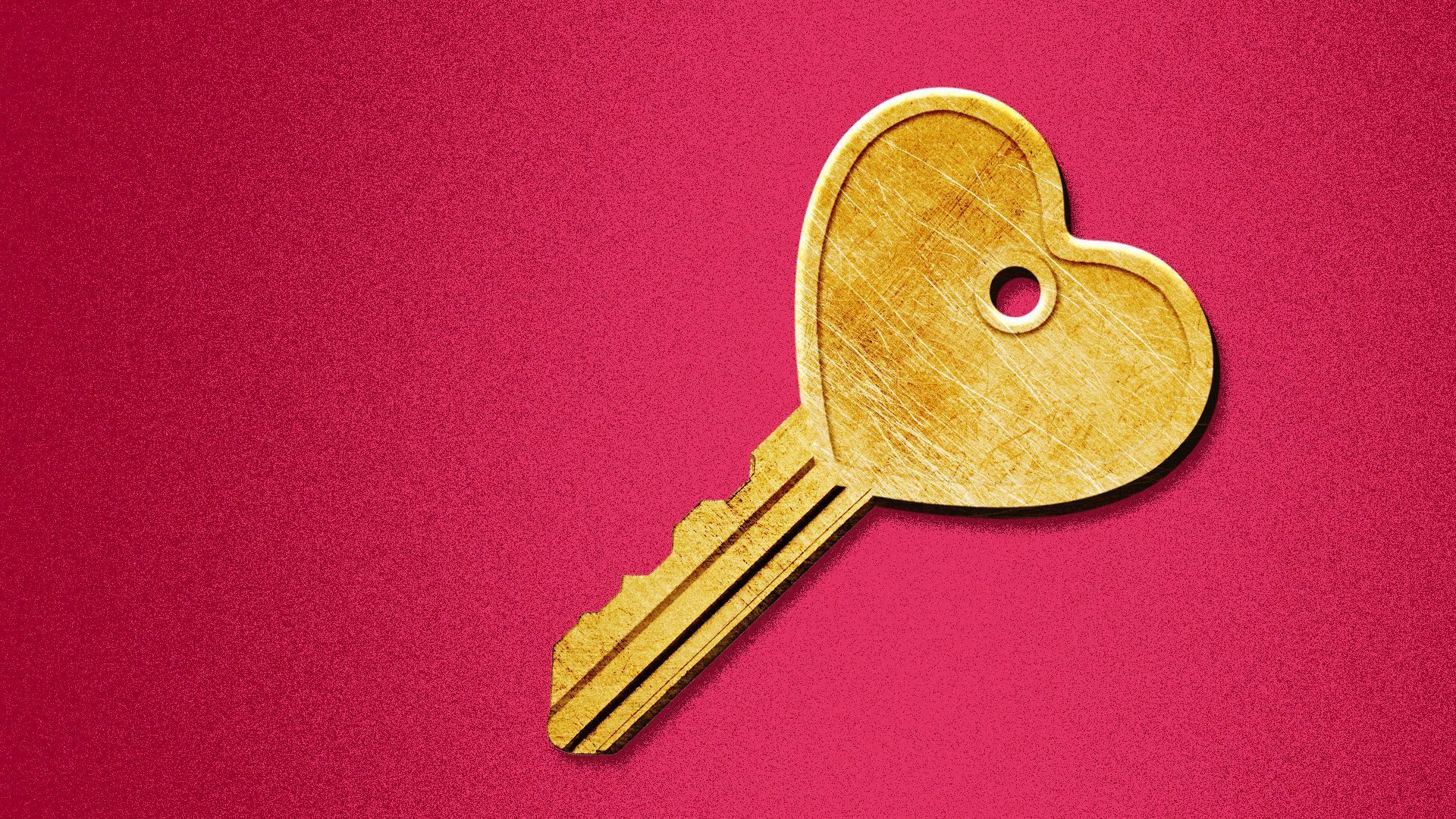 Tired: Walk-in closet.
Wired: She-shed.
The real estate site Zillow put out a report yesterday on the kinds of trendy amenities that homebuyers are willing to pay a premium for in today's moribund market, Emily writes.
What's happening: As you may have surmised, the she-shed made the cut.
A what? A she-shed is like a man cave, but arguably better since it is a standalone unit — not some basement troll-dwelling for beer-swilling — that surely would've warmed Virginia Woolf's heart.
Other appealing amenities on Zillow's list include pizza ovens, professional-grade appliances, terrazzo flooring and wine cellars.
On the flip side: Walk-in closets might actually hurt a home's resale value, the report claims.
In the hybrid work era, buyers are prioritizing things like home offices and outdoor space over places to stash clothes (you might even need a smaller wardrobe if you're not commuting every day).
The big picture: These are fancy things to covet in a home. And that's not surprising. With home prices still at super-high levels and mortgage rates hovering above 6%, this is a real estate market for those with deep pockets, and perhaps the leisure time available for hanging out in ye ole' she-shed.
Nearly a third of home purchases in January were paid for in cash, the highest share in nine years, per a Redfin analysis.
Buyers who can "not only afford today's higher mortgage rates but also pay above and beyond typical market value appear willing to splurge on fun features designed to impress," is how Zillow describes the fancy vibes in housing.
Not a subscriber? Sign up here.
Axios Markets is edited by Kate Marino and copy edited by Mickey Meece.