Axios Markets
August 23, 2023
🍳 Up and at 'em, markets addicts. We've got more on the welcome reemergence of risk-free investment returns, plus some updates on the summer of strikes.
Today's newsletter is 1,017 words, 4 minutes.
1 big thing: Real rates are rising fast
Government bonds are offering the best after-inflation yields since 2007, Matt writes.
Why it matters: It means the long, lamented era of "negative real yields" — when some saw no alternative to putting their money in stocks — is over.
Be smart: Real yields tell you how much the interest payments on government bonds are beating inflation.
As a practical matter, real yields are basically the yields on Treasury Inflation-Protected Securities. (More on TIPS here.)
The yield on the 5-year TIPS security is charted above.
State of play: As you can see, it's zoomed back to positive territory as the Fed jacked up interest rates over the last year.
This is a good thing for people looking to grow their money without taking on much risk.
They can just buy these government bonds, and once they receive their coupon payments, they'll be richer, even accounting for inflation.
Yes, but: High real rates can be a problem for economic growth. Here's why.
Real yields are also kind of like the hurdle rate — the minimum return investors have in mind, to make it worth putting their money at risk — that the potential returns of all business ideas are measured against.
When real yields are super low, or even negative, as we saw at times over the last 15 years or so, virtually any investment proposition looks good in comparison.
Capital then flows easily to businesspeople, who use the money to build things, buy equipment and hire workers.
But if real yields are higher, it raises the bar for all the entrepreneurs hoping to attract investment capital.
The bottom line: As real rates rise, the universe of investment ideas that investors will fund shrinks.
And some business activities, that were worth investing in when real rates were low won't happen.
This doesn't have to be an economic disaster, but it can be a headwind.
2. Catch up quick
📈 The average rate on a 30-year mortgage rose to 7.31%, the highest level since December 2000, per the Mortgage Bankers Association.
🚚 UPS workers approve 5-year labor deal with raises and workplace protections. (Teamsters)
🛑 Goldman cancels Summer Fridays, mandating in-office work. (NY Post)
🇨🇳 China President Xi Jinping travels to Africa, to hold talks with BRICS leaders in push to develop counterweight to Western dominance. (NYT)
3. Another looming strike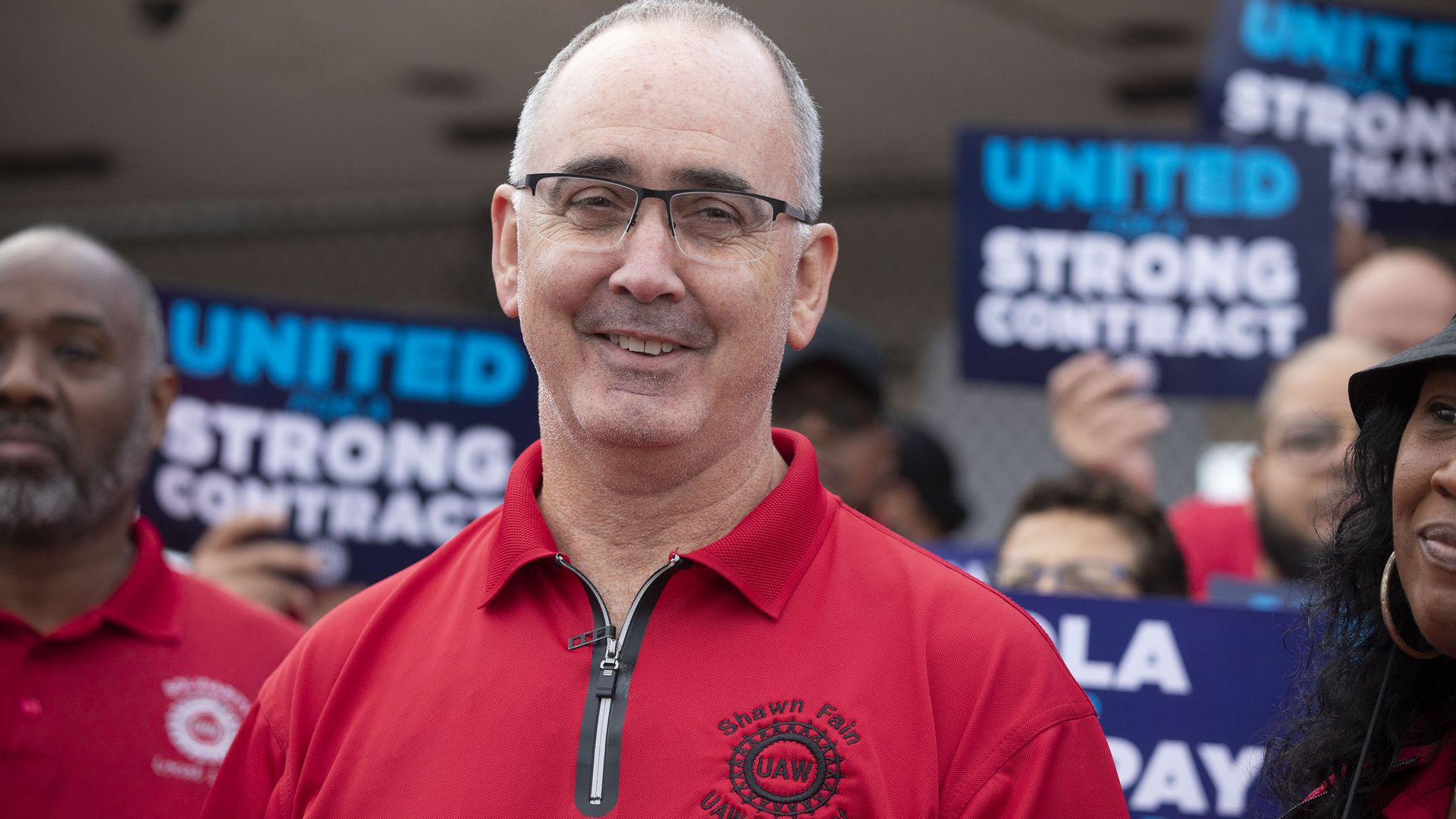 UAW members will vote this week on whether to authorize their fiery new leader, Shawn Fain, to call a strike against Detroit carmakers when their contract expires on Sept. 14, Axios' Joann Muller writes.
Why it matters: The possibility of a strike is extraordinarily high, and it could cost the economy billions, according to industry experts.
A work stoppage by nearly 150,000 UAW workers at GM, Ford and Stellantis would result in an economic loss of more than $5 billion after 10 days, according to Anderson Economic Group.
The big picture: Detroit automakers are in a precarious spot in an unsettled industry.
Yes, they've been raking in huge profits from high-priced pickup trucks and SUVs.
But they're also investing billions of dollars to develop future EVs that consumers are still hesitant to buy.
Of note: In a rare move, Biden entered the fray last week, urging both sides to come to an agreement.
"I support a fair transition to a clean energy future," the president said in a statement. At the same time, automakers should "take every possible step to avoid painful plant closings" and other measures that harm workers.
💭 Emily's thought bubble: The White House has managed to avert three economically devastating strikes so far over the past year — at the West Coast ports, on the freight rails, and among UPS workers.
The UAW talks might prove its biggest challenge yet, but it's still early days.
Details: The UAW, hoping to claw back concessions given during hard times, wants 40% raises, reinstated cost-of-living adjustments, and more stability for temporary workers.
But, but, but: The automakers want to close a cost gap with Tesla, Toyota and other carmakers that don't pay union wages. Total labor costs, including benefits, at GM, Ford and Stellantis are currently about $65 an hour, compared with $55 for foreign automakers.
4. Charted: Strike summer
Whether the UAW strikes or not, the summer of strikes that's well underway could herald a big autumn for strikes, too.
Driving the news: About 205,500 workers were on strike in July, per a new tally from the Labor Action Tracker managed by Cornell's School of Industrial and Labor Relations.
That's the highest level since Cornell started tracking work stoppages in 2021.
The big picture: The high number is largely due to the 160,000 actors and writers out on the picket lines now.
The number could get much larger if the 146,000 UAW members go on strike.
There's also a looming possibility of a strike by 85,000 health care workers employed by California-based Kaiser Permanente — the union representing the system's employees is likely to vote soon on whether or not to authorize a strike.
By the numbers: The industry with the most strikes overall is accommodation and food services, with 18 different strikes in July including at Starbucks and some fast-food outlets.
Reality check: The number of workers on strike is still not as high as back in 2018 and 2019, and nowhere near the levels seen back in the 20th century, said Johnnie Kallas, who runs Cornell's labor tracker.
5. Layoffs have peaked
The peak for tech layoffs may be in the rearview, Axios' Kate Marino writes.
The big picture: Polling out this morning from Morning Consult provides one more piece of evidence that the flurry of layoffs in higher-paying fields like tech has largely run its course.
The share of higher-income folks who reported losing their job in the prior two months has come back down, after spiking during the first half of the year.
But, but, but: That blitz of layoffs took a toll — workers in the high-income group still report being more worried about losing their jobs than they were last year.
Was this email forwarded to you? Subscribe here.
Today's Axios Markets was edited by Kate Marino and copy edited by Mickey Meece.