Axios Macro
September 20, 2022
🕑 We are counting down to tomorrow's big Federal Reserve interest rate announcement. Today's Macro takes a look at the big paradox facing Fed chairman Jerome Powell. Plus, the good and not-so-good news in today's housing data.
🗣 Situational awareness: Treasury Department official Brent Neiman delivered a hard-edged speech this morning at the Peterson Institute for International Economics, accusing China of being insufficiently flexible in restructuring the debts of developing countries it loans money to.
Today's newsletter, edited by Kate Marino and copy edited by Katie Lewis, is 651 words, a 2½-minute read.
1 big thing: Powell's juggling act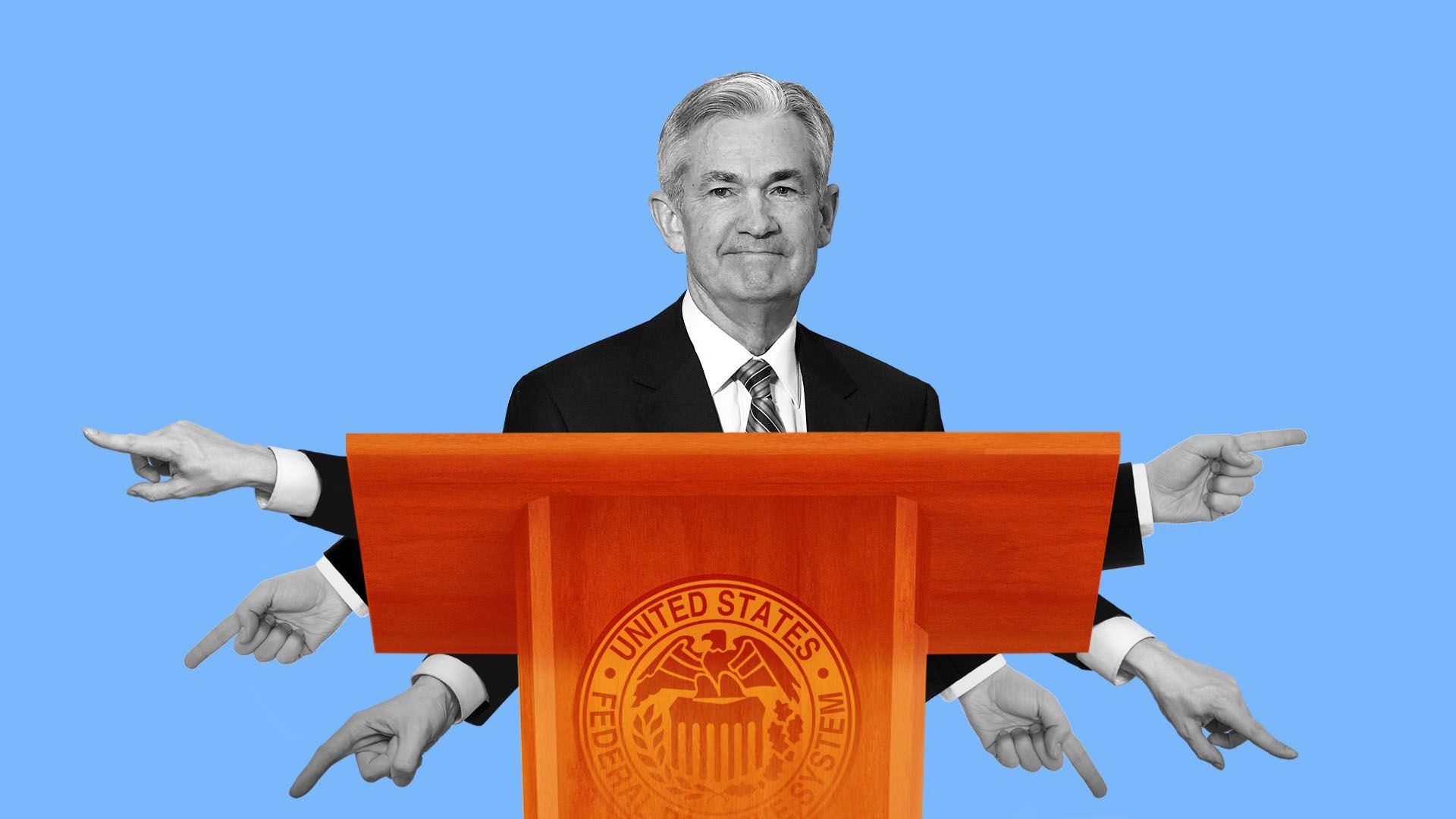 Federal Reserve chair Jerome Powell faces an unenviable task tomorrow: to communicate absolute resolve to bring inflation down, while not setting the Fed on a course that will tank the global economy.
He faces a paradox in that the more he leans into one of those goals, the higher the risk that he fails in the other.
Driving the news: The Fed begins a policy meeting today that will conclude tomorrow with a large interest rate increase and new economic forecasts (due out at 2pm EDT) and a news conference by Powell (2:30pm)
The central bank is likely to raise rates by another 0.75 percentage points, but could consider going with a full-percentage point hike. Futures markets put 18% odds on the latter possibility this morning.
Between the lines: After the last policy meeting in late July, it became clear that markets will interpret even modest nuance from Powell as a sign that rates won't rise too much more. Powell's blunt, tough-talking Jackson Hole speech in late August amounted to a corrective of that perception.
But it's not enough to talk tough in one speech about the resolve to bring down inflation. Powell also has to deliver, both in terms of rate increases and continuing to signal that the Fed will not relent on monetary tightening until inflation is well and truly vanquished.
The dilemma: That doesn't leave much room for nuance. And there are plenty of reasons Powell and the Fed might want to show more nuance right now.
Simultaneous aggressive monetary tightening by all the world's central banks risks creating a serious global recession, as we reported last week. And that's before factoring in a likely energy crisis in Europe this winter.
The Fed's hawkish tone in recent weeks has generated tighter financial conditions that are poised to slow the economy down. The 10-year Treasury yield is up nearly a full percentage point since Aug. 1, and the S&P 500 is down about 10% since Aug. 15.
The U.S. housing sector is already showing serious cracks, as mortgage rates hit their highest levels in 14 years.
What they're saying: "Inflation remains sticky, and the labor market is too hot," said Blerina Uruci, T. Rowe Price's U.S. economist, in a note. "But growth is slowing and the housing market is going through a significant correction."
"While I still have strong conviction that the Fed will bring rates to about 4%, what happens beyond that is much more uncertain," Uruci wrote.
The bottom line: The lesson from the late July meeting is that the more Powell acknowledges these reasons to move cautiously on further rate hikes, the more Wall Street will take it as a green light to restart the party — which is exactly what Powell doesn't want to happen.
2. New housing data: The good and not-so-good
The bright spot in today's housing data is the stronger-than-expected pace of breaking ground on new homes. What's ahead for the future looks more bleak.
Residential starts jumped 12% from July to August, to an annualized rate of 1.58 million homes. Most of that is due to continued strength in the construction of multi-family homes, where starts soared 29% last month to the highest level since 1985. Single-family starts rose 3.4%, after a sharp plunge in July.
Building permits, an indicator of future construction activity, fell 10% last month to the lowest since June 2020, the early days of the pandemic.
The big picture: Homebuilders are working through a historic backlog, and that's supporting construction activity, Brean Economics' Conrad DeQuadros wrote in a note. The number of housing units authorized for construction but not yet started remains at a historically high level, though it's declined slightly over the last two months.
Supply chain disruptions continue to muddy the outlook for housing. Homebuilders are cautious about future activity as an affordability shock crushes demand.
What they're saying: "Housing construction activity is caught in the crossfire of two opposing forces," DeQuadros said.