Axios Macro
June 20, 2023
It's Federal Reserve week on Capitol Hill. Chair Jerome Powell will begin two days of testimony tomorrow before the House Financial Services Committee. The Senate will also begin confirmation hearings for Fed vice chair designate Philip Jefferson and governor nominee Adriana Kugler, as well as a 14-year full term for governor Lisa Cook.
Today, we build on an important theme highlighted this morning by our colleagues at Axios Markets: America's housing shortage is helping define this economic cycle. Plus, new numbers show a big spike in home construction.
Today's newsletter, edited by Javier E. David and copy edited by Katie Lewis, is 624 words, a 2½-minute read.
1 big thing: America's housing tailwind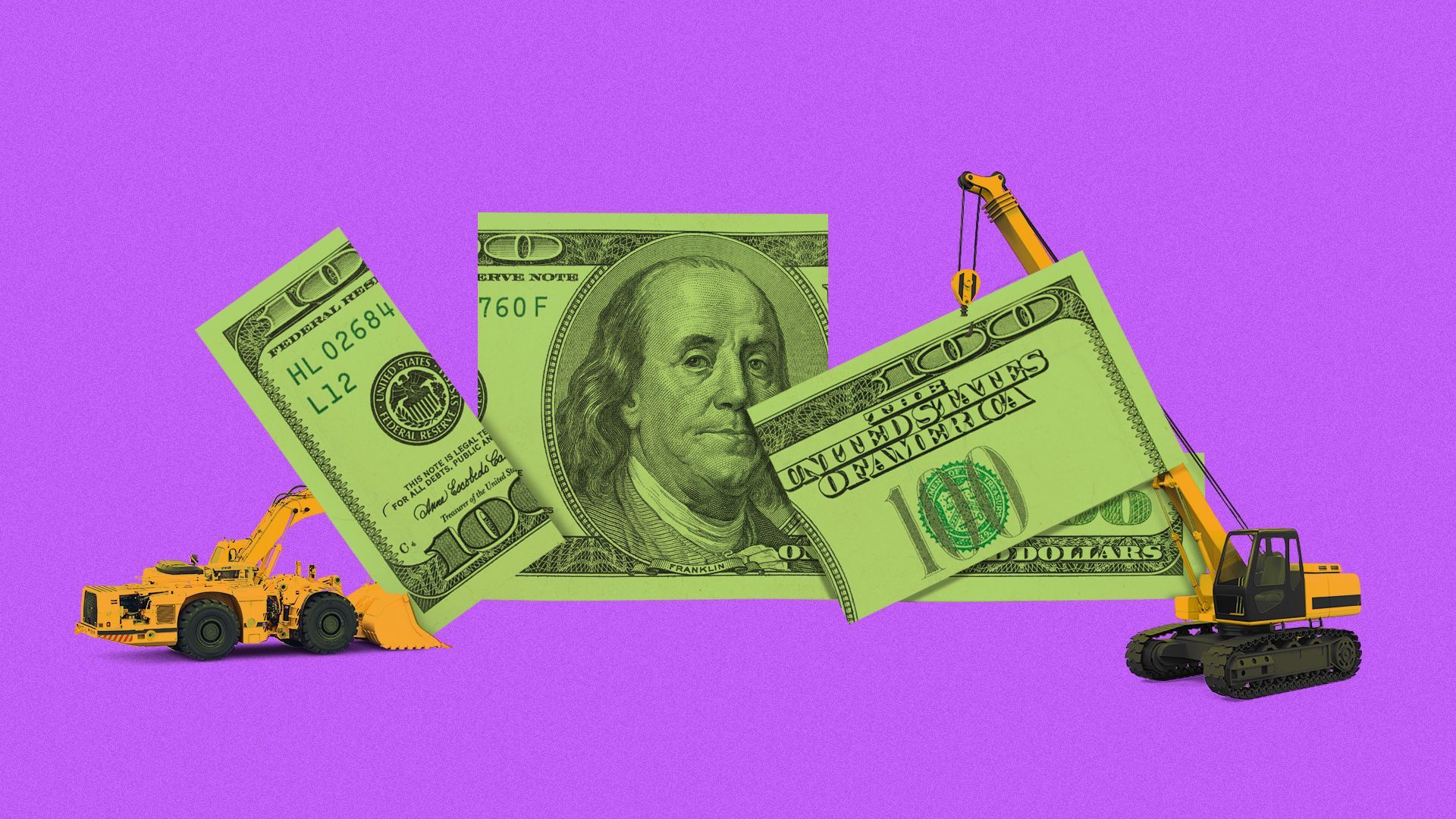 One lasting result of the 2008 financial crisis was a chronic undersupply of housing in America. That dynamic helps explain why the U.S. economy has proven so remarkably resilient over the last year.
Why it matters: Demand for more homes is rebounding despite 7%+ mortgage rates, and there is a sustained appetite for the construction workers who build them. Consumer spending is being supported by equity-rich homeowners, who haven't seen prices fall as dramatically as one might have expected given the swing in rates.
These are among the reasons the economy has not fallen into the recession many have been predicting since the Fed began its rate-hike campaign 15 months ago.
Catch up quick: The housing sector — a notable drag on last year's economic growth — was first to feel the effects of the Fed's tightening.
Mortgage rates soared, crushing demand from homeowners; that drop-off in demand meant homebuilders grew more hesitant to break ground on new construction.
Yes, but: Those conditions have begun to reverse. Speaking to reporters last week, Powell acknowledged that the housing sector had bottomed and is "maybe even moving up a little bit."
What's going on: Demand is rebounding, with even less housing supply on the market than usual, helping support prices.
For instance, existing home sales in April fell 23% from the same period a year ago, a result of homeowners locked into low rates reluctant to give that up. New home sales, meanwhile, were up 12%.
The intrigue: Homebuilders, with supply chain snarls having cleared up, are moving to spring up new properties — engaging in tactics like mortgage buy-downs to attract buyers.
"Supply is short, demand is returning to affordable offerings, and builders will need to produce more homes to fill the void," Stuart Miller, executive chairman of homebuilder Lennar, said during the company's earnings call last week.
Between the lines: These dynamics have implications for the broader economy, including consumer spending and the job market.
"We have not seen any significant declines in construction employment," says Mark Zandi, chief economist at Moody's Analytics, tells Axios.
"If a worker loses a job on a single-family home project, they could just walk across the proverbial street and get a job working on a multifamily project."
On consumer spending, Zandi adds, "People are still rich with homeowners equity, so they're in a much better financial position, despite the recent price declines. That is also very important in supporting consumer spending."
The bottom line: Last year, the housing sector looked to be leading the economy into a recession. Now it's helping America stave one off.
2. Homebuilding is soaring
We imagine a number of economic forecasters spit out their coffee when the latest housing starts data crossed the tape.
Why it matters: New home construction rose at a 1.6 million annualized rate in May — a strong rate that points to rapidly rebounding homebuilding activity.
Housing starts were about 22% above April, with big jumps in the construction of single-family and multifamily homes, the Census Bureau said.
Details: There were upbeat signs that strong homebuilding rates could continue. Building permits, an indicator of future construction, rose to an annualized rate of nearly 1.5 million. That's 5% above April's rate, though still slower than the rate seen in May 2022.
What they're saying: "Builders got a head start on the summer sales season in anticipation of improved demand for both single-family homes and apartments," Ben Ayers, a senior economist at Nationwide, said in a note.
"While headwinds for housing demand remain, the lack of options in the market for existing homes is driving more interest in new builds and boosting sentiment among builders," he adds.
The bottom line: More housing supply coming online could ease price pressures that resulted from the decades-long shortages.