Axios Macro
March 01, 2023
In this manufacturing-heavy edition of Macro, we look at surprising provisions within the Biden administration's push to encourage domestic investment.
Plus, the latest read on the health of manufacturing activity across the country.
Today's newsletter, edited by Javier E. David, is 683 words, a 2½-minute read.
1 big thing: Biden's industrial policy tension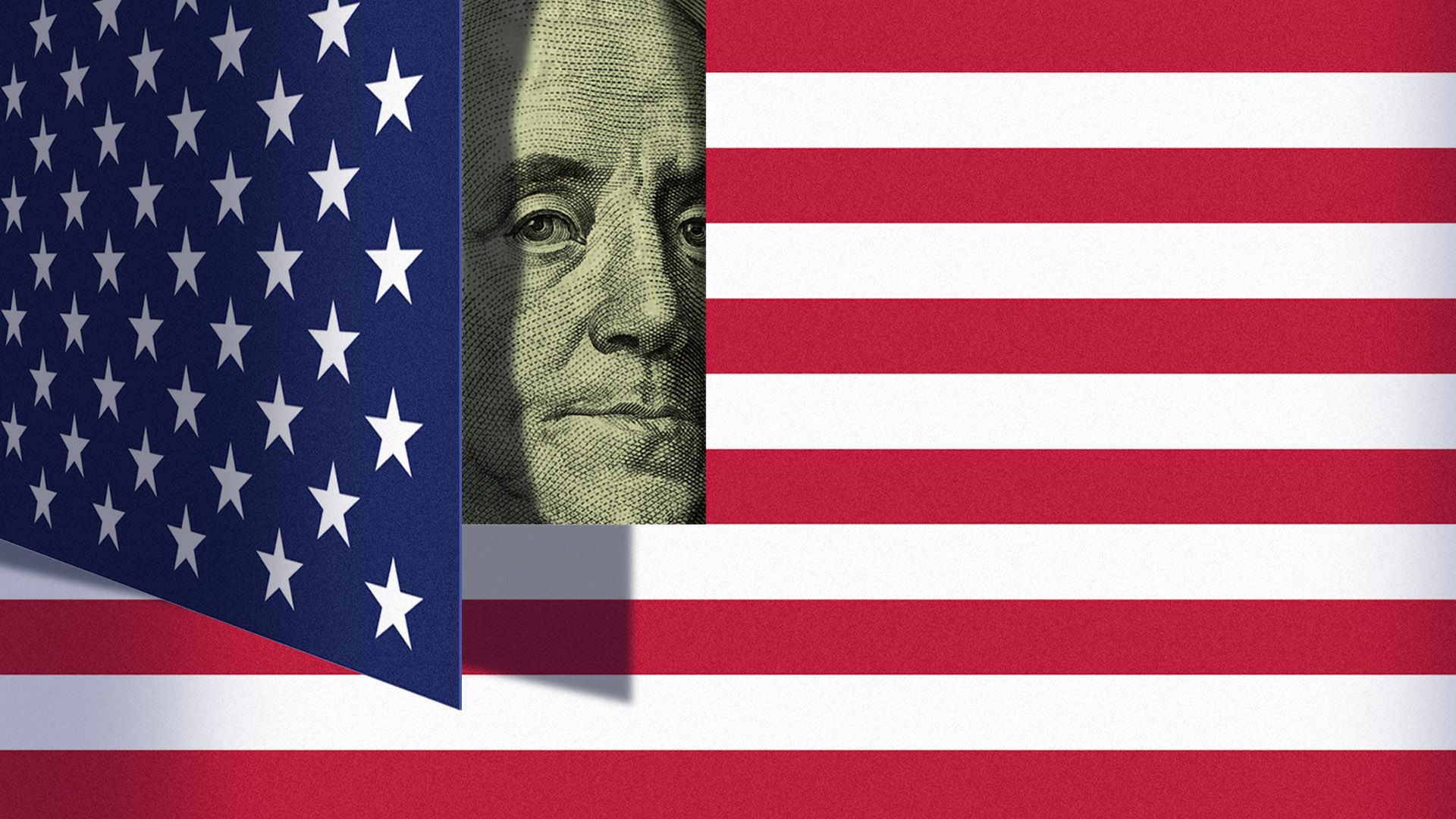 An announcement from the Commerce Department this week raised a few eyebrows: Companies seeking a slice of billions in available federal dollars for U.S. semiconductor investment will have to develop a plan for their workers to obtain child care.
But this provision sheds light on a broader tension facing the Biden administration as it moves to implement major legislation passed in its first two years.
State of play: Whether it's the CHIPS Act, the Bipartisan Infrastructure Law passed in 2021 or energy investments in last year's Inflation Reduction Act, there are inherent tensions between achieving the primary goals of the legislation and other economic and social goals.
Why it matters: These laws have been sold as essential for America's national security and climate adaptation. But those imperatives would be undermined if government restrictions result in less bang for the buck.
This balance will be struck in dozens of decisions on policy execution across government departments, each one small in itself, but collectively huge for determining how different imperatives are balanced.
What they're saying: "There's a tension between achieving the stated objective of the laws at issue, environmental benefits or infrastructure, and achieving these other things," Scott Lincicome, a Cato Institute senior fellow, tells Axios.
"If they weren't in conflict, the government wouldn't need to mandate it," he said.
The details: Inflation legislation includes "Buy American" provisions that try to ensure clean energy projects that get federal money are constructed with U.S.-made materials — which may add to the cost.
The Office of Management and Budget issued proposed guidance on the implementation last month, and President Biden pledged in his State of the Union to strictly enforce those principles.
"Tonight, I'm also announcing new standards to require all construction materials used in federal infrastructure projects to be made in America. American-made lumber, glass, drywall, fiber optic cables," Biden said.
As for the CHIPS Act, the Commerce Department said this week that child care provisions are intended to make sure semiconductor manufacturing facilities can attract the workforce they need, rather than some attempt to engineer social policy.
"We are not asking companies to do anything that is outside their commercial interests," Commerce senior adviser Caitlin Legacki said. "Everything we are asking them to do is good for their business."
The bottom line: The fine print of regulatory rulings in the months ahead will determine just how much bang is obtained for the billions in federal bucks newly allocated to address the age's great challenges.
Go deeper: The New York Times yesterday explored the Biden team's use of federal spending to shape corporate behavior, and the Wall Street Journal's Greg Ip today examines the uneven history of U.S. industrial policy.
2. Manufacturing ticks up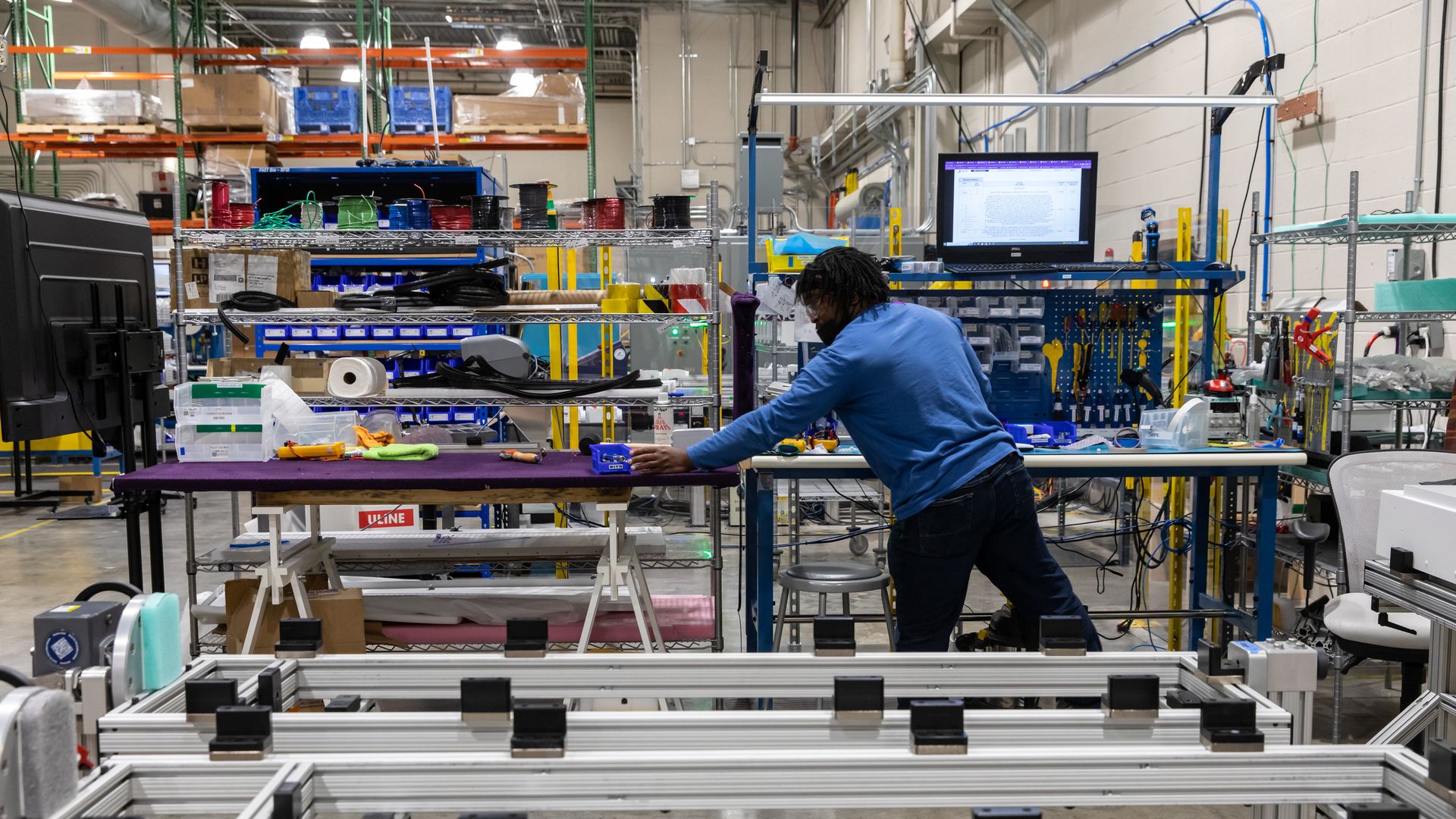 For those looking for more signs that January's economic rebound extended into February, a closely watched manufacturing survey showed activity continuing to contract, though at a slower pace.
There were also some early signs of rebounding demand — and hope that this demand would accelerate later this year.
Details: Overall, the Institute for Supply Management's Purchasing Managers' Index remained in territory that suggests contracting output (47.7%) — only a marginal improvement from January's level (47.4%).
Between the lines: America's factories saw increased demand, with the new orders index jumping by 4.5 percentage points (though it remains in contraction). A smaller share of industries reported that activity was contracting at a strong pace; meanwhile, prices increased at a faster rate.
Yet manufacturing employment did cool relative to January, at least according to the survey. A sub-index that gauges hiring activity dipped into contraction territory (49.1%), following two months of expansion.
What they're saying: Manufacturers "continue to indicate that they will not substantially reduce head counts, as sentiment is positive about the second half of the year, though slightly less so compared to January," ISM's Timothy Fiore said in a release. (A final reading of manufacturing activity in February by S&P Global released today showed employment improving for the month.)
What's next: ISM will release results for February data for the services sector, which accounts for a far larger share of the U.S. economy than manufacturing, on Friday.