Axios Login
July 06, 2023
Hi, Ryan here. Does Thursday count as hump day for this three-day holiday week? Follow me on Threads @ryangheath.
Today's Login is 1,212 words, a 5-minute read.
1 big thing: Digital cage match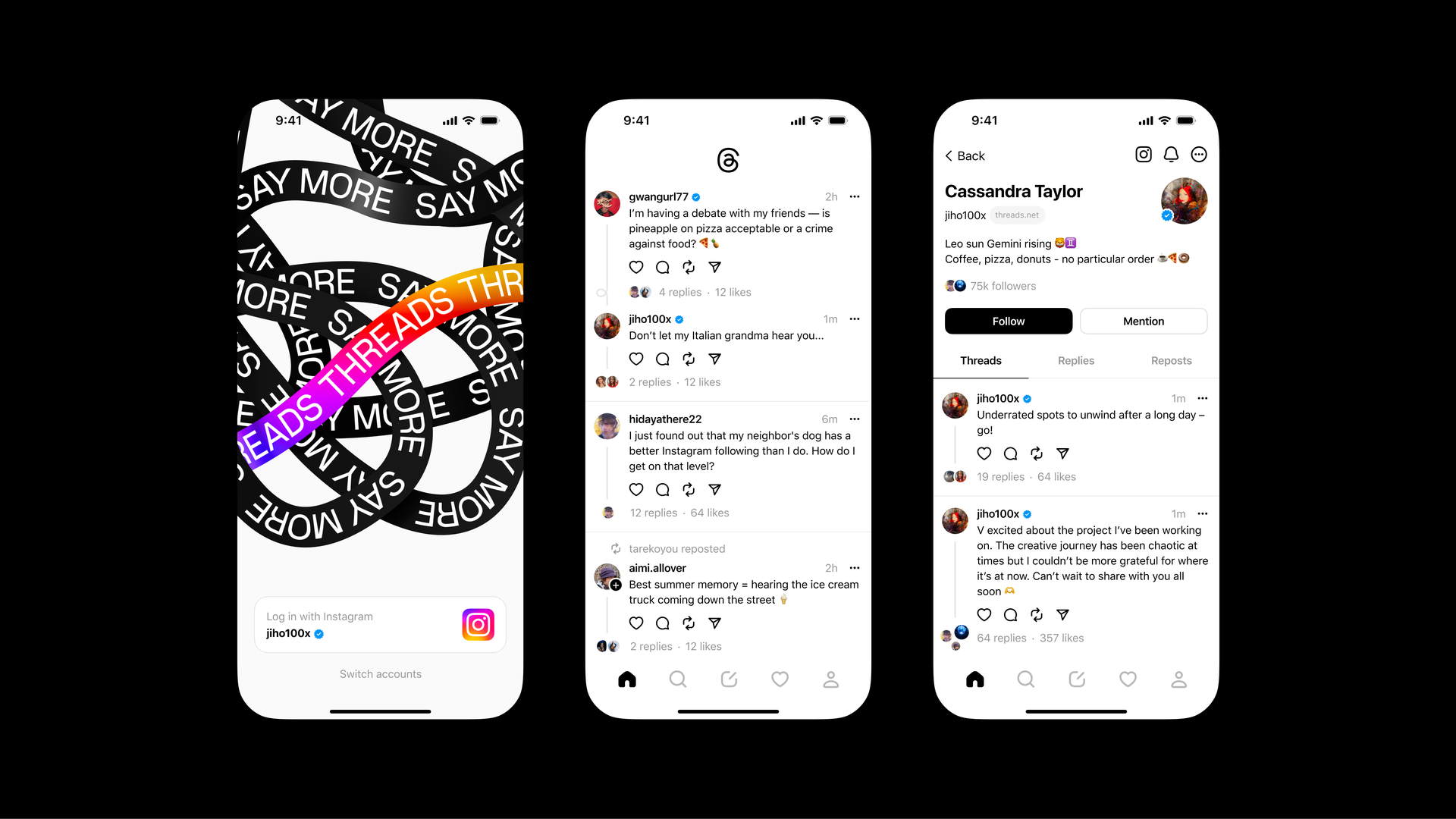 Instagram Threads, Meta's clone of Twitter, launched Wednesday evening, and within four hours Mark Zuckerberg was touting 5 million users for what he described as "an open and friendly space for conversations."
The big picture: Zuckerberg's bargain is to offer you a cleaner version of Twitter — "sharing with text" — in exchange for handing over more data.
Zuckerberg challenged Twitter owner Elon Musk to a literal cage match in June, and the launch of Threads is a digital cage match.
Why it matters: Threads is not innovative, but it's smart.
Meta has achieved massive success buying up and borrowing ideas from elsewhere.
Now the playbook is being used to claim a potentially lucrative market from Musk, who has severely annoyed many users and advertisers since taking ownership of the platform in late 2022.
The details: The new app allows existing Instagram users to use their login credentials to log into Threads.
Everyone who joins Threads who is under 16 in the U.S. will have their account set to private by default.
Threads users can share posts up to 500 characters long, in addition to links, photos, and videos up to five minutes in length.
Between the lines: Meta's launch builds on Instagram's massive installed base, giving it a big head start in the derby to offer alternatives to Twitter users disenchanted by Musk's management.
Threads also offers the advertisers the ability to target Facebook, Instagram and Threads users under one roof.
By the numbers: Twitter has never been a good business by the standards of other leading platforms and social media sites.
Yes, but: Meta isn't planning to launch Threads in Europe, citing regulatory concerns, and that will limit its ability to leverage global scale to squeeze Twitter.
Both Meta and Twitter will continue to struggle with misinformation and election-related issues, in part because of layoffs — but Meta still has considerably more staff and resources devoted to content moderation.
Quick take: Meta is aiming for something in between LinkedIn and Twitter as a place for you to share your views with the world.
"We are definitely focusing on kindness and making this a friendly place," Zuckerberg wrote on Threads.
But the new app may find it hard to match Twitter's appeal to news hounds and journalists, given Meta's recent strategy of downplaying news and politics on its platforms — and the media world's longstanding distrust of Facebook.
The intrigue: Users alienated by Musk have already bolted to other Twitter alternatives, like Mastodon and Bluesky.
Each of those services saw usage taper down after initial big surges of Twitter refugees.
Threads can easily rack up impressive signup numbers, but it will need some drama or gimmick to keep users coming back.
The bottom line: Twitter was for a few years the global town square. But those days are over.
Whatever business success Threads achieves, it's unlikely to capture that old Twitter zeitgeist.
2. Meta's copycat machine
Threads may seem like Meta's attempt to undercut Elon Musk while he's down — but it's also a continuation of the company's longstanding "clone and conquer" product strategy, Axios' Sara Fischer writes.
Why it matters: Most of the time, Meta's copycat experiments have failed. But a small number of cloned or acquired features that have worked out, like its TikTok copycat Reels and its Snapchat copycat Stories, have paid off handsomely.
The big picture: Meta has a deep history of launching apps and features mimicking its rivals' offerings, only to shut them down after a few months.
Most copycat apps or features feature launched by Meta that have shuttered lasted less than two years.
Meta has tried everything from dating apps to fitness trackers and news readers. While some of the failed products were small losses, others — like Facebook's standalone Gaming app that shut down in 2022 after two years — required heavier investment.
Yes, but: Meta typically copies apps or features that are rising in popularity, while Threads is launching as Twitter struggles with product flubs and fleeing advertisers.
Be smart: Regulators have cited Meta's copycat strategy as a point of possible antitrust concern.
Lawsuits filed by the Federal Trade Commission and dozens of U.S. states in 2020 allege that Meta, then called Facebook, has long engaged in a "systematic strategy" to eliminate threats to its monopoly, which includes buying and cloning rivals to box them out.
What to watch: It's unclear when Meta will launch Threads in Europe, where it faces even more regulatory scrutiny.
3. Europe vs. encryption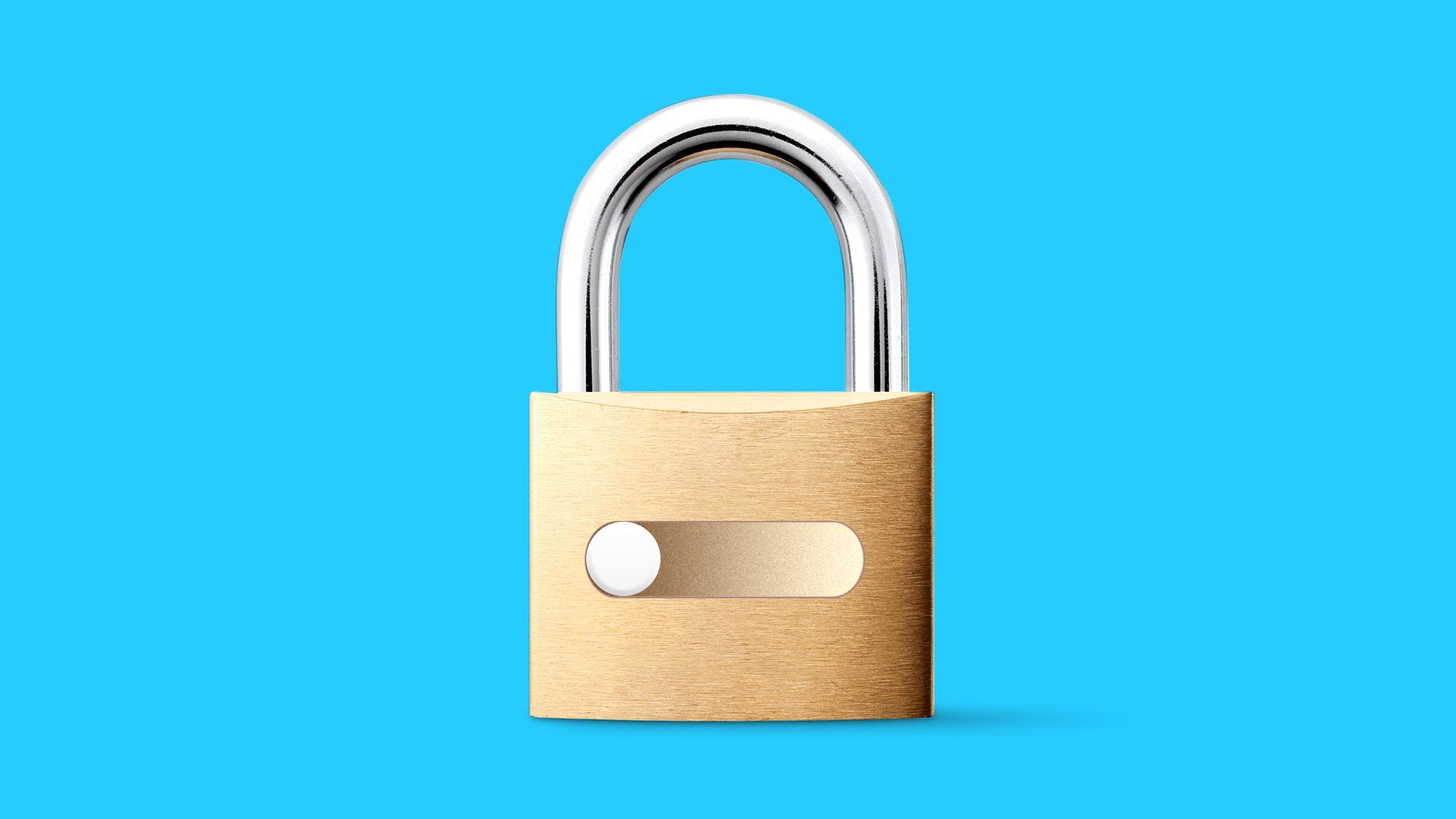 Two legislative battles playing out in Brussels and London this week are putting encrypted messaging at risk across Europe, in the name of combating child sexual abuse online.
Why it matters: At stake are the right to live free from abuse and exploitation, and the right to communicate confidentially — a sensitive subject in Europe, where more than 100 million lived under dictatorship until the 1990s.
Driving the news: 300 scientists and technologists have warned that enforcing a draft EU law to detect child sexual abuse material depends on perceptual hashing technology that is prone to inaccuracy and vulnerable to attack.
What's happening: The U.K. House of Lords is debating an Online Safety Bill, while the EU is fine-tuning legal proposals first made in 2022.
The EU is looking to require encrypted messaging services to comply with "detection orders" in cases of suspected abuse, giving authorities access to encrypted messaging services on a user's device.
What they're saying: Coalitions of messaging apps have been outspoken against both the draft EU and U.K. laws, with WhatsApp and Signal saying they would leave the U.K. market if encryption is undermined.
The intrigue: A majority of the EU's national governments support the proposed law, but their non-partisan legal advisers slammed the text as incompatible with EU law, because of the "indiscriminate" surveillance it could enable, and Germany's digital minister mirrored that complaint.
The context: Around 85 million videos and images depicting child sexual abuse were reported worldwide in 2021.
Thanks to Scott Rosenberg for editing and Bryan McBournie for copy editing this newsletter.