Axios Login
March 29, 2023
Tune in today to Axios' second annual What's Next Summit, with events and speakers all day. Register here.
Today's Login is 1,069 words, a 4-minute read.
1 big thing: SS Twitter keeps taking on more water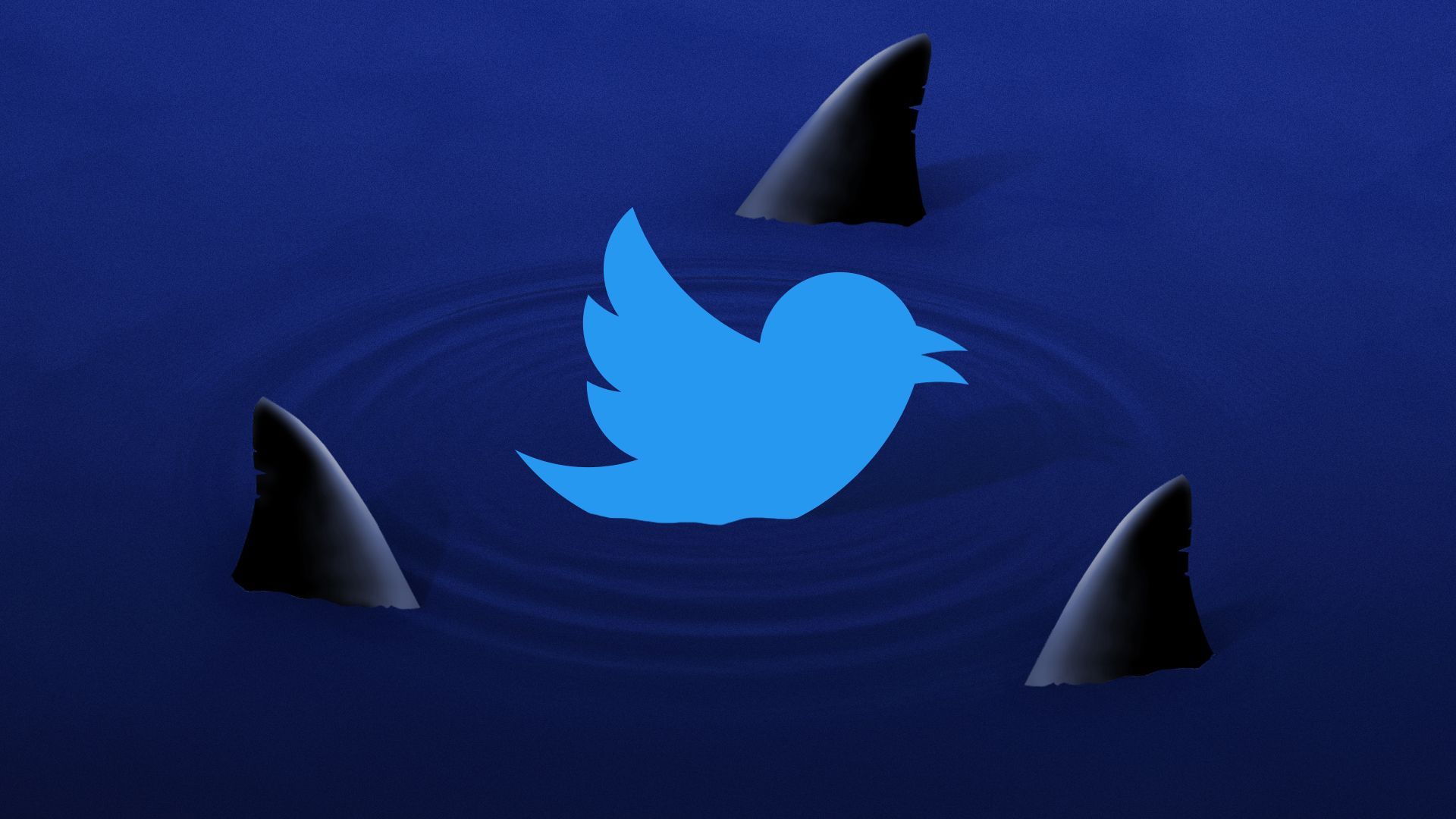 Twitter's ship has not capsized as many feared it might when Elon Musk took its helm five months ago. Instead, it has wandered off course, sprung leaks, and cast much of its crew adrift — driving many passengers to the life rafts.
Driving the news: In a recent stock-option offering to employees, Musk reportedly valued the company at $20 billion — less than half the full $44 billion price tag for his acquisition.
Musk announced Monday evening that starting April 15, the service would only highlight tweets from paying subscribers in its default "For You" stream. He framed the move as an effort to "address advanced AI bot swarms taking over."
Subscription revenue has not yet made a big contribution to Twitter's coffers, and the company is likely to keep seeking new ways to attract more payments from users.
Earlier this month, Twitter said that verified status would only be available to subscribers starting April 1, when users who'd been verified under the old regime would lose their blue checkmarks.
Why it matters: The more Twitter erects subscription barriers, the less it will serve as the "global town square" Musk has envisioned.
When "verified" just means someone paid a small fee, the door is open that much wider to misinformation, hoaxes and frauds.
Of note: In response to a complaint by William Shatner about the changes to the verification system, Musk said his goal is "treating everyone equally."
But Musk made headlines in February when Platformer reported that Twitter engineers had rigged the service to give his own tweets a ton of extra exposure.
Twitter also has a list of roughly three dozen VIP accounts — including President Biden, a conservative Musk fan who posts as "catturd2," LeBron James, Rep. Alexandria Ocasio-Cortez, Ben Shapiro and other journalists — whose tweets get special amplification, Platformer further reported Monday.
The big picture: Twitter still faces an uphill fight to attract advertisers.
A general ad market downturn is partly to blame. But major advertisers are also unhappy with some of Musk's changes, including a rise in extremist postings under his more permissive content rules.
Between the lines: During Musk's Twitter tenure, the new owner has unleashed a stream of impulsive policy-shifts-via-tweet.
Many of these initiatives never materialized, and those that did rarely kept to the announced schedule.
That has left some observers skeptical of announcements like Musk's plan for the "For You" feed, with many taking a "we'll believe it when we see it" stance.
The other side: Good journalistic practice compels us to seek comment from a company in a story like this one. But Twitter's communications team is long gone — part of the mass layoffs and resignations that have left the firm with less than a third of the 7,500 employees Musk started with.
Today, emails to Twitter's old press inquiries inbox receive an auto reply of "💩."
2. Microsoft brings generative AI to cyber with new tool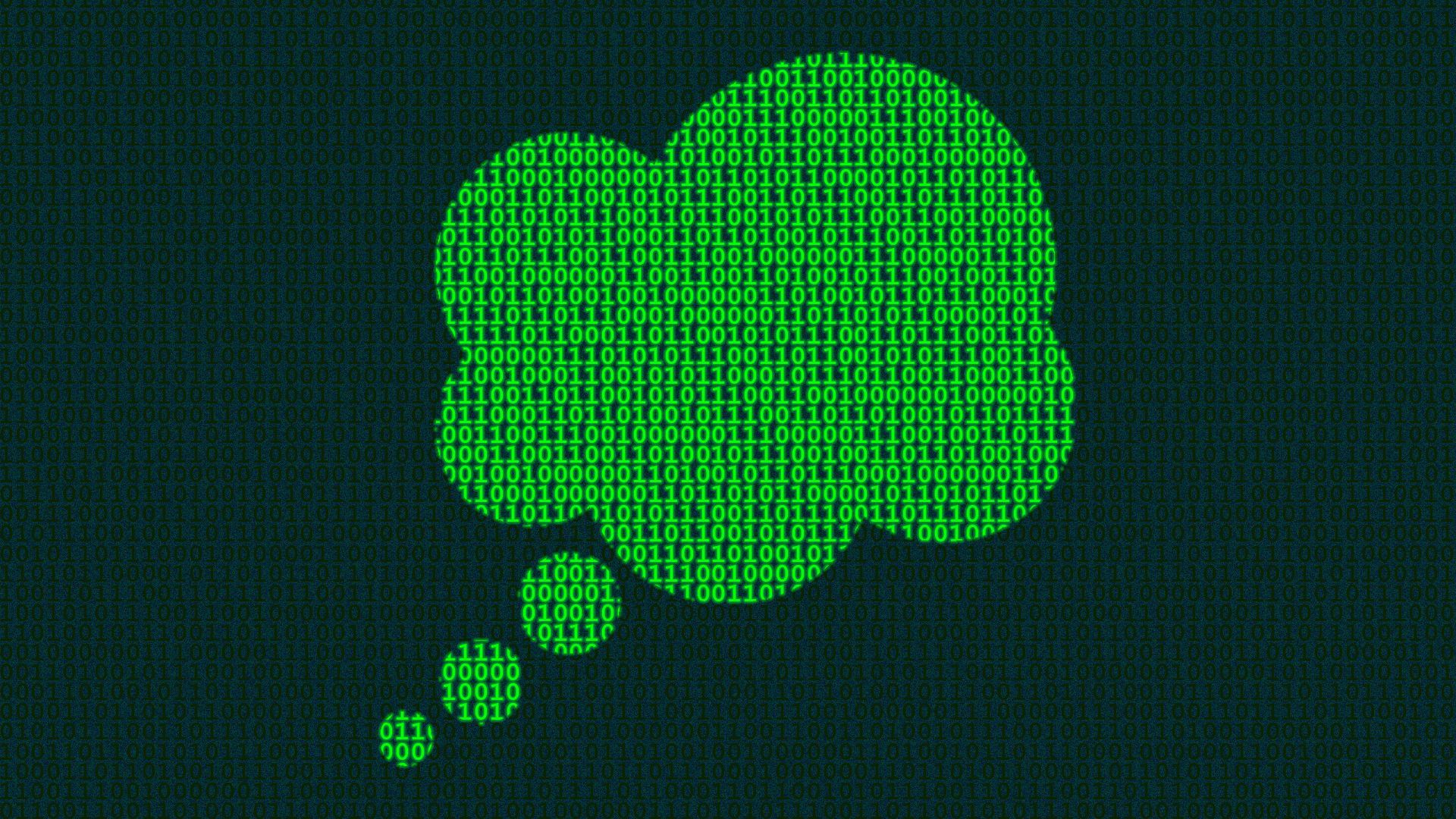 Microsoft is enlisting ChatGPT to join the front lines of the security world, Axios Codebook's Sam Sabin reports.
Driving the news: The tech giant unveiled its first generative AI cybersecurity tool Tuesday during the virtual Microsoft Secure event.
Called Microsoft Security Copilot, the tool is aimed at helping network defenders streamline information about both new threats and ongoing attacks on their networks.
Microsoft, which has invested billions of dollars into ChatGPT maker OpenAI, is now the first major cybersecurity provider to introduce a new product integrating ChatGPT into incident response.
How it works: Security Copilot looks nearly identical to the ChatGPT interface — but instead, this version is based on a small set of vetted security sources, according to a demo shared with Axios.
Company security teams can use the tool in two ways: as a chatbot to help prioritize relevant threat research and vulnerability disclosures, and as an assistant to figure out the extent of ongoing cyber incidents on their networks.
Right now, the new tool only pulls information from Microsoft's own threat intelligence and products, the Cybersecurity and Infrastructure Security Agency and NIST's National Vulnerability Disclosure Database. Each response includes a citation to the source material.
Users can provide feedback on the responses, which will help train the AI models running Security Copilot.
Searches remain private to the company using the tool, and Microsoft doesn't use searches to train the "foundational AI models," Vasu Jakkal, Microsoft's corporate vice president of security, said in a demo video shared with reporters.
The big picture: Security teams are often inundated with alerts about new vulnerabilities, attack techniques and cybercriminal gangs, making it difficult for them to keep up with everything coming through their networks.
7 in 10 organizations say they struggle to keep up with the number of alerts that flood their systems every day, according to a 2022 report from cybersecurity firm Kaspersky.
One purpose of Security Copilot is to cull through those alerts and flag which ones an organization needs to prioritize based on its unique needs — leaving defenders with more time to protect networks from attacks.
What they're saying: "This is really about simplifying the complex for defenders and helping them find things that others might miss," Chang Kawaguchi, vice president AI security architect at Microsoft, told Axios.
Between the lines: Microsoft sees this new product focused on security investigations as the first of many ways that generative AI can help security professionals in the near future.
Zoom out: Employers across the workforce are weighing how to bring generative AI into their workflows without risking a leak of corporate secrets and intellectual property.
Generative AI is still in its early days, and it consistently outputs misinformation, half-formed ideas or answers to technical questions.
Even Microsoft's Security Copilot is already making some mistakes: In the demo, the AI-generated outputs cited "Window 9," which doesn't exist.
What's next: Microsoft is testing the new product with a limited number of clients now to get feedback, but plans to start offering it as a separate product to Microsoft customers in the near future.
3. Take note
Trading Places
Erica Gessert, formerly of PayPal, will join Upwork as chief financial officer next month.
ICYMI
An open letter signed by luminaries in tech and AI urges a six-month "pause" on training generative AI systems more powerful than OpenAI's most recent GPT-4 release. (Future of Life Institute)
Apple CEO Tim Cook traveled to China last weekend in the shadow of escalating U.S.-China tensions. (Axios)
4. After you Login
You've heard all about Chat-GPT — but now you can play with Cat-GPT, too.
Thanks to Peter Allen Clark for editing and Bryan McBournie for copy editing this newsletter.