Congrats to Villanova for busting my bracket (I had Kansas) and also, you know, for winning the whole national championship thing.
https://www.axios.com/newsletters/axios-login-fa96b1cc-b801-4182-864b-54ce30185a7c.html?chunk=0#story0
What regulating Facebook could look like
Apple CEO Tim Cook has suggested Facebook needs regulation — and even Facebook CEO Mark Zuckerberg concedes that might be the right approach.
But just what might that look like? Kim Hart and David McCabe examine that very question and lay out five broad avenues, as well as the case for why none may come to pass.
Data portability: Giving consumers the ability to yank their data from any company at any time is getting some traction, modeled in part after the law allowing people to keep their phone numbers when switching companies.
Transparency: Sweeping legislation with super-strict data use standards is unlikely. But there's enough public and media outrage that lawmakers on both sides of the aisle could go for a narrower approach, such as requiring companies to clearly disclose how they are collecting, using, and sharing consumers' data.
Opting in: Facebook has said it will give users more control over how information is shared with third-party apps and will clarify privacy settings. A regulatory approach could be to require companies to get opt-in consent for certain data-related behavior.
Europe's template: EU regulators view privacy as a human right and have much stricter views about data. A sweeping new law, taking effect in May, is intended to give consumers more control over their data. Congress will be watching how that law plays out, but a U.S. clone isn't likely.
FTC investigation: The Federal Trade Commission could use its active investigation to look at Facebook's broader privacy practices, using its settlement of a previous investigation as a hook for digging in. A couple of options:

It could fine Facebook if it finds that the company violated a 2011 agreement to protect consumers' private information.
It could hold Facebook to specific conditions for a certain period of time under a settlement.
A Republican congressional aide said GOP lawmakers could be more inclined to act if the FTC finds it doesn't have the jurisdiction to take action on wrongdoing in the case.
Yes, but: Previous attempts to take action on this issue have failed. Congress has shown sporadic interest in data security legislation, particularly after big data breaches or scandals, but has never been able to get a bill across the finish line. The Obama administration tried to push a Consumer Privacy Bill of Rights, but it ultimately died on the vine.
Go deeper: Kim and David have more here.
https://www.axios.com/newsletters/axios-login-fa96b1cc-b801-4182-864b-54ce30185a7c.html?chunk=1#story1
Lesson for today: Grindr gets schooled on privacy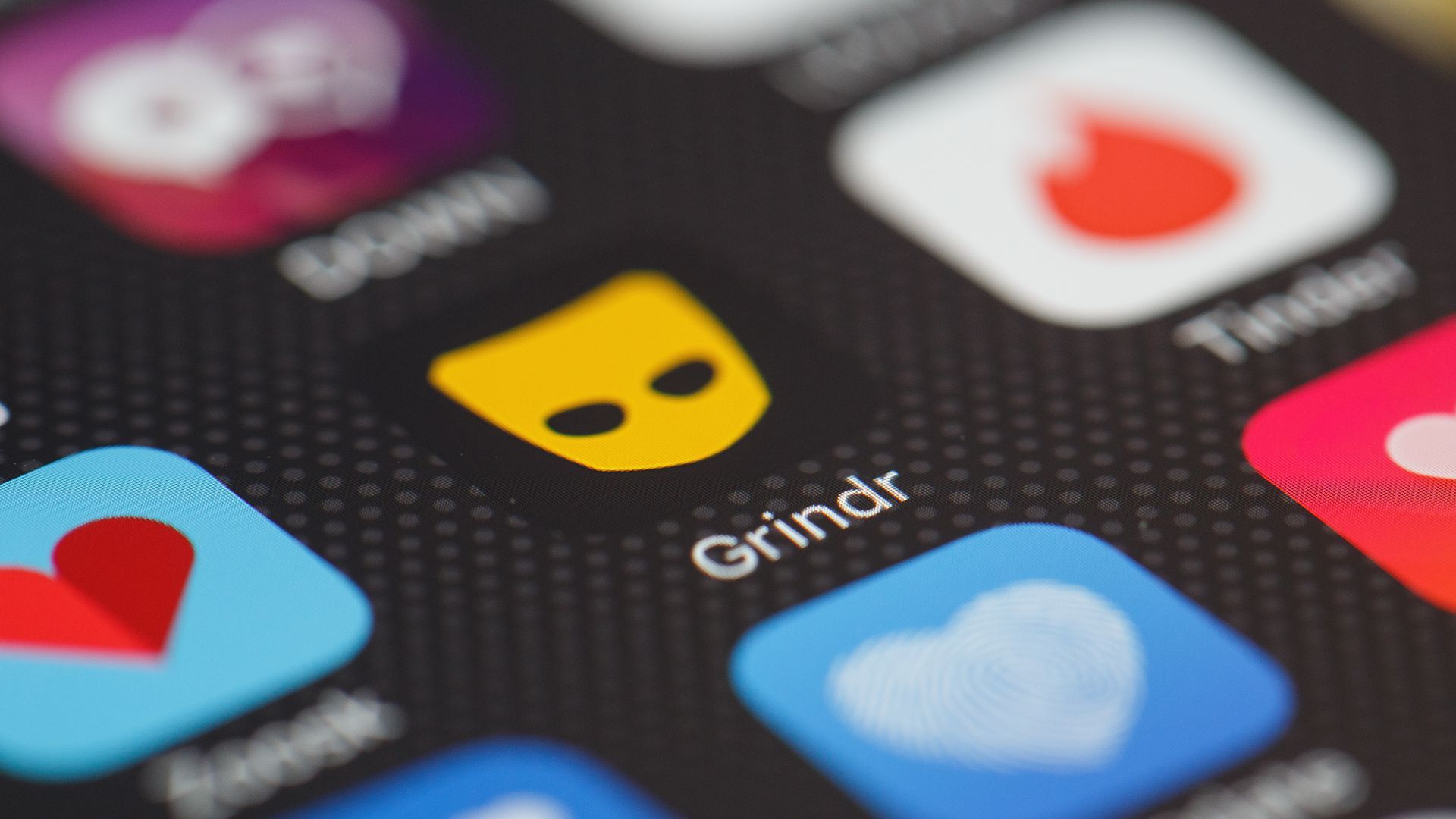 LGBTQ dating app Grindr found itself in the midst of a privacy firestorm Monday after it was revealed the company was sharing some of its most sensitive data, including users' HIV status, with third parties.
It's worth noting that Grindr wasn't selling the data or even sharing it with advertisers or data brokers. Instead, the data was passed along to Localytics and Apptimize — two companies that help the company monitor and test its apps.
But, but but: Grindr badly misjudged how customers would react to the disclosures.
A statement issued early afternoon defended the company's actions, further irking some on social media.
By late afternoon, the company said it would no longer share the data outside the company, though it still felt it was being singled out.
Grindr's security chief Bryce Chase told Axios that there's a difference between a "software platform we use for debugging and optimization purposes" as opposed to "a firm that's trying to sway elections."
Cautionary tale: The reaction is a sign of just how much user expectations have clearly shifted. It's time for every company to put itself under the microscope before their customers do, and ask: what data are they collecting, how is it stored, and with whom is it shared.
It also should be a wake-up call to customers of internet services. The HIV status field is optional on Grindr, but for those who disclose their status, the information is publicly accessible to anyone viewing that user's profile.
https://www.axios.com/newsletters/axios-login-fa96b1cc-b801-4182-864b-54ce30185a7c.html?chunk=2#story2
Media merger mayhem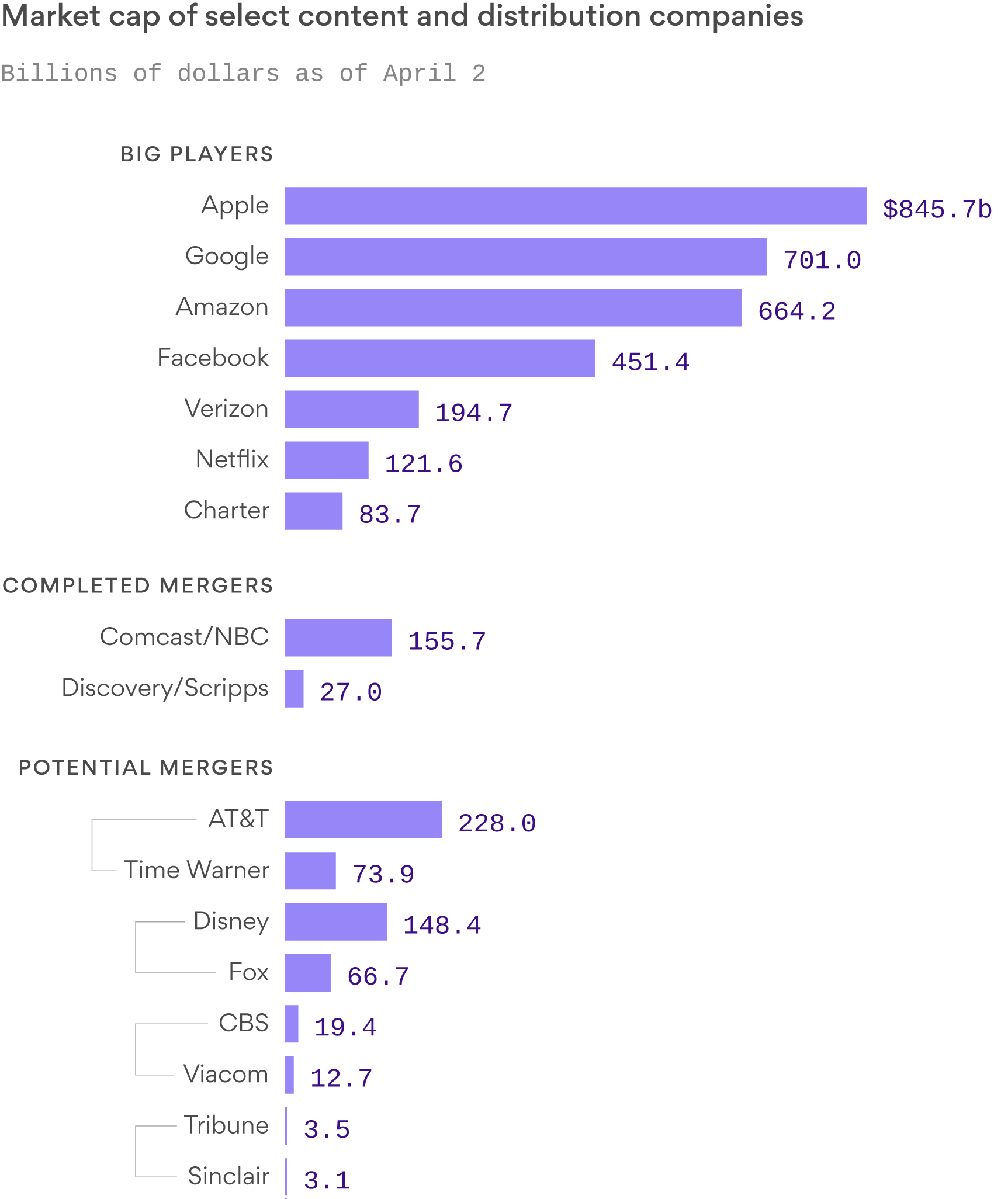 Data: Yahoo Finance; Chart: Axios Visuals
In a race for survival, media companies are doing whatever they can to consolidate, offering up new concessions to make sure they can snag or sell any assets that would help their legacy businesses compete with the almighty power of Big Tech, Sara Fischer writes.
The latest in the U.S.: CBS's initial bid for Viacom is below current market value, Reuters reports. CBS CEO Les Moonves has offered to stay on for at least two years if the companies agree on terms, according to sources. "The fact that CBS's first bid for Viacom infers such a valuation reflects how CBS views its position in the U.S. media landscape as superior to Viacom's," Reuters writes.
The latest across the pond: 21st Century Fox submitted a proposal to the U.K.'s competition authority early Tuesday morning to sell Sky News — the British broadcaster being sought after by Fox and possibly telecom giant Comcast — to The Walt Disney Company, which is planning to acquire most of 21st Century Fox's entertainment assets this year. It's also suggested establishing it as a separate entity with a 15-year funding guarantee. The moves are seen as efforts to ease regulators' concerns over media ownership plurality.
Why it matters: A wave of deals and negotiations over a 2- to 3-year window will change how news and information are produced, consumed, and disseminated across the world.
More: Read Sara's full piece here and sign up for her weekly Media Trends newsletter here.
https://www.axios.com/newsletters/axios-login-fa96b1cc-b801-4182-864b-54ce30185a7c.html?chunk=3#story3
Apple could switch to own chips for Macs
A Bloomberg report Monday says the first Macs powered by an Apple-designed processor could hit the market in 2020, but really it's a question of trade-offs and when the timing is right.
My thought bubble: I'd be shocked if somewhere in Cupertino there aren't already Macs running on Apple chips, as opposed to the Intel processors that power today's Macs. And the company is already inserting its own ARM-based chips as companion processors inside the Mac, including one that powers the Touch Bar on the MacBook Pro.
The pros: A move to using its own processors could offer Apple cost advantages, as well as better battery life and more commonality with the iPad and iPhone.
The cons: The two big hurdles are raw performance, especially for high-end graphics, and compatibility.
History lesson: Apple had OS X running on Intel chips years before it made the switch from PowerPC to Intel. Apple hates to be dependent on outside suppliers and loves to keep its options open.
https://www.axios.com/newsletters/axios-login-fa96b1cc-b801-4182-864b-54ce30185a7c.html?chunk=4#story4
Take Note
On Tap
Trading Places
Google said search and AI chief John Giannandrea is stepping down from that post, confirming an earlier report from The Information. The company is splitting Giannandrea's duties in two, with Ben Gomes to lead search and Jeff Dean to lead Google AI.
ICYMI
https://www.axios.com/newsletters/axios-login-fa96b1cc-b801-4182-864b-54ce30185a7c.html?chunk=5#story5
After you Login
The Houston Astros found that unfurling the banner can be almost as hard as winning the World Series in the first place.