I'm in Mountain View, Calif., for Google's I/O conference. No plane was involved, just a lot of Silicon Valley traffic.
Look back: How did last year's Google I/O announcements fare?
Google always throws out a ton of new technologies at its I/O developer conference. Historically, some thrive while some others fizzle. Here's a look back at last year's key announcements and how they have fared since then, plus some thoughts on where those products are headed.
Assistant and Google Home: Google showed off its AI-powered digital assistant last year. Since then, Google's Assistant has come to a broader set of Android devices as well as to the Google Home speaker (also previewed at I/O last year). Look for it to come to even more devices, including kitchen appliances. Bloomberg says a version should be coming to the iPhone this week, but it will almost certainly not be as ubiquitous on Apple hardware as it is on the Google-controlled Android operating system.
VR: Google announced its Daydream ecosystem at I/O last year and followed up with its first headset, the Daydream View, in the fall. We have not seen as many Daydream compatible phones as expected yet (there are a few) or any Daydream compatible headsets despite Google saying the schematics are freely available. In addition to an update on Daydream, Google is reportedly planning to show its vision of a standalone mobile VR headset at I/O.
Messaging: Last year Google added two new messaging apps, Also and Duo, to its lineup and its messaging story has continued to be a murky one with a number of different products including Allo, Duo, Hangouts, and the Android messaging program. While it would be nice to see the strategy come into focus this year, I'm not necessarily holding my breath.
Android: Google previewed Android N ahead of last year's I/O, detailed it further at the event, and shipped Nougat in the fall. The company appears to be on a similar path this year, having released a preview of Android O in March, but not going into great depth on its features. One thing Google talked about last week was Project Treble, an effort to make it easier for device makers that want to offer operating system upgrades.
Instant Apps and Android Wear 2.0: Both took a little longer than Google had expected. Watches using Android Wear 2.0, originally scheduled for late last year, were pushed back until this year, while Google is still working to make its vision of Android apps that run from the web a reality.
Airbnb is learning to play by cities' rules
One of Airbnb's biggest challenges is staying in the good graces of city governments. After high-profile scuffles with city officials, the home-sharing company is learning that it has to play by the rules. Today, it's releasing a progress update on its policy framework for collaborating with municipalities.
"We're obviously blessed with tremendous growth, but with that growth comes responsibility," Airbnb head of global policy (and former political advisor to Bill Clinton) Chris Lehane told Kia.
This is a notable departure from Airbnb's days of combative behavior toward cities, such as refusing to share host data and insisting it's just an online marketplace that shouldn't be regulated like other property-rental companies.
Lessons learned: In recent months, Airbnb has mostly resolved lawsuits it filed against two of its most important markets: San Francisco and New York.
In San Francisco, Airbnb recently proposed a settlement which would include a plan for Airbnb to help build an easy system for hosts to register with the city, pending approval from the mayor and Board of Supervisors.
In December, Airbnb dropped its lawsuit against NYC after it was assured that the new laws imposing steep fines would focus on hosts with illegal listings, not the company.
Airbnb says it's made a lot of progress since publishing its initial policy framework for working with municipalities in December. Read more of Kia's report here.
Cyberattacks are testing consumer trust in technology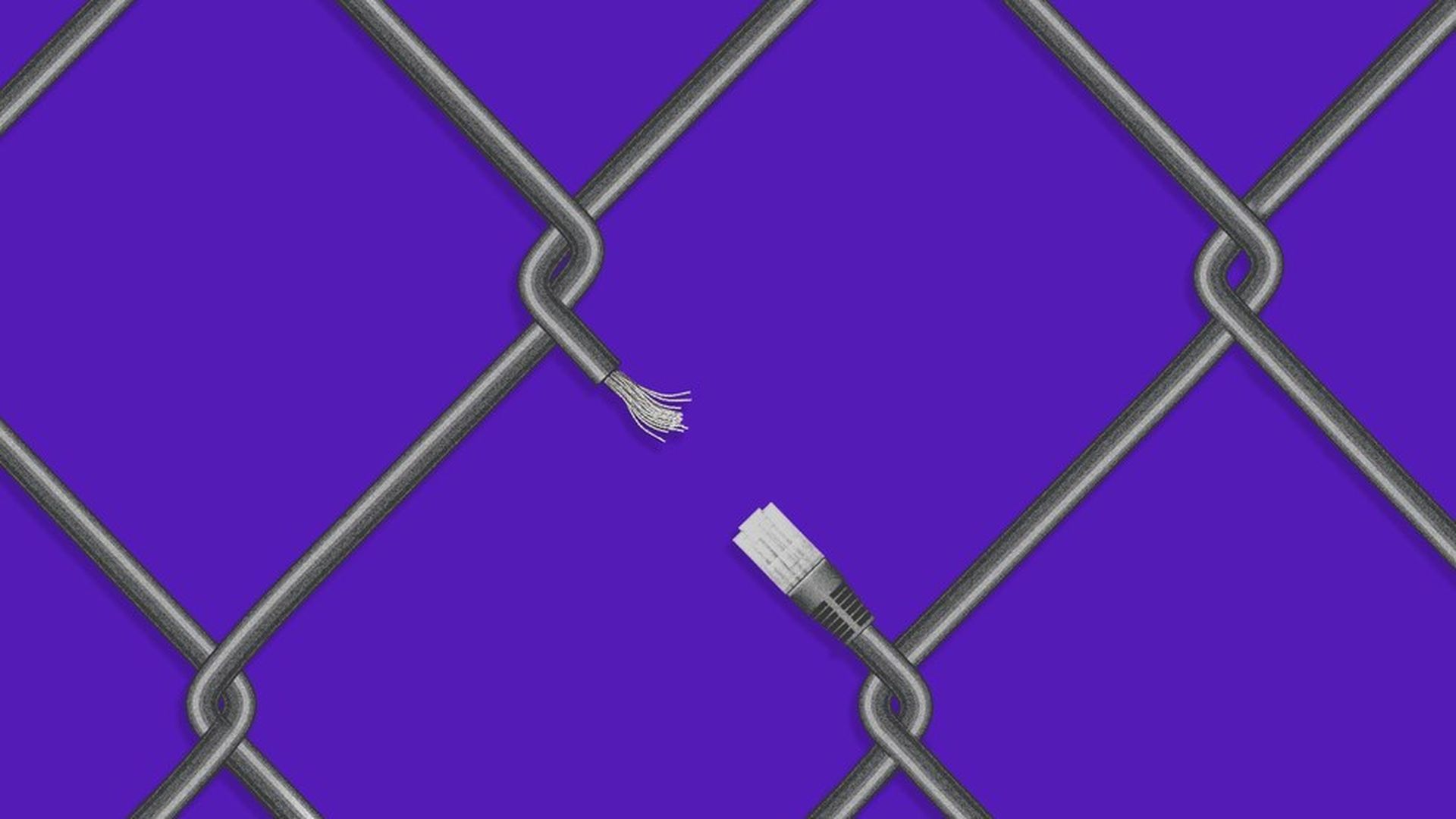 Cyberattacks are becoming more sophisticated and more routine, Kim and Sara report. In the past two weeks alone, Netflix and Disney content has been hijacked by hackers asking for ransom, hundreds of thousands of users were hit by a Google Docs email phishing attack, and the WannaCry ransomware attack spread to 150 countries.
Why it matters: As almost every aspect of daily life moves to the digital realm — such as autonomous cars and electric grids that will soon be controlled by internet-connected sensors — research shows that maintaining consumer trust is more crucial than ever. Per Pew, roughly half of Americans feel that their personal information is less secure than it was five years ago. More data:
A majority of Americans (64%) told Pew they have been a victim of a major data breach.
Security concerns are affecting consumers' trust in brands: According to a recent Talend/ResearchScape survey, 53% of respondents said they'd be likely or very likely to break up with a brand after experiencing a data breach or leak, and 78% said it's important for them to know what happens to their data after sharing it with a company.
Companies risk economic fallout: EY's Capital Confidence Barometer found that U.S. executives ranked cybersecurity as the top reason for deal cancelation. According to the same study, 59% of executives would negatively value a company if it went through a data breach. (Exhibit A: The deep discount Verizon negotiated to purchase Yahoo after the tech giant revealed massive security breaches).
What's next: In emerging areas of technology — such as autonomous vehicles, cloud storage, blockchain and virtual reality applications — tech companies have not yet won consumer trust, according to Edelman's 2017 Trust Barometer survey.
Google I/O swag: sunglasses, sunscreen and some food for thought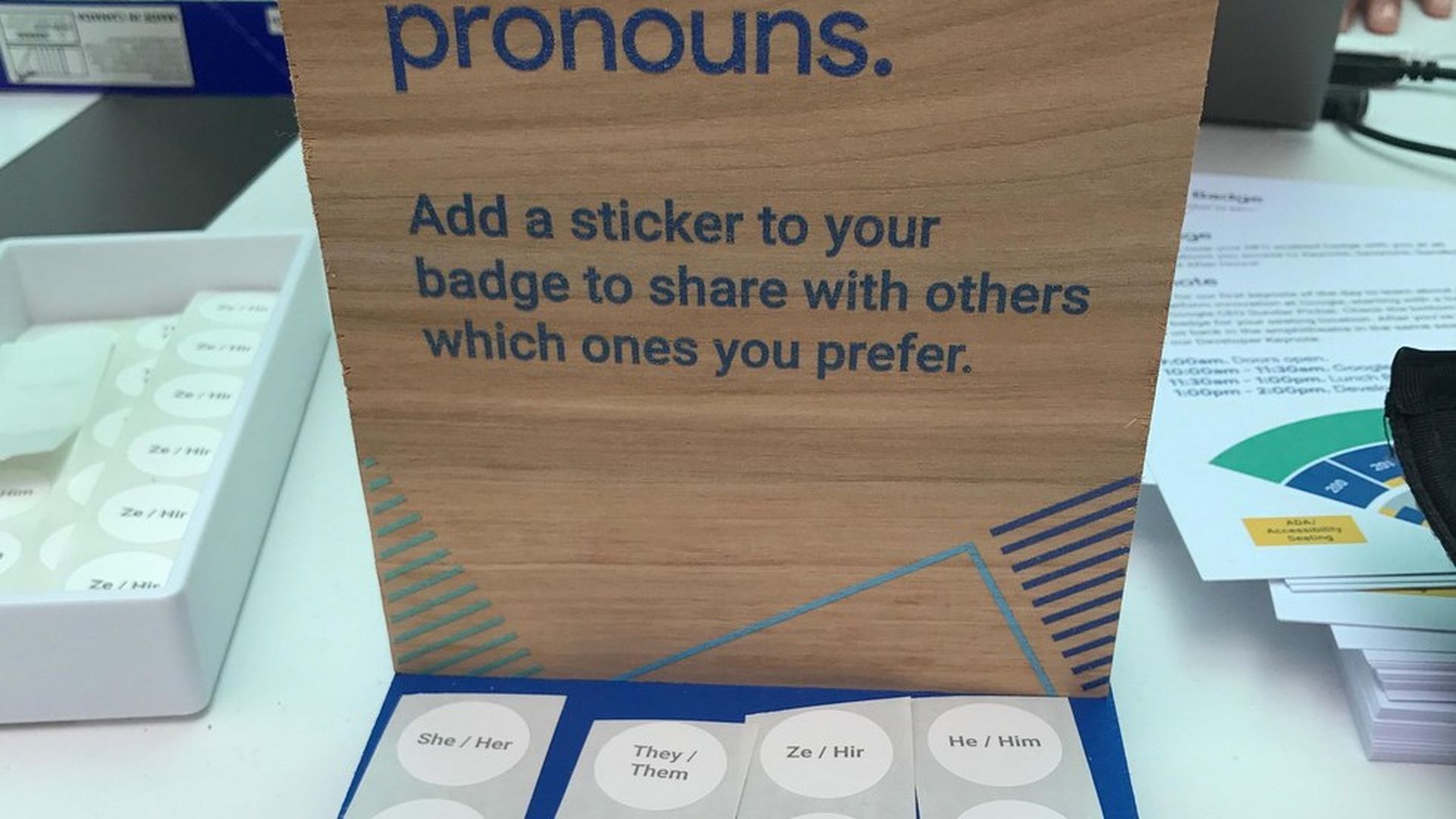 After holding its I/O conference at the outdoor Shoreline Amphitheatre the last couple of years, Google has learned to make sure attendees have all the necessary items. This year's goodie bag includes sunscreen, sunglasses, and a water bottle. That's good because temperatures could hit the 90s by Friday and most techies aren't used to getting much sun.
An addition this year (one which I found particularly welcome) was the invitation for attendees to place a sticker with their preferred gender pronoun on their badges. It's a trend that began at LGBT conferences but has since started to become more common at tech events, with Salesforce leading the way at its Dreamforce and Trailhead conferences.
Take note
On tap: Google I/O kicks off in Mountain View, Calif., (see above). The Information Technology Industry Council holds its annual tech show this evening at the Carnegie Library in D.C., giving policy makers a chance to get up close with some of the products they regulate.
Trading places: Twitter co-founder Biz Stone announced he is returning full-time to Twitter, albeit in a rather vague-sounding role...The White House said Tuesday that the president is nominating David Redl, an aide to the House Energy and Commerce Committee, to lead the National Telecommunications and Information Administration.
ICYMI: Facebook admitted to yet another ad measurement error. The social networking giant also added Snapchatesque face filters to Instagram...Steven Levy got the Jony Ive tour of Apple's new spaceship campus in Cupertino and wrote about it for Wired. And, speaking of Apple, the company is planning to upgrade its laptops with faster chips, according to Bloomberg. While that's not a surprise, the timing is a bit unusual as Bloomberg says the moves will coincide with Apple's developer conference the first week in June. (Apple has introduced new hardware at WWDC before, just not in a while.)
Tune in to Axios.com/technology for live updates from Google I/O and all the latest in tech news.