Well, 2018 is off to a fun start now, isn't it?
https://www.axios.com/newsletters/axios-login-f71e361b-de88-4153-a0cf-f0f6fe93c380.html?chunk=0#story0
Making sense of the massive chip vulnerability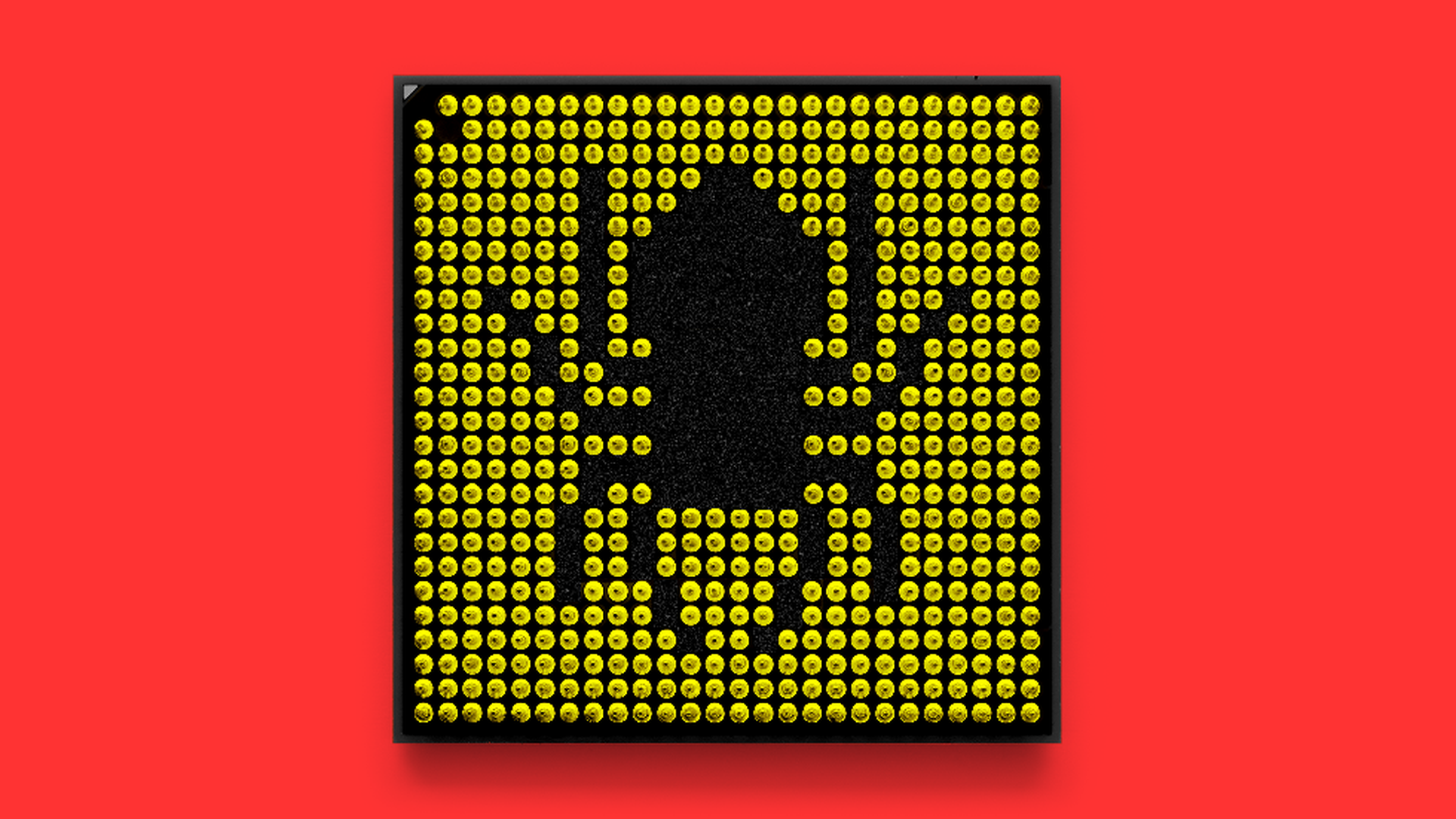 You can't say I didn't warn you. But it turns out that the chip vulnerability that had the IT community buzzing yesterday is even more widespread than initial reports suggested.
The issue stems from a series of vulnerabilities, all related to how chips have been designed for the past decade or more. Intel chips are widely affected but at least one of the vulnerabilities relates to all modern processors, including those from AMD as well as the ARM-based chips used in cellphones.
What this means: It's not just nearly all PCs and servers that are vulnerable, but also cellphones and other devices. And while it's the chip designs that are to blame, it's too late to change those, so most of the fixes involve software updates from operating system companies like Microsoft, Apple and Google.
Go deeper: Read this broad explainer and other Axios stories:
https://www.axios.com/newsletters/axios-login-f71e361b-de88-4153-a0cf-f0f6fe93c380.html?chunk=1#story1
Alexa and Assistant want a spot in your next TV
We've reached the land-grab stage in the virtual assistant battle, with both Amazon and Google seeking a place inside all manner of devices.
I predict this will be the year your voice takes control.
The next battleground is the television, with Amazon's Alexa and Google's Assistant both trying to land a spot. This should be a big topic at next week's CES trade show in Las Vegas. Already this week, LG has announced it is putting Google Assistant inside its 2018 TVs, while China's HiSense is including Amazon's Alexa. Some hardware makers, including LG, are also including their own device-specific voice interfaces.
What's happening: Look for voice assistants to become more pervasive across the devices you use every day. Already common in speakers and smartphones, expect to see Alexa and Assistant to show up in cars, TVs, appliances — just about every electronic you interact with.
Amazon has the lead here with Alexa, but both it and Google are pushing hard to get them integrated into other companies' gear. Amazon has an Alexa fund designed to invest in startups with potential to use voice technology in their products.
Cars will be a big opportunity, as they are a natural place for voice interfaces since people should have their eyes on the road and hands on the steering wheel (for now anyway.) Apple has also been active in this space for a while, with a program to have Siri built-in, as well as CarPlay, which includes Siri along with a console-based interface to iPhone content.
The other big area to watch is for voice assistants to show up in more parts of the smart home, especially TVs and appliances.
Why it matters: For consumers, digital assistants can replace and augment cumbersome controls and provide access to information on the internet without needing big displays and a means to enter text. Digital assistants also open up big money-making opportunities, adding what amounts to a voice-based search box to create a gateway for both commerce and advertising revenue.
The downsides: Not everyone wants to talk to their washing machine or toaster. Also, in order to hear your commands, voice-activated gadgets have to be always listening. Those who have avoided Amazon's Echo and Google Home for that reason are going to have a tougher time as the technology finds its way into all manner of gear.
https://www.axios.com/newsletters/axios-login-f71e361b-de88-4153-a0cf-f0f6fe93c380.html?chunk=2#story2
Behind the $1.6 billion lawsuit against Spotify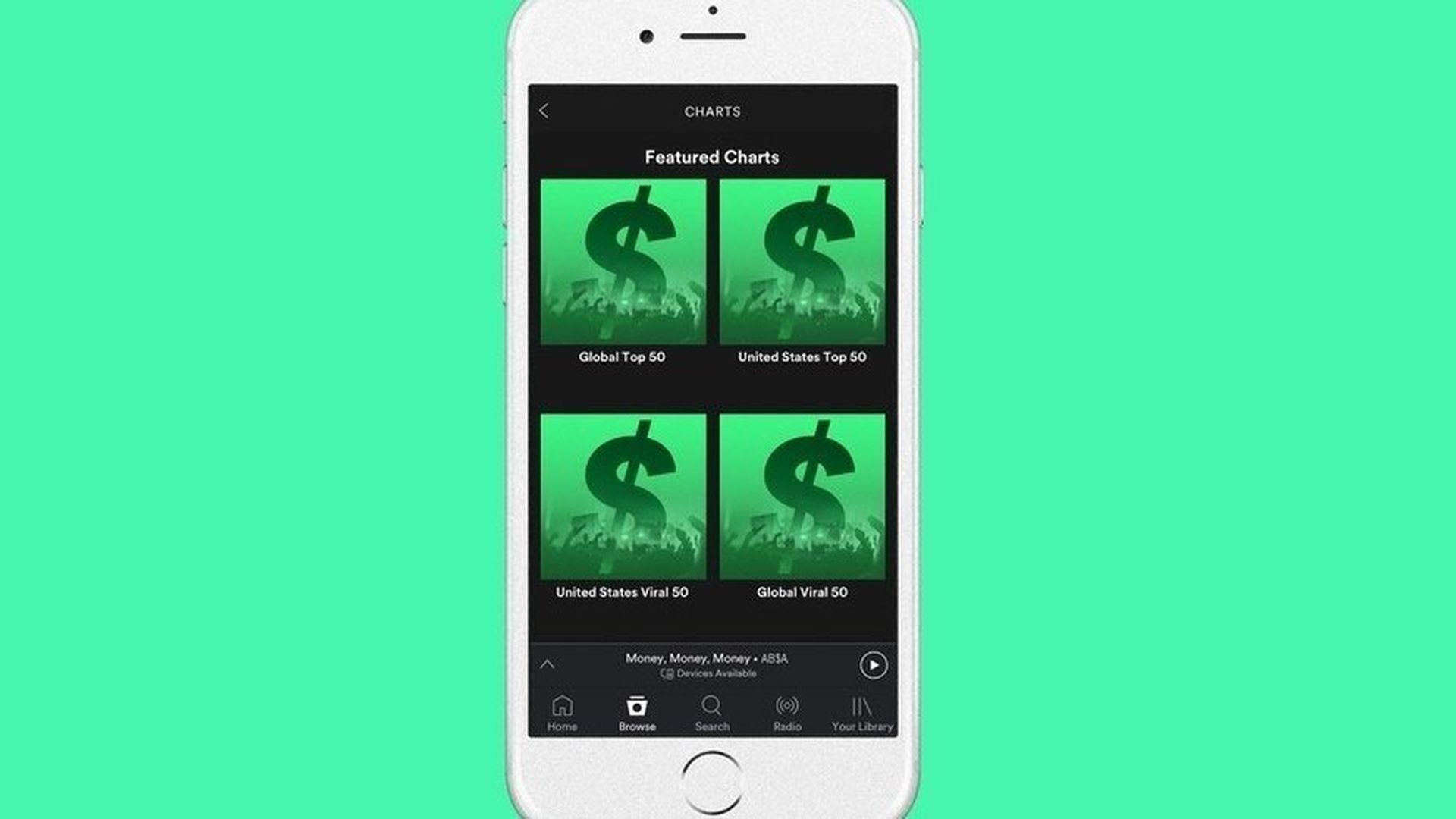 On Tuesday, news broke that Wixen Music Publishing is suing Spotify for $1.6 billion for failing to obtain proper royalty licensing. The complaint centers around "mechanical" royalties, an on-going debate in music streaming, Axios' Kia Kokalitcheva reports.
Why it matters: Spotify (and others in the digital streaming industry) has long been criticized for not paying record labels and artists their fair share of the profits. But licensing rules may be due for some updating as online streaming continues to grow in popularity over physical records and musical downloads. Spotify is also in the midst of preparing to go public, as Axios reported.
Read Kia's full story here.
https://www.axios.com/newsletters/axios-login-f71e361b-de88-4153-a0cf-f0f6fe93c380.html?chunk=3#story3
Fitbit's sleep study shows just how late we all stay up
Thanks to its fitness trackers, Fitbit knows a lot about how we sleep (or don't sleep) as the case may be. The company is today releasing data collected from 6 billion hours of sleep information. Here are a few key facts, which the company revealed in an article on Yahoo Finance.
Women sleep an average of 6 hours and 50 minutes per night (25 minutes longer than men) but are also 40% more likely to suffer from insomnia.
The average American bedtime is 11:21pm.
Those on the East Coast stay up 7 minutes later, on average, than do those on the West Coast and wake up 5 minutes later.
Meanwhile, those in the northern U.S. go to bed 5 minutes earlier than those in the South (and they wake up earlier too).
https://www.axios.com/newsletters/axios-login-f71e361b-de88-4153-a0cf-f0f6fe93c380.html?chunk=4#story4
Key deadline for local testing of commercial drones
Axios' Kim Hart reports on a major milestone in the Trump administration's push to get commercial drones into the skies. Today is the deadline for local governments to submit their drone deployment plans. The White House announced the program in October to allow cities to test different models for drones use — for delivering cargo or emergency supplies, for example. The FAA and DOT are running the program.
High interest: Last month was the deadline for local governments (in partnership with companies and other organizations interested in deploying drones) to tell the feds they're interested in participating in the pilot. DOT received more than 1,500 "notices of intent" from more than 300 state, local and tribal governments in 49 states.
For example, the Stanford Blood Center has partnered with drone maker Matternet and Palo Alto's city government to propose using drones to deliver blood, test samples and other medical supplies to hospitals quickly, the local CBS affiliate KPIX5 reports.Palo Alto is also interested in using drones to inspect runways at the local airport, according to the Daily Post.
Next steps: Today, formal project proposals are due to the DOT. Once they're reviewed, DOT will green-light several pilot projects on a rolling basis. The goal is to encourage drone deployment across the country by the end of the year.
https://www.axios.com/newsletters/axios-login-f71e361b-de88-4153-a0cf-f0f6fe93c380.html?chunk=5#story5
Take Note
On Tap
Trading Places
Data & Society named former deputy U.S. CTO (and Twitter general counsel) Alex Macgillivray to its board of directors.
ICYMI
https://www.axios.com/newsletters/axios-login-f71e361b-de88-4153-a0cf-f0f6fe93c380.html?chunk=6#story6
After you Login
This amazing photo captured a flock of starlings forming the shape of a bird.