How has our service been? Please take our survey. No, really, we here at Axios are new and want to know what you think. It's only 10 questions, and most of those are multiple choice.
Steve Case on where to find the next wave of innovation (Hint: Not CA or NY)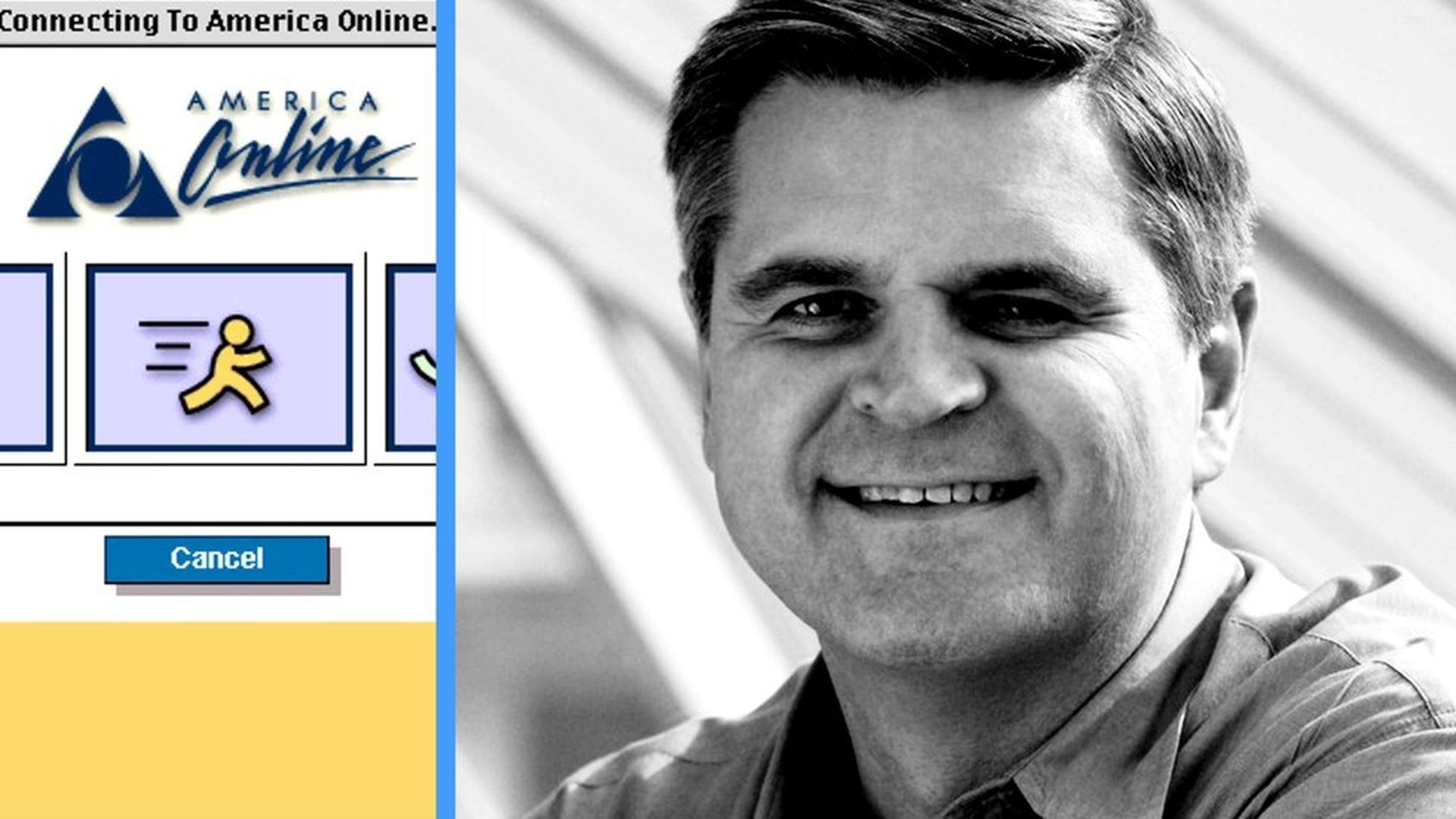 AOL founder and Revolution CEO Steve Case is betting that the next breakthrough companies aren't going to come from the regions that get the most venture capital money — they'll come from "fly-over" country between the coasts that are often overlooked. Below are the highlights of our chat (and you can read more here).
How long will it take to redirect investment to these underserved areas?
Because so much capital goes to so few places —78 percent of venture capital went to just three states last year — California, New York and Massachusetts — and because so little capital goes to these Rise of the Rest cities, it doesn't take much of a shift in dollars to potentially make a significant impact. I think that can and will happen in the next five years, but I think over the next decade we do need to continue to build these regions so we do have a more dispersed and inclusive innovation economy.
What is your message to the Trump administration?
We can't bring back the jobs we lost and, for the most part, we have to create new jobs. I recognize the likely disruption of jobs because of AI, automation, robotics and driverless cars and so forth, but I'm reminded that 200 years ago over 90% of us worked on farms. New technologies came out and now less than 2% of us work on farms, but we thankfully came up with new acts.... We just need to make sure we continue to identify interesting people doing interesting things in interesting places. Some of those will end up surprising us in being the next breakthrough companies and the next great industries.
What should Silicon Valley companies be doing to move into some of these untapped markets?
You're starting to see companies realize that when they look for innovators they should look more broadly, and when you invest in them or acquire them they should let them continue to grow in those places. When Salesforce acquired ExactTarget, it had a little under 1,000 employees in Indianapolis, and now three years later they're coming up on 2,000 employees.... I'm not surprised at all that Uber has bet its future in terms of driverless car operation not in Silicon Valley but in Pittsburgh because of its strength of talent there...Whether that's the message for venture capitalists looking to back startups or big companies looking to acquire successful companies, that's a way for them to help level the playing field.
On the (not-a-)campaign trail with Mark Zuckerberg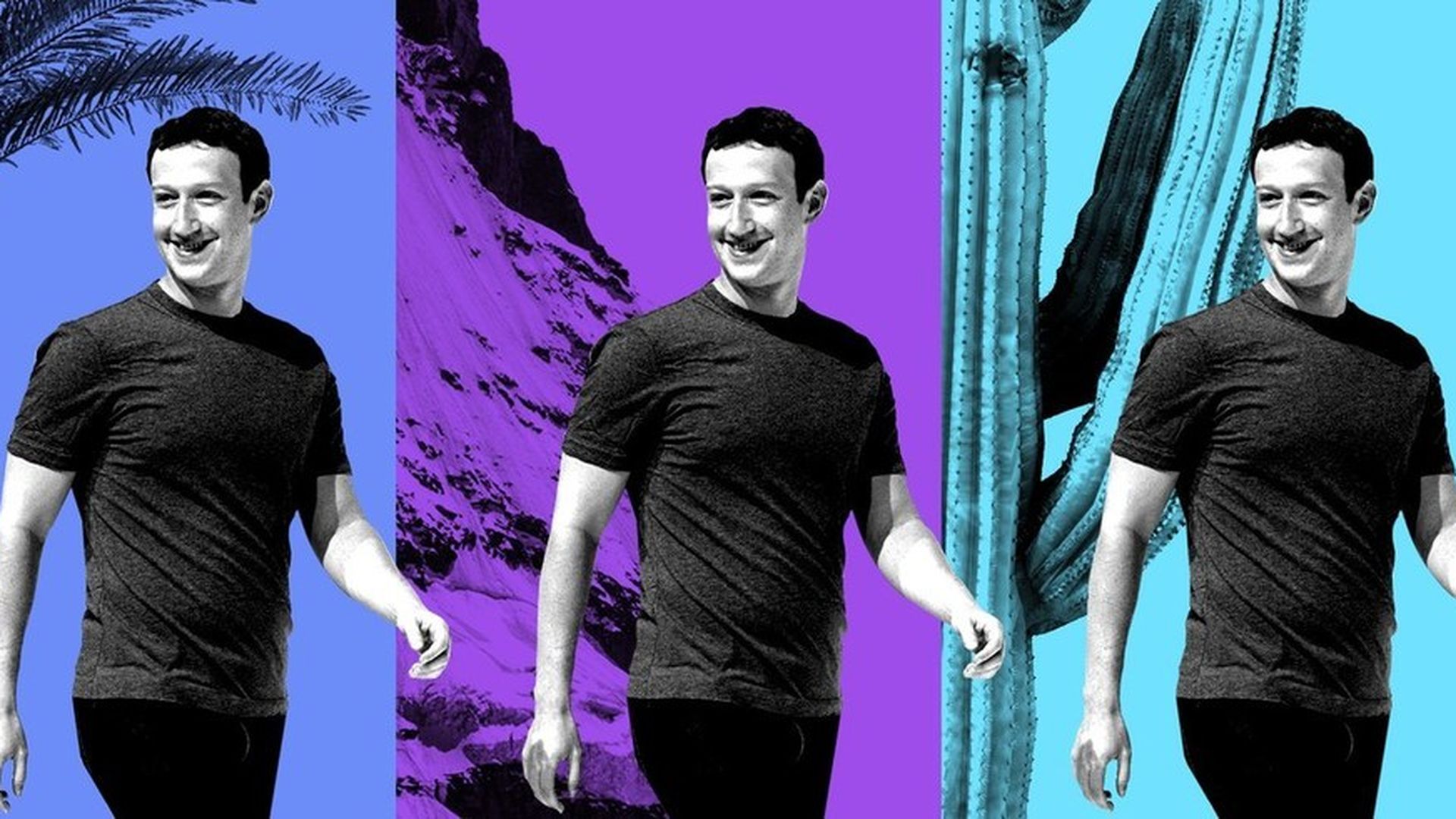 The questions started as soon as Mark Zuckerberg announced on his Facebook page in early January that his "personal challenge" for the year was to travel the roughly 30 states he'd never visited. Was he launching a political career? Making amends for a year of politically-tinged crisis at the company?
It's premature to say what exactly Zuckerberg and his empire will get out of the year-long junket, and he says he isn't running for president. But a few months into his project, there's an early message: Less Crunchies, more Country Music Association Awards. Zuckerberg has chatted with military spouses in North Carolina and sped around a racetrack with Dale Earnhardt, Jr. He sat down with the coaches of more than one revered southern college sports program and talked about diversity at a historically black university. Once an atheist, he now drops in on church services.
Why it matters: It's been a bruising year for Facebook's public image. The left criticized it for spreading fake news and the right charged that one of its features was rife with bias. How Zuckerberg is positioning himself right now is telling about how the company is moving forward. Check out David McCabe's take of the tour so far.
Uber's woes still the big story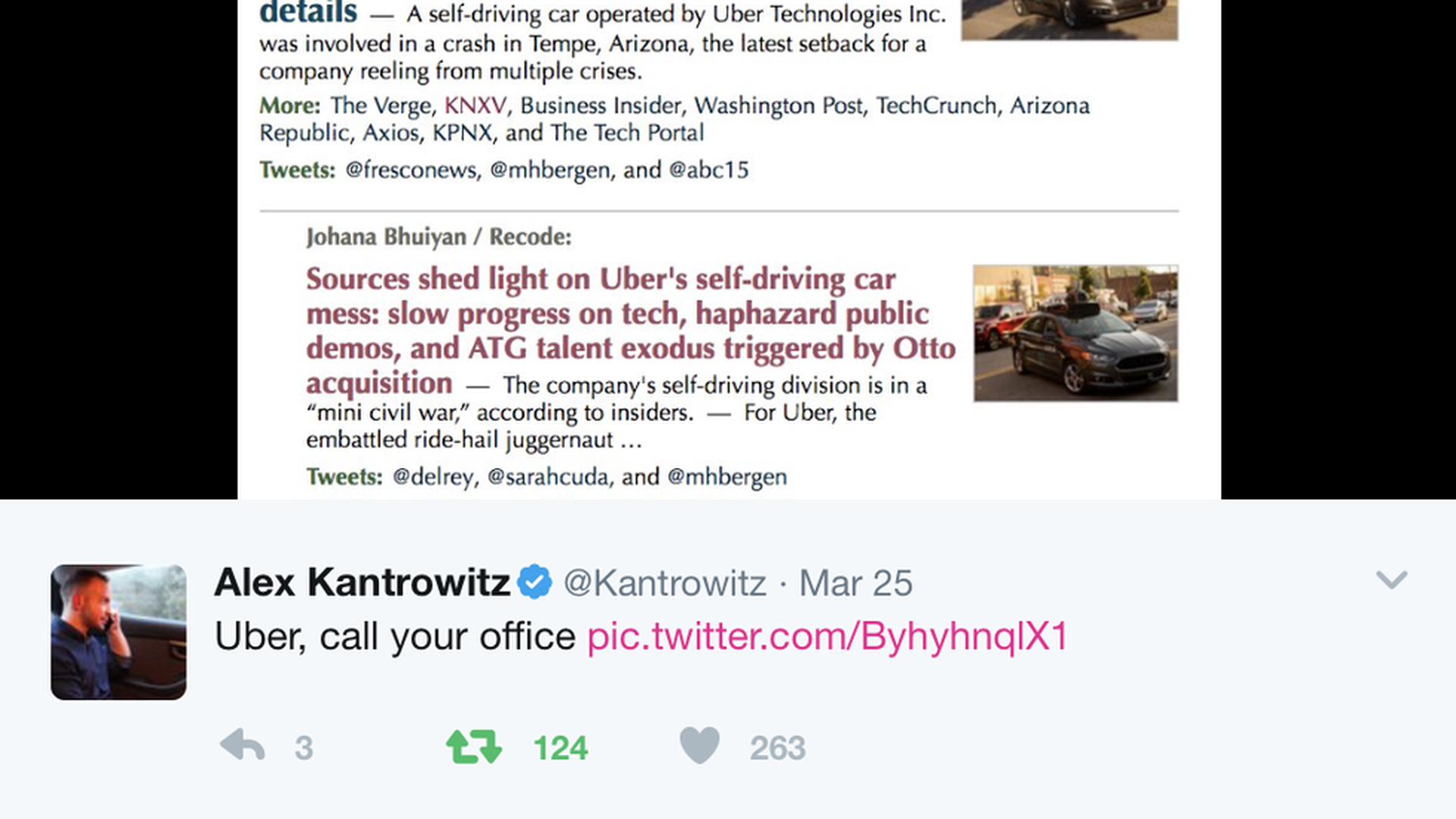 Uber's problems remain the talk of Silicon Valley and last week brought another spate of bad news. On Friday alone, the following things all came out:
The tweet and screenshot above says it all.
The key question is when — or if — the company decides it needs more systemic change than just a new No. 2 for Kalanick.
And yet, Lyft still can't seem to capitalize
With all that's going wrong at Uber, you'd think chief rival Lyft would be sitting pretty. For the most part, though, the company appears not to have gotten much of a ... boost. (And you thought I was going to say lift.) Uber says its US ridership has been at record levels and Lyft's bid to form an international coalition to rival Uber quietly fell apart in January.
At long last, it appears Lyft isn't going to totally let opportunity pass it by. On Sunday, Lyft took out a full page ad encouraging riders to view their choice of services as an opportunity to "sit for something." Rather than target Uber by name, the ad announced a new program to encourage charitable donations and talked about Lyft's values, including "treating people better along the way."
Amazon's big, big brick-and-mortar plans
Once upon a time, Kmart was the retail giant. A guy name Sam Walton realized that to unseat the leader, he had to go where they weren't, building stores in areas deemed too small to merit a Kmart. By the time Walmart moved into Kmart's turf, it was too big and powerful to be stopped.
Amazon has taken the Walmart strategy into the digital age. It went from an Internet bookstore, to an e-commerce giant, to one that increasingly fancies itself as the future of all retail. And now, as Amazon moves into physical retail, it would appear too powerful for anyone to stop. The New York Times has a deep look at Amazon's expanding offline efforts.
That said, as The Economist notes, Amazon will have to outpace the growth of any giant company in modern history in order to live up to Wall Street expectations.
What else is going on at Uber? For tips on that, or anything else, reply to this e-mail or drop a note to ina@axios.com