Axios Login
December 20, 2022
If you are g0ing to be at the World Economic Forum in Davos, Switzerland, this year, I'd love to have you join me for one of several tech-related events Axios has planned. (Request an invite here.)
Today's Login is 1,264-words, a 5-minute read.
1 big thing: Tech legislation's 2022 scorecard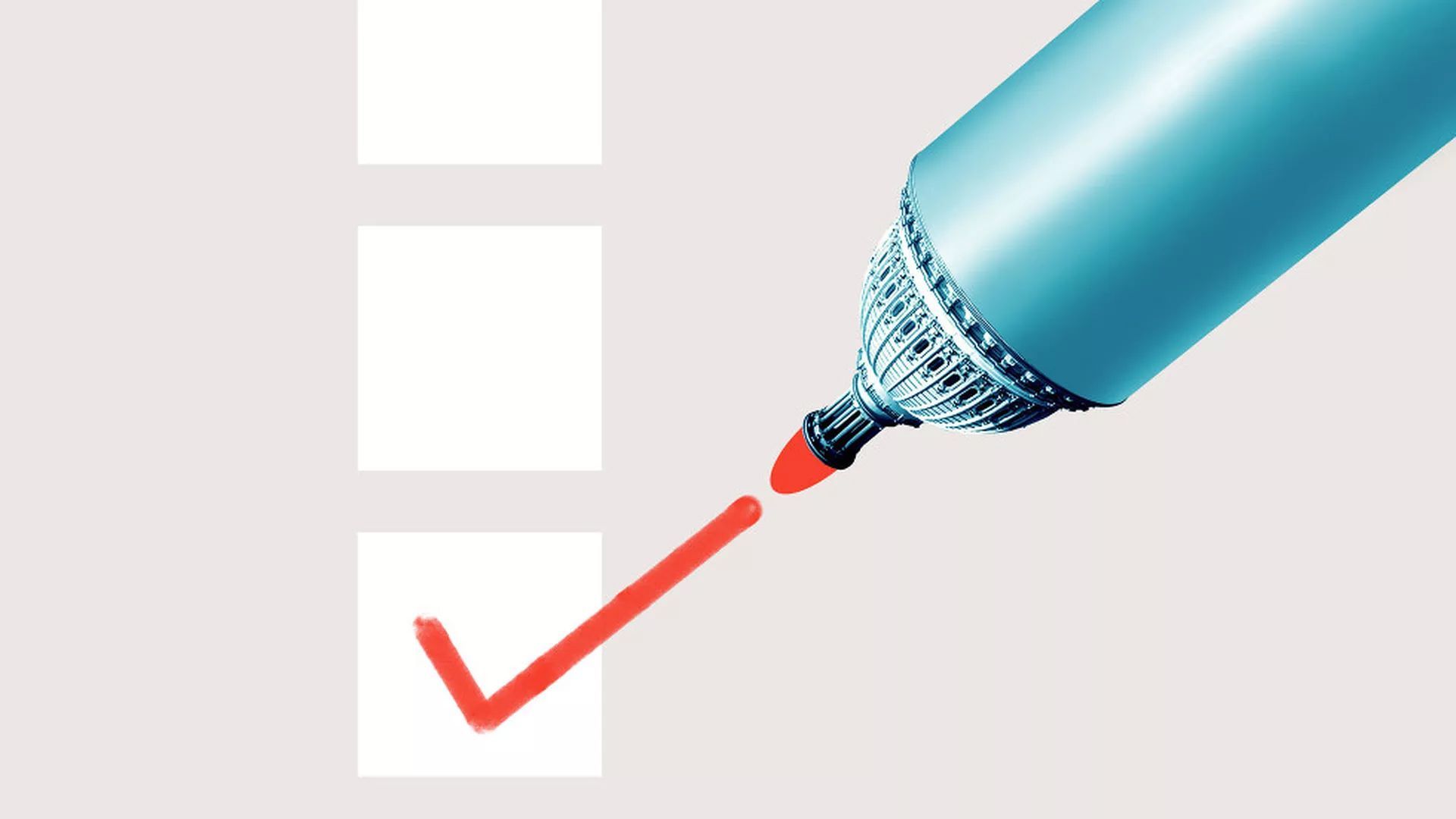 A bevy of proposals to limit Big Tech firms' power gave up their last gasp Monday night as Congress released the text of its year-end spending bill, Axios' Ashley Gold reports.
Driving the news: The spending bill, known as the omnibus, was the final ticket out of the 117th Congress to the president's desk. But major tech-related bills, including two that supporters were fiercely pushing for, failed to make it in.
The big picture: Two years ago, as Democrats took control of Congress and the White House, a window opened for action against the giant tech companies. But very few new laws made it through.
The race to the finish line that ultimately ended in defeat for the biggest bills shows how hard it is for legislators to find agreement on regulating tech firms, even though many in both parties see them as abusive monopolies.
Observers blame aggressive industry lobbying, partisan divisions and substantive disagreements over the best approach.
Details: This month, supporters were pinning their hopes on the Open App Markets Act and the Kids Online Safety Act for inclusion in one of the year-end must-pass legislative packages.
The Open App Markets Act would have forced Apple and Google to give app developers more rights in their app stores, including the ability to "side-load" apps directly onto phones, surpassing approval and a commission charge.
The Kids Online Safety Act would have required platforms to guard kids from harmful content using new features and safeguards and to make privacy settings "on" by default for children.
Flashback: Lawmakers started this Congress with an ambitious tech agenda.
Yes, but: Only a few pieces of notable legislation related to tech and telecommunications made it to the finish line.
Be smart: There are many more tech bills on this Congress' cutting room floor.
Between the lines: The threat of new rules in the U.S., combined with an increasingly onerous regulatory environment in Europe, has companies rethinking their policies around competitors, children's privacy, algorithmic transparency and more.
What to watch: State legislatures across the country are busier than ever, passing tech-related bills on content moderation, kids' privacy, antitrust concerns, and the use of artificial intelligence and biometric data.
2. Google, Meta ad duopoly is beginning to fade
Google and Meta, known together in the ad industry as the "duopoly," are expected to bring in less than half of all U.S. digital advertising this year for the first time since 2014, Axios' Sara Fischer reports.
Why it matters: The duo's ad dominance has for years made both companies the target of antitrust investigations and lawsuits. While they still tower over digital rivals, their momentum is starting to slow as competition moves in.
By the numbers: Google and Meta will together capture 48.4% of all U.S. digital ad revenue this year (28.8% for Google and 19.6% for Meta), down from 54.7% at their peak in 2017 (34.7% for Google and 20.0% for Meta), per data from Insider Intelligence.
By far, the biggest threat to their collective ad dominance is Amazon, which has grown its ad business to over $30 billion dollars annually.
By 2024, Amazon is expected to capture 12.7% of all U.S. digital ad dollars, while Meta is expected to capture 17.9%.
While TikTok's ad business is booming, it's still relatively small in the U.S. compared to its Big Tech rivals.
TikTok is expected to earn $8.6 billion in ad revenue in 2024, which will make it the fifth-largest digital ad publisher in the U.S., following Google, Meta, Amazon and Microsoft/LinkedIn.
Be smart: The ubiquity of screens in the home, workplace and on-the-go has made it so that virtually any company can target customers with digital ads, expanding the set of competitors for Google and Meta from other publishers and social media firms to streamers, e-commerce companies and beyond.
Because TikTok is an entertainment platform, Axios categorized it as part of the streaming category.
3. TikTok to explain why it showed you that video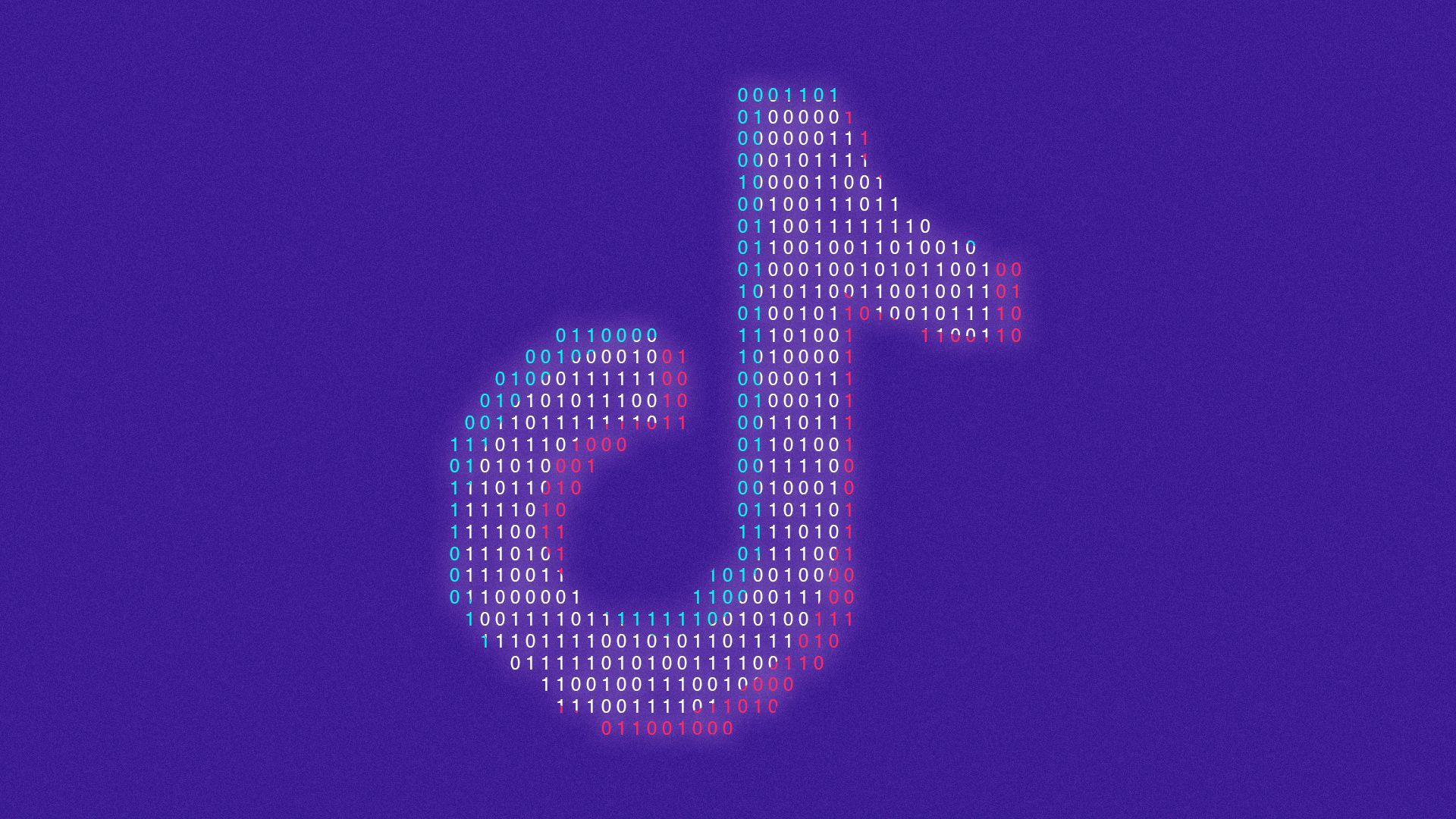 TikTok will soon start explaining to users why it is recommending a particular video to them, Sara reports.
What's happening: The new feature, announced Tuesday and expected to roll out in users' main feed in coming weeks, is part of a wider effort by TikTok to be more transparent about how its content-choosing algorithm works.
Details: Users will be able to tap a button on the side of a video labeled with a question mark icon called "Why this video."
TikTok will list reasons a certain video was recommended to a user, using categories like the user's previous interactions; the accounts the user follows; content that's been posted recently; or content that's growing popular in a user's region.
Between the lines: TikTok has been pushing to make parts of its algorithm and content moderation decisions more transparent in recent years as it faces increasing scrutiny from lawmakers about its ties to China.
Yes, but: Lawmakers are still skeptical that Twitter's data security and content recommendation practices are conducted independently of influence from the Chinese state.
The big picture: Lawmakers have been evaluating ways to regulate the algorithmic distribution of content to make sure tech platforms aren't biased in their recommendations and to make it easier to stop misinformation. As a result, more platforms are taking steps to be transparent with users about their algorithms.
Meta published new details about how its video algorithm works in August.
Google added a new feature to give users more context about their search results last year.
4. Take note
Trading Places
NFT startup Yuga Labs said Monday that Activision Blizzard president Daniel Alegre will join as CEO in the first half of next year, succeeding Nicole Muniz, who will become a strategic advisor to the company.
ICYMI
The European Commission issued an initial finding Monday that Facebook parent Meta violated competition laws with its Marketplace online classified ad service. (CNBC)
Sources say Apple will start producing MacBooks in Vietnam by mid-2023 as the company continues to seek manufacturing alternatives to China. (Nikkei Asia)
Elon Musk tweeted that only paying subscribers would get to vote in future polls to determine Twitter policies. (Axios)
5. After you Login
Fight For the Future's Evan Greer, who is also a musician in her spare time, released "Automated Christmas Joy" — an EP of holiday tunes written by ChatGPT. Proceeds will benefit FFTF's AI-related work. You can listen here.
Thanks to Scott Rosenberg and Peter Allen Clark for editing and Bryan McBournie for copy editing this newsletter.