If you enjoy Login in your inbox each morning, consider contributing... your scoops. Just reply to this email or drop a note to ina@axios.com.
https://www.axios.com/newsletters/axios-login-edfc0be6-a551-4230-98e2-9f7e101f9f54.html?chunk=0#story0
Europe hands Google a 10-figure fine
European antitrust officials slapped Google with a massive $2.7 billion fine on Tuesday for abusing its search practices, more than double what was expected.
The company has 90 days to pay up or will face penalty payments of up to 5% of the average daily worldwide turnover of Alphabet (Google's parent company).
In a statement, competition regulators say Google has abused its market dominance as a search engine to steer customers to its own Google Shopping platform.
This has been a long time coming: smaller firms like Yelp and have spent several years lobbying the EU to take action as U.S. regulators have been reluctant to take on Google.
Why it matters: European regulators — whose countries have lost the game of tech, pipes and content — are getting aggressive in trying to constrain the behemoths. The latest penalty represents rising tensions between E.U. regulators and U.S. tech giants.
What's next: Google said it's reviewing the decision and considering an appeal.
Dive deeper: Sara Fischer and Kim Hart have more on the decision.
https://www.axios.com/newsletters/axios-login-edfc0be6-a551-4230-98e2-9f7e101f9f54.html?chunk=1#story1
Eaze finds 7:20 is the new 4:20
Speaking of slow-burning fires, just who is lighting up? Medical marijuana delivery service Eaze wanted to better understand its customers, so it surveyed 10,000 customers.
What the survey found:
Contrary to popular mythology, 7:20 was the most popular delivery time, not 4:20.
1 in 5 Eaze customers are parents.
More than half of customers had a college or postgraduate degree and 91% were employed.
The average Eaze customer spends more than $1,700 per year on cannabis (more than average American spends on alcohol, tobacco, and personal care combined).
More than 4 in 5 customers who drink say they have reduced their alcohol intake in favor of cannabis
Of the 40% of customers prescribed opiates, 94% say marijuana has helped them reduce opiate use. (31% replaced opiate use entirely).
Of those who took the survey, 66% identified as male, 32% as female and 1% each as transgender and gender non-conforming.
59% had an income of $75,000 or more.
https://www.axios.com/newsletters/axios-login-edfc0be6-a551-4230-98e2-9f7e101f9f54.html?chunk=2#story2
Podcasts are starting to generate some real $$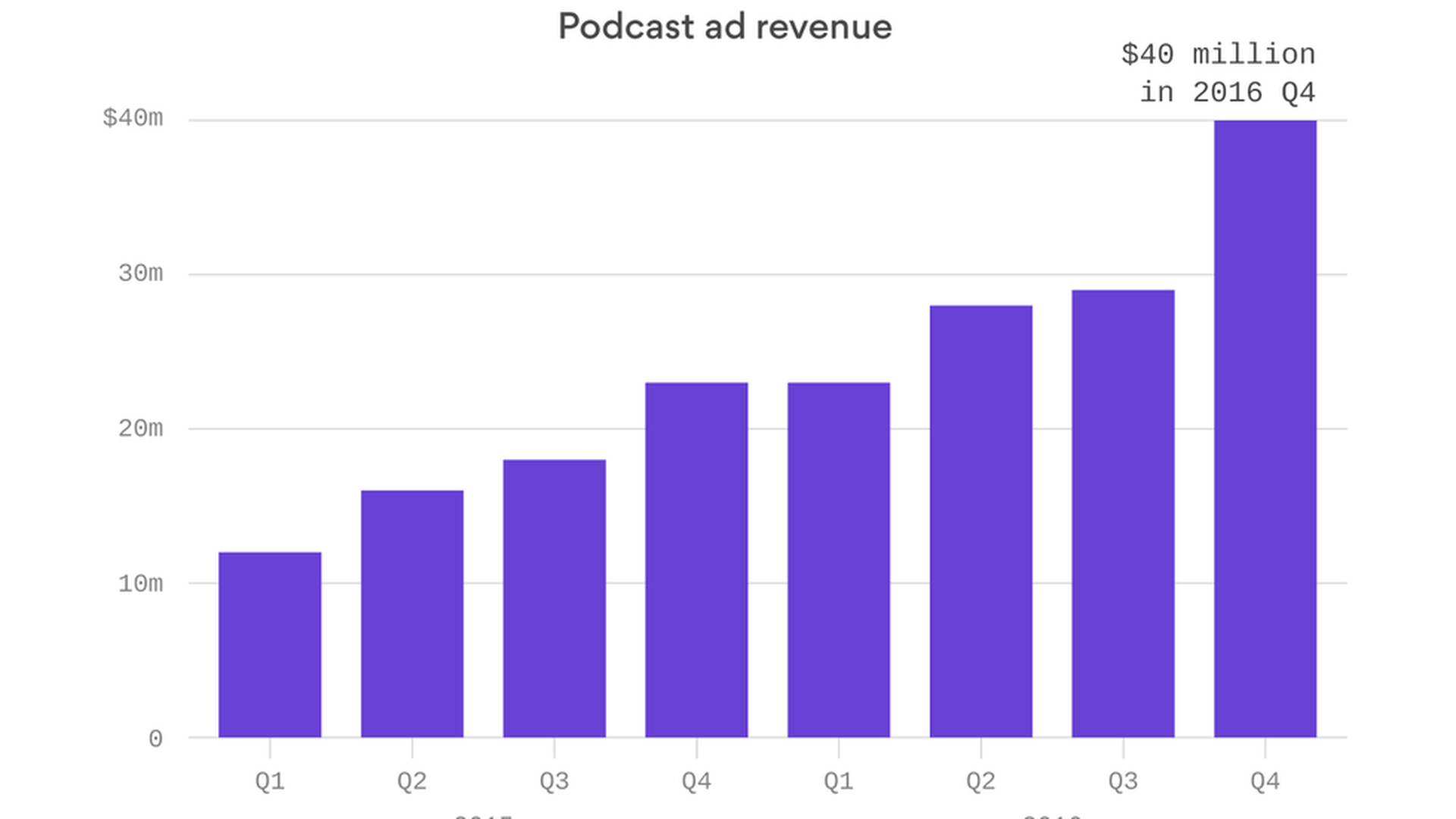 Podcasts, once a curiosity, now are big business.
An industry forecast says they'll draw $220 million in ads this year. A new Interactive Advertising Bureau study also found that while three-quarters of podcast ads are direct-response (like ordering on Stamps.com), there's been an increase in brand awareness ads. These are the ads you typically see aligned next to high-quality TV/video content.
The growth reflects an audio streaming boom, made possible largely through mobile apps like Apple Music and Spotify.
Edison Research and Triton Digital estimates 98 million U.S. adults listen to podcasts.
Consumers prefer host-read ads (60%) over pre-produced ads (40%), according to the study.
And if you want even more stories on the future of media, be sure to sign up for Sara Fischer's brand new, weekly Axios Media Trends newsletter.
https://www.axios.com/newsletters/axios-login-edfc0be6-a551-4230-98e2-9f7e101f9f54.html?chunk=3#story3
Apple releases public test of iOS 11, buys German startup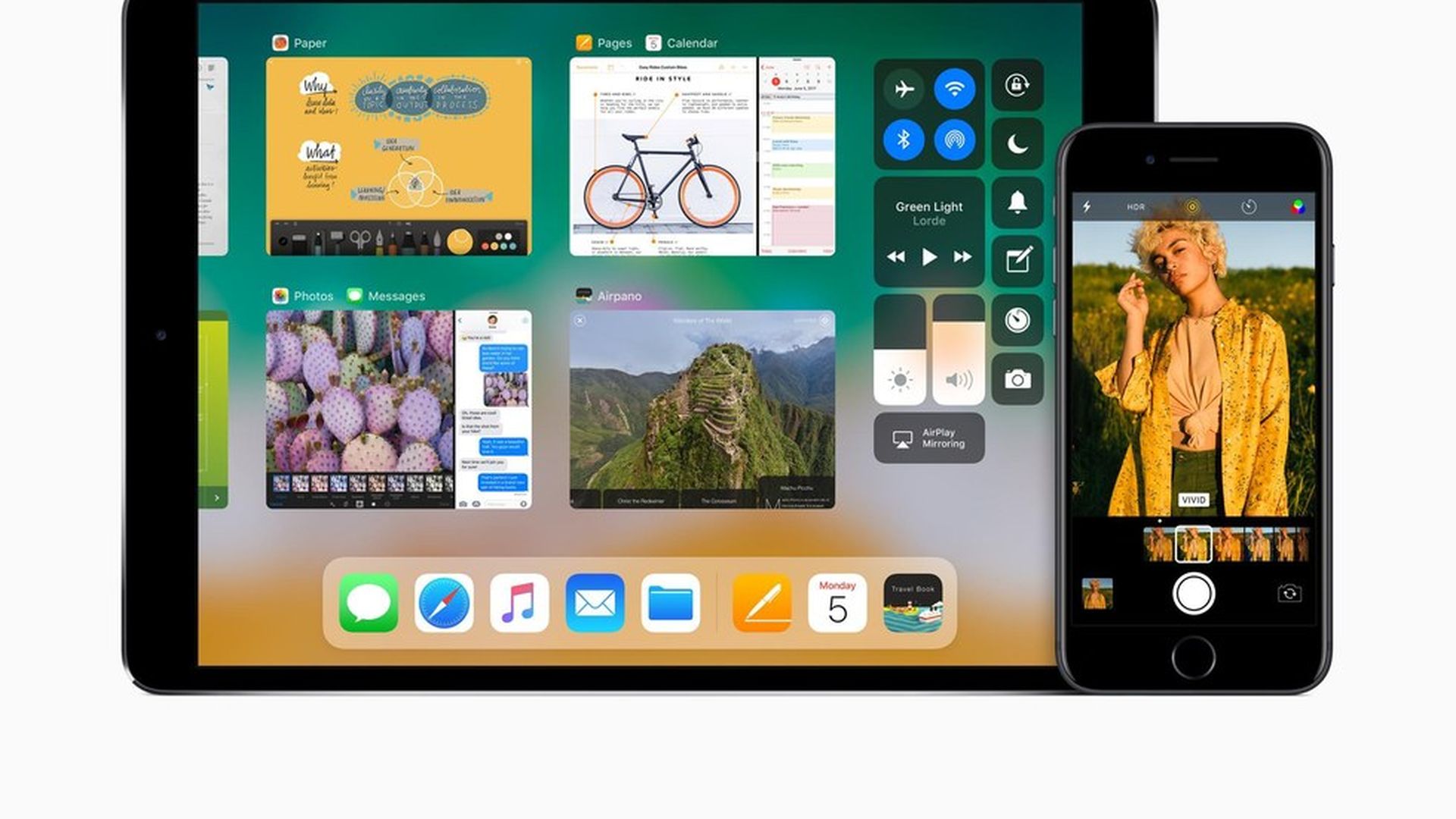 Apple released a public beta of iOS 11, the update to the iPhone/iPad operating system it previewed earlier this month.
I've only been testing the software for a couple days on a couple of devices, but so far iOS 11 seems stable enough for everyday use (although, as with any beta software, people are cautioned not to use it on their primary device.)
I've been using it on a loaner iPhone 7 and iPad Pro and it has been crash-free and all my apps have worked fine.
There's a few things slated for iOS 11 that aren't there, such as the peer-to-peer payments using Apple Pay or augmented reality apps using ARKit.
But a lot of the big changes are there, especially those that make the iPad more versatile, such as drag-and-drop editing and improved multitasking. It was a snap, for example, to sign an AirBnB contract and e-mail it back without having to print or scan anything. One can also more easily navigate multiple open windows, thanks to a new dock.
As we said in our review of the iPad Pro, iOS 11 is really the software the machine was designed to be running.
Separately: Apple acquired SensoMotoric Instruments, a German company whose eye-tracking technology could help Apple with its AR and VR efforts.
https://www.axios.com/newsletters/axios-login-edfc0be6-a551-4230-98e2-9f7e101f9f54.html?chunk=4#story4
Take note
On tap: Cisco Live continues in Las Vegas.... House Energy and Commerce Committee will host a hearing on self-driving car legislation on this morning...
Trading places: Snap has hired Gina Woodworth of the Internet Association to be its director of U.S. public policy.
ICYMI: Cable giants Comcast and Charter are in exclusive talks with Sprint on a possible deal, according to the Wall Street Journal...Facebook, Microsoft, and YouTube are teaming together to combat terrorism...Vimeo is scrapping its long planned subscription video service, according to Recode.
https://www.axios.com/newsletters/axios-login-edfc0be6-a551-4230-98e2-9f7e101f9f54.html?chunk=5#story5