Hello. Hope you had a meaningful day off and got to reflect on the legacy of Martin Luther King, Jr.
As you read this, I am once again headed to an airport. After all, I was home for almost four days. I'll be in D.C. this week meeting up with my Axios colleagues, and then headed to Munich for DLD.
https://www.axios.com/newsletters/axios-login-ececc37f-86d0-40ee-ac5f-528f06567273.html?chunk=0#story0
Former Windows boss Sinofsky writes his take on CES 2018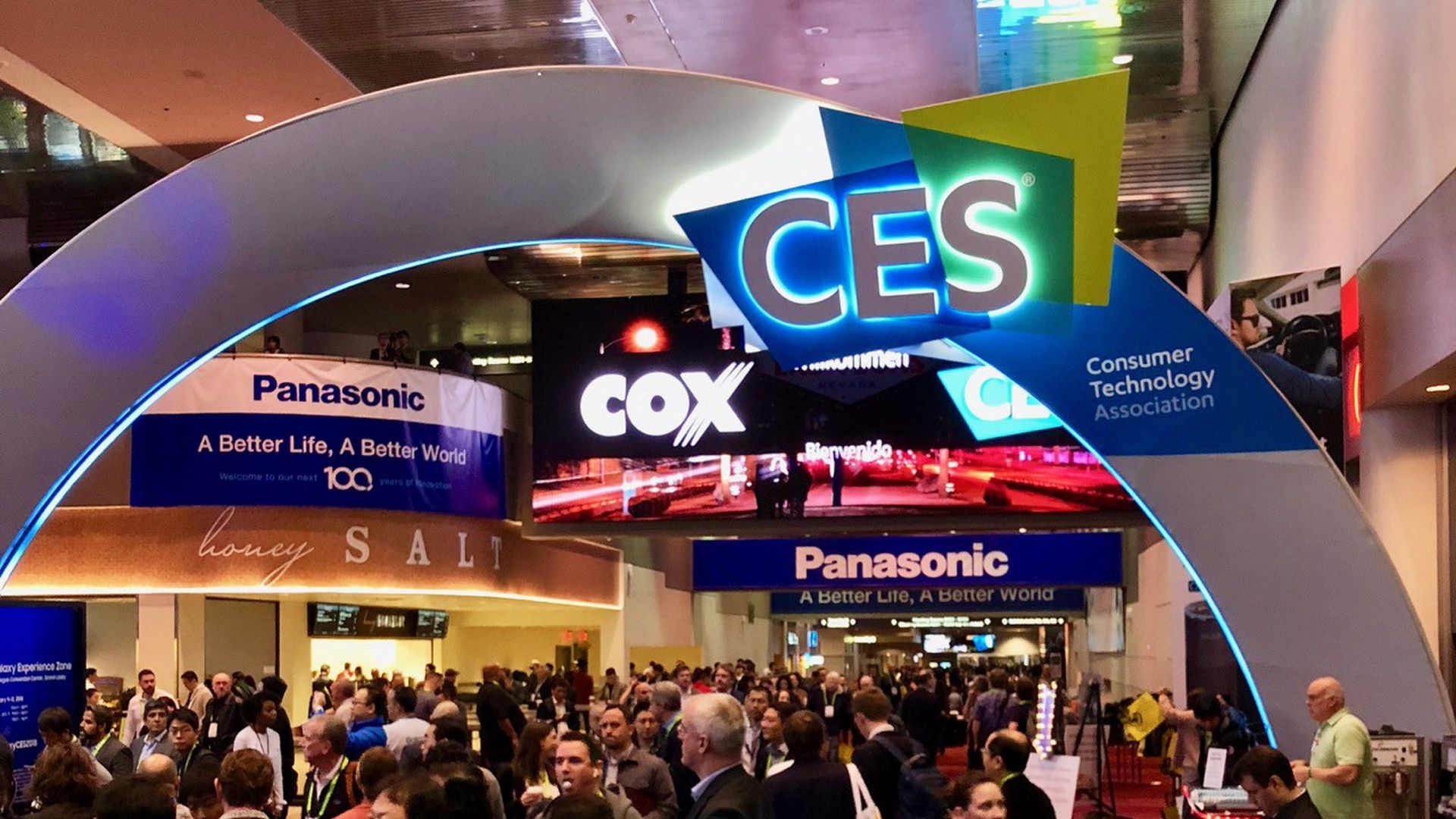 Andreessen Horowitz' Steven Sinofsky has been offering his take on CES for years, dating back to the internal reports he used to do for the Windows and Office teams. Since leaving Microsoft, Sinofsky has offered his take publicly, in a blog post.
The report: Sinofsky did so again this year, offering his take on the big trends of the show, including the ones we saw around voice interaction and cars. At 10,000 words, though, his report is hardly a quick read. It's definitely a worthy one, if you have the time.
If not, here's my Axios-style summary of the key points:
Voice (clearly the big trend at CES 2018)
"There's a massive investment in voice control across all platforms and gadgets — voice control was at essentially every booth. ... While last year voice was new and in a lot of booths, it mostly didn't work and felt like a way to make an old demo see fresh. This year voice is a strategy. "
"Where voice really disappoints is the same way that almost every new product disappoints — it doesn't do as much as you'd like or can imagine."
"The real question is if voice, particularly in the consumer home, will have platform returns like Windows, or like Android, or like HDMI?"
Cars
Cars take up 10% of the show's floor space, but half of the attention "bandwidth."
Vehicle tech has been a part of CES for a while, but there's a big difference between the in-car electronics that were on the show floor a few years back and the central role that Big Tech is playing in the shift to self-driving.
Robots
Sinofsky was not impressed: "There were a ton of dumb robots at the show. And by dumb I mean in all dimensions, they are dumb concepts implemented in pretty dumb ways."
***
Separately, Axios' Sara Fischer also says it is voice — not video — at the center of user adoption and functionality for the Internet of Things, which is connecting life in unprecedented ways, from health care to home entertainment to transportation.
https://www.axios.com/newsletters/axios-login-ececc37f-86d0-40ee-ac5f-528f06567273.html?chunk=1#story1
Google uses selfies to make people care about art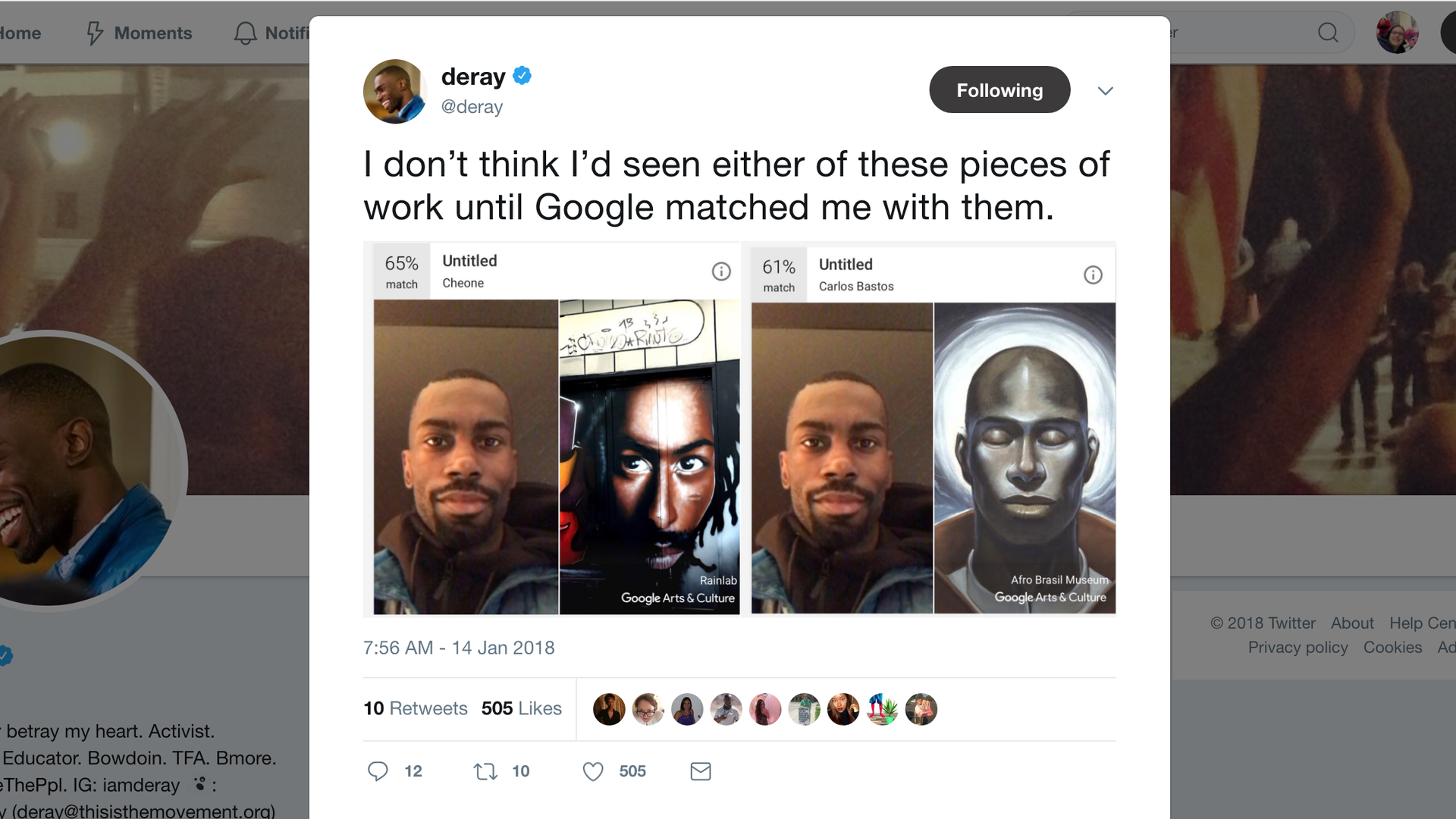 Google has found a way to get people to care about classical art — add selfies to the mix.
What's happening: The search giant has managed to turn its obscure Arts & Culture app into a viral hit, thanks to a new feature that matches people's selfies to a piece of classic art. The iOS and Android app has become a bona fide hit, with techies and celebrities posting the results to Twitter.
Not new: The app debuted in November 2015 and the selfie feature arrived in the middle of last month, but interest in the app really didn't take off until the last couple of days.
Fears overblown: While Google does use a bit of machine learning to do the matching, it isn't (as some have fretted) storing people's selfies or even training its algorithms further using those images, Axios confirmed with Google. The images are stored on Google's servers just long enough to find a match.
Other gripes: Many had other bones to pick with Google, including how difficult it is to find the selfie feature in the app and more than a few are unhappy with their supposed matches.
https://www.axios.com/newsletters/axios-login-ececc37f-86d0-40ee-ac5f-528f06567273.html?chunk=2#story2
Google aims to fill IT skills gap with certificate program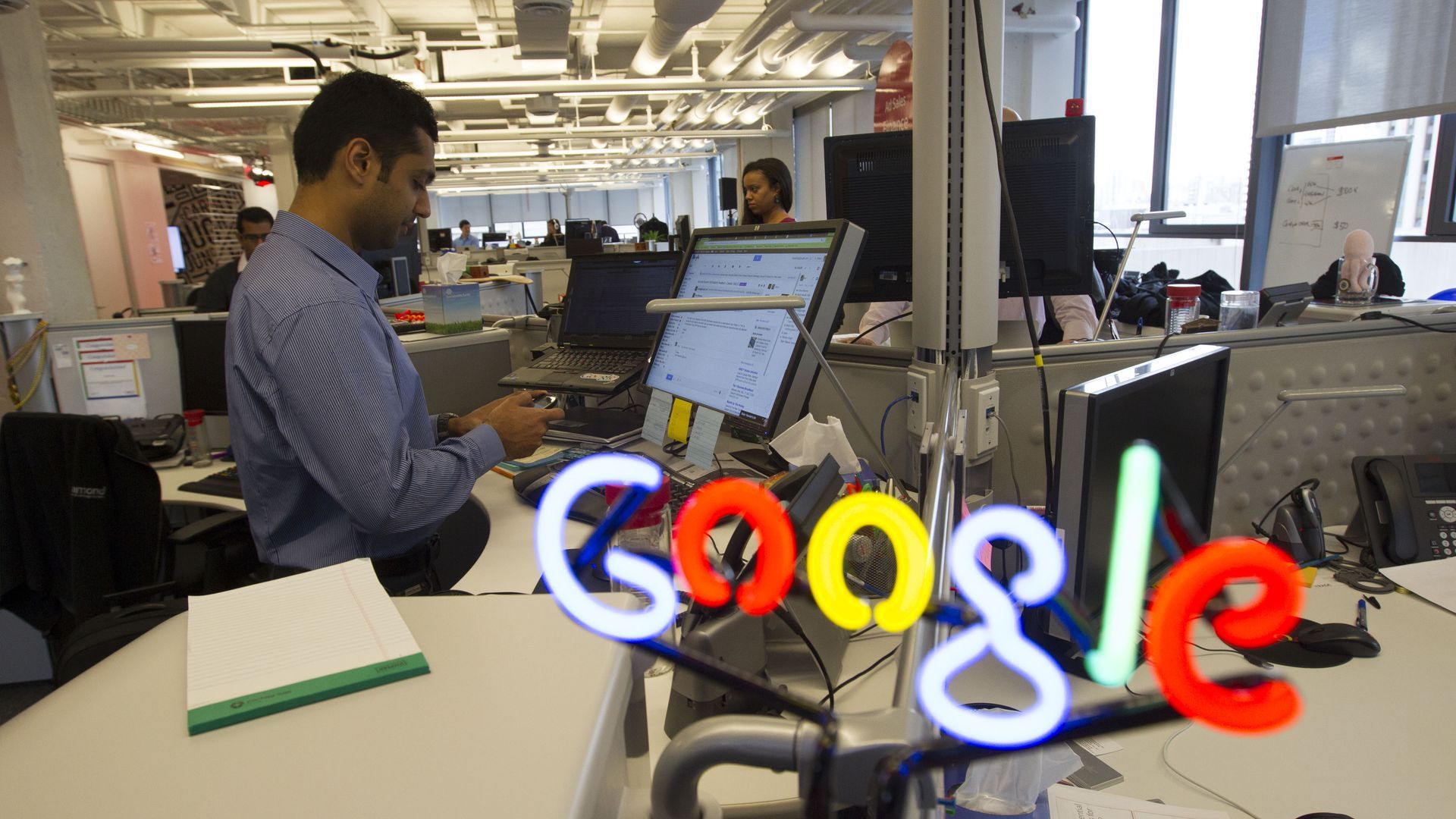 Speaking of Google, the company has a new effort to help fill the estimated 150,000 open IT jobs in the U.S.
A certificate program on the Coursera platform, being launched today, aims to give people with no prior IT experience the basic skills they need to get an entry-level IT support job in 8 to 12 months. 
Why it matters: Entry-level IT jobs are typically higher-paying than similar roles in other fields. But they're harder to fill because, while IT support roles don't require a college degree, they do require prior experience.
Read more: Axios' Kim Hart has more here.
https://www.axios.com/newsletters/axios-login-ececc37f-86d0-40ee-ac5f-528f06567273.html?chunk=3#story3
AT&T is building a wireless network for first responders
Police and firefighters are finally getting the priority communications network they were promised in the wake of the September 11, 2001, terrorist attacks. In exchange for building it, AT&T gets $6.5 billion in government funds over the next five years and access to a large chunk of valuable airwaves for 25 years.
Why it matters: Technical failures and incompatible radios have been a chronic problem for first responders — especially on 9/11, when firefighters rushing to the scene from different jurisdictions couldn't talk to each other. AT&T won the contract to build a national mobile broadband network — FirstNet —specifically dedicated to first responders, which is the final recommendation by the 9/11 Commission.
The state of play: Governors of all 50 states opted to participate in the network, rather than build their own. Now AT&T takes on an aggressive schedule to meet government requirements and sign up 60,000 first responders across the country, from the big-city police squads to small-town volunteer fire departments.
Go deeper: Read Kim's full story on how FirstNet will work, the timeline and the response from Verizon.
https://www.axios.com/newsletters/axios-login-ececc37f-86d0-40ee-ac5f-528f06567273.html?chunk=4#story4
BlackBerry looks to capitalize on Hawaii alert fiasco
After an erroneous emergency alert message left millions of people in Hawaii believing a missile attack was imminent, BlackBerry issued a blog post Monday suggesting how to avoid such problems (and plugging its own federally certified software). (BTW, here's how that emergency alert system works.)
While unfortunate and obviously traumatic for the people of Hawaii, this false alarm also presents an opportunity for real and valuable reform. The U.S. Federal Government can today show leadership in putting forth a comprehensive plan that ensures nothing is spared when it comes to communicating in times of crisis.
— BlackBerry
My thought bubble: It's a bold strategy that risks being seen as taking advantage of a bad situation. But it also might reach an audience ready to pay up to avoid a repeat of what happened in Hawaii.
Separately: BlackBerry announced new software designed to find security flaws in self-driving car technology.
https://www.axios.com/newsletters/axios-login-ececc37f-86d0-40ee-ac5f-528f06567273.html?chunk=5#story5
Take Note
On Tap
Trading Places
ICYMI
https://www.axios.com/newsletters/axios-login-ececc37f-86d0-40ee-ac5f-528f06567273.html?chunk=6#story6