Axios Login
April 24, 2019
I'm still shaking from that epic comeback last night by the San Jose Sharks, who were down 3-0 in the third period until scoring 4 goals during a 5-minute major power play and eventually winning the game in overtime.
If you aren't a hockey fan, I don't understand you, but I appreciate your readership.
1 big thing: How Microsoft is winning the techlash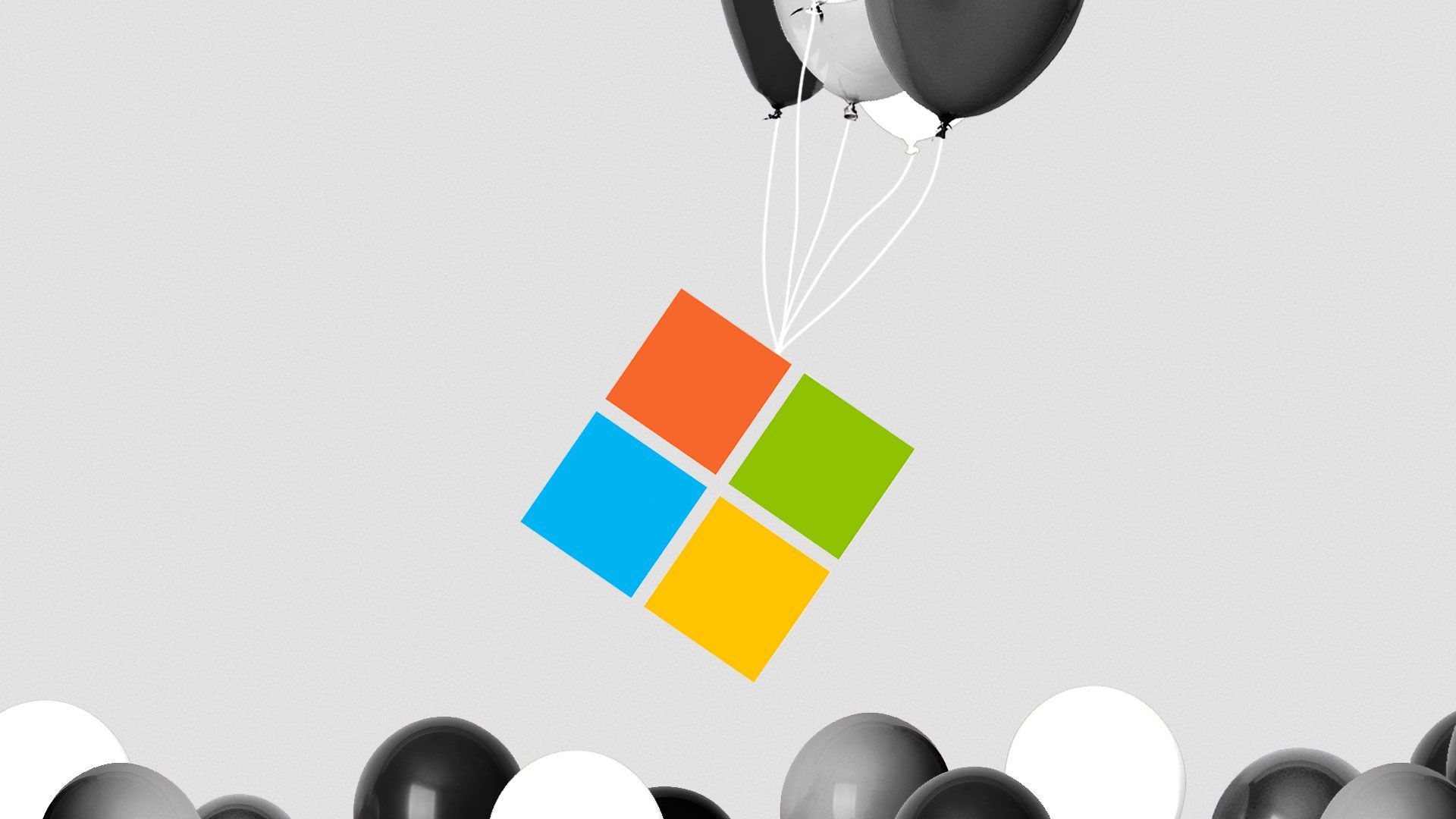 The tech industry is feeling the pain of an unprecedented backlash over its business practices and broad impact on society. But, as Axios' Kim Hart reports, original tech giant Microsoft has managed to stay mostly above the fray.
Why it matters: Microsoft, which trudged through its own antitrust battle with the Justice Department in the '90s, has sidestepped the more recent mistakes made by its younger, brasher Big Tech brethren.
The resource-sucking trial set Microsoft behind competitors like Google on crucial innovations like search. Now, though, the lessons Microsoft learned the hard way are making its life easier.
The Axios-Harris Poll 100 survey found that companies untouched by scandal — including Microsoft — prospered in the eyes of consumers, while those companies most heavily affected by privacy-related scandals faced the steepest erosion in trust.
Microsoft isn't doing these things altruistically — there are clear business and competitive reasons for these strategies. But it has jumped on them earlier, allowing it to get ahead of problems and handle them better politically.
The backdrop: Microsoft president and chief legal officer Brad Smith is quick to acknowledge that Microsoft made a lot of mistakes in the '90s, and it continues to make them.
Part of the process of managing society's changing views of the tech industry is being able to make tough decisions, he said earlier this year during a conversation at the company's headquarters in Redmond, Washington.
"Maybe we're able to make some of those decisions around here because we were the first graduate of the school of hard knocks," Smith said. "We graduated first — not necessarily first in our class, but it was the first class."
Yes, but: The software giant isn't without its own headaches.
Most recently, CEO Satya Nadella added resources to the company's HR operation after complaints of sexual harassment went public.
Like other tech companies, it's also dealt with challenges around workforce diversity.
And it's come under fire both for its decision to do business in China and for its willingness to work with the U.S. military.
Our thought bubble: Microsoft is often at the forefront of the technology and the discussion in an area, but slow to capitalize on a trend. It's rarely first with products, and even rarer with a first successful product.
For example, Bill Gates laid out all the technologies that would lead to the iPad years before it was ready (or possible). Yet it was Apple that built the first successful tablet.
Go deeper: Kim has more here.
2. Humane tech push faces a lot of barriers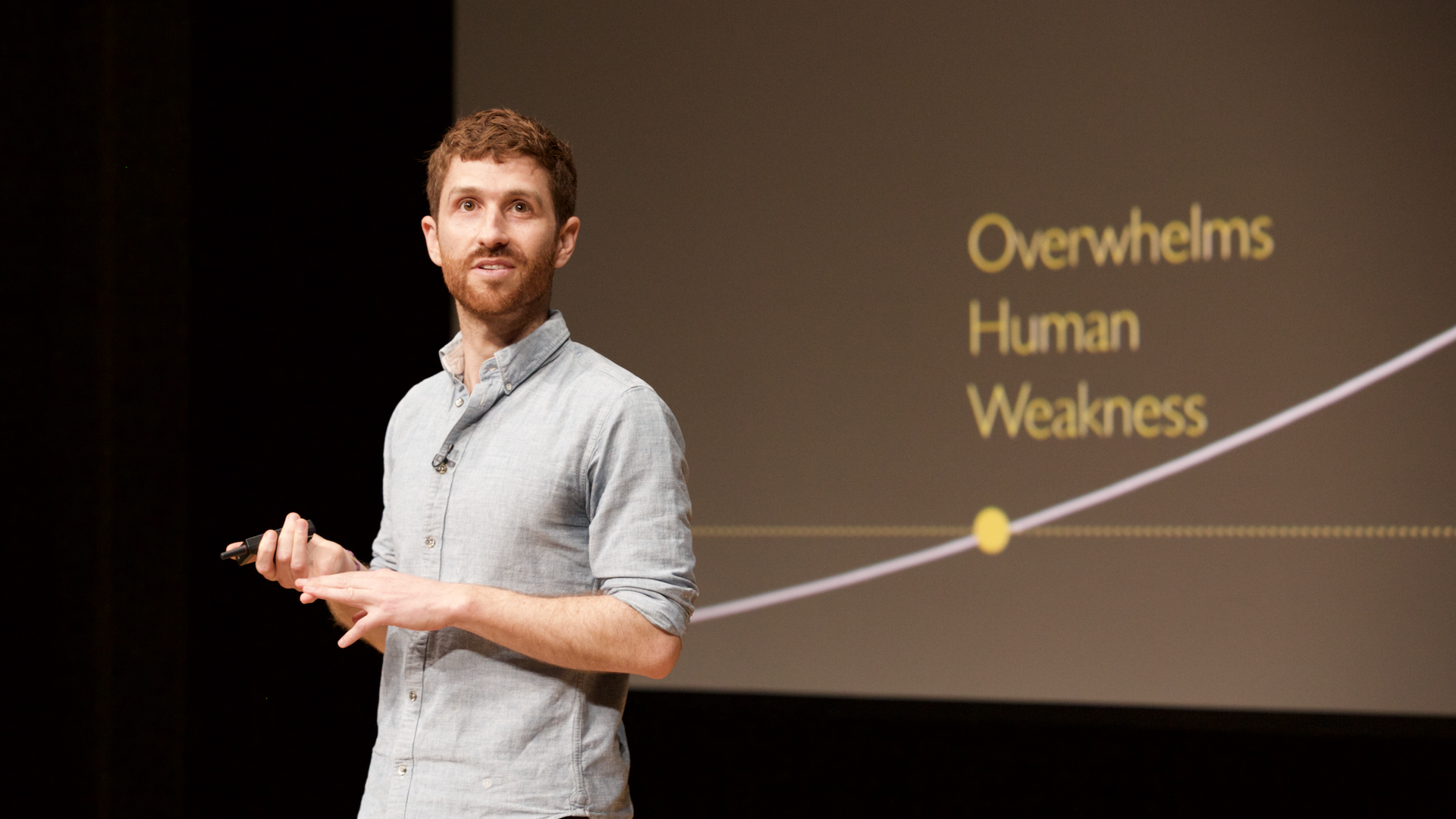 Tristan Harris, the former Googler who helped popularize the notion of "time well spent" laid out the shift he says the tech industry needs to make in order to stop, as he puts it, "downgrading humanity."
Details: As Harris described his vision at a jazz hall in San Francisco, many in the 300-person crowd were academics, nonprofit leaders and longtime technology critics.
But there was also a smattering of folks from major tech companies including Apple, Google and Twitter.
Between the lines: That's good, because the humane tech movement will need people inside the industry giants to demand their companies make a shift, a fact that Harris readily acknowledges.
"If everybody is doing this at different times, the one that does it first will just get killed by the guys who don't have those ethics and they'll just get screwed," Harris told me after Tuesday's event.
In a nutshell: Harris made the case that today's technology downgrades humanity by creating a vast artificial social system powered by "overwhelming" AI and an "extractive" attention economy.
While AI systems may not be able to match humans at their best, he said, machine learning has gotten very good at exploiting our weaknesses.
Why it matters: Harris and the broader humane tech movement want to see the tech industry fundamentally realign its priorities, shifting to meeting human needs rather than profiting from human attention.
That may sound simple, but it's a huge ask in an industry where attention is rewarded and paid for with advertising dollars. Google, Facebook and Twitter all make money the more time people spend engaged with their content.
Harris also says there's a key role for government — change could occur far faster if the law required Google and Facebook to reckon and pay for harms their products inflict.
What they're saying: Roger McNamee, an advisor to the center and a frequent critic of Facebook, said he thinks the notions Harris espoused will find some willing ears in Silicon Valley.
"My guess is there will people within Apple who react very constructively and there may be people inside other companies who react constructively."
"But demonstrably it's really hard for Google, Facebook, Microsoft and Amazon to react to the totality of it because their current business model is pretty well baked into the problem he described."
— Roger McNamee tells Axios
Yes, but: Harris' approach drew criticism from even some of those pushing for greater ethics in tech.
Our thought bubble: Even if you agree with Harris about both the problem and what the industry should do, it's hard to imagine these companies forsaking a business model that has made them huge and rich.
Meanwhile, a Monday event at Stanford with historian and author Yuval Noah Harari and renowned AI scientist Fei-Fei Li shows some of the tension from trying to marry ethics and engineering.
3. Twitter CEO meets with D.C.-based power user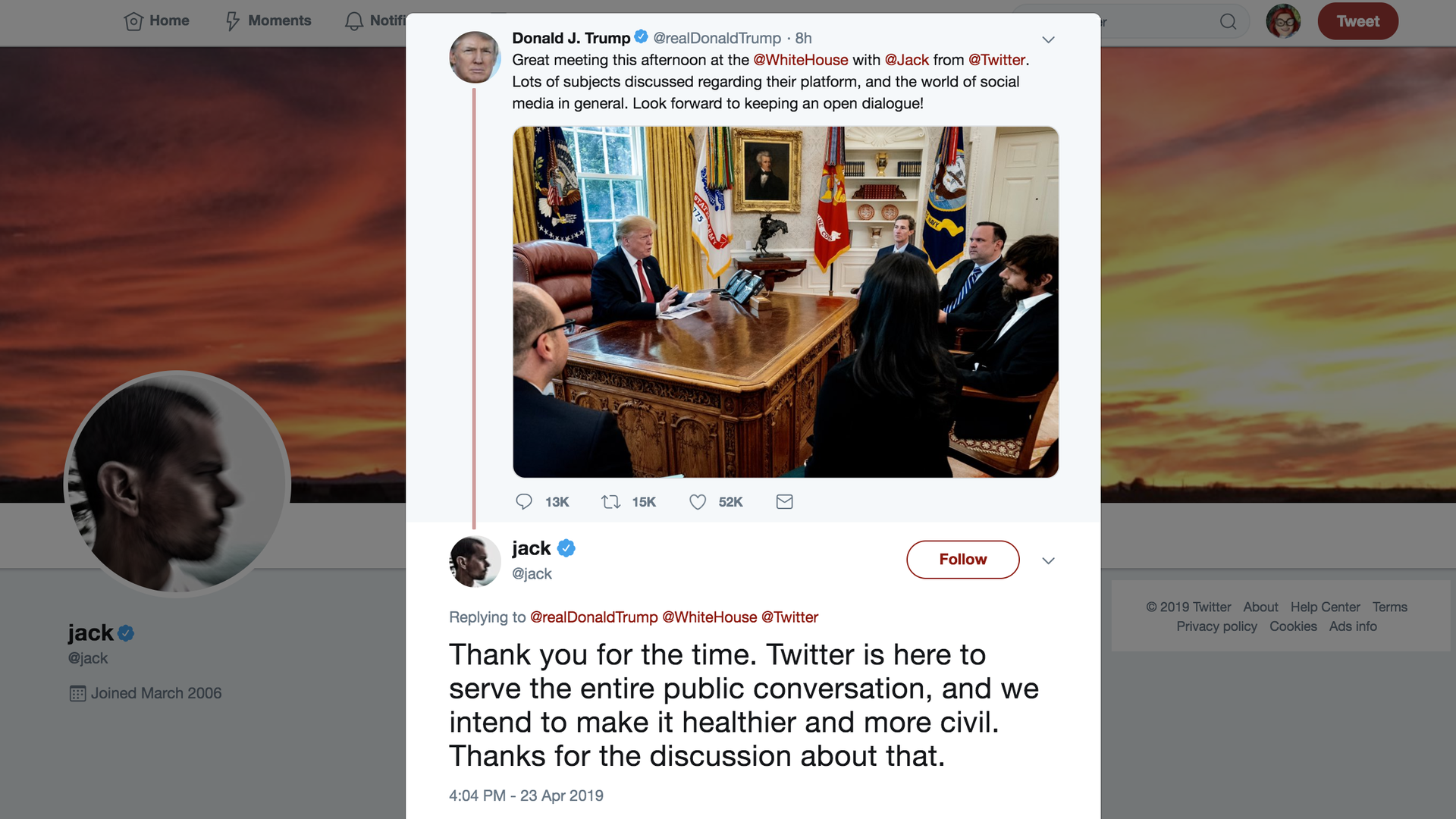 Twitter CEO Jack Dorsey had a private meeting with President Trump on Tuesday, following an invitation from the White House.
Details: According to tweets from both men — and additional details in a Washington Post report — the meeting featured Dorsey making the case for more elevated dialogue and Trump complaining that he has seen his follower numbers drop.
Our thought bubble: Neither party is likely to get relief from the other. Dorsey and Twitter maintain that most high profile users will see their follower counts fluctuate as the company takes action against bots and fraud.
And, to the degree that Dorsey really does want to elevate the discourse, any improvement will have to come from Twitter's own efforts rather than a change in Trump's tweets.
4. Welcome to Silicon Valleywood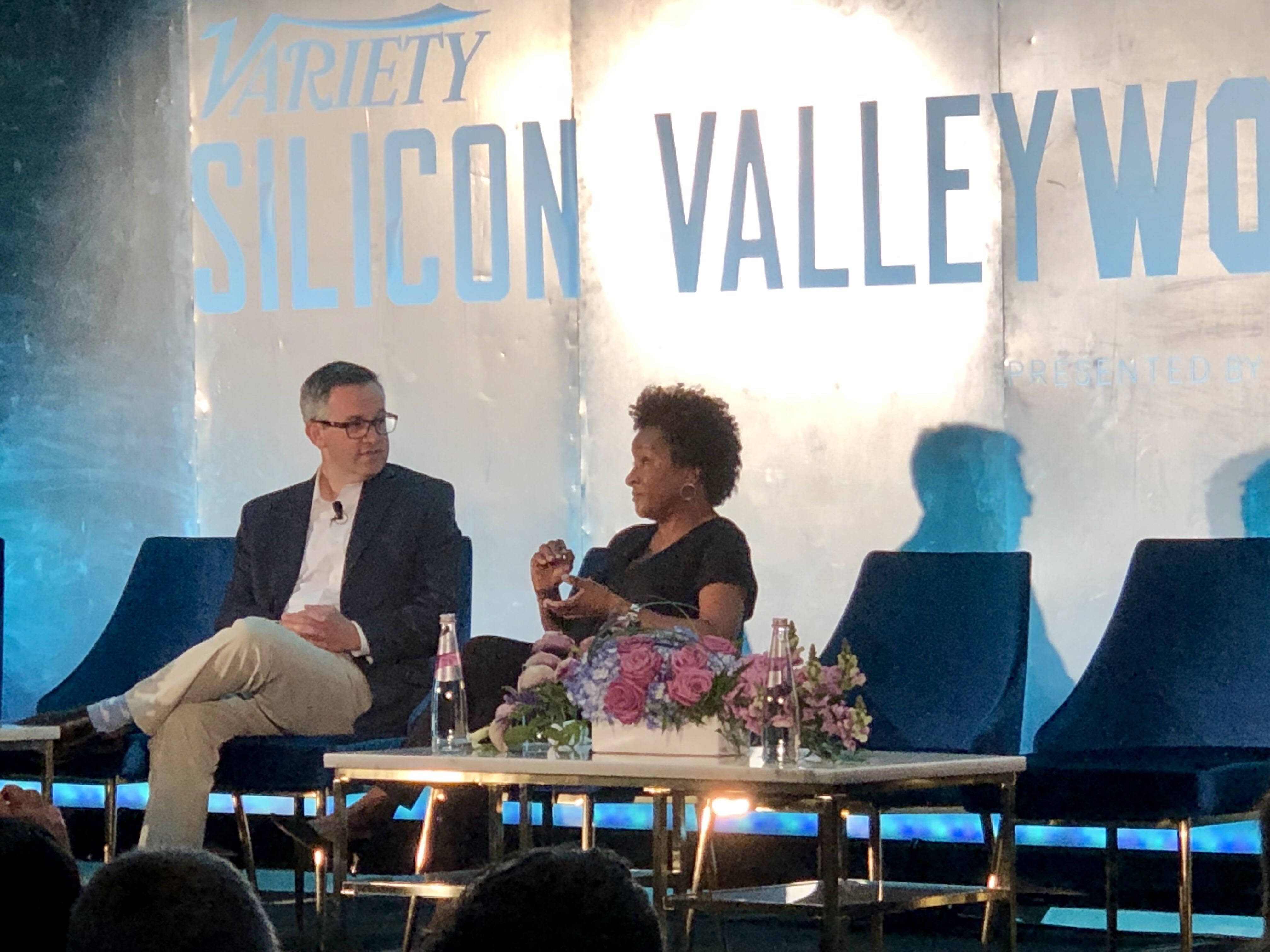 Yesterday, a number of Hollywood and NYC execs shared a stage with their Silicon Valley counterparts at an event hosted by Variety magazine to discuss how their worlds collide. It was cheekily named "Silicon Valleywood."
The big picture: As tech providers get into the content business and the content makers spin up their own streaming services, Hollywood and Silicon Valley are looking to learn from each other — and even unite for shared battles, Axios' Kia Kokalitcheva reports.
"If we let a group of regulators in Washington or in Brussels regulate how we distribute content … we're all a little screwed," said Viacom Digital Studios president Kelly Day at the event.
More from the event's discussions...
1. Business models: "We're looking at companies with multiple revenue streams," said Comcast Ventures managing director Amy Banse during a panel. "Advertising is certainly one … but we're seeing companies come out with subscriptions, e-commerce."
And while online streaming has been all the rage, some execs admitted that the economics are still challenging and that it's unclear exactly how many (or few) services consumers will ultimately want to pay for.
2. Data: While helpful in identifying underserved audiences, for example, it won't dictate individual elements of a piece of content, Snap head of content strategy Mike DiBenedetto said during a storytelling panel, with other execs agreeing with him.
3. Screen talent: "Now there's just more opportunities, more avenues," comedian and producer Wanda Sykes said of the effect of new distribution channels like Netflix.
"Broadcast and cable, it was about their audience and what they were looking for ... But now, it's just 'go for it' — and hopefully somebody will be into this." (Sykes has a comedy special coming up on Netflix.)
Flashback: Variety's event came just a month after Apple hosted some of Hollywood's biggest stars at its own Silicon Valley press event to unveil its TV ambitions.
5. Turmoil at Big Tech watchdog site

The Markup, a well-funded journalism nonprofit launched last year to produce exposés of Big Tech's power, fired its editor-in-chief yesterday before it had published a single article. 5 of its newsroom of 7 quit in protest.
Julia Angwin, a Pulitzer-garlanded former ProPublica and Wall Street Journal reporter whose work has watchdogged Facebook and Google on issues like privacy and discrimination, had been the Markup's most prominent public face.
On Twitter, she attributed her ouster to a dispute with her co-founders, saying the site was shifting from data-driven investigation to advocacy.
Angwin also made her case in a letter to Craigslist founder and journalism philanthropist Craig Newmark, who has put $20 million into the Markup.
But, but, but: Markup CEO Sue Gardner and Jeff Larson, Angwin's former reporting partner, disputed that account and said, in statements to the New York Times and on Twitter, that the nonprofit's mission hadn't changed at all.
Newmark said he was aware of the developments but declined to share his view on the matter.
"Ethically I am obliged to keep my mouth shut," he told Axios after the Center for Humane Technology event in San Francisco.
Why it matters: Investigative journalism remains an endangered species, and the tech industry could use more of it. The Markup had outlined a creative data-journalism strategy of pairing reporters with coders to come up with new ways to test hypotheses about tech platforms. That's still a worthy undertaking.
6. Take note
On Tap
Trading Places
Kevin Bankston is leaving his role as director of the New America Foundation's Open Technology Institute to join Facebook as director of privacy policy. "I am not going to Facebook despite the fact that I have been a critic. I am going because I have been," he said in a blog post.
Adam Kovacevich, a 12-year Google veteran who most recently served as the firm's D.C.-based director of public policy, is headed to scooter company Lime to run its U.S. government relations efforts.
ICYMI
7. After you Login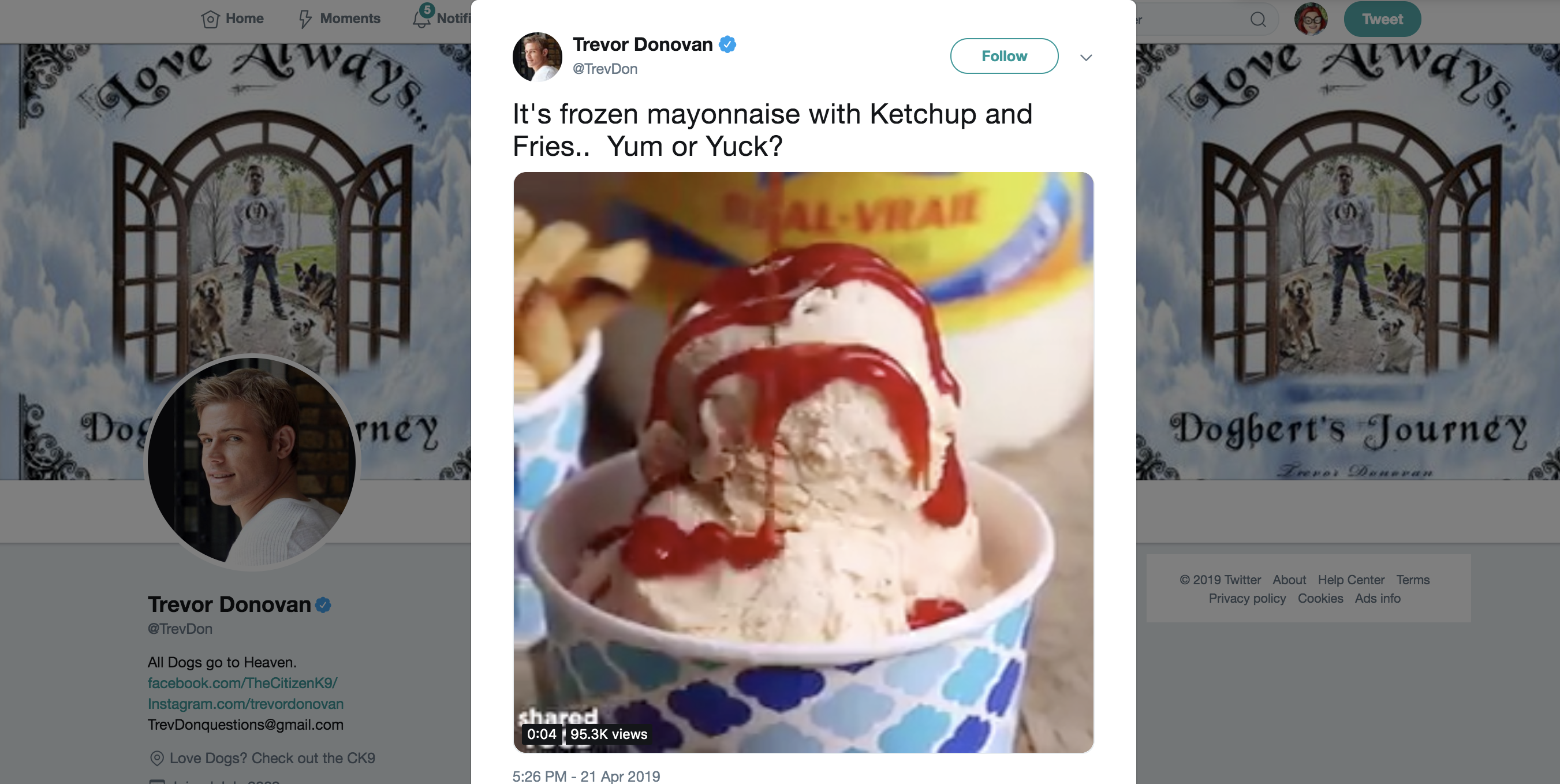 Someone thought it might be clever to make a "sundae" to dip your fries in, using ketchup drizzled over frozen mayonnaise. The comments on Twitter were tasty, even if the concoction isn't.