If you read the whole newsletter today, you can have some ice cream.
Musk's vision of subterranean driving is far, far in the future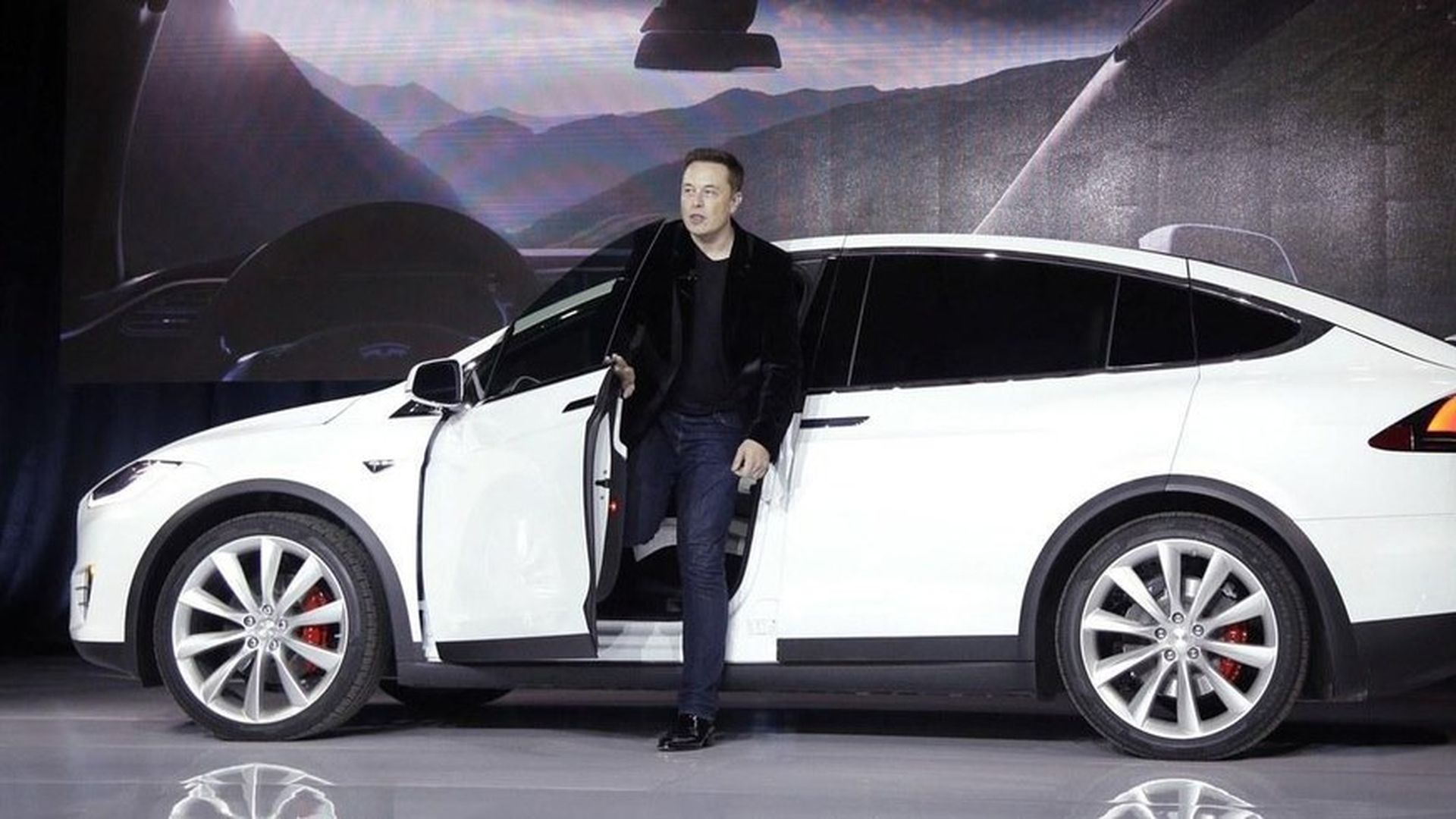 Elon Musk has dropped his latest vision on us — a future in which we avoid "soul-destroying" traffic by vanishing underground in our electric, self-driving cars, and tool through our cities within subterranean tunnels, only to pop out at our destination on the surface. Musk says such tunnels will be necessary, namely because we are about to see a massive increase in the number of cars on the road.
Not so fast: Costa Samaras, a professor at Carnegie Mellon University, is pouring cold water on the idea, at least for now.
Samaras, whose experience includes work on the mile-long extension of New York's No. 7 subway line, suggests that technologists already have enough on their hands optimizing fully autonomous cars; it's getting way ahead of themselves to contemplate yet another ultra-complex concept.
"Maybe let's figure out shared, fully-driverless, electric mobility first?" he told Axios' Steve LeVine.
Uber and Waymo face off in court today
Later today, Uber and Alphabet's self-driving car unit, Waymo, will face off in court in San Francisco to debate whether Uber should temporarily halt its autonomous driving program, Kia reports. (If you haven't been following along, Waymo claims Uber is using trade secrets stolen by a former employee, Anthony Levandowski, and requested a preliminary injunction on Uber's self-driving car program.)
Uber's side: The company's main defense is that none of the systems it's currently testing have been designed by Levandowski. It also argues that Waymo knew about Levandowski downloading thousands of company files since at least October, and yet didn't file a lawsuit until February, suggesting there's no urgency to stop Uber's cars. Last week, Levandowski stepped away from working on Uber's LiDAR technology as a last attempt to prevent the injunction.
Waymo's side: Waymo, on the other hand, argues that Uber's LiDAR system designed in-house illegally borrows from Waymo's trade secrets. The company also accused Uber of hiding a third device — designed by Levandowski — that also infringes on Waymo's proprietary designs.
What to expect: While Judge William Alsup could make a decision from the bench today, he is more likely to issue his decision in the next couple of days, or move the decision to a hearing on May 17.
I'll be in court, so check out Axios.com/technology for updates.
Three takeaways from Apple's earnings report
As I expected, Apple's top level revenue and earnings numbers weren't that interesting in and of themselves, but there were several things that stood out from Apple's quarterly financial report.
iPhone sales were sluggish. CEO Tim Cook acknowledged that demand has been a bit slow, possibly due to earlier-than-usual rumors about what might be coming in the next iPhone.
China was weak, again. As it has been for the last several quarters, the once fast-growing Greater China segment was Apple's weakest. Cook did say he sees the business improving this quarter, but cautioned Apple is unlikely to return to year-over-year growth.
The Apple Watch is becoming a big business. No, Apple didn't actually give us sales figures. But it did give two data points. Sales last quarter were double those of the prior year, and if you add watch sales with the Beats headphones and AirPods business, you have the equivalent of a Fortune 500 company, meaning more than $5 billion a year. Creative Strategies analyst Ben Bajarin estimates Apple sold 3.2 million Apple Watches in the quarter.
'Tech Pledge' urges firms to protect Silicon Valley values
Y Combinator chief Sam Altman is among the backers of a draft "Tech Pledge" released Tuesday.
The topline: "Technology companies have become powerful forces in the U.S. and in the world. We have an opportunity and a responsibility to use that power to protect our users, employees, and values."
What they'd be committing to:
Supporting immigrants in their workforces and fighting a rollback of the Obama-era Deferred Action for Childhood Arrivals policy, which applies to some undocumented immigrants brought to the U.S. as children
Protect user data, particularly from unwarranted government seizure
Our thought bubble: President Donald Trump isn't mentioned by name in the pledge — but his influence is obvious in the concerns here about immigration crackdowns and increased government surveillance. Separately, it will be interesting to see how the industry reacts to a possible executive order from Trump on religious freedom, a measure that many see as an invitation for legal discrimination against LGBTQ people.
Bezos says media has been pretty fair to Amazon
Jeff Bezos (a newspaper owner himself) said last night at an Internet Association event that Amazon has been "on balance very fairly treated" by the media, even if "not every story that's ever written about us is the way [we] would have written it if we were writing it ourselves."
Of course, Amazon isn't above accusing the media of failing to get a story right — having done so when the New York Times wrote about its office culture. But Bezos has also been critical of Peter Thiel for pursuing Gawker Media so aggressively.
Take Note
On Tap: Sprint releases earnings before the bell, while Uber and Waymo face off in a San Francisco court (see above).
Trading Places: Etsy replaced its CEO, as did startup Docker, who tapped Concur co-founder Steve Singh...Alphabet's Jigsaw unit has tapped law professor and former deputy assistant secretary of Defense Matt Waxman as an outside advisor, consulting on security matters.
ICYMI: Microsoft introduced a $999 Surface laptop and a new, streamlined version of Windows 10 at an education-themed event in New York...T-Mobile plans to use the large swath of spectrum it got in a recent FCC auction to form the starting point for its 5G network.
Making an ice cream run. And your tips would be a cherry on the sundae. Just hit reply, or drop a note to ina@axios.com