I'm winging my way back from D.C. to San Francisco as I write this after an amazing two days meeting with my really great Axios colleagues. If you aren't also checking out Axios.com during the day, you really are missing out.
Google's plan to dominate online ads even more
As if it didn't already own enough of the ad business, Google is planning to put an ad blocker in its Chrome web browser, the Wall Street Journal reported Wednesday.
The blocker would filter out ads that are deemed intrusive based on standards that have been mapped out by a third-party group called the Coalition for Better Ads, which includes some of the biggest advertising heavyweights, like: Facebook, Google, Group M, Procter and Gamble, and The Washington Post.
Why it matters: Regardless of who is setting the standards, if Google moves forward with implementing the technology, it means that one of the biggest advertising-funded companies would get to use one of its own products to filter out ads from rival publishers, Sara reports.
"It's a move that could potentially strengthen Google's already dominating position in the digital ad space," Jakob Holm Kalkar, VP at Blackwood Seven media agency, says. "Google, more or less, controls the browser market and an introduction of an ad-blocking feature would therefore, by default, secure a strong position in the ad-blocking market and through that an even more dominant role in the advertising space."
Also of note: European Commissioner for Competition Margrethe Vestager responded on Twitter: "We will follow this new feature and [its] effects closely." It's worth noting that the EU's privacy and anti-trust laws are generally stricter than the U.S. and Google has struggled with them in the past.
The top 10 publishers generated two-thirds of all app revenue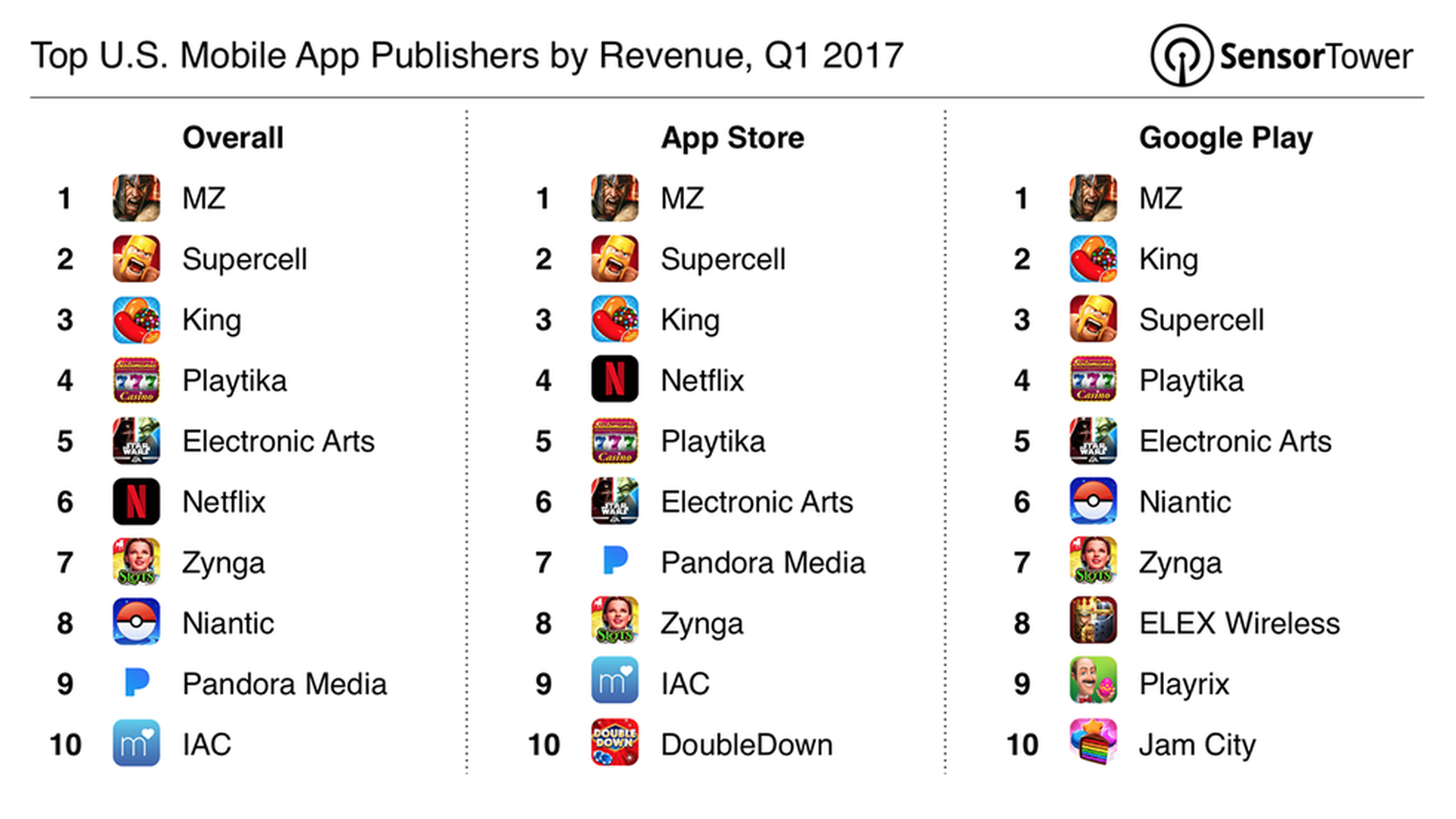 When it comes to the app economy, it's clear that the spoils are not divided evenly. In fact, new data from Sensor Tower suggests that the top 10 publishers generated 67 percent of all revenue for the first quarter of 2017.
And, not surprisingly, a lot of that came from games. On iOS, seven of the top 10 publishers are game makers, while on Google Play all 10 are game makers. Of the three non-game publishers for iOS, Netflix earned the most, followed by Pandora and IAC, which is the owner of Match.com, OkCupid, Expedia and Vimeo, among others.
As for the game makers, the top spot overall went to MZ, publisher of Game of War and Mobile Strike, followed by Supercell, maker of Clash of Clans, which remains the top-earning individual app. Candy Crush creator King came in third.
Facebook is spending a lot to be heard on Capitol Hill
Facebook spent more on lobbying in the first three months of 2017 than it has in any quarter since registering in 2009, per David. The company spent more than $3 million last quarter, according to disclosure records, compared to $2.78 million in the first quarter of 2016.
What it lobbied on: Immigration, surveillance, connectivity, and many other issues. Read the full disclosure form here.
Why it matters: A new occupant in the White House often brings the hope of major policy changes and the lobbying dollars to match. But it's a time when Facebook also increasingly finds itself under fire over fake news and its role in the political process.
​Never gonna give you up, Chairman Pai
The rickroll made a comeback at Thursday's FCC open meeting via the protest stylings of the pro-net neutrality group Free Press. Supporters danced to — and sang along with — the British crooner's 1987 song "Never Gonna Give You Up," known mostly because its music video is sprung on unsuspecting web users, before being escorted out of the meeting room.
FCC Chairman Ajit Pai, who is currently weighing a rollback of the agency's major 2015 net neutrality rules, can be seen on a video singing along to the song. "Hey, blame Rick Astley," he told a reporter who questioned his dancing skills during a press conference. "I was just aping what he did in the video."
Also at the open meeting: Pai disclosed that he had met with executives from several Silicon Valley companies — including Facebook, Oracle and Intel — and discussed net neutrality.
HTC teases a squeezable phone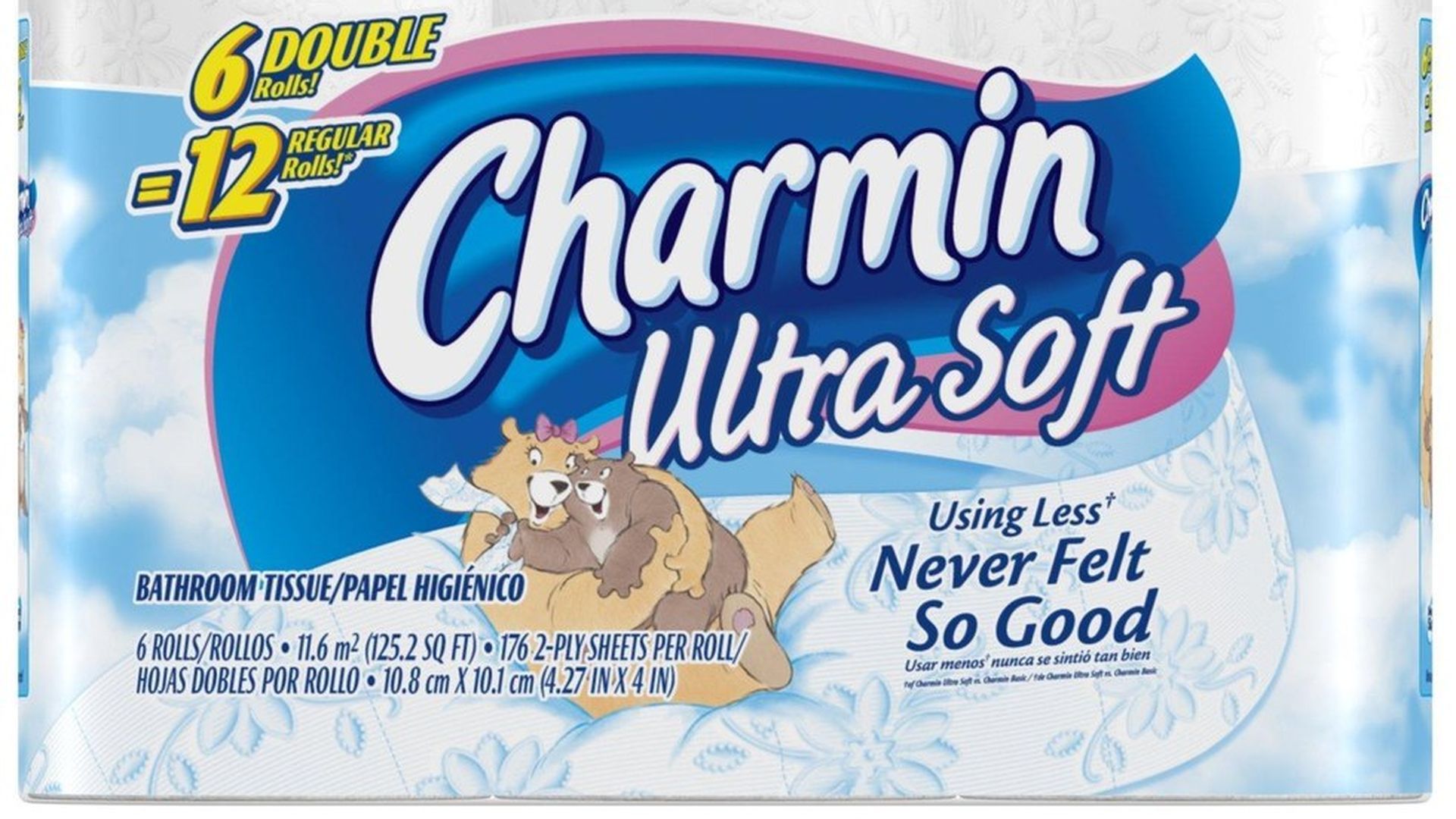 Struggling Taiwanese phone maker HTC is hoping to win back some attention with a phone you can squeeze. The company on Thursday teased a new member of its U family of phones coming May 16. It would appear that the squeeze feature lets you take action on the phone just by pushing on its edges. See my article with the Twitter tease here.
Whether that will be enough to regain ground in the highly competitive smartphone market is another matter. But it's clear HTC could use a hug.
Teen Vogue to tech industry: You need to show up for young women
A top editor at Teen Vogue says that the tech industry needs to not only boost the number of women in its ranks, but also the amount of money it spends engaging with female consumers.
"I think if you're advertising in GQ you should probably be also looking at a women's magazine as a viable partner and look at women as serious consumers of technology," Teen Vogue digital editorial director Phillip Picardi said at a Thursday night event in D.C.
Spending a little more time engaging with women could even help some of the recruitment efforts, Picardi suggested during the annual "Tech Prom," David reports.
Why it matters: Women make up just a third of Facebook's global workforce, 31 percent of Google employees, and 32 percent at Apple.
Take Note
On Tap: The new season of "Silicon Valley" debuts Sunday night on HBO.
Trading Places: Gary Epstein, who oversaw the major spectrum auction that just wrapped up at the FCC, is retiring.
ICYMI: Uber board member Arianna Huffington told staff in a memo that the company is extending its internal investigation as former Attorney General Eric Holder needs more time to interview key people, per Recode...Google's Amazon Echo rival, Google Home, can now recognize more than one voice and link them to separate Google accounts...Microsoft said it plans to do two Windows updates per year...The FTC is once again warning celebrities and marketers that paid social media posts need to be properly disclosed. The agency didn't name names, but said it sent out more than 90 letters addressing potential disclosure issues.
After you Login
Logoff. No really. Go for a walk. Grab a cup of coffee. Talk to a co-worker. Pet the cat.
You're still online. I can tell.
Have a great weekend. Do something fun, then drop me a note. Would love to hear what you do when you aren't reading Login. Just hit reply, or send a note to ina@axios.com.