Axios Login
March 02, 2022
Happy to sit in once again for Ina while she vacations — and did we tell you it was already spring in the Bay Area? (Apologies to our East Coast friends.)
Join Axios' Mike Allen and Margaret Talev today at 3:30pm ET for a virtual event highlighting key takeaways from President Biden's State of the Union address.
Guests include Labor Secretary Martin Walsh and Sen. Tim Scott (R-S.C.).
Register here.
Today's newsletter is 1,195 words, a 5-minute read.
1 big thing: Ukraine conflict splinters the global internet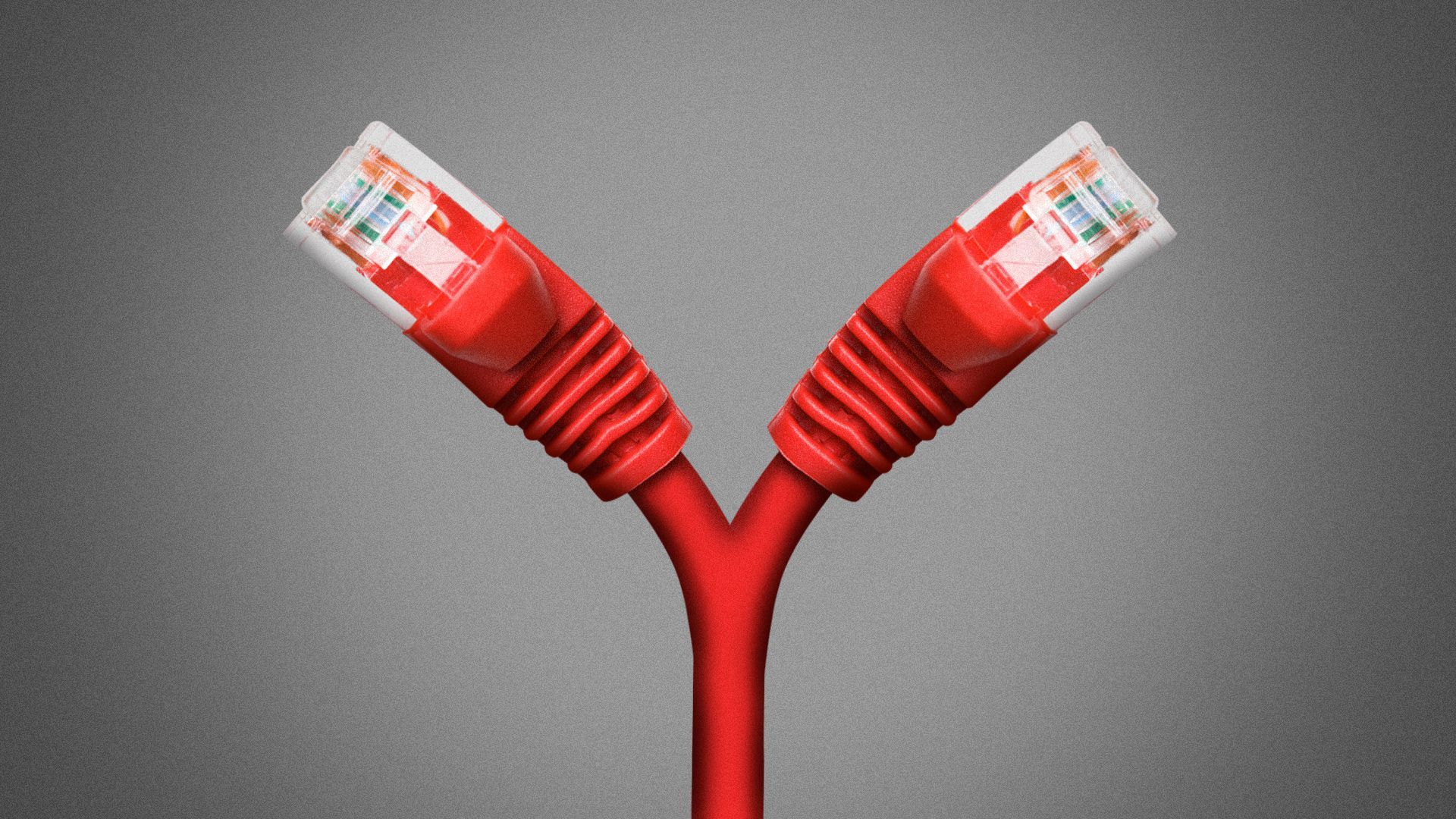 Moves to restrict Kremlin disinformation after Russia's invasion of Ukraine are further splintering the global internet even as they help stem the tide of propaganda, Axios' Ashley Gold reports.
Why it matters: A universal internet where every user can access the same messages and services has long been held up as a global ideal, but as democracy falters and governments limit usage, it looks to be receding out of reach.
"We don't have a free and open internet on the global level anymore," said Alina Polyakova, CEO of the Center for European Policy Analysis, speaking at a conference in Washington this week. "We just don't live in that reality."
"We are in a state of fragmentation," said Sean Heather, senior vice president of international regulatory affairs and antitrust at the U.S. Chamber of Commerce. "The question is, how much more fragmented will we become?"
The big picture: Platforms face the unenviable task of removing misinformation from pro-Russian actors while also ensuring that people can use social media to find truthful information and speak out.
Social media allows people to vividly see the brutalities of the invasion — and also spread misinformation and outright propaganda.
During the crisis, tech companies have scrambled to limit the reach of official Russian accounts, add new labels and context to posts, disrupt inauthentic pro-Russia information campaigns and restrict ad-buying.
Context: Social media execs have warned against the dangers of a Balkanized internet for years as many nations — including Russia, China, India, Kazakhstan, Belarus, Ethiopia and Turkey — have limited access.
Between the lines: Tech platforms have an obvious self-interest in keeping their business doors open around the globe. They also have begun to take their civic roles more seriously.
"Do these companies just pull out and basically cede the information environment to the authoritarian state? It's a really difficult situation that firms find themselves in," said Polyakova, who added that in Russia, YouTube is the only means of getting access to non-government news and information.
Meta's global policy head Nick Clegg stressed the importance of keeping its services available in Russia, telling reporters on a call Tuesday: "At the end of the day the most powerful antidote to propaganda is not only restricting its circulation but circulating the answer to it..."
"The thing that really undermines propaganda is counter-speech. It is free expression, in the end, that we should help win out."
In democracies like the U.S., it's easy to focus on the harms of Big Tech and look to the government for answers, Kate Klonick, an assistant law professor at St. John's University, told Axios.
But, she added, "in a lot of places outside the U.S., speech platforms actually enable democracy and are tools against authoritarian regimes."
Meanwhile: Authoritarian countries plow ahead with their own vision for the internet as the U.S. and Europe search for alignment on privacy, artificial intelligence, competition, content moderation and cybersecurity regulations.
Europe has moved forward aggressively on such rules in an attempt to be the global leader on tech and internet governance that protects user privacy. The U.S. hasn't moved as quickly, even as lawmakers across the aisle have shown aggressive interest in curbing misinformation and protecting user privacy.
When the U.S. and Europe aren't on the same page about these issues, it's harder for them to form a united front against authoritarian nations looking to boss tech companies around, Polyakova and others involved in EU-U.S. online policy talks speaking at the State of the Net conference in Washington this week said.
"If there's a silver lining, hopefully the unity we're seeing right now between Europe and the U.S. and the response to Russia will be channeled into into greater cooperation on this particular agenda as well," said Polyakova.
The bottom line: The global effort to limit Russian disinformation and penalize its government aims to bolster democracy, but cutting countries off from the network can also help dictators win.
2. Tech's State of the Union cameos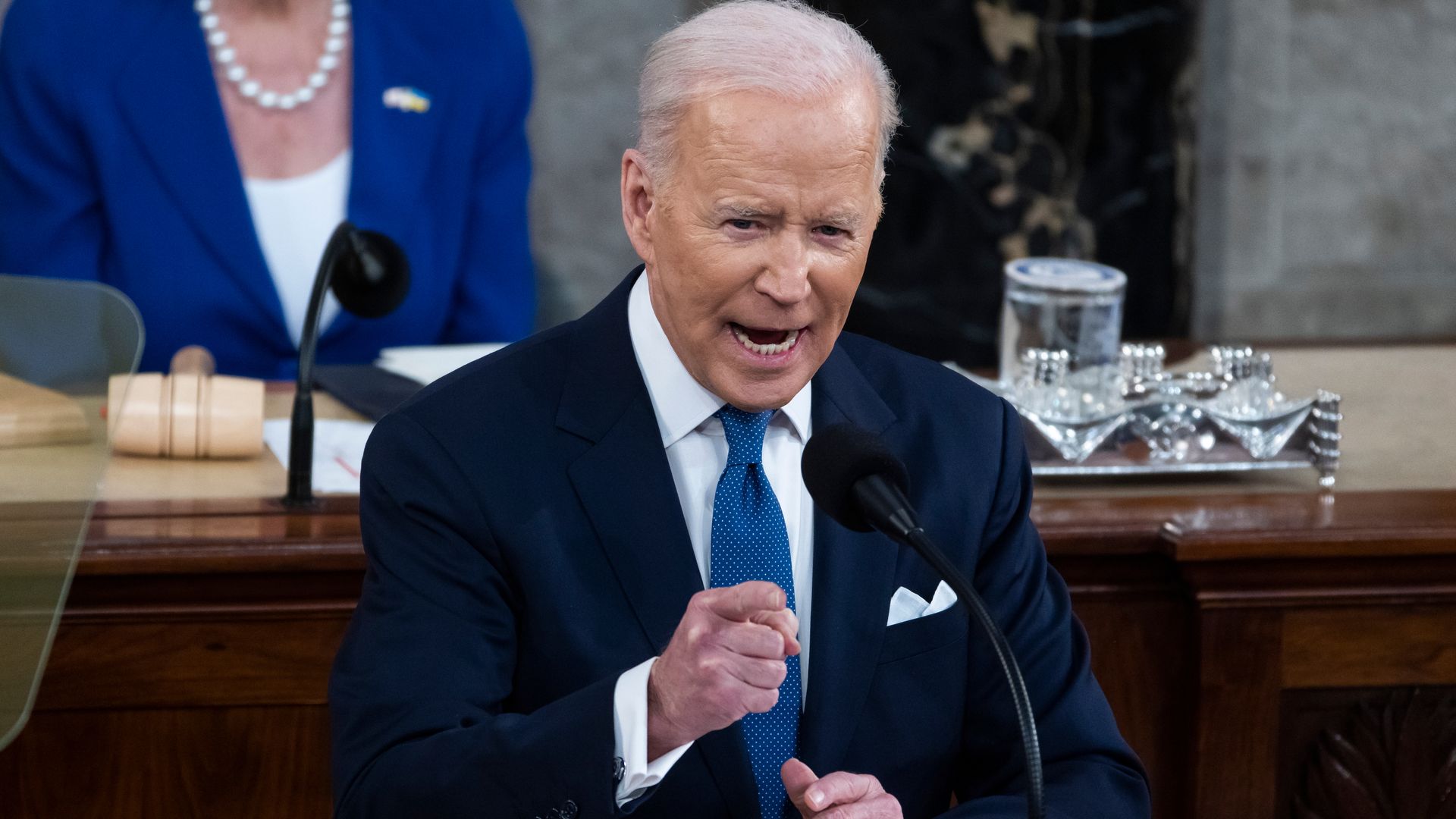 Ukraine, COVID and the economy held the limelight in President Biden's first State of the Union address Tuesday night, but tech popped in for two cameos.
Driving the news: Biden called on Congress to pass new protections for online privacy, ban "targeted advertising at children," and stop companies from collecting personal data from children.
Biden pointed to Facebook whistleblower Frances Haugen in the audience.
Last year, Haugen leaked documents including an internal company study of Instagram's harm to teen girls.
Yes, but: Biden's pitch for privacy was tucked into a brief section of his speech about mental health — and passed by fast.
Reality check: Congress has struggled for years to pass new privacy regulations, and looks no closer to enacting a law this year than it's been before.
Meanwhile: Biden also urged Congress to approve new funding for domestic chip production, which has passed the Senate but been held up in the House.
The president hailed Intel's decision to invest $20 billion in a new chip plant in Ohio, and acknowledged Intel CEO Pat Gelsinger, who was sitting in the balcony with the First Lady's guests.
3. Apple halts product sales in Russia
Apple on Tuesday responded to Russia's escalating war with Ukraine by pausing product sales in the country and removing Russian state media outlets RT and Sputnik News from its App Store, Axios' Sara Fischer reports.
Why it matters: Apple has taken some of the most aggressive measures in response to the war of any American tech company to date.
Details: In addition to halting product sales, Apple said it stopped all exports into its sales channel in Russia last week.
In Apple Maps, it disabled both traffic and live incidents in Ukraine "as a safety and precautionary measure for Ukrainian citizens."
Apple Pay and other services have also been limited, Apple notes.
What they're saying: "We are deeply concerned about the Russian invasion of Ukraine and stand with all of the people who are suffering as a result of the violence," Apple said in a statement.
Be smart: Removing RT and Sputnik from the App Store is one of the most aggressive efforts to de-platform Russian state media by a Big Tech company so far.
Google Maps on Sunday also temporarily disabled live traffic data in Ukraine.
Apple has roughly a 15% market share of smartphones in Russia, a country with around 100 million smartphone users.
The big picture: Apple follows a slew of companies that have pulled their commercial operations from Russia since the invasion began.
4. Take note
Trading Places
The Open Compute Project Foundation announced it has hired George Tchaparian as CEO.
Forage, which helps merchants accept EBT payments online, announced today that Ofek Lavian has joined Forage as chief operating officer.
ICYMI
5. After you Login
"This flies in the face of everything we know about peregrine falcon biology and territorial behavior!" After a weeklong disappearance that mystified ornithologists, Berkeley's favorite peregrine falcon returned to its nest on the UC campus' Campanile tower.
The bottom line: In my hometown, even the wildlife refuses to conform.