OK Google, who's ready for another week in tech? Alexa, stop pushing Cortana. Siri, where are my keys? No really, what did you do with them.
https://www.axios.com/newsletters/axios-login-d53e3eeb-03fa-4b5a-b206-b6cde6e0907f.html?chunk=0#story0
How baseball is trying to augment its in-stadium reality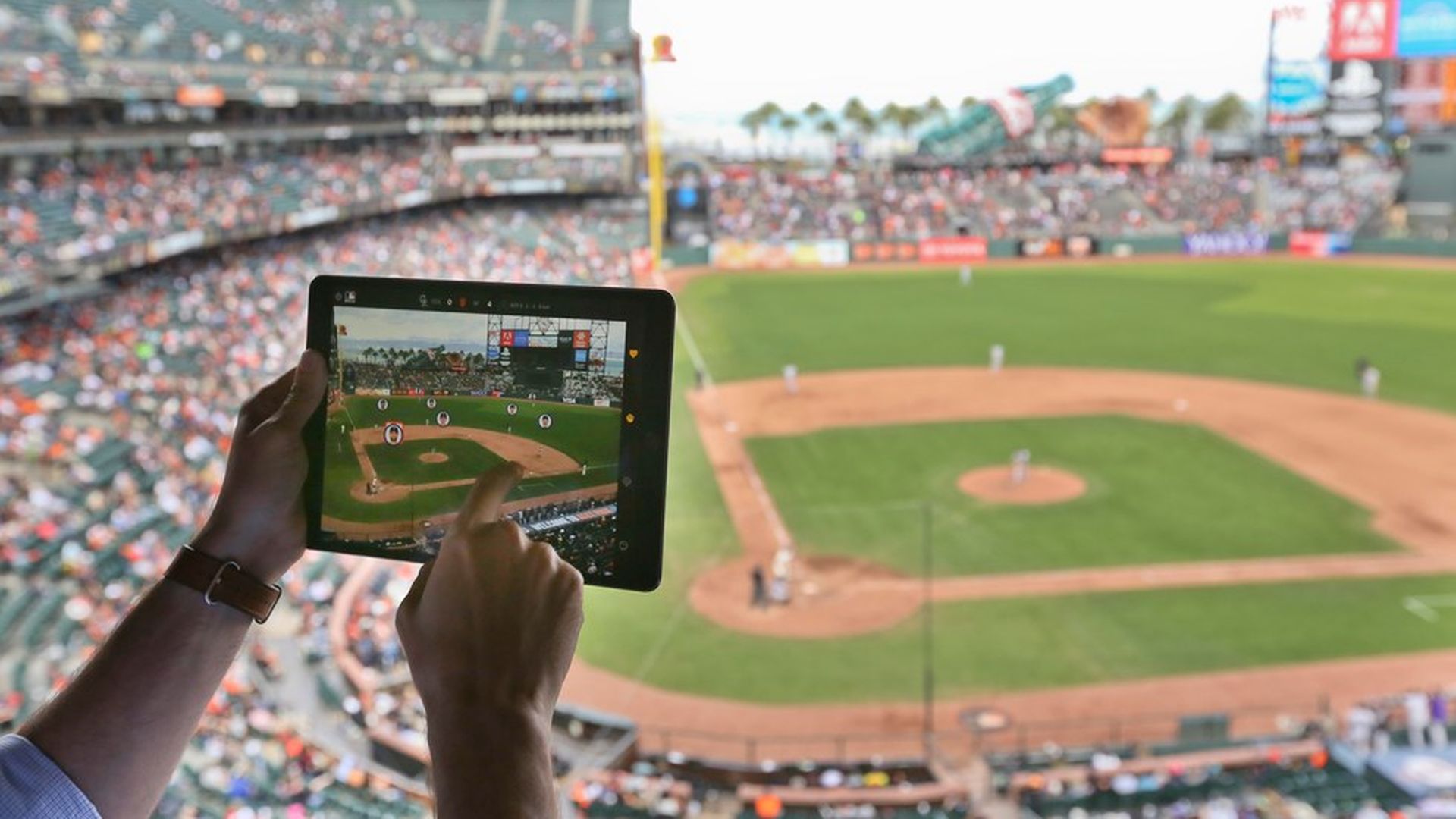 Who's on first?
A new augmented reality app could easily answer that perennial baseball question and a whole lot more for fans at the ballpark.
What's happening: Major League Baseball is testing a number of ways it can incorporate AR into its apps from labeling player positions to serving up relevant stats to showing fans how much ground an outfielder could potentially cover on a fly ball.
Axios, along with a couple other publications, got a sneak peek at a San Francisco Giants-Colorado Rockies game last week.
What we saw: What the league had to show wasn't ready for prime time, but it wasn't meant to be. The league's goal is to have something ready in time for the first pitch of next season. Before then, the league's tech arm will have to speed up the delivery of data considerably as well as figure out how to make the AR experience something that complements, rather than distracts from, the live action.
The backstory: MLB has been working on this since Apple announced ARKit in June.
The secret sauce: ARKit is one component, but there is another piece of technology that makes this possible, something known as Statcast. Powered by an array of radar and optical sensors installed in each major league stadium, Statcast offers up an array of data for a variety of uses.
https://www.axios.com/newsletters/axios-login-d53e3eeb-03fa-4b5a-b206-b6cde6e0907f.html?chunk=1#story1
Taplin talks about Google, Facebook and "surveillance capitalism"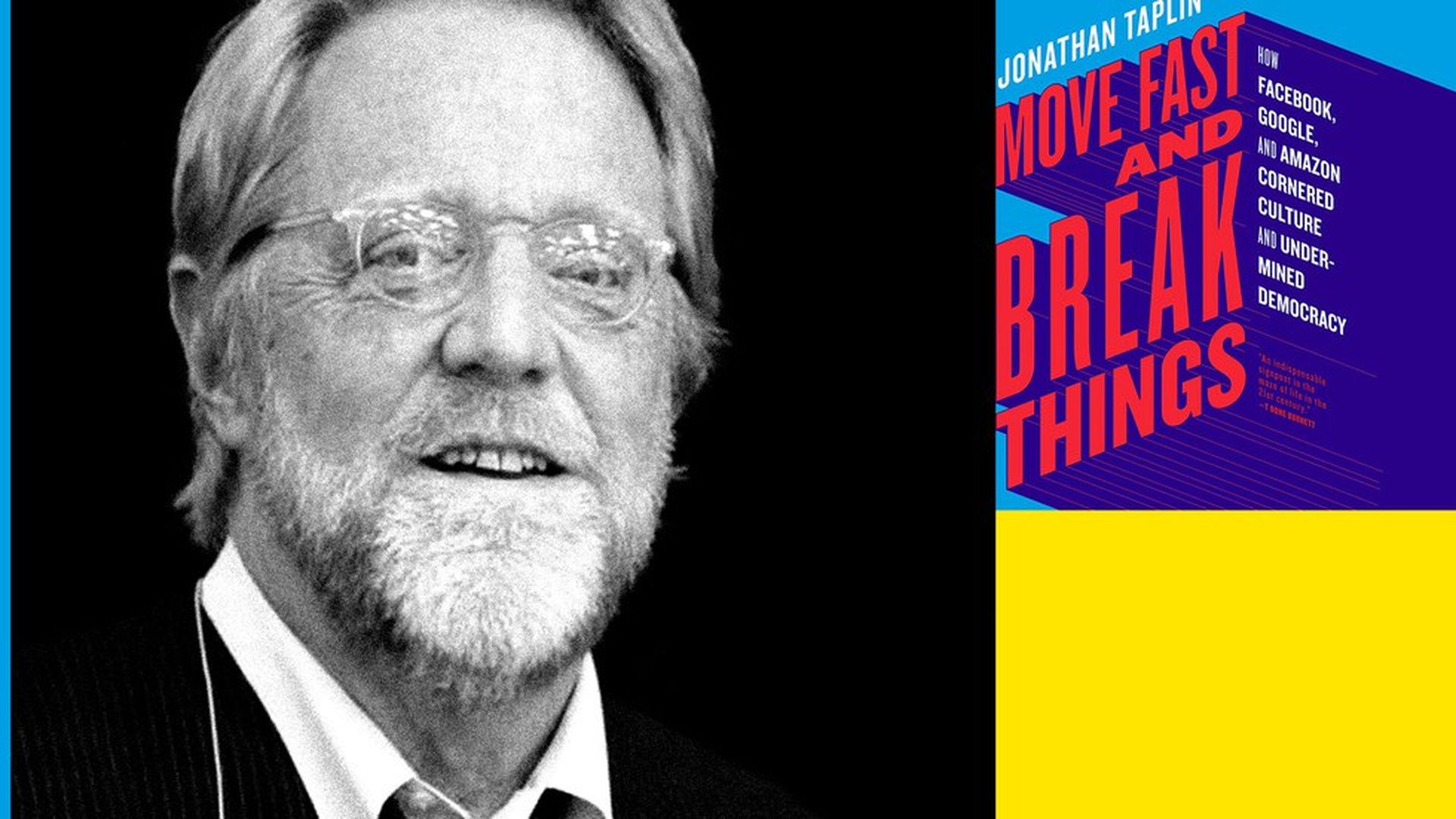 Jonathan Taplin has become a vocal critic of big tech — primarily Facebook and Google — arguing their use of personal data is undermining privacy as well as broader societal and economic norms. His recent book is one of several that examine their dominance. (He speaks tomorrow at a D.C. privacy event, where Axios' Kim Hart will be moderating a panel.)
Here are excerpts from Kim's chat with him:
Plenty of people don't seem to be bothered by their data collection.
The general perception is that young people don't care a bit about privacy and they're more than willing to trade their data for knowing what their friends are doing. I think that's really wrong. All you have to do is look at the rise of ad blockers. This idea that programmatic advertising is following you around is creeping out a lot of people.
What's the answer? Stronger privacy regulations?
GDPR (General Data Protection Regulation) goes into effect in the EU in 2018. That's an existential threat to the current business model of Google and Facebook. It will force them to move from a system where just by signing on to Facebook, you've given consent for them to use all your data. The new idea is, you have to opt-in to give them permission to use your data.
Should a government agency oversee internet platforms?
Why can't the [Federal Trade Commission] do that? The FTC has been completely toothless when it comes to the internet platforms...The FTC oversees advertising. If you look at [the companies'] revenue numbers, 97% of revenue is advertising. That's the business they're in.
Read more from Kim's chat with Taplin here.
https://www.axios.com/newsletters/axios-login-d53e3eeb-03fa-4b5a-b206-b6cde6e0907f.html?chunk=2#story2
The iPhone topped Samsung's Galaxy S8 in drop test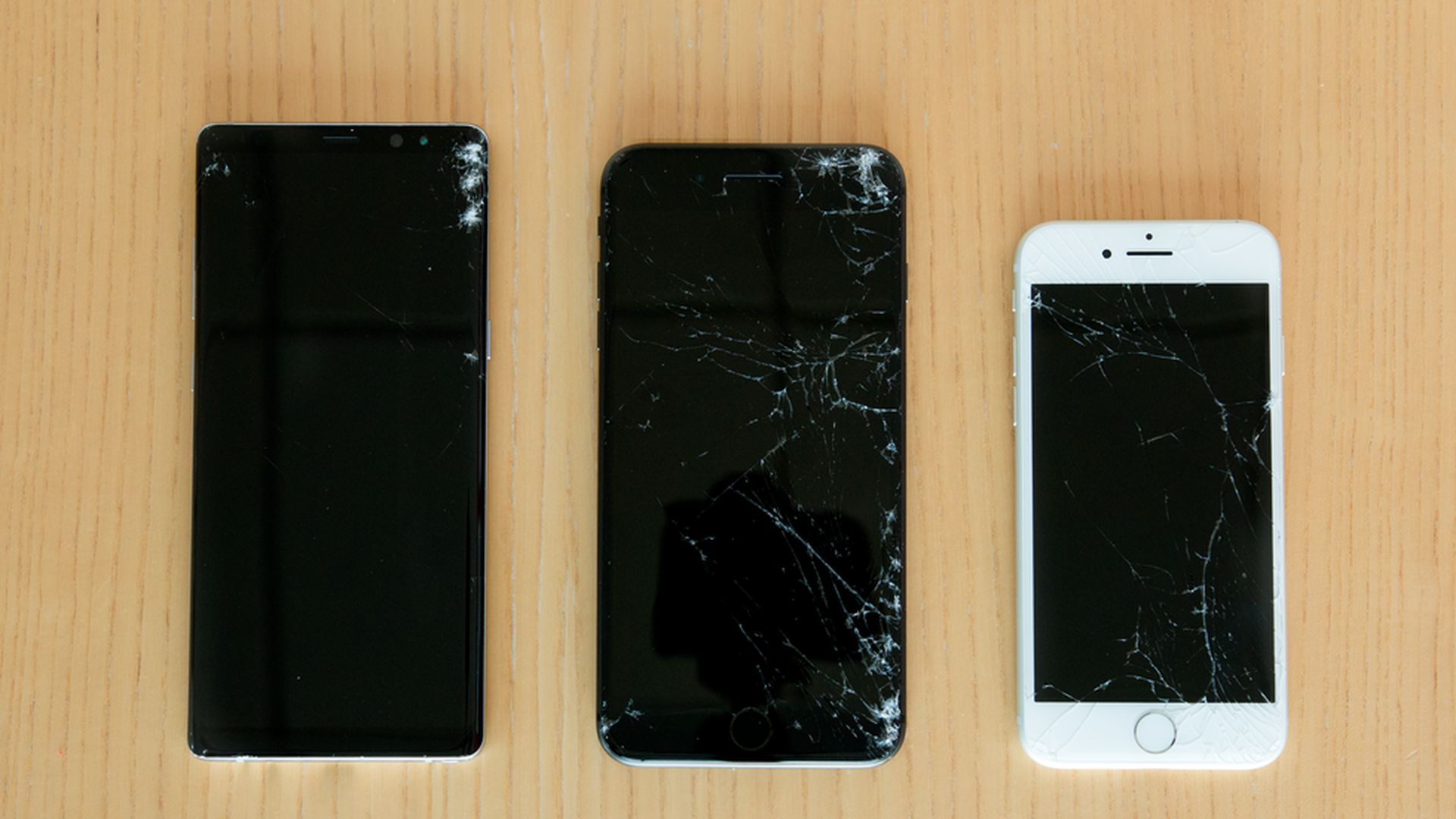 Despite moving to an all-glass front and back, Apple's new iPhone 8 did surprisingly well in Squaretrade's annual breakability test, outperforming some of Samsung's latest devices.
Yes, but: The move to glass did come at a cost, as Apple's phones, like Samsung's, suffered significant damage after one big drop. You can see the video here.
"Wireless charging is the future, no doubt. But it seems that Apple and Samsung have made a choice — to sacrifice durability in the name of innovation." SquareTrade global VP Jason Siciliano said in a statement.
Meanwhile: Analysts were eyeing another drop, the one related to the size of crowds for the iPhone 8.
https://www.axios.com/newsletters/axios-login-d53e3eeb-03fa-4b5a-b206-b6cde6e0907f.html?chunk=3#story3
Tech hubs tend to be in most prosperous communities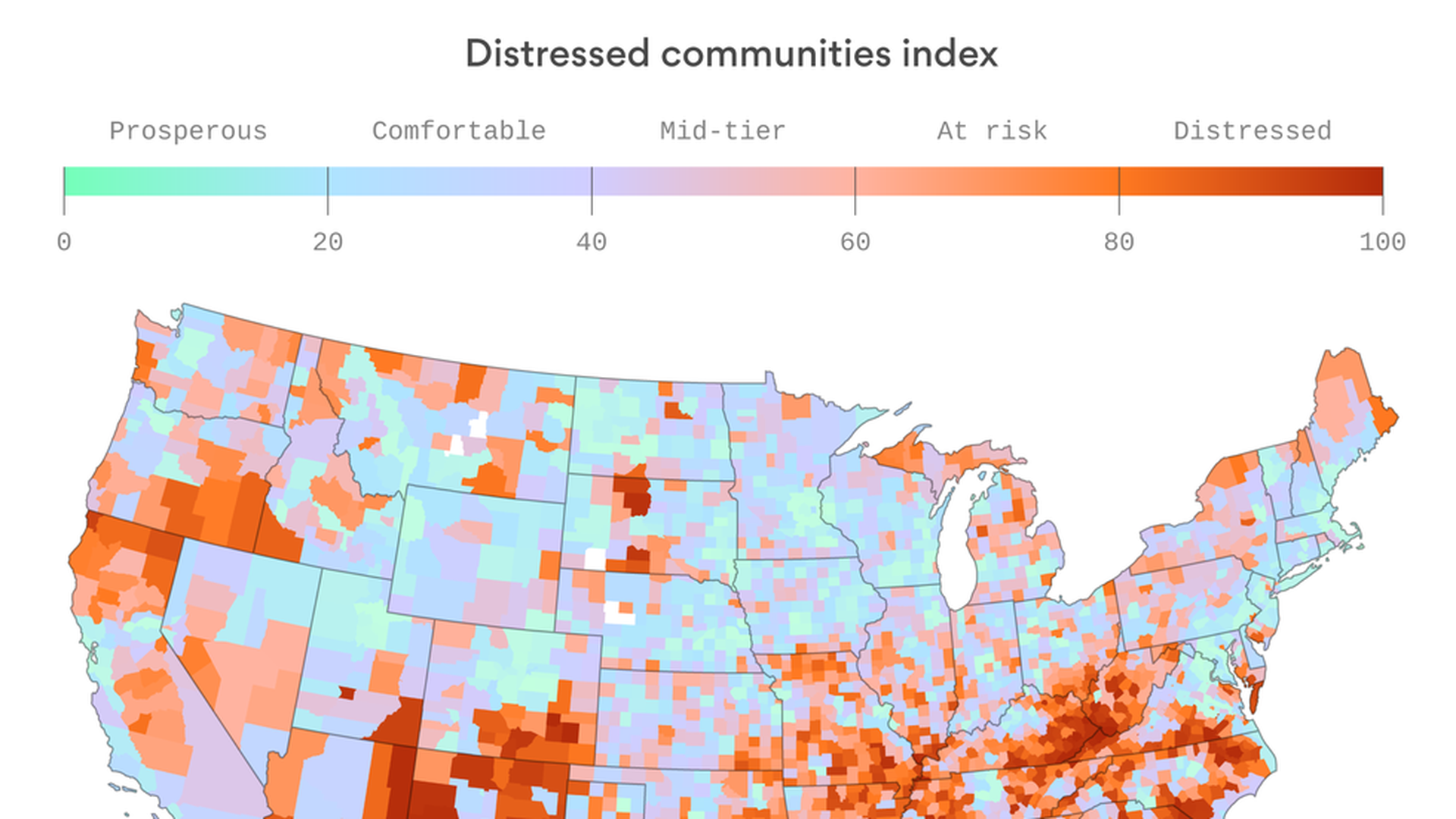 Your economic opportunity is more tied your your location than ever before. That's according to a county-by-county report put out this morning by the Economic Innovation Group, a non-profit research and advocacy group.
What EIG found: If you live in a "tech hub" (Seattle, San Francisco, San Jose, Austin), you're in one of the most prosperous cities in the country, where most new jobs and new businesses are being formed. If you live in the country's more distressed zip codes (like cities that were once industrial powerhouses in the Midwest and Northeast), you're likely neighbors with folks who feel utterly left behind by the modern economy.
The cycle: Fewer new companies are forming than ever before, which disproportionately hurts distressed communities.
The new businesses that do get started are often located in thriving communities where educated workers are located.
That's why startup advocates have urged investors to look for opportunities outside of California, New York, and Massachusetts, the three states that get more than two-thirds of venture capital funding.
The tech factor: Compared with the rest of the country, tech hub cities have remained economically robust. Business growth in these areas seems to be especially strong, mostly because "the rest of the country has fallen off a cliff," EIG co-founder Steve Glickman said.
That dynamic has helped to fuel a quiet backlash, as people in parts of the country that are suffering economically have begun to resent the prosperous ones.
Of course, this was a major theme of the 2016 election.
https://www.axios.com/newsletters/axios-login-d53e3eeb-03fa-4b5a-b206-b6cde6e0907f.html?chunk=4#story4
Polly is the latest app to tap Snapchat for growth
Snapchat doesn't have a "platform" for helping outside developers build products using the ephemeral messaging app, but that isn't stopping them, Kia reports.
One of the latest examples of apps building their following through Snapchat is Polly, a young app for creating and answering fun polls. Anonymous feedback app Sarahah is another.
How Polly did it: Thanks to Snapchat's new feature that lets users attach links to their "snaps" (photos and videos they share), Polly has been able to spread quickly. At first, Polly was just a website where users created and answered polls, though it recently rolled out a mobile app, which also means it'll be less dependent on Snapchat. Last month, it had 20 million users and 100 million poll answers, according to co-founder Ranidu Lankage.
Social media experts: Lankage and his co-founders James Zhang and Vicc Alexander are no strangers to social apps, which is why they were able to create one that seems — for now — to be catching on with young users. When they joined Y Combinator's accelerator program a few months ago, they were still working on the one-year-old video app Whale. However, they noticed that it wasn't growing as fast as it should (Lankage attributes it to most people's aversion to making videos of themselves), they looked for another idea, landing on Polly.
Our thought bubble: It's obvious that Polly is capitalizing on current popular trends, namely Snapchat and polling apps. Less clear is whether it has staying power. Many social apps burst onto the scene and fade away just as quickly. Another key question is where Snapchat will go. It could take formal steps to work with outside developers who want to plug into its social network as social media giants like Facebook and Twitter have. So far, however, the company has declined to even build tools for brands and celebrities, so we're not holding our breath.
https://www.axios.com/newsletters/axios-login-d53e3eeb-03fa-4b5a-b206-b6cde6e0907f.html?chunk=5#story5
Take note
On tap: Microsoft's Ignite conference starts in Orlando, while Bits & Pretzels continues through Tuesday in Munich.
ICYMI: While much is being made now over Facebook's role in the 2016 presidential election, the social giant got a heads-up just 10 days after the election from none other than President Obama that there might be more issues than it realized, the Washington Post reports...SAP is buying identity management software firm Gigya in a deal that sources told TechCrunch was worth $350 million....Nellie Bowles reported for the New York Times on the backlash in Silicon Valley from those who say the push for gender equality has gone to far...Uber's food-delivery service, UberEats, is outpacing its ride-hailing service in a couple markets, including Taipei, Taiwan, and Seoul, South Korea...Intel is scrapping Project Alloy, a reference design for mixed reality headsets using its processors, according to The Verge...And don't miss watching John Oliver take aim at antitrust issues.
https://www.axios.com/newsletters/axios-login-d53e3eeb-03fa-4b5a-b206-b6cde6e0907f.html?chunk=6#story6