Good morning ... Situational awareness: Police have identified the shooter in the YouTube shooting as 39-year-old Nasim Najafi Aghdam. Several news outlets, including NBC News, BuzzFeed and the San Jose Mercury News, say that Aghdam was angry at YouTube after it limited access to her videos.
https://www.axios.com/newsletters/axios-login-d12dd09f-e462-4d62-821a-a61419159cde.html?chunk=0#story0
Zuckerberg to testify before Congress next week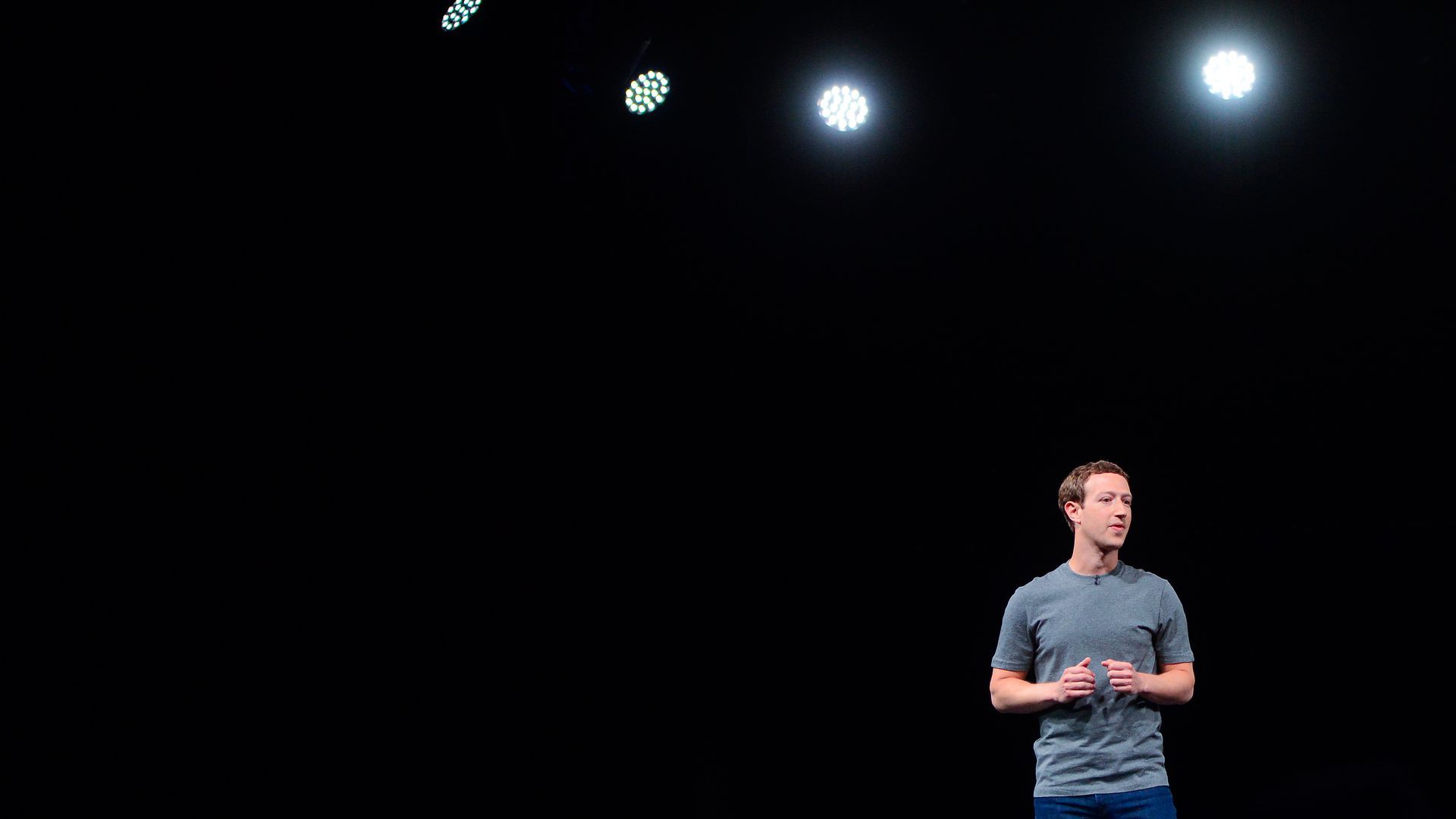 Facebook CEO Mark Zuckerberg is confirmed to testify before the House Energy and Commerce Committee next week, the panel said on Wednesday morning, David McCabe reports. The hearing will take place on the morning of Wednesday, April 11. It will be the first time that Zuckerberg has testified before Congress.
What they're saying: "This hearing will be an important opportunity to shed light on critical consumer data privacy issues and help all Americans better understand what happens to their personal information online," said the top Republican and Democrat on the committee in a statement.
https://www.axios.com/newsletters/axios-login-d12dd09f-e462-4d62-821a-a61419159cde.html?chunk=1#story1
YouTube shooting could draw tech into debate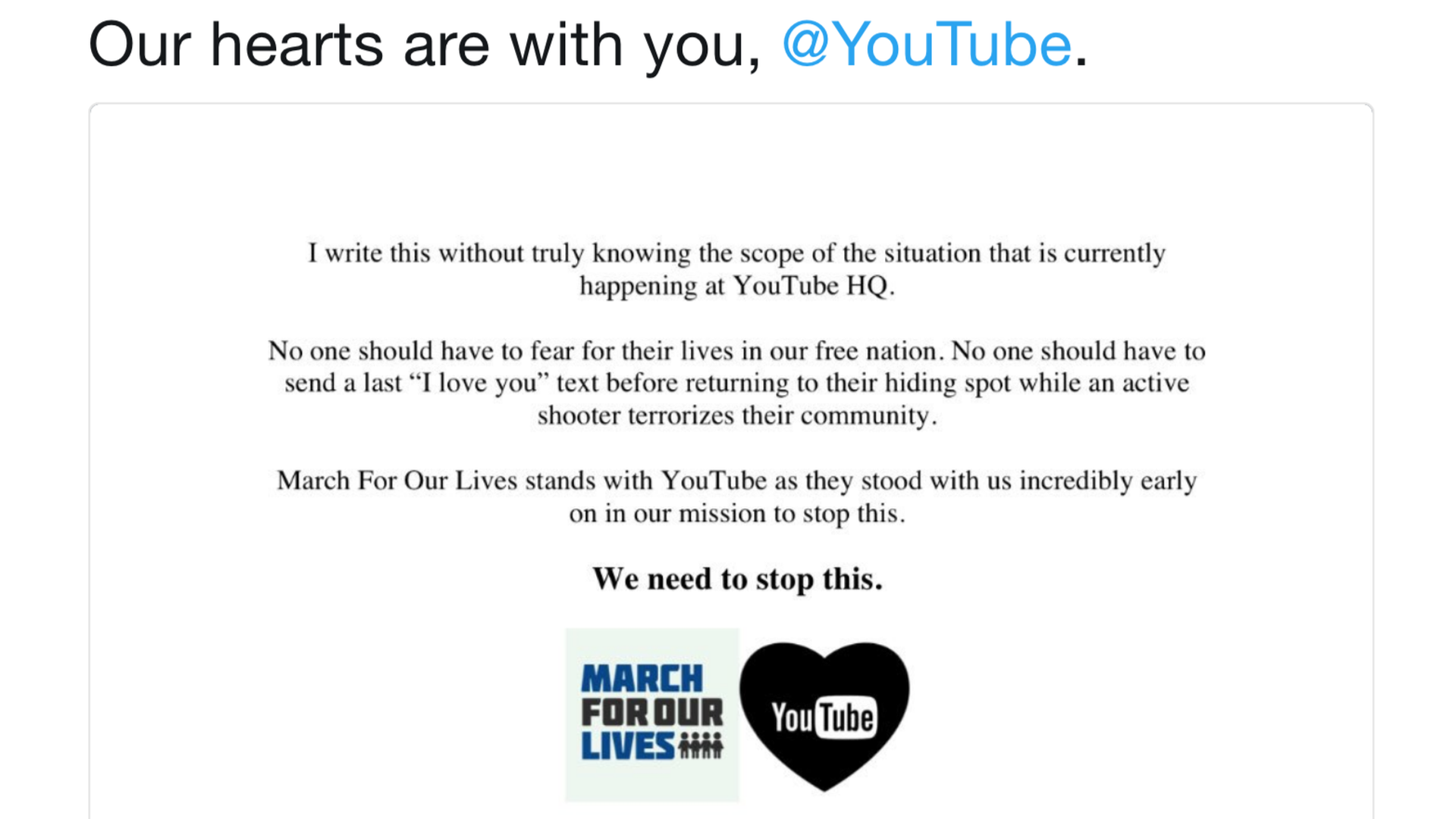 Workers at YouTube are still reeling from Tuesday's shooting. But as the healing effort begins, one question is whether Google and other Silicon Valley companies will be even more vocal in the ongoing national debate over gun control.
What's happening now: Google has been understandably focused on its own employees in the immediate aftermath, but already some others in tech are viewing the event as more evidence that tougher gun laws are needed.
At the same time, student organizers of the March For Our Lives rallied quickly took to social media to offer solidarity with those at YouTube, noting YouTube's early support of their own efforts (as seen in the tweet above).
"The YouTube HQ shooting is proof that this is NOT just schools,"
Jaclyn Corin wrote
. "Our country has a GUN problem. End of story."
Earlier: YouTube last month banned videos promoting the sale of guns or detailing the assembly of firearms, drawing the ire of the NRA.
Meanwhile: The shooting also brought up another big topic in tech — the use of social media for the spread of misinformation. Much of the world learned about the shooting from the tweets of YouTube employees, including manager Vadim Lavrusik.
However, shortly after Lavrusik was able to evacuate, his Twitter account was briefly hijacked and used to send false posts about the shooting, the Verge reports. Several YouTube celebrities were also falsely implicated on social media.
https://www.axios.com/newsletters/axios-login-d12dd09f-e462-4d62-821a-a61419159cde.html?chunk=2#story2
Cook emails workers on hiring Google's AI chief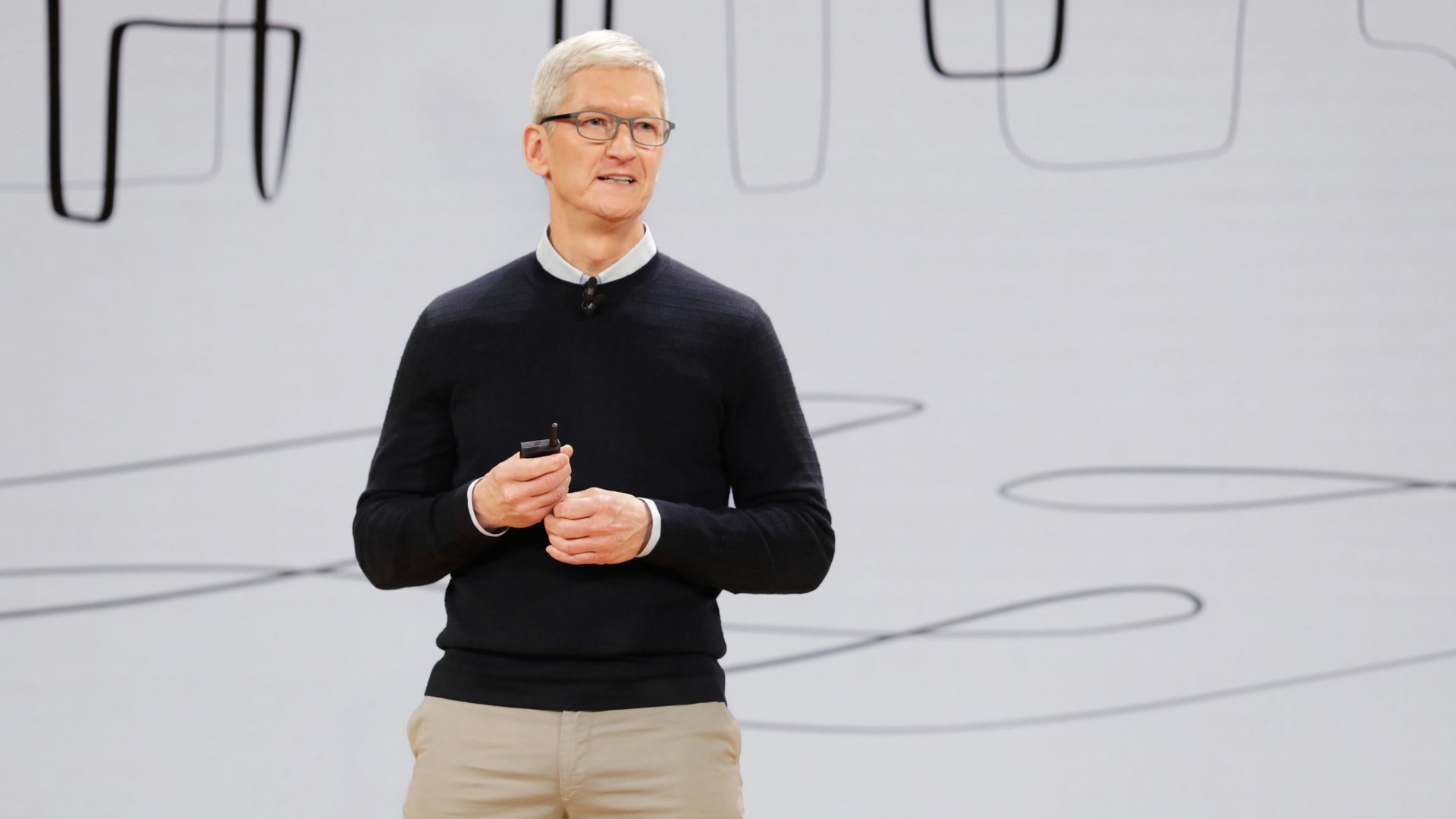 Apple CEO Tim Cook says Google search and AI chief John Giannandrea will be the "ideal leader" to help the company grow its machine learning (ML) and artificial intelligence (AI) efforts, according to an email sent from him to workers on Tuesday that was obtained by Axios.
What we're hearing: Importantly, the Apple chief says Giannandrea shares Apple's views when it comes to privacy.
"As we all know, for AI and ML to best serve our users, our technology must be infused with the values we all hold dear," Cook wrote in the email. "John shares our commitment to privacy and our thoughtful approach as we make computers even smarter and more personal."
More details, from the email: Cook said that Giannandrea will start next month and report directly to him as chief of Apple's ML and AI strategy. The New York Times reported on Giannandrea's hiring on Tuesday.
Our thought bubble: A big open question is whether Apple can become a more popular destination for top AI talent. Historically, Apple has been challenged by the fact that people in the largely academic field like to share their work externally, while Apple prefers secrecy.
Another take: Andreessen Horowitz's Benedict Evans said the hire was important, but added: "Probably more important: they persuaded him he'll have interesting problems to work on, and that he'll be able to get stuff done, which implies broader changes."
https://www.axios.com/newsletters/axios-login-d12dd09f-e462-4d62-821a-a61419159cde.html?chunk=3#story3
Facebook-land: Russia accounts and GDPR stance
It was another busy day in the world of Facebook Tuesday, as the company announced it had banned more Russia-linked accounts from Facebook and Instagram. In all, the company removed 70 Facebook accounts, 138 Facebook pages and 65 Instagram accounts linked to Russia's Internet Research Agency (IRA).
The intrigue: "The IRA has repeatedly used complex networks of inauthentic accounts to deceive and manipulate people who use Facebook, including before, during and after the 2016 US presidential elections," Facebook security chief Alex Stamos said in a blog post. "It's why we don't want them on Facebook."
Stamos said the accounts were taken down not due to their content but because they were controlled by the IRA.
Yes, but: In a Reuters interview, Zuckerberg said the company isn't planning to fully extend new European data protection rules, known as GDPR, to all users.
Reuters reported that Zuckerberg wanted Facebook to offer those protections "in spirit" but would make some exceptions, which it did not enumerate.
"We're still nailing down details on this, but it should directionally be, in spirit, the whole thing," Zuckerberg told Reuters.
Meanwhile: Bloomberg detailed a Facebook white paper that found Donald Trump's campaign was more effective at using the social network for advertising its message than was Hillary Clinton's campaign.
https://www.axios.com/newsletters/axios-login-d12dd09f-e462-4d62-821a-a61419159cde.html?chunk=4#story4
Outgoing White House emails not fully protected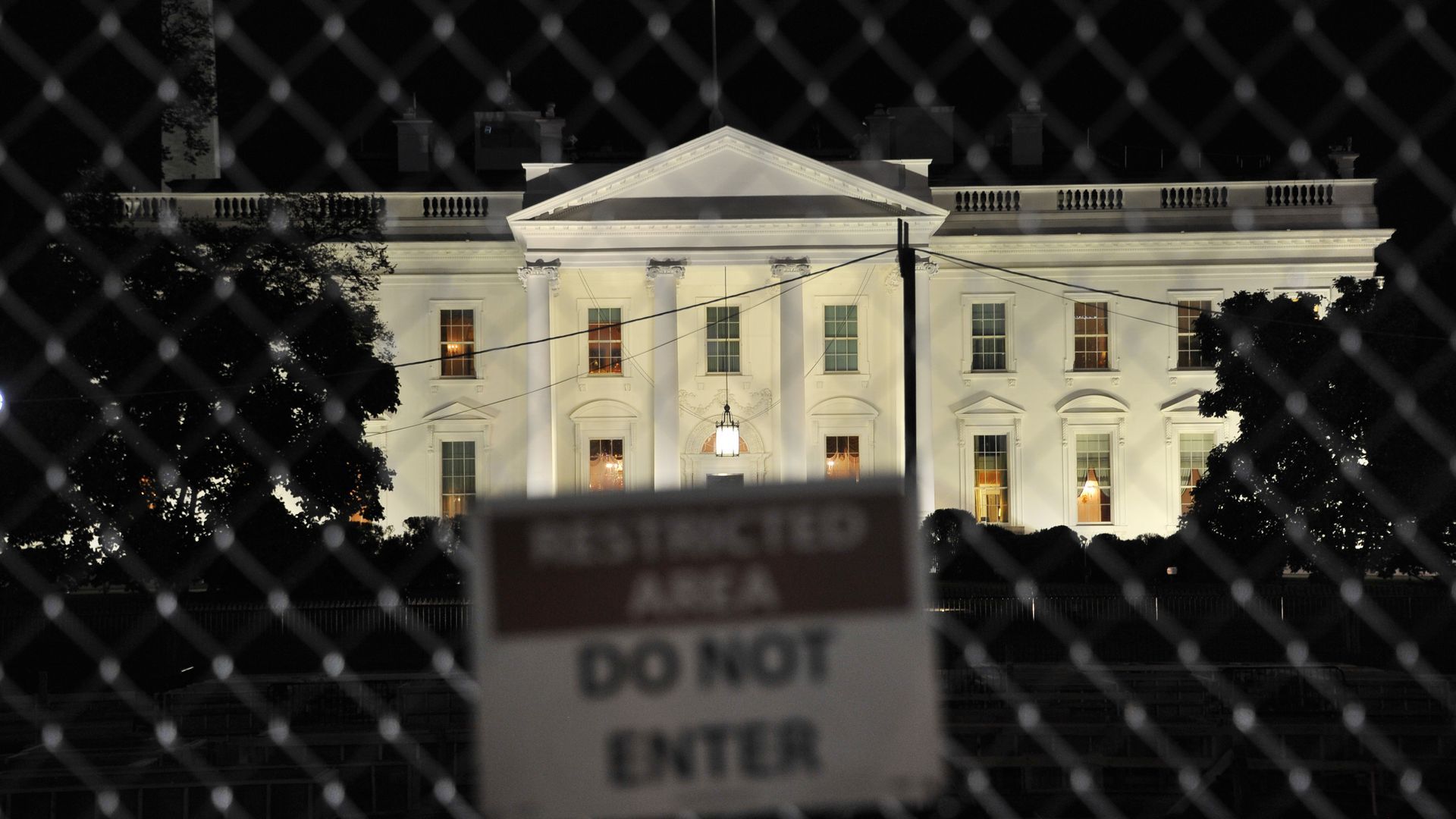 The security advocacy group Global Cyber Alliance tested the 26 email domains managed by the Executive Office of the President and found that only one fully implements a security protocol that verifies the emails as genuinely from the White House.
Of the 26 domains, 18 are not in compliance with a Department of Homeland Security directive to implement that protocol, Axios' Joe Uchill reports.
Why it matters: Imagine the havoc someone could cause sending misinformation from a presidential aide's account: Such fraudulent messages could be used in phishing campaigns, to spread misinformation to careless reporters, or to embarrass White House employees by sending fake tirades under their names.
More: Read Joe's full story here.
https://www.axios.com/newsletters/axios-login-d12dd09f-e462-4d62-821a-a61419159cde.html?chunk=5#story5
Take Note
On Tap
Trading Places
Jon Alferness, an advertising product executive who joined Pinterest from Google last year, has left the company, per Recode.
There's a lot of turnover at the board and executive ranks of Virgin Hyperloop One, according to a Bloomberg report. Among the highlights, three directors have left the board and a fourth has been arrested.
ICYMI
https://www.axios.com/newsletters/axios-login-d12dd09f-e462-4d62-821a-a61419159cde.html?chunk=6#story6
After you Login
A student in Maine thought it was protected speech to burn rubber in front of a cop. The police said not so much.