Axios Login
April 23, 2020
Thursday. Sorry, I thought you asked what day it is. (I had to look it up myself.)
Anyway, today's Login is 1,405 words, a 5-minute read.
1 big thing: Pandemic leads courts and Congress to consider WFH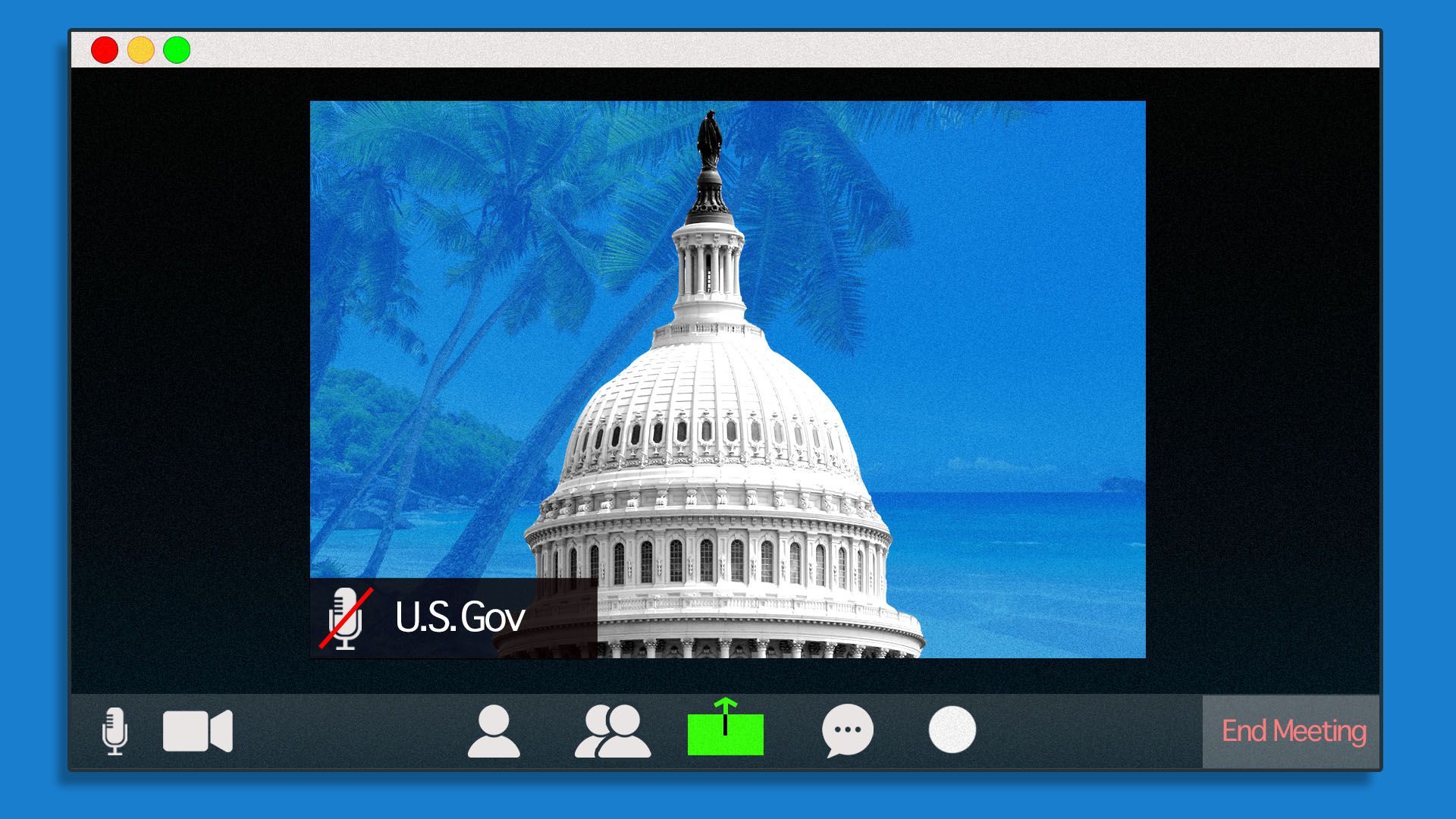 The coronavirus pandemic is creating cracks in the federal government's long-held opposition to conducting business online, Axios' Margaret Harding McGill reports.
The big picture: Quarantines and social distancing are challenging the way legislators, judges and policymakers are used to operating — though some remain hesitant to upend centuries of tradition and rules.
What's happening: Federal officials are grappling with how to function remotely, with many looking to technological solutions.
The Supreme Court is postponing most of its docket of upcoming cases but will hear some via phone conference in May. Many lower federal courts already started conducting remote hearings in recent weeks, in some cases using video conferencing, though that shift has stirred some complications.
Federal agencies are seeking alternatives to what are normally mandatory in-person meetings. The Federal Communications Commission, for one, is holding its monthly meeting by phone Thursday, with plans to stream the audio on the agency's website.
In Congress, the House is considering options for working remotely.
Where it stands: As the pandemic crisis has propelled a cascade of emergency funding bills, the legislative branch arguably has the most urgent need to find alternatives to in-person meetings.
The Constitution provides no barriers to Congress operating remotely, but each chamber would have to alter its rules to allow for remote hearings or voting.
House Speaker Nancy Pelosi recently told MSNBC there are "challenges" to remotely conducting legislative business such as votes. "It's not as easy as you would think," she said, citing national security concerns around, for instance, using Zoom to meet.
And, following GOP objections, Pelosi has eased off an immediate plan to permit voting by proxy — a low-tech solution in which a small number of lawmakers could gather in Washington to vote on behalf of others. Instead, the House is forming a bipartisan task force to review lawmakers' options.
Republican Rep. Tom Cole, ranking member of the House Rules Committee, told Axios, "If you buy the argument— and I do — that members don't spend enough time working together as it is, all these sorts of things will make it harder to build personal relationships and the types of associations that lead to both bipartisanship and good legislation."
The other side: Supporters of remote operations say Congress shouldn't let tradition get in the way of doing more work virtually.
"What Congress does is meet and confer and discuss and take action," said Deborah Pearlstein, a constitutional law professor and co-director of the Floersheimer Center for Constitutional Democracy at Cardozo Law School. "And those things are exactly the kinds of functions that can be carried out remotely."
Similar arguments have been made for a more formal, broad push to virtualize federal court cases, especially at the Supreme Court level.
"It took a pandemic to get the Supreme Court to allow arguments over the telephone — that's a rather significant event for such a small step," said Jonathan Turley, Shapiro professor of public interest law at George Washington University Law School. "That would suggest we would need an apocalypse to allow video taping."
Be smart: 230-year-old institutions don't change quickly, especially ones that rely upon precedent for much of their work.
Changes could create openings for lawsuits. Connectivity issues could thwart communications at critical moments. And lawmakers would need a well-tested system for conducting mark-ups and hearings.
2. Google to screen all advertiser IDs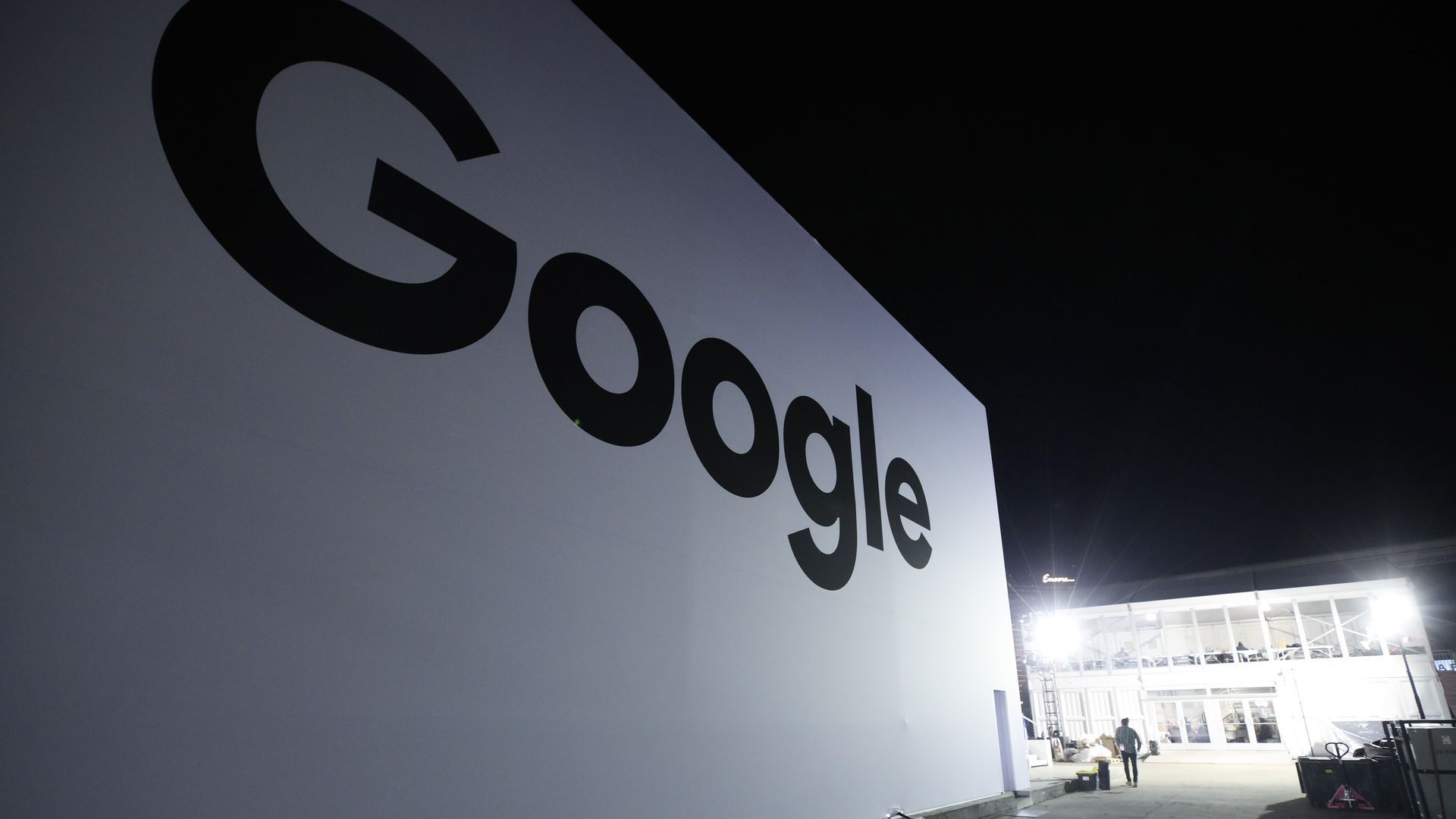 Google will now require all advertisers, not just political ones, to verify their identities on all its platforms, including Google Search, Google News and YouTube, Axios' Sara Fischer reports.
Why it matters: Verification tends to weed out spammy advertisers, including those that sell things like price-gouged hand sanitizer or fake coronavirus face masks.
How it works: Advertisers will need to submit personal identification, business incorporation documents or other information that proves who or what they are and the country they operate in.
In the future, users will be able to see the advertiser's name and country of origin in the "Why this ad?" menu on the page where the ad is served.
For marketers, the transition should be pretty painless. Google will be inviting advertisers to complete the verification program in phases.
Advertisers will have 30 days to complete the program once notified. Failure to comply with the policy will result in temporary account suspensions. 
Google will start rolling out the policy with U.S.-based advertisers and will release it internationally over the next few years. 
The big picture: Google rolled out a similar process to verify political advertisers in 2018. Thursday's announcement was planned before the coronavirus pandemic, but it will help weed out spammy advertisers exploiting the crisis.
Meanwhile: Google is also announcing today a new feature in search that will alert users when it believes the results it is surfacing don't really answer the query.
3. Polls: Pandemic blunts tech backlash
Recent polling shows Americans are looking more favorably on the tech industry and are especially cheered by efforts to help track coronavirus cases, Margaret reports.
Why it matters: The industry's image was taking a beating over concerns around misinformation, privacy and other issues before the coronavirus pandemic. But sentiment has shifted as the virus has forced more Americans to rely on online services.
By the numbers: 38% of Americans say their view of the tech industry has become more positive since the start of the outbreak, according to a Harris Poll that surveyed 2,029 adults between April 18 and 20.
Just 9% said their view of the industry has become more negative, while 53% said it hasn't changed.
The survey also found that 81% approve of large tech companies helping to trace contacts that users may have had with people with the virus.
A separate survey fielded by the National Research Group found that 88% of respondents reported having a "better appreciation" for tech's positive impact on society and culture than they did before the outbreak.
Background: Apple and Google earlier this month announced a Bluetooth-powered project to notify people via smartphone if they've come in contact with someone who has tested positive for the virus.
Yes, but: Another recent poll found mixed feelings when it came to Americans' willingness to actually download a contact-tracing app and, in particular, let data from it be shared with health officials.
4. TED conference goes virtual
This week was to be the annual TED conference, with thousands of business leaders, celebrities, artists and scientists gathered in Vancouver to share ideas. Instead, Wednesday became the first step in the organizers' effort to take their entire event online.
Why it matters: While many conferences have moved online, the shift is particularly tricky for luxury events, where much of the value is around in-person networking and socializing.
Driving the news: In many ways, Wednesday's half-day "prequel" was not unlike a typical TED session. There were a series of talks and performances by musicians, along with short interstitial videos and time in between for hobnobbing in a chat room.
The talks themselves were picked to be relevant in the coronavirus era, with speakers like epidemiologist Larry Brilliant and Crisis Text Line CEO Nancy Lublin (whom I recently interviewed for Axios on HBO) talking COVID-19 response.
Between the lines: The challenge for TED, and others that do high-end events, is creating an experience that people will pay thousands of dollars for without the in-person schmoozing, gourmet food, unique expeditions and other perks. I was somewhat skeptical — but the talks were good, and I found myself using the breaks to check in with people I regularly see at TED.
Yes, but: Useful doesn't mean I'd pay big money for the experience. And my sense of community was largely based on the real-world connections I'd already made attending the event the last several years in person.
What's next: Wednesday's event was a preview of this year's fully virtual TED conference, which will stretch over eight weeks beginning in May.
5. Take Note
On Tap
Trading Places
Boeing announced a series of executive moves as it looks to prepare for a vastly changed world in the wake of COVID-19. CFO Greg Smith will now add responsibility for a new Enterprise Operations unit, while EVP Tim Keating, who leads Boeing's government operations, will add responsibility for managing its wireless spectrum holdings.
ICYMI