LA readers — my colleague Mike Allen will be in town Friday to lead a conversation hosted by Axios and the U.S. Conference of Mayors on the impact of technology and innovation on city infrastructure. We will interview Mayors Garcetti and Landrieu, Dan Katz of Hyperloop and Mory Gharib of the CAST Center at Caltech. The event will take place at 8am PT at Union Station. You can get more information and register here.
https://www.axios.com/newsletters/axios-login-cb64b641-ec16-4eb7-8229-7fbc61bb2a58.html?chunk=0#story0
Questions remain after Tuesday's tech hearings
The top lawyers for Google, Twitter and Facebook spent more than two hours yesterday explaining how they are cracking down on malicious activity by foreign actors. However, there are still plenty of unanswered questions, Axios' David McCabe reports.
So, if you are a member of the Senate or House Intelligence Committees, here are a few questions you should ask today:
What was the overall influence of this Russian campaign? This question is at the heart of the investigation into social media's impact on the election, and it was posed by Hawaii's Sen. Mazie Hirono. But Facebook's general counsel Colin Stretch said he wasn't able to make judgements on voters' motivations last November.
Will the companies support the Honest Ads Act? They danced around whether they would back legislation that would make them disclose more information about online political ads. Sen. Mark Warner is sure to push them on this during today's hearing.
What about the role the companies play in shaping ad campaigns? Google and Facebook's representatives avoided commenting on a Bloomberg report that employees had worked with an anti-immigrant ad campaign. And, thanks to the "embedded" employees the companies had with the Trump campaign, there are more questions about how the firms work with controversial issue campaigns.
Will their resources be sufficient to fight this issue? The companies have pledged to invest more money and personnel to catch and prevent extremist content. But several senators were doubtful that they'll be able to successfully identify the origin of so much content and advertising. This is a question that users have, too: Per a recent Axios-SurveyMonkey poll, a majority of Americans think that human screening (rather than algorithms) should be the primary way that social media platforms screen for "inappropriate and offensive ads or content."
How much do lawmakers really understand about online metrics? The tech execs are fluent in the language of impressions, organic content, reach and views — but it was clear that the lawmakers are not. Several asked for clarifications on the technical intricacies of the issue. It was a hard conversation to follow for those not steeped in internet lingo, and that could be a vulnerability for the companies trying to convince Congress that Russian-influenced content on their platforms was relatively small.
Also: As Recode's Tony Romm highlighted after the hearing, most of the congressional focus was on the advertising side of things. But a lot of what was achieved on Twitter and Facebook came through organic posts.
Today: The Senate Intelligence Committee's hearing with the companies starts at 9:30am ET and the House Intelligence Committee holds its hearing at 2:00pm ET.
https://www.axios.com/newsletters/axios-login-cb64b641-ec16-4eb7-8229-7fbc61bb2a58.html?chunk=1#story1
Facebook's next fake news headache: messaging
While much of the fake news conversation in the U.S. has been about what's spread via Facebook's News Feed, reports of misinformation spreading globally on Facebook's messenger properties, WhatsApp and Messenger, demonstrate another major problem for the global tech company.
What's happening: Facebook's messaging footprint is larger than its main app, globally, and an increasing number of people in developing countries are reliant on its messaging platforms for news and information. If Facebook is struggling to contain fake news on its algorithmically-programmed News Feed, you can imagine how difficult it must be to clamp down on fake news on intentionally opaque and encrypted platforms that are meant to protect individual conversations.
Why messaging is so hard to monitor: WhatsApp and Messenger both allow participants to use end-to-end encryption on mobile, meaning stories, posts, pictures and videos cannot be viewed by anyone outside of an individual or group conversation — making fake news harder to track. As WhatsApp notes in its post about end-to-end encryption, not even WhatsApp can read what is shared between users on its platform.
https://www.axios.com/newsletters/axios-login-cb64b641-ec16-4eb7-8229-7fbc61bb2a58.html?chunk=2#story2
People are keeping their cell phones a lot longer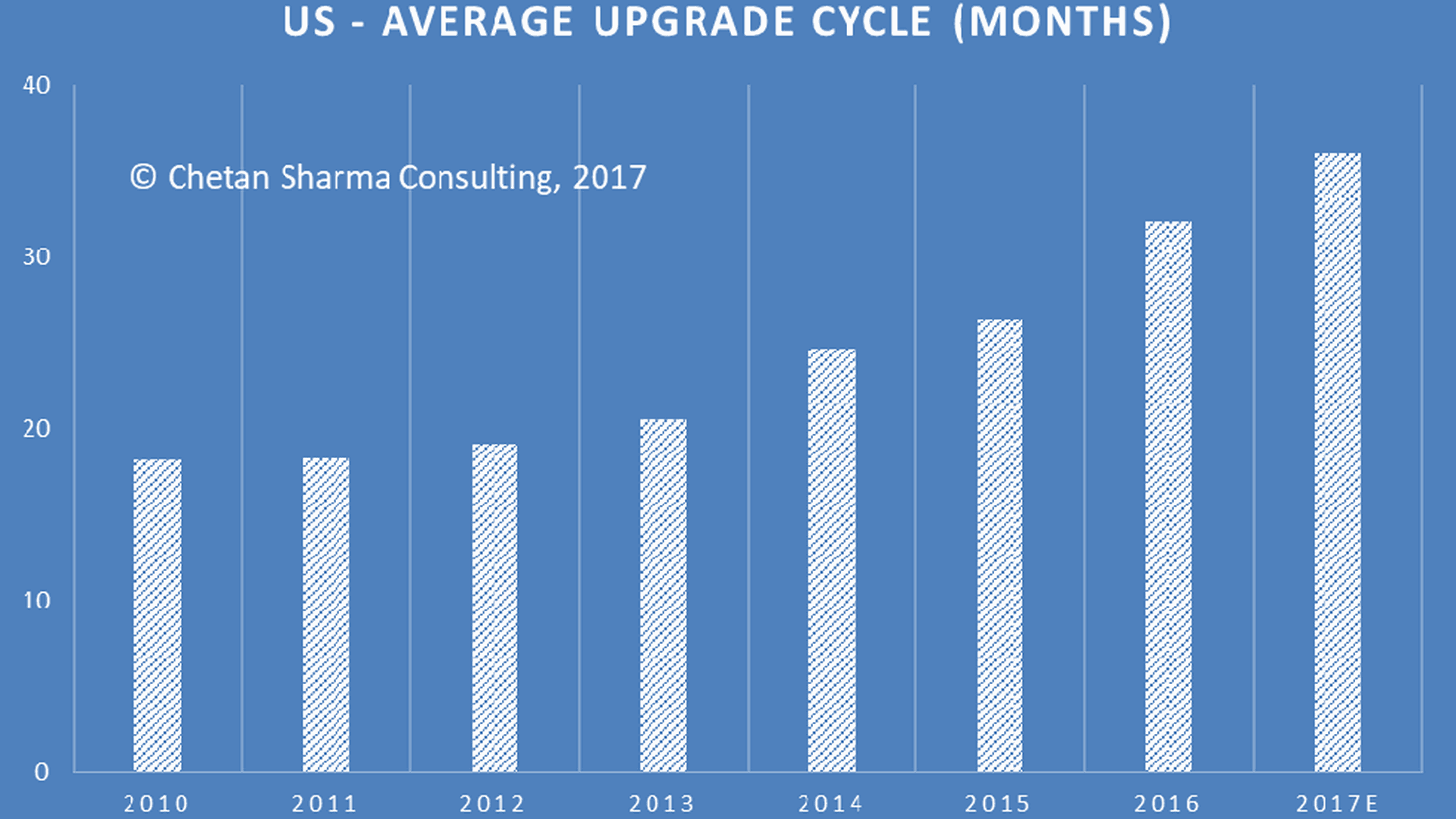 The average American is now hanging on to their cell phone nearly three years, according to new data from Chetan Sharma Consulting. That's up from about a two-year upgrade cycle in 2014.
The big culprits: The end of two-year contracts and a maturing cell phone market have been the key factors.
"Consumers are treating phone purchase akin to a computer buy and given that there are only minor hardware changes from model to model [with exceptions], there is less incentive for consumers to upgrade," CEO Chetan Sharma told Axios.
The X factor: Sharma says the arrival of the iPhone X could lead upgrade cycle times to shorten in the coming quarters.
https://www.axios.com/newsletters/axios-login-cb64b641-ec16-4eb7-8229-7fbc61bb2a58.html?chunk=3#story3
Americans worry technology will kill jobs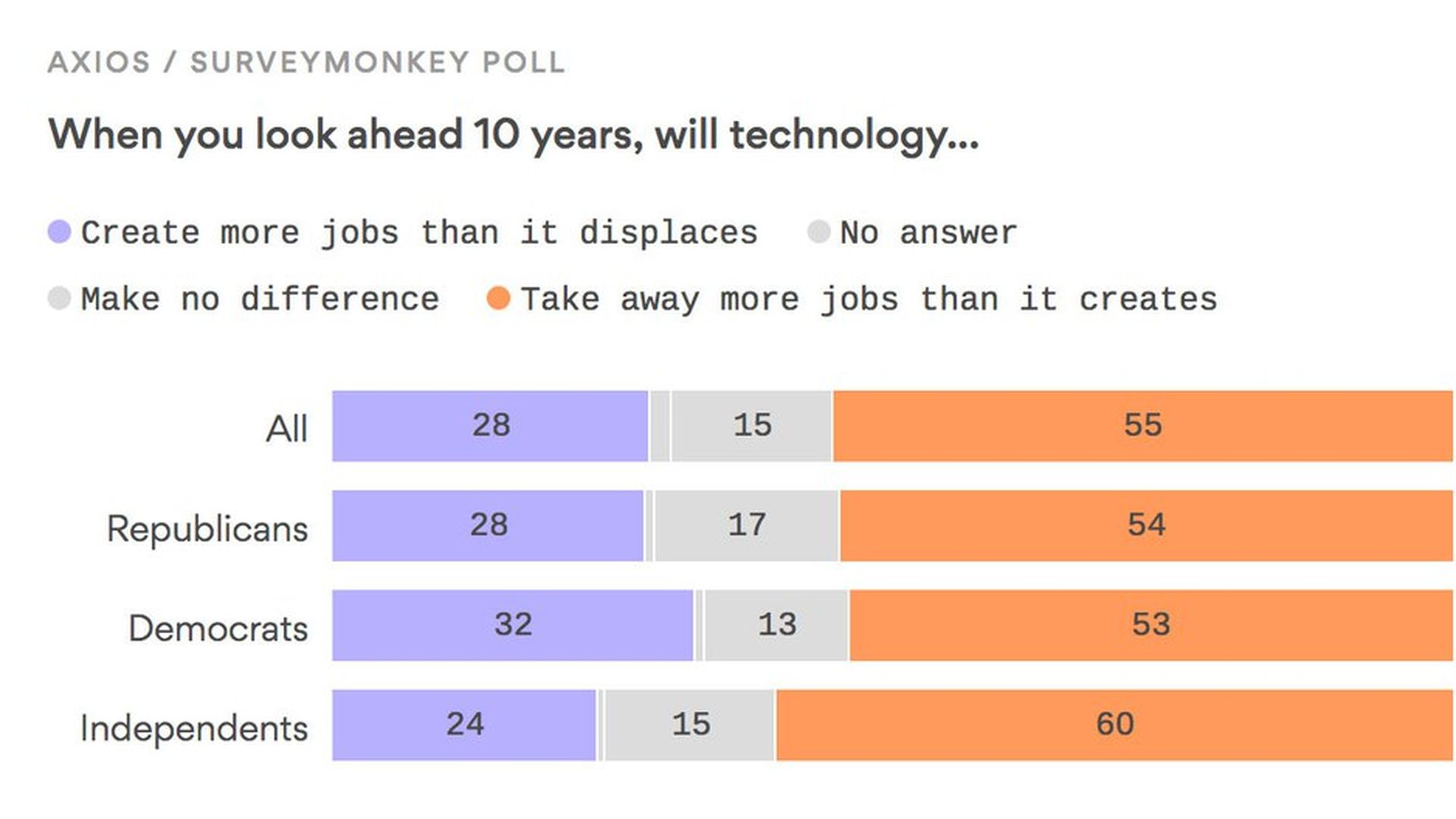 The question of jobs being lost to globalization was an undercurrent of the 2016 presidential campaign. But many experts warn that we could be just at the beginning of the job disruptions caused by automation, a concern shared by many in our Axios/SurveyMonkey poll.
Key finding: More than half of those surveyed believe technology will kill more jobs than it creates over the next decade.
Nonetheless: Our survey found that more than 70% of Americans believe technology has had a positive or somewhat positive effect on society. But while most Americans are optimistic about the impact of technology on the future, that doesn't mean they trust tech companies — 78% thought it was a "bad thing" that tech companies are able to collect so much information about their users.
https://www.axios.com/newsletters/axios-login-cb64b641-ec16-4eb7-8229-7fbc61bb2a58.html?chunk=4#story4
Amazon's next targets: FedEx and UPS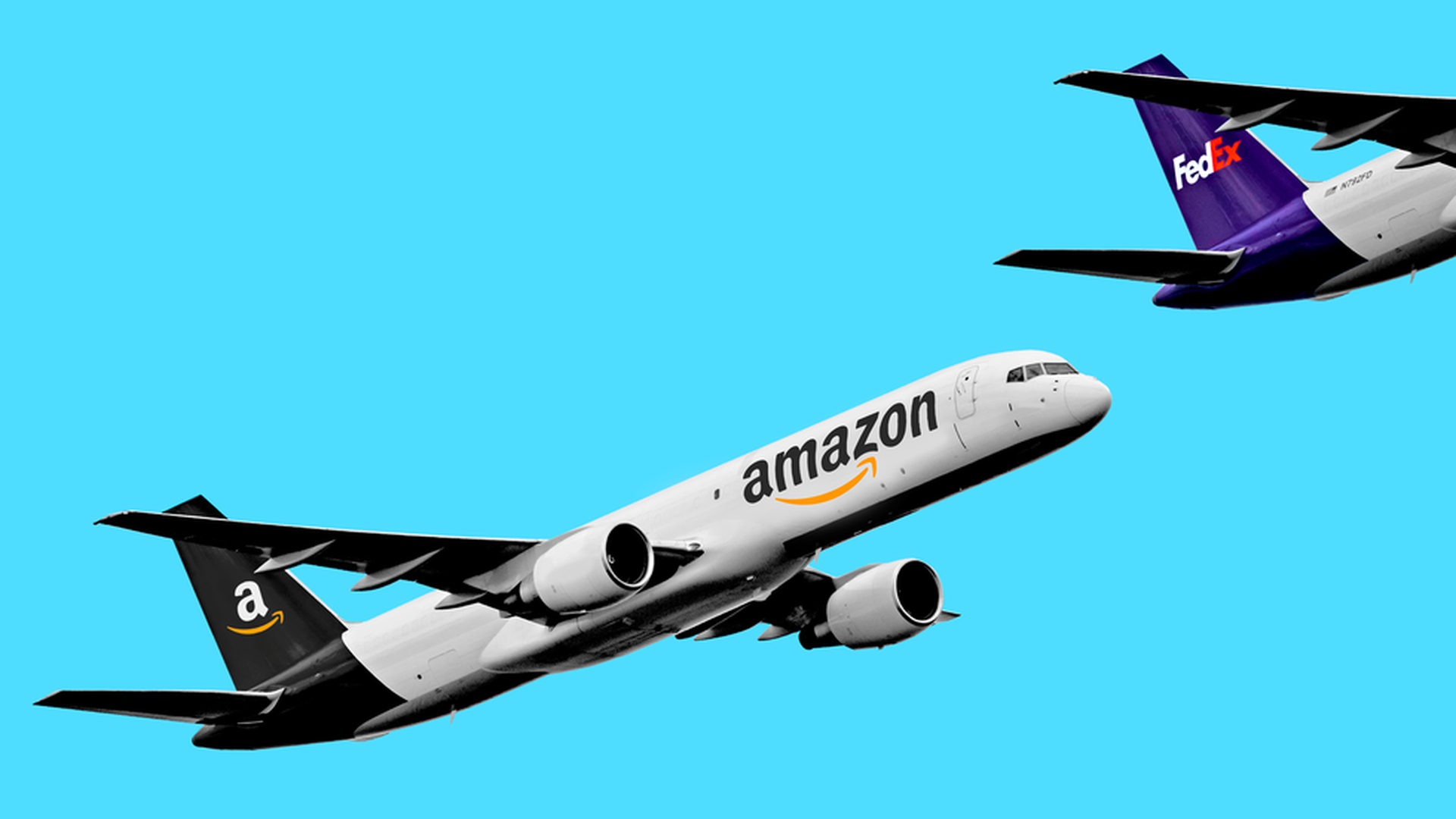 Amazon has gotten so good at moving merchandise that it now accounts for 43 cents of every dollar spent online in the U.S., according to eMarketer. But the company isn't resting on its laurels and Axios' Christoper Matthews reports that one of its next targets could well be the companies that currently deliver its products: UPS and FedEx (and the postal service.)
The online retailer already gets 37% of revenue from services, including services provided to merchants that use its site.
Big money: Analysts and industry executives say new initiatives like Amazon Key and Amazon Seller Flex show the company's potential to siphon off a large chunk of the trillions of dollars spent globally on logistics and shipping. "This is going to be a huge business for them," says Cooper Smith, an analyst with business intelligence firm L2.
Seller Flex launched last month: It's a new courier service that ships goods from outside sellers to customers' homes.
Amazon Key was announced last week: Using a smart lock and an indoor security camera, this program offers in-home delivery for Amazon Prime members.
"This is not an experiment for us:" Peter Larsen, Amazon's vice president of delivery technology, tells WSJ, "We think this is going to be a fundamental way that customers shop with us for years to come."
It follows a familiar pattern: Smith argues that if Amazon Key catches on, it could make Amazon a necessary partner for any company wanting to deliver goods securely to households. Imaginative and potentially revolutionary experiments like this are why "Amazon is the biggest threat to FedEx that FedEx has," he told Axios.
"The logistics industry is only just now starting to wake to this threat," says Zvi Schreiber, CEO of the online shipping marketplace Freightos.
Go deeper: Read Christopher's full story here.
https://www.axios.com/newsletters/axios-login-cb64b641-ec16-4eb7-8229-7fbc61bb2a58.html?chunk=5#story5
Take note
On tap: More hearings for Facebook, Google and Twitter as executives are scheduled to appear before the House and Senate Intelligence Committees. Earnings include Facebook, Fitbit, GoPro, Qualcomm, Tesla and Zendesk. Razer is expected to debut a new mobile product, the fruits of its acquisition of the team behind the NextBit Robin per Recode.
Trading Places: After 25 years at Microsoft, Julie Larson-Green said Tuesday that she is leaving the software giant "to pursue new adventures."
ICYMI: Ukraine says it warned Facebook about Russia's "information war" in 2015, the Financial Times reports...Uber confirmed that the suspect in the New York City attack that killed eight was a driver on its ride-hailing service...The Verge says that more than a decade after its last model, Sony is releasing a new version of its Aibo robot dog...Shares of Electronic Arts fell in after-hours trading Tuesday after the company issued a holiday quarter forecast below what some were expecting...Best Buy, which drew consumer outrage for charging an extra $100 to those who wanted to buy a new iPhone 8 or iPhone X, has decided to instead stop selling phones in that same way...Build-your-own-computer company Kano is announcing $28 million in new funding and a significant expansion of its retail distribution. Its kits will show up in various locations including all Best Buy and Target stores and select Walmart stores.
https://www.axios.com/newsletters/axios-login-cb64b641-ec16-4eb7-8229-7fbc61bb2a58.html?chunk=6#story6