There was so much good stuff for today I had to hold some for tomorrow. But that means tomorrow's Login should be fun too.
https://www.axios.com/newsletters/axios-login-cac56595-7ce5-47d0-8d34-b894c168314f.html?chunk=0#story0
Samsung moves past Note 7 fiasco and looks to AI future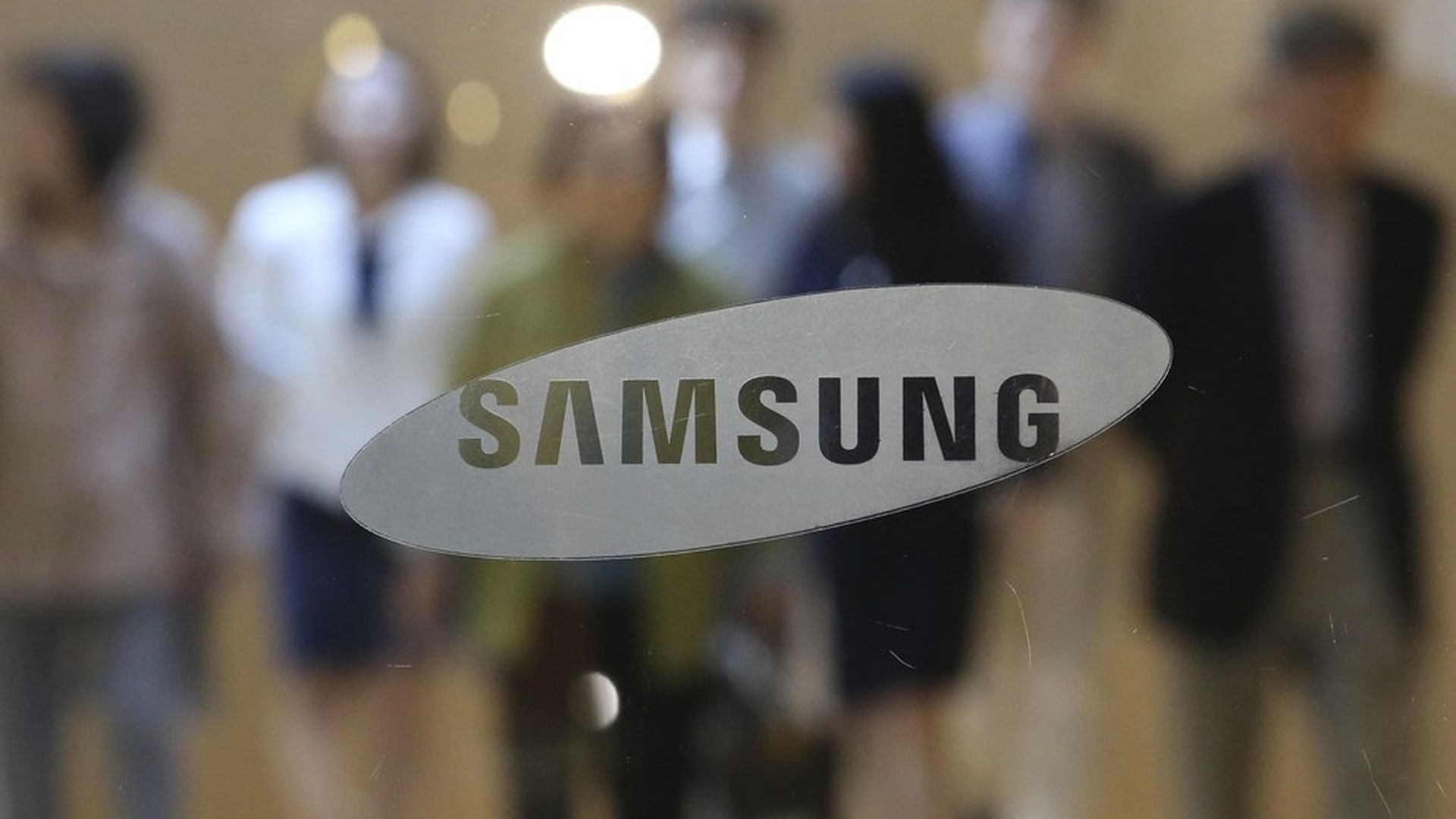 When people think of Samsung, they think more about specific pieces of hardware than they do about a platform with a thriving developer ecosystem. But, the Korean electronics giant would very much like to change that and hopes that today's Samsung Developer Conference in San Francisco marks a turning point.
Samsung mobile chief DJ Koh sat down with Login on Tuesday to talk about the company's work to unify its far-flung divisions, its relationship with Google, and how the company has moved forward from the disastrous Galaxy Note 7 scandal.
The bottom line: The company is the dominant player in Android and a force in appliances and home electronics, but has a ways to go to be seen as a serious player in software and artificial intelligence. Its initial efforts with Bixby got off to a slow start amid delays.
Go deeper: Read my interview here and watch the news from Koh's talk at the Samsung Developer Conference in our Axios tech stream.
https://www.axios.com/newsletters/axios-login-cac56595-7ce5-47d0-8d34-b894c168314f.html?chunk=1#story1
Everyone thinks their old iPhone is slowing when new one arrives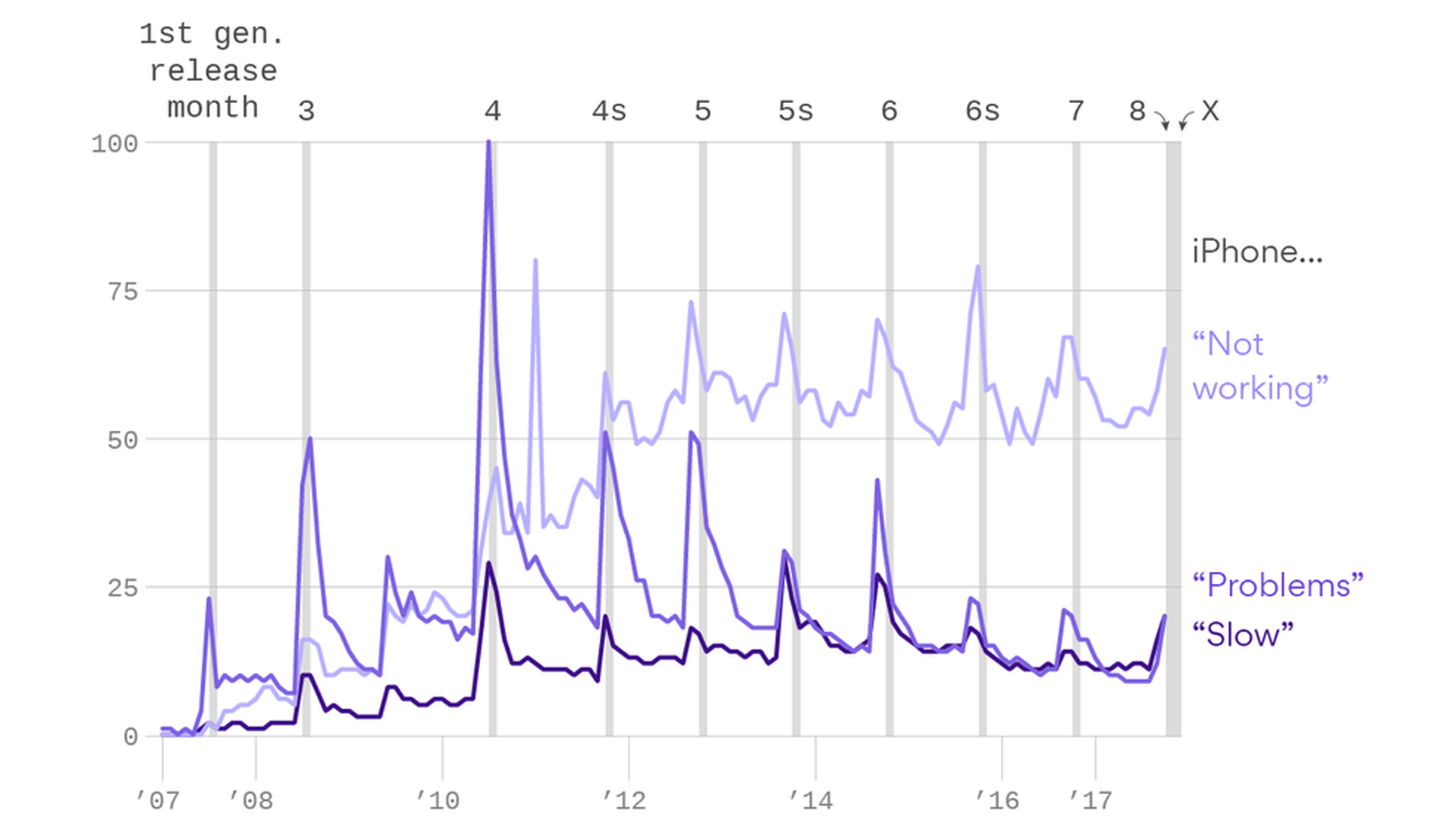 It happens every year. As soon as Apple releases a new iPhone and a new version of iOS, people say their old phone seems to be slowing down or suffering from worse battery life.
Search traffic from Google Trends indeed shows a significant spikes in searches for terms like "iPhone not working," "iPhone slow," and "iPhone problems." But is it a conspiracy, a real issue, or a coincidence?
Intrigue: This has led to a conspiracy theory that has been revived almost every year, claiming that Apple intentionally slows down old phones to entice iPhone users to upgrade to their newest, often more expensive product. But the phenomenon can also be explained by a few other reasons.
Axios' Stef Kight looked into it and here's what she found.
https://www.axios.com/newsletters/axios-login-cac56595-7ce5-47d0-8d34-b894c168314f.html?chunk=2#story2
"Boomerang" talent: Why Bay area workers are returning home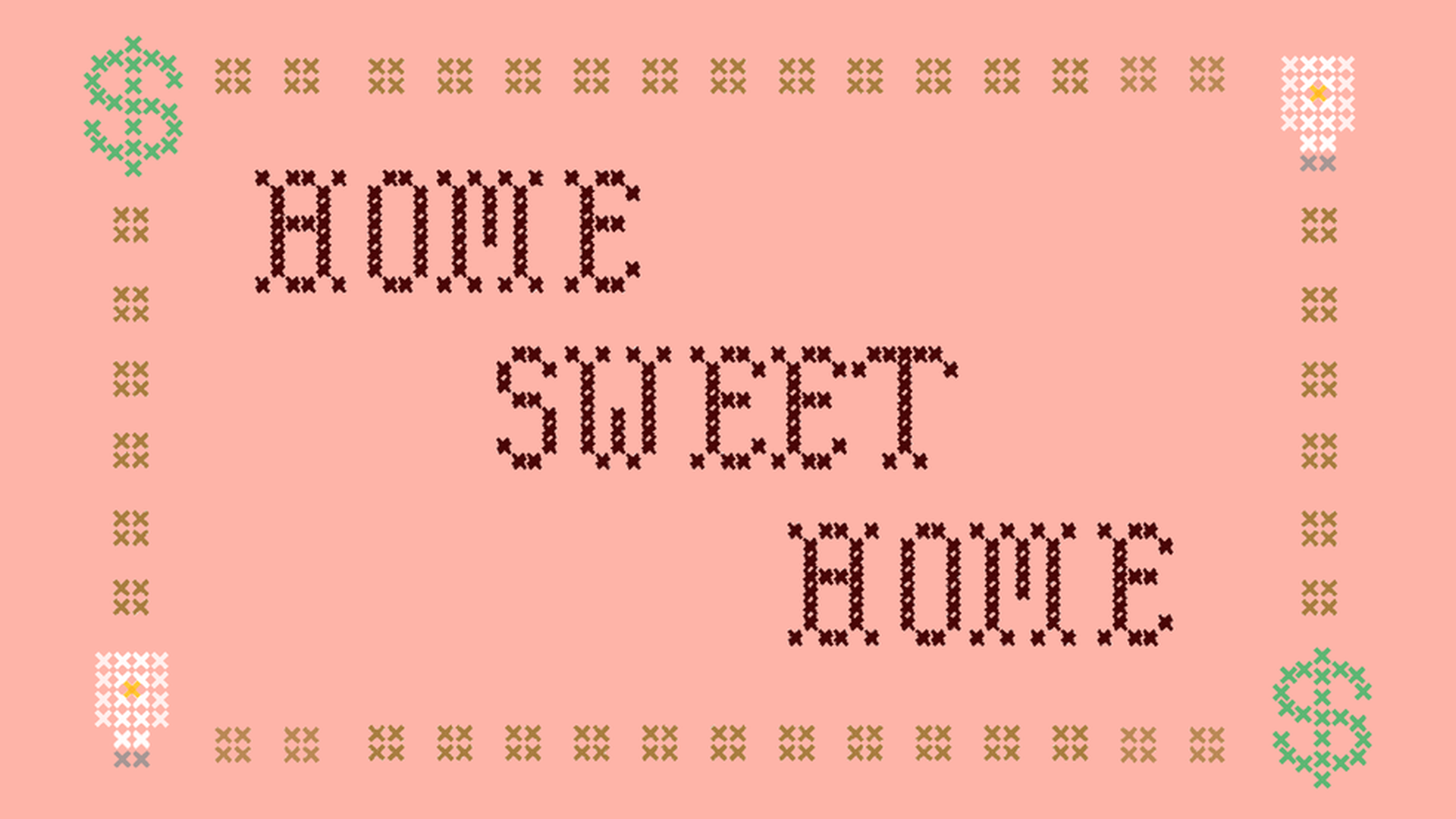 It's no secret that many Midwestern cities have lost population as jobs evaporated in recent years. But while traveling through four cities last week, Axios' Kim Hart heard a surprising number of people talking about the opposite: the younger generation coming back home.
Why it matters: Rust Belt cities have suffered from severe "brain drain" over the past two decades, thanks to a nationwide decline of manufacturing jobs. Young graduates often left their home towns to find job opportunities in larger cities like San Francisco, New York and Chicago. As the cost of living in bigger cities soars, some of these young professionals are looking for ways to return to their roots. And local employers are seizing the chance to lure them back.
Startup mobility: Several people Kim interviewed had moved to the San Francisco Bay Area right out of school to get experience in the tech industry when many parts of the country were still reeling from the recession. Fast forward seven or eight years, they get married, look at buying a house, and think about starting a family — and want the lifestyle they grew up with.
Read Kim's full report here. And check out this Axios Sourced video where she talks more about boomerang talent.
https://www.axios.com/newsletters/axios-login-cac56595-7ce5-47d0-8d34-b894c168314f.html?chunk=3#story3
Apple and GE team up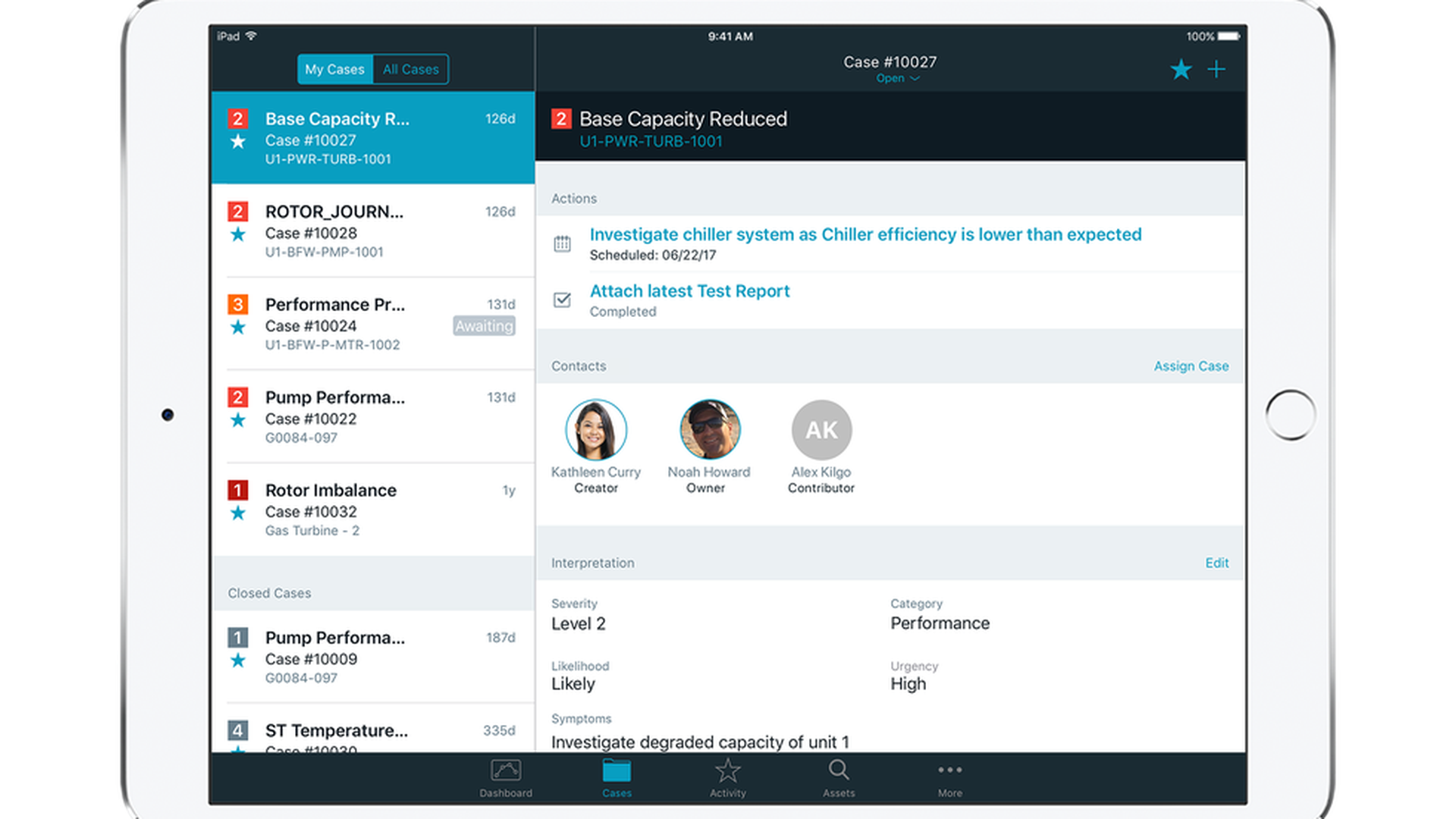 GE and Apple announced a deal on Wednesday that will see iPhones and iPads running the Predix software that GE customers use to control everything from elevators to jet engines to oil refineries.
As part of the deal, GE will also adopt the iPhone and iPad for part of its 330,000-person workforce and make Macs an option for all employees
Why it matters: Although iPhones are already widely used in business, Apple has been steadily trying to deepen the use of its devices within enterprises. Apple already has deals with IBM, Cisco, Accenture, SAP and others.
https://www.axios.com/newsletters/axios-login-cac56595-7ce5-47d0-8d34-b894c168314f.html?chunk=4#story4
​SoftBank spends big to rival to Silicon Valley and China in AI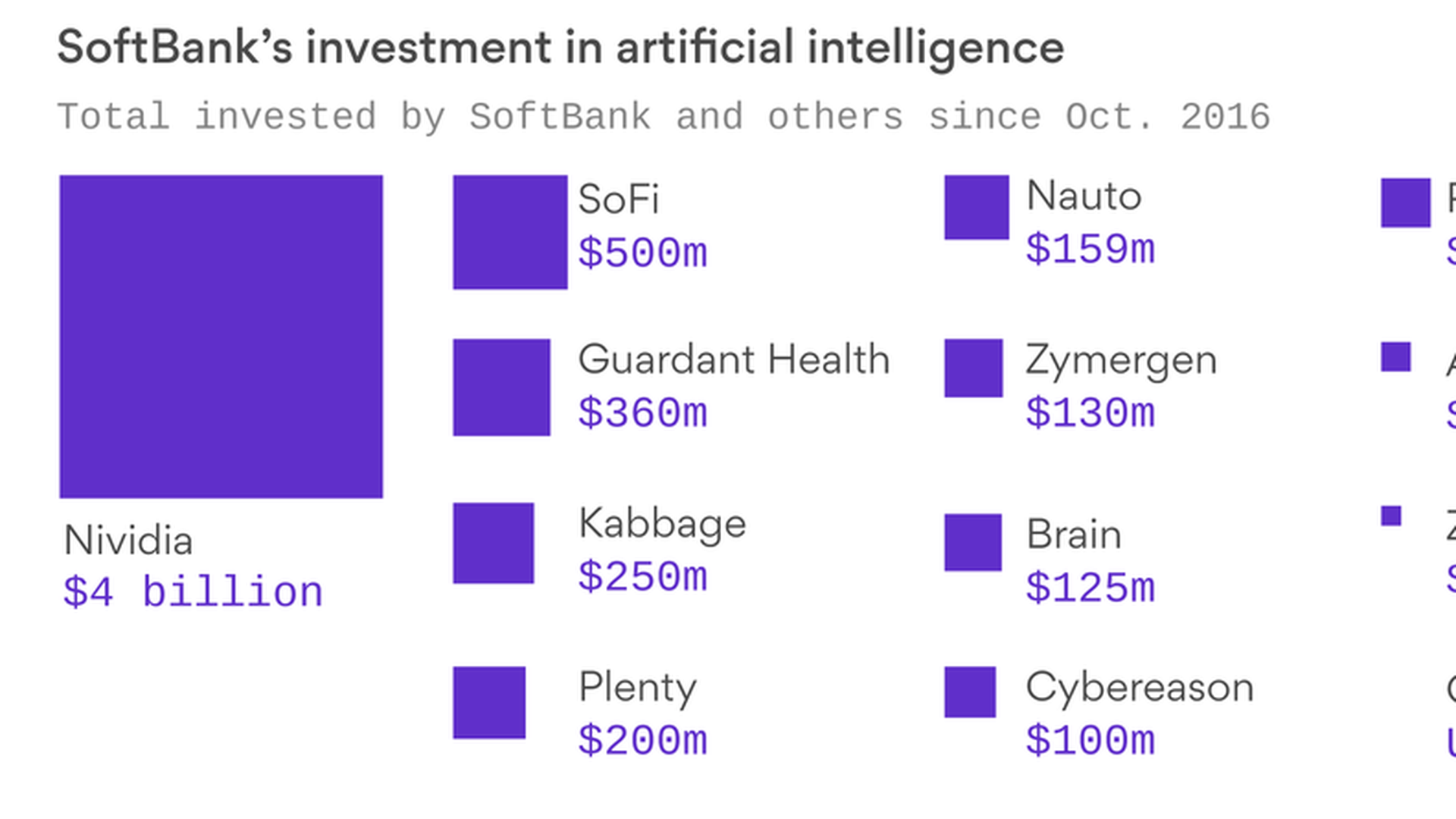 In a Sept. 20 speech in New York, Masayoshi Son, founder of the Tokyo company SoftBank, forecast that by 2047, the Earth will be populated by equivalent number of humans and robots — 10 billion each. And the robots, he said, will be "smarter than mankind." Over the last year, Son has been investing in that moment, which the tech community calls the "singularity."
Son's objective: When it comes to artificial intelligence, Son appears to intend to be every bit as big or bigger commercially than the U.S. and Chinese tech titans otherwise believed to be dominating AI research — Alibaba, Facebook, Google, Microsoft, Tencent and so on. Toward that aim, Son's $93 billion Vision Fund has put down large investments in at least a dozen promising AI startups (chart above).
Looking for outright acquisitions: Son also has been seeking acquisitions. In June, he acquired two serious robotics companies — Boston Dynamics and Schaft — for undisclosed sums. "What is my belief and vision for this investment? I have only one belief — [the] singularity," he said in New York.
https://www.axios.com/newsletters/axios-login-cac56595-7ce5-47d0-8d34-b894c168314f.html?chunk=5#story5
Take note
On tap: Samsung hosts its developer conference in San Francisco...WSJ's D.Live wraps up in Laguna Beach, Calif. ...eBay reports earnings after the close.
Trading places: Former DARPA head and Motorola executive Regina Dugan is leaving her post as head of Facebook's Building 8 hardware lab, telling Recode that "there is a tidal shift going on in Silicon Valley, and those of us in this industry have greater responsibilities than ever before."...Amazon Studios chief Roy Price, who had been suspended amid sexual harassment allegations, has resigned, CNN reports.
ICYMI: FCC chairman Ajit Pai broke his silence on President Trump's suggestion that NBC should have its license revoked, saying he believes in the First Amendment and that content shouldn't dictate spectrum licenses...Wired has details on what Twitter plans to do in its latest effort to combat hate and harassment...Google parent company Alphabet is spending $50 million to transform a section of Toronto into a smart city of the future, per The Verge...JPMorgan Chase is buying online payments firm WePay, WSJ reports...Google introduced a new option for individuals who want to more securely protect their personal Gmail accounts, the Wired writes...Microsoft debuted a new version of its Surface Book laptop, adding a 15-inch model, The Verge reports...It may not have released a product yet, but Magic Leap has raised another $500 million in funding, led by Singapore's Temasek.
https://www.axios.com/newsletters/axios-login-cac56595-7ce5-47d0-8d34-b894c168314f.html?chunk=6#story6