https://www.axios.com/newsletters/axios-login-c5fb5e65-e6fd-4fc2-ad81-67d5d32e3cae.html?chunk=0#story0
1 big thing: Cook to meet with Trump amid tariff concerns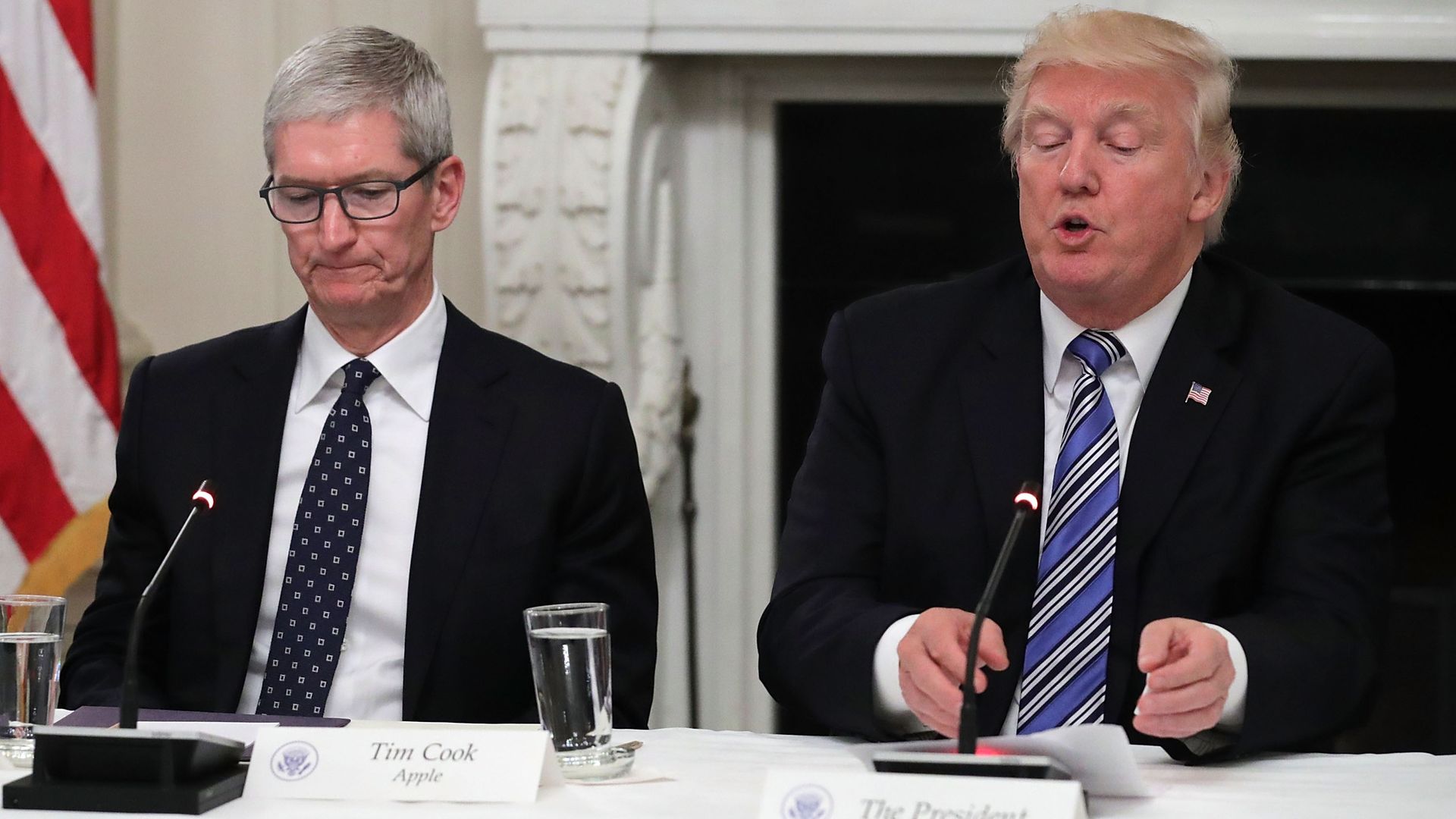 When President Trump decided to pick a trade war with China, he sent shivers through Silicon Valley. Many tech products — including zillions of iPhones — are made in China, which is also a big market for many U.S. tech companies.
So, talking down Trump is high on the agenda of lots of tech leaders, including Apple CEO Tim Cook, who happens have a meeting scheduled with the president later today.
The context: As the CEO of the world's most valuable company, Cook already has a strong voice. In this case, though, he's also speaking for the rest of the industry.
Trump's trade war has been a huge business concern — magnified by the fact the Trump administration gave just 60 days notice of which products would be subject to the new tariffs.
What we're hearing: "That's a tough way to run things," said one executive at a large multinational electronics company,
The executive said when the list of affected products was released, it was kind of like a group of college students scrambling to read a printout on the wall to figure out if they had passed or failed a test.
"Oh good, phones aren't on the list," he said, of his initial reaction. However, other things the company makes, like TVs and some appliances, are on the list.
Short notice: If there was a year's warning, maybe companies could come up with some alternate options, but 60 days doesn't give enough time really change production plans. This makes lobbying Trump to change course all the more important.
Plus: Cook is also looking to feel out the president more broadly when it comes to economic policy. The Apple chief had a close relationship with former economic adviser Gary Cohn (the two were frequently spotted dining together) but where things stand with the new economic adviser Larry Kudlow is less clear.
Coming to dinner: Cook, as well as Apple VP (and former EPA administrator) Lisa Jackson, were among those at last night's White House state dinner. Also on the guest list, per CNN, were IBM chief Ginni Rometty and Lockheed Martin CEO Marillyn Hewson.
https://www.axios.com/newsletters/axios-login-c5fb5e65-e6fd-4fc2-ad81-67d5d32e3cae.html?chunk=1#story1
2. Scoop: Airbnb says it could save the government billions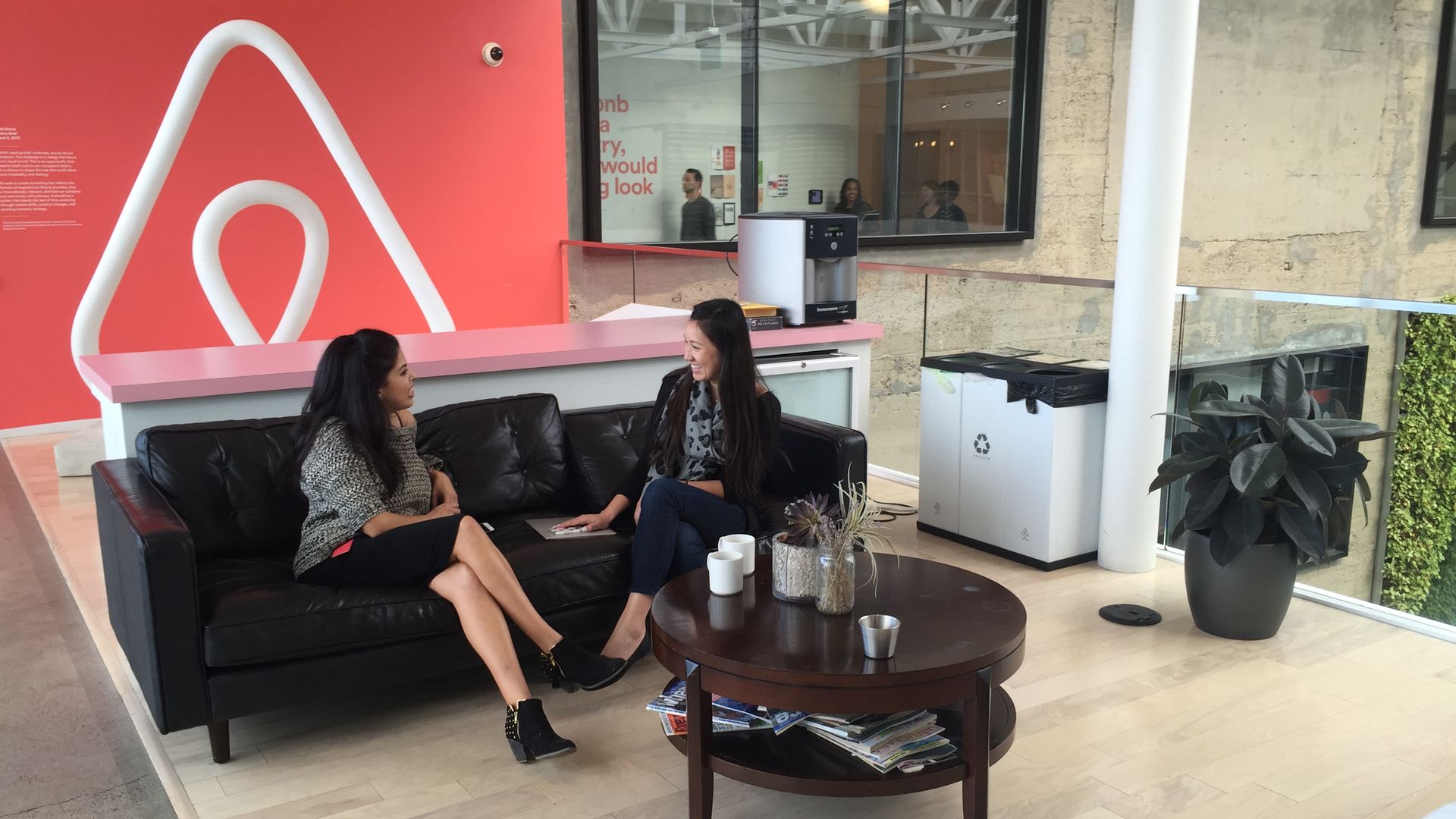 Airbnb has a new report that argues that the federal government could save as much as $4.1 billion over 10 years by staying in its properties rather than hotels.
But, but but: Even if the government shifted some to Airbnb, it's unlikely to stop using hotels altogether. Nonetheless, Airbnb says that shifting a quarter of travel nights to Airbnb listings could potentially save more than $100 million per year.
More than just dollars: The home sharing site also makes the case that doing so would put money into ordinary people's hands and help federal workers get closer to the communities they serve.
What's next: CEO Brian Chesky will make the case in person later today when he keynotes an Internet Association dinner in D.C.
https://www.axios.com/newsletters/axios-login-c5fb5e65-e6fd-4fc2-ad81-67d5d32e3cae.html?chunk=2#story2
3. Meet the scooter winning the "scooter wars"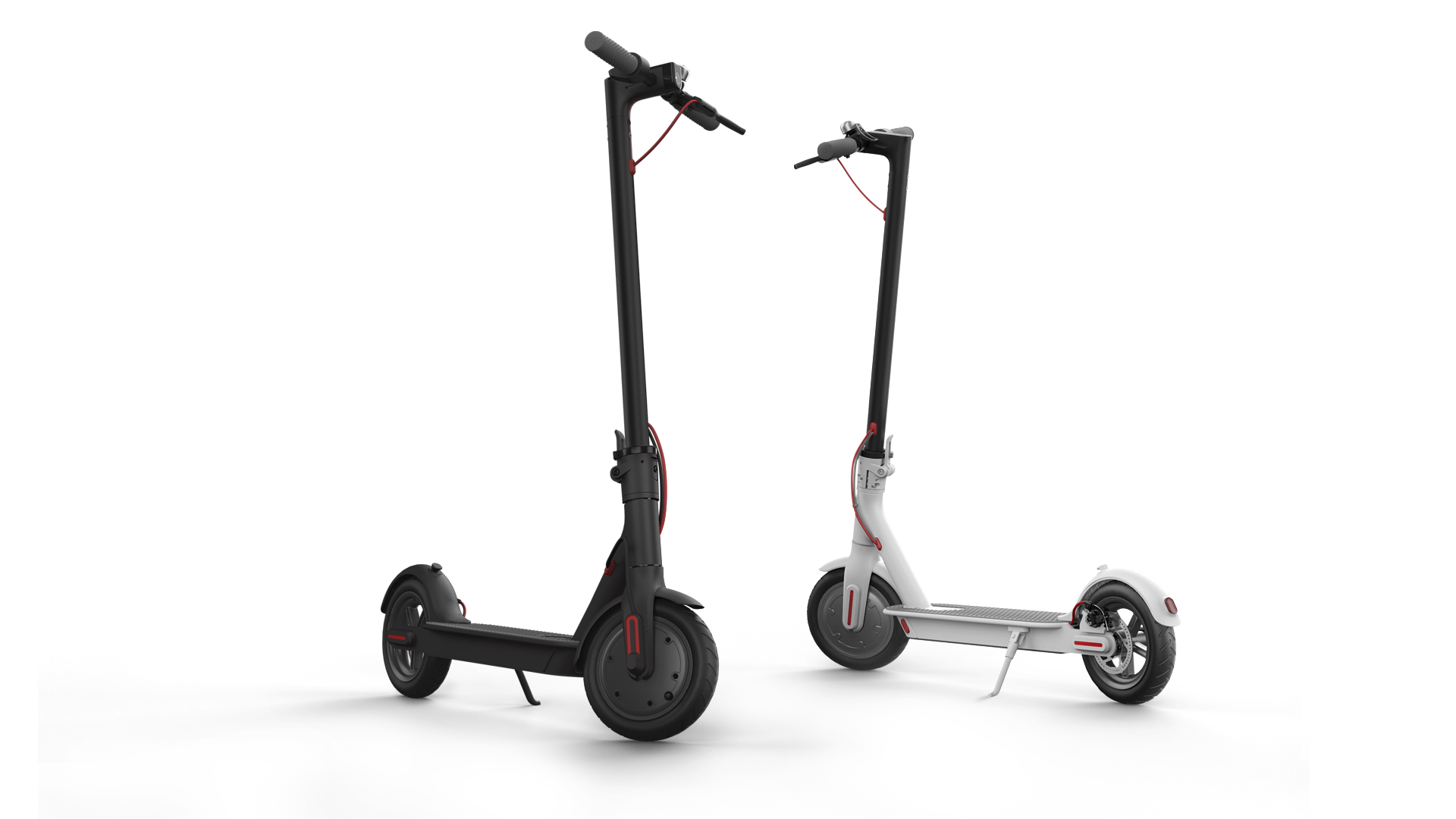 The "scooter wars" are raging in San Francisco (and other cities). But even as several firms battle one another, and angry residents battle the scooter companies, one product is a clear winner: the Xiaomi Mi electric scooter.
Why it matters: For now, several startup scooter companies have found a reliable vehicle in the Xiaomi product — but as this war heats up, they may find that designing and manufacturing their own scooters will help differentiate them, reports Axios Kia Kokalitcheva.
The Segway connection: In 2015, the same year Ninebot raised $80 million from investors like Sequoia China and Xiaomi, among others, it also merged with Segway — yes, that Segway company. This means Segway just might become part of the future of transportation after all.
The Xiaomi Mi scooter was created for personal use, but it has quickly become the model of choice for a number of electric scooter-sharing startups.
The list of companies using the Mi includes Spin, Blue Ducks and Bird. (Although Bird won't confirm its use of the Xiaomi scooter, sources outside the company have identified the vehicle.)
All of these companies have customized their scooters, adding GPS-enabled tracking devices and integrating their own mobile apps, among other tweaks.
LimeBike has designed its own scooter, while Waybots uses a scooter by Minimotors.
Go deeper: Kia has more here.
https://www.axios.com/newsletters/axios-login-c5fb5e65-e6fd-4fc2-ad81-67d5d32e3cae.html?chunk=3#story3
4. Popular hotel lock is vulnerable to hackers
Researchers at cybersecurity firm F-Secure have discovered a security flaw in the most popular manufacturer line of digital hotel locks, Axios' Joe Uchill reports.
The bottom line: A patch that has already been released, but it is likely that not all the doors have been patched given that the locks are in use at roughly 40,000 hotels. This is a prime example of a company doing everything right and still having vulnerabilities because no product is 100% secure.
Go deeper: Joe has more here.
Separately: Joe also reports that researchers at the security firm CheckMarx have discovered a security flaw in Amazon's Alexa that could have been used to eavesdrop and transcribe any ambient conversation.
However, it requires a user to not only install, but also run, a malicious app on Alexa, and not notice Alexa's trademark blue light never turns off.
Plus, Amazon has now released a patch, meaning it is not an issue for up-to-date Alexa systems.
https://www.axios.com/newsletters/axios-login-c5fb5e65-e6fd-4fc2-ad81-67d5d32e3cae.html?chunk=4#story4
5. Take Note
On Tap
Facebook's earnings report will be especially closely watched this quarter. Among the questions: What impact to costs or revenue does Facebook see from its swirling privacy issues?
Also reporting earnings are AT&T, Qualcomm, eBay, PayPal and AMD, among others.
Trading Places
Facebook is shaking things up in its D.C. office. Former FCC Commissioner Kevin Martin, who has been at the social network for some time, will serve as interim VP of U.S. policy efforts. He replaces Erin Egan, who gives up the policy post but will continue to serve in her other role as the company's chief privacy officer.
Sprinklr hired Microsoft veteran Grad Conn as chief experience and marketing officer. Conn spent 11 years at Microsoft, most recently as chief marketing officer for its U.S. commercial business.
The Center for Democracy & Technology is adding Republican strategist Bruce Mehlman to its board of directors.
ICYMI
https://www.axios.com/newsletters/axios-login-c5fb5e65-e6fd-4fc2-ad81-67d5d32e3cae.html?chunk=5#story5