Alexa, write the Login intro. Hey Siri! OK Google. Come on. Don't just sit there silently. I know you all can hear me.
https://www.axios.com/newsletters/axios-login-c27da7f6-b034-4736-a36b-c706bc794d16.html?chunk=0#story0
Indian entrepreneurs pledge $30 million to use "AI for good"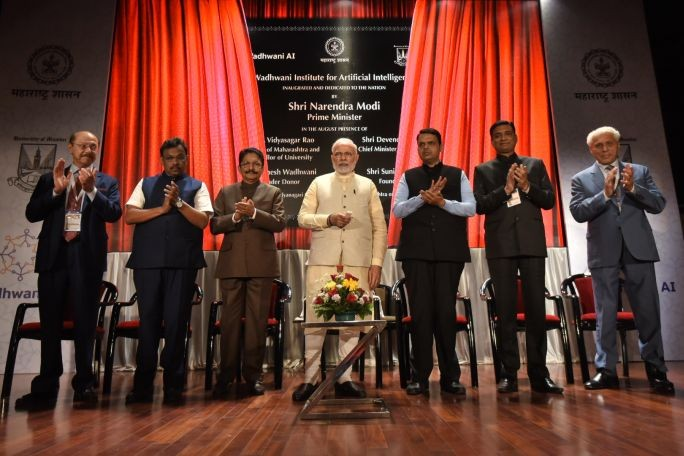 India Prime Minister Modi attended the recent opening of the Wadhwani Institute in Mumbai. Photo: Wadhwani Institute
A new research center in Mumbai aims to use artificial intelligence to help the hundreds of millions of people that live on less than $2 a day.
What's happening: Indian entrepreneurs Sunil and Romesh Wadhwani are pledging $30 million over 10 years for the center, which is being run by P. Anandan, the founding managing director of Microsoft Research India.
The big picture: Sunil Wadhwani told Axios that while AI can help Amazon sell more goods or Google improve its click-through rates, it can also empower rural health workers or impoverished farmers in India.
"The benefits of AI are going to the top whatever — 5,10 20 percent," he said. "So far it's made relatively little difference to the bottom 20-30 percent of the world's population."
And, while a few academics are looking at the issue, Wadhwani said that until now "there was no really critical mass anywhere in the world where practitioners could come together."
A few other facts about the Wadhwani Institute:
It currently has 8 engineers and researchers with a goal of 20 within the first year.
The institute is partnered with the government of the Indian state of Maharashtra and also hopes to work with other universities, NGOs and governments.
Health care, transportation, agriculture and infrastructure are among the areas of focus.
India Prime Minister Shri Narendra Modi spoke at the institute's recent opening:
"The march of technology cannot be at the expense of further increasing the difference between societies."
https://www.axios.com/newsletters/axios-login-c27da7f6-b034-4736-a36b-c706bc794d16.html?chunk=1#story1
Most Americans aren't ready for self-driving cars
More than half of U.S. adults are uncomfortable with self-driving vehicle technology and would be unlikely to use it on a daily basis (though younger Americans are more positive), according to a Northeastern University/Gallup survey released today.
What they found: 59% of respondents said they would be uncomfortable riding in a fully self-driving car on a daily basis, and 62% would be uncomfortable sharing the road with fully self-driving trucks, Axios' Ben Geman reports.
Why it matters: Many automakers — ranging from the largest car companies to newer entrants like Waymo and Tesla — are making big bets on autonomous driving technology, which is also expected to help drive the expansion of electric vehicles. Public hesitation could hamper widespread commercial deployment of both technologies in the years and decades ahead.
Yes, but: The pollsters said Americans may be underestimating their willingness to adopt the emerging autonomous technology. Their analysis notes that in a Gallup survey in 2000, almost a quarter of adults said they would never get a cellphone, but that technology is obviously ubiquitous now.
Go deeper:
https://www.axios.com/newsletters/axios-login-c27da7f6-b034-4736-a36b-c706bc794d16.html?chunk=2#story2
U.S. cell networks added more cars than phones in 2017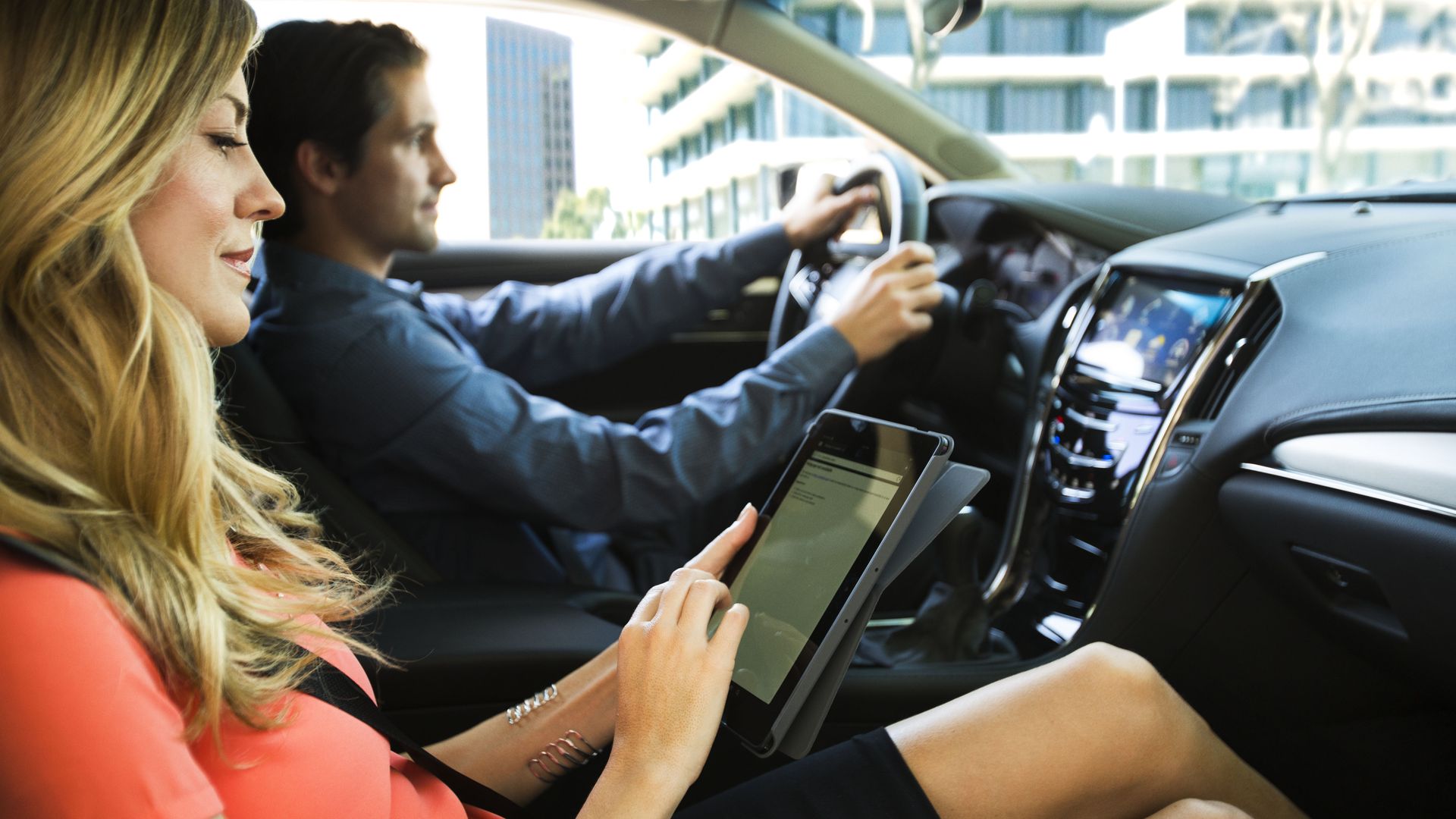 When we think of wireless networks, we think of smartphones. But in 2017, for the first time, more cars than phones were added to U.S. cellular networks, according to a new report from industry consultant Chetan Sharma.
"AT&T dominates the connected car segment," Sharma said, noting that the company has added 1 million or more cars to its network for each of the past 11 quarters.
The bottom line: While there were more cars added, the money is still in smartphones, which have higher monthly service fees and generate the bulk of carrier revenue and profits. Still, as smartphone sales level off, other types of devices will become increasingly important.
Other findings:
Data consumption in the U.S. reached 6 GB/month in the U.S. (The U.S. is third behind Finland and Korea on that metric and tops countries with a population of more than 60 million.)
U.S. smartphone penetration reached 93%.
T-Mobile is still outgrowing the competition, accounting for more than three quarters of the net growth in phones.
https://www.axios.com/newsletters/axios-login-c27da7f6-b034-4736-a36b-c706bc794d16.html?chunk=3#story3
Kochs take on Amazon over HQ2 tax breaks
A group linked to the Koch brothers is trying to convince young Americans to just say "No" to giving Jeff Bezos a tax break or other incentives.
What they're doing: Generation Opportunity — a right-leaning group for young people linked to the Koch-backed Americans for Prosperity — is running a digital ad campaign that calls big incentive packages for Amazon's second headquarters "sweetheart deals" that are "unfair to taxpayers."
The ad is running on Instagram, Facebook and Twitter, reports Axios' David McCabe, and will be targeted to 18–38 year olds who are seen as possible supporters of free-market issues. It'll be geographically targeted to the locations that are finalists for Amazon HQ2.
The group declined to comment on how much money it would spend on the ads.
The bigger picture: This is another example of skepticism about possible tax deals for the online commerce giant — but that doesn't seem to be slowing down the HQ2 selection process.
Go deeper: Why the tax breaks to lure HQ2 could be significant.
https://www.axios.com/newsletters/axios-login-c27da7f6-b034-4736-a36b-c706bc794d16.html?chunk=4#story4
Take Note
On Tap
Trading Places
Cloud data management company Rubrik announced it has hired Atlassian financial chief Murray Demo as its CFO and added Microsoft chairman John Thompson to its board of directors. It also said it's close to reaching a $300 million annual run rate.
Netflix chief product officer Greg Peters is joining the board of educational tech company 2U.
Shapeways, the 3D printing service and marketplace, named Gregory Kress as CEO. Kress was previously president and COO of Open Education and spent 11 years at GE.
ICYMI
https://www.axios.com/newsletters/axios-login-c27da7f6-b034-4736-a36b-c706bc794d16.html?chunk=5#story5