Axios Login
August 02, 2022
I'm not saying inflation is bad, but according to the latest numbers, a stitch in time is only saving about seven and a quarter.
🔔 Situational awareness: Sheryl Sandberg officially stepped down as COO of Meta yesterday, according to an SEC filing, two months after she announced her departure.
Today's newsletter is 1,333 words, a 5-minute read.
1 big thing: Khan's risky move on Meta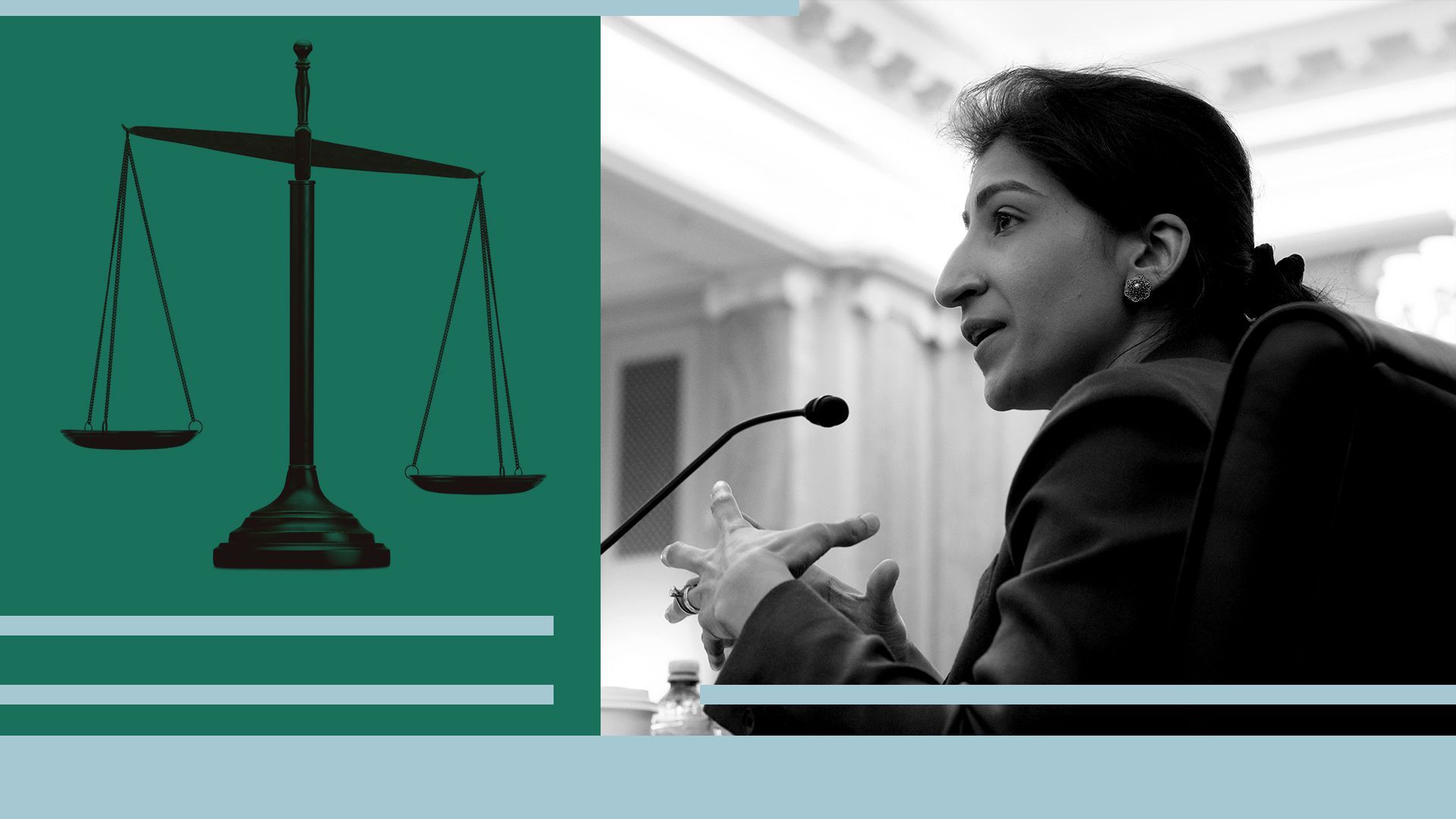 Federal Trade Commission chair Lina Khan's decision to challenge Meta's acquisition of a small VR gaming startup has cheered her supporters and left critics wondering what she was thinking, Axios' Ashley Gold reports.
The big picture: Critics see the case as a legal stretch the agency is unlikely to win. Supporters see it as a necessary first test of a bold new doctrine aimed at stopping tech monopolies before they take root.
Driving the news: The FTC sued Meta last week over its deal to buy Within Unlimited, the maker of Supernatural, alleging the social networking giant is "already a key player at each level of the virtual reality sector."
Khan has been setting the stage for this type of action since taking the helm of the FTC last summer. She told Axios in June the agency would aim to challenge anti-competitive acquisitions in court rather than negotiate settlements that ask companies to modify deal terms.
The new stance would apply particularly to deals involving next-generation technologies.
Khan's critics view the case against the Within deal as weak, with little evidence to prove the acquisition harms competition in the VR fitness market.
FTC staff recommended against bringing the case, and Khan overruled them, per a Bloomberg report. The vote was 3-2, with the two Republican commissioners voting against it.
"Case selection is critical, given the resource constraints, and the damage that a bad opinion can do. Every case you bring means there's another case you can't," a former FTC official told Axios.
The intrigue: Looming behind this case is the FTC's long history with Meta, whose acquisition of Instagram and WhatsApp the commission approved a decade ago. The commission regretted that decision enough that it opened a new case against the deal in 2020.
"The informing vision for [the FTC] is Instagram and WhatsApp. In their view, if the FTC had jumped in [on those acquisitions], the future of social networking would have been far different and better," former FTC commissioner William Kovacic told Axios.
"They come at this with a view that we were far too permissive before, and that a great blind spot in antitrust enforcement was the acquisition of these relatively small, interesting startups by the leading players," he said.
The other side: Those who support Khan's effort to challenge Big Tech power argue the FTC has to bring new cases, even if previous case law suggests they might fail.
"The FTC has concluded that Facebook has acted in a manner contrary to the public good for so long, and in so many different areas, that the government should not stand by and allow it to extend its reach into a new category," Roger McNamee, a venture capitalist and early investor in Facebook who's been working as an activist for tech industry reform, told Axios.
"The harm that comes from gobbling up nascent competitors is a novel argument under antitrust law," Alex Harman, director of government affairs at the Economic Security Project, told Axios. "It is good to push the bounds of the law rather than avoid challenges because they haven't traditionally been made on those grounds."
2. Exclusive: 2 Peterson videos demonetized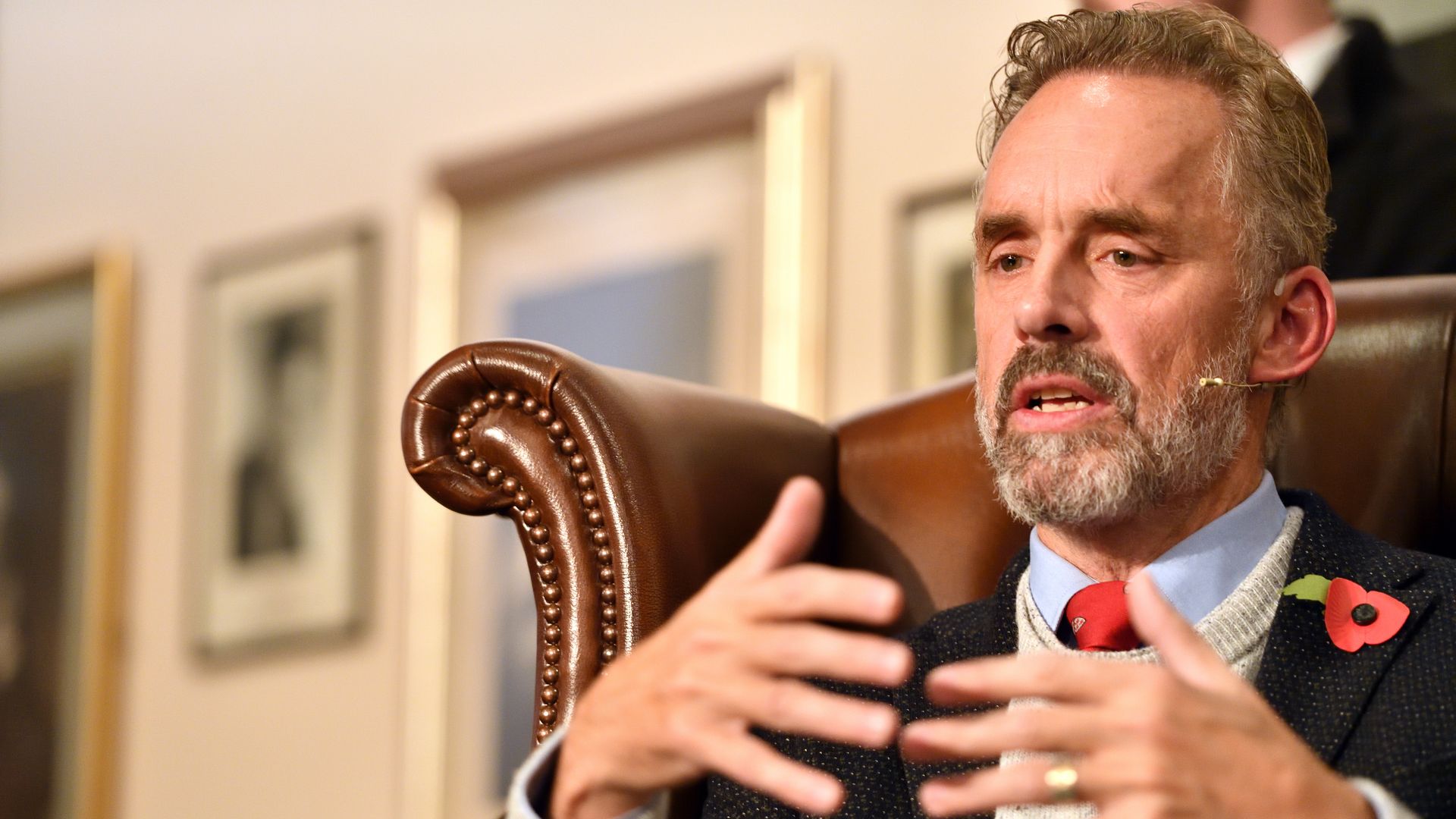 YouTube has quietly stopped serving ads for a pair of videos that feature controversy-stirring Canadian professor Jordan Peterson deliberately misgendering actor Elliot Page and likening gender-affirming care for transgender people to Nazi-era medical experimentation.
Why it matters: The move is likely to anger Peterson's online supporters, who say the platform should not interfere with his speech at all — but it also won't satisfy his critics, who believe his words amount to prohibited speech that should be removed.
Driving the news:
In late June, Twitter forced Peterson to delete tweets misgendering Page. The service has a policy that prohibits targeted misgendering and deadnaming as a form of harassment of transgender people.
Peterson then posted a 15-minute YouTube video attacking Twitter and its policies. The video repeatedly misnamed and misgendered Page, while also railing against gender-affirming health care and calling transgender identity "a viciously harmful fad."
A second Peterson video declares gender-affirming care — endorsed by the American Medical Association, the American Academy of Pediatrics, the American Psychiatric Association and many other professional groups — as flatly wrong. "It's not just wrong," he says. "It's Auschwitz and Gulag-level wrong. It's Nazi medical experiment-level wrong."
YouTube demonetized both videos in recent weeks, meaning neither the platform nor Peterson will be able to earn income directly from ads on them. (The first video has more than 3 million views, and the second has topped 500,000 views.) However, YouTube left the videos up and continues to serve ads on Peterson's other videos.
Between the lines: While YouTube also has a hate speech policy and a harassment policy that can lead to videos being removed, a wide range of anti-transgender content is allowed to remain online.
YouTube, for example, says in its policy that it prohibits content that features "prolonged name calling or malicious insults based on intrinsic attributes, including sexual orientation or gender identity."
However, it doesn't view deliberately misgendering someone, even repeatedly, as a violation of that rule.
A recent GLAAD report highlighted the link between discussions on social media and the ideas and language finding their way into anti-trans legislation. The same report gave failing marks to all of the major social media networks for keeping their users safe.
"In demonetizing these two videos, YouTube is confirming that Jordan Peterson's hate-driven anti-trans rhetoric is in violation of the platform's community guidelines," a GLAAD spokesperson told Axios.
However, the organization says, YouTube should have taken the videos down entirely.
3. The ad industry's cookie chaos
Advertisers and digital publishers are nowhere near an agreement on how to replace third-party tracking cookies, and instead have clung to various ad hoc solutions that don't all work well together and lack sufficient oversight, Axios' Sara Fischer reports.
Why it matters: The push to be more privacy-centric has muddled an already messy digital ad ecosystem, and many of the changes being introduced could easily be upended by future legislation.
Driving the news: Google's decision last week to delay ending support for third-party cookies until 2024 — the second delay in two years — was a signal to the entire industry that this period of limbo isn't ending anytime soon.
The decision, Google said, was prompted by feedback from its advertising and publishing partners that they need more time to test alternate solutions. But most marketers aren't waiting on Google to begin such testing.
State of play: Looming privacy legislation and antitrust threats have forced major internet companies like Google and Apple to begin implementing privacy changes before regulators can take aim at their businesses.
Google hopes to create a cross-industry framework for all parties across the open web. But those changes only apply to its Chrome browser and its Android operating system, and not all web use happens on Chrome or Android.
Apple, on the other hand, has already begun instituting its own unilateral privacy changes for its browser, Safari, and within its iOS mobile operating system.
Be smart: Instead of waiting to see how Google and Apple's changes shake out, many advertisers and publishers have begun to rally around new solutions that can — at least in the next few years — offer targeting alternatives for ads online without cookies.
4. Take note
On tap
A bunch of tech earnings reports are slated for today, including Uber, Airbnb, PayPal, AMD and Electronic Arts.
Trading places
Amazon has hired Judd Smith, a former aide to Republican Sen. Chuck Grassley, per Bloomberg. Smith was counsel to the Senate Judiciary Committee when it wrote a still-pending antitrust bill. The move comes as Amazon seeks to fend off antitrust regulation in the U.S. and elsewhere.
Photonics startup Lightmatter has tapped 21-year Intel veteran Ritesh Jain to be VP of engineering.
ICYMI
The SEC announced charges on Monday against 11 people involved in an alleged blockchain-enabled Ponzi scheme called Forsage. (Axios)