Yes, I am still in Maui. Yes, I know you are tired of hearing that. Also, we're trying some different formatting with the Take Note section. Let me know what you think at ina@axios.com or just by hitting reply to this newsletter.
https://www.axios.com/newsletters/axios-login-bc388b6d-9c59-4c13-b471-e9d65ff18659.html?chunk=0#story0
Snap, Google, Facebook again dominate top iPhone apps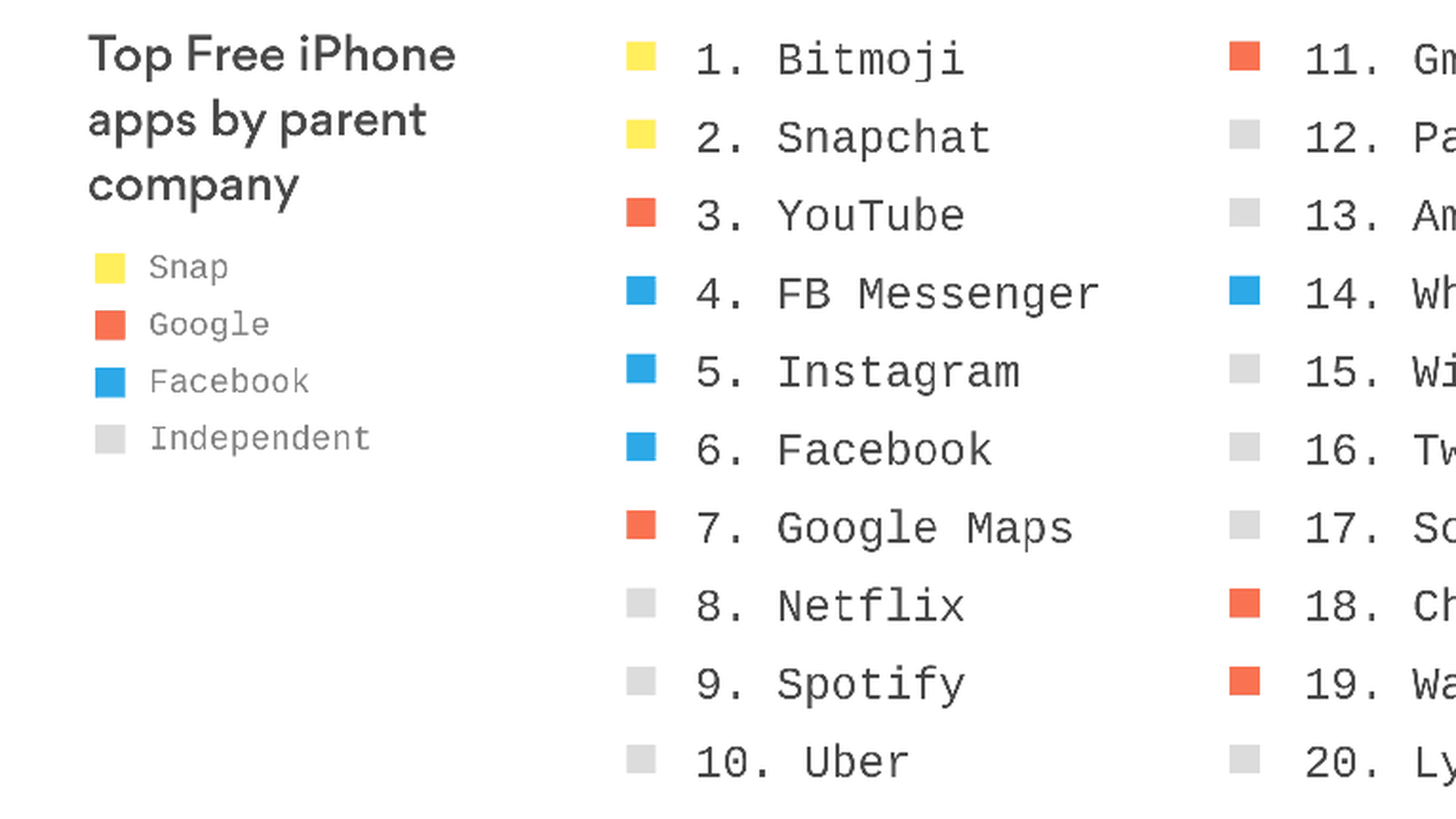 Apple released its list of top free iPhone apps for the year and, once again, the list was dominated by titles created by Facebook, Google and Snap. Their apps, which combined led the top seven spots, were followed by Netflix, Spotify and Uber.
Why it matters: These companies dominate the share of ad spending so it's vital to their future to have top-ranked mobile apps as well. On the other hand, it's getting harder and harder for others to find their way to the top of the charts.
Apple also released its Top 20 for other categories, including: paid apps, free and paid games, music, movie, TV shows and books.
Read more: You can see all the Top 20 charts in this story.
https://www.axios.com/newsletters/axios-login-bc388b6d-9c59-4c13-b471-e9d65ff18659.html?chunk=1#story1
Qualcomm's Snapdragon 845 takes clear aim at Apple
Qualcomm unveiled details on its next-generation cellphone chip Wednesday and a couple of the features seem tailor-made to helping Android rivals take on the iPhone.
Face ID — Qualcomm didn't name the Apple authentication method by name, of course, but did talk about using 3D depth-mapped face images as a means of authentication, so expect to see this on high-end Android devices in 2018.
Single camera portrait mode — this has already shown up on Google's Pixel 2, but with Qualcomm building chip-level support that means it should also appear in a wide range of devices next year.
Why it matters: For all the criticism from regulators and rivals, Qualcomm continues to put the building blocks into its chips that are needed to allow even small smartphone makers to issue high-end phones to rival the biggest names in the market.
https://www.axios.com/newsletters/axios-login-bc388b6d-9c59-4c13-b471-e9d65ff18659.html?chunk=2#story2
​Protectionist policies may be causing data "fragmentation"
The internet may be global, but regulation of it is local. That's driving increasing "data fragmentation" that is becoming a threat to global business, Accenture says in a new report.
A few key points:
The number of restrictive trade measures adopted by G20 members has quadrupled since 2010.
The number of countries with data privacy laws has tripled since 1995.
91% of the CTOs surveyed say increasing barriers to digital trade will raise IT costs over the next 3 years.
The takeaway: Borders matter more than ever as international rules are developed to govern how data — the "gold" of the digital age — cross between countries. These policies are usually created with good intentions, like strengthening privacy and security. The tech industry argues that's why broad global trade agreements are needed to set a standard for how data is stored and shared around the world.
Go deeper: Axios' Kim Hart and Sara Fischer took a look at this topic on Tuesday, writing about the potential for a trade war over data
https://www.axios.com/newsletters/axios-login-bc388b6d-9c59-4c13-b471-e9d65ff18659.html?chunk=3#story3
Tech execs say government role needed in checking jobs impact
My colleague Kia Kokalitcheva moderated a TechNet panel yesterday. Kia relays some of the points they discussed...
There is a stereotype that Silicon Valley's companies don't want to be anywhere near lawmakers. But four tech business leaders said otherwise on Wednesday during an event in San Francisco organized by TechNet as they discussed technology's continued impact on American jobs.
Bottom line: As technology continues to shape the the economy, there are critical areas that require regulation — or, at the very least, collaboration with government — to keep Americans from being left behind. Technology's impact is only going to become greater. Some panelist suggestions include:
Housing policies that would increase the access to urban jobs for more workers instead of letting those places be affordable only to the richest Americans, said Thumbtack CEO Marco Zappacosta.
Civil service and procurement policy reform that make it easier to recruit and retain talented Americans from the private sector, said Code for America executive director Jennifer Pahlka.
Education policies and investment to increase Americans' access to new technologies and prepare them for the jobs of the future, said Box CEO Aaron Levie.
Health care access, especially for American workers who are the most financially vulnerable, said Postmates CEO Bastian Lehmann.
https://www.axios.com/newsletters/axios-login-bc388b6d-9c59-4c13-b471-e9d65ff18659.html?chunk=4#story4
The smart speaker war is on
The battle for smart speakers is raging on various levels. Axios' Chris Matthews has a piece looking a some of the dynamics, including just how much voice recognition on a speaker could disrupt the retail business.
Industry moves: Amazon, of course, is looking to grab a greater share of retail spending with its array of Echo speakers and Alexa-powered devices.
That leaves Google as a surprising potential white knight for big retail. The company has already linked up with Walmart, but there could be room for one or two other partners. For those that don't strike a deal with Walmart, Apple and Microsoft could be options, though it's unclear just how far either company is looking to go in this space.
Speaking of smart speakers, Qualcomm showed off a reference design for a speaker using its next high-end phone chip, the Snapdragon 845. That should allow even more players to get into the game with quality gear.
https://www.axios.com/newsletters/axios-login-bc388b6d-9c59-4c13-b471-e9d65ff18659.html?chunk=5#story5
Take Note
On Tap
Qualcomm's Snapdragon Summit wraps up in Maui (and Qualcomm CEO Steve Mollenkopf speaks this morning at the Economic Club in D.C.)
Fortune's Global Forum is taking place in Guangzhou, China.
Trading Places
ICYMI
https://www.axios.com/newsletters/axios-login-bc388b6d-9c59-4c13-b471-e9d65ff18659.html?chunk=6#story6