See, going back to work wasn't so bad. OK, maybe it was, but hopefully the return of Login made it just a teensy bit better. That said, the first couple items today aren't likely to give you a warm fuzzy feeling.
https://www.axios.com/newsletters/axios-login-b61379f7-f5f1-470a-a02b-bba5f61865ad.html?chunk=0#story0
Twitter faces heat over Trump's latest North Korea tweet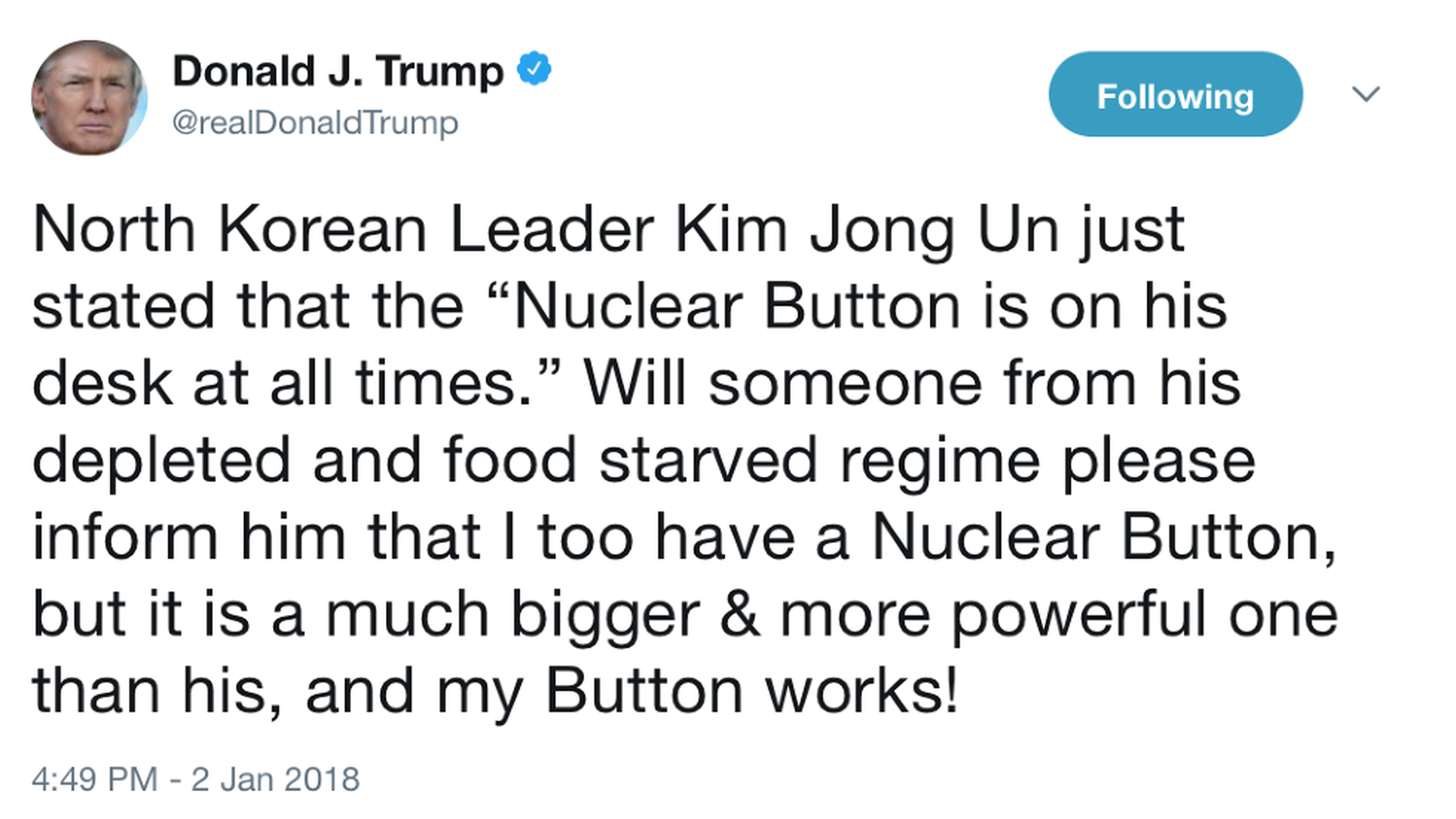 Twitter faced renewed criticism Tuesday after President Trump took to the service to taunt North Korea's Kim Jong-un over the size of his, um, nuclear button.
Among other things, his tweet sparked a debate on the social media platform's policy and why this should be deemed allowable under Twitter's revised rules regarding inciting violence.
Yes, but: As former HUD public affairs director Brandon Friedman notes, Twitter included an exception in its latest rules on violence and physical harm that exempts governments and militaries.
Other takes: Twitter's former head of news and government Adam Sharp argues that Trump's messages to North Korea are bad policy, but shouldn't be banned. Meanwhile, a group of protesters are planning to demonstrate Wednesday outside Twitter's HQ demanding that either Trump or Twitter CEO Jack Dorsey goes.
My thought bubble: This issue isn't going away for Twitter. The big question for Twitter is what wouldn't they let the president say.
https://www.axios.com/newsletters/axios-login-b61379f7-f5f1-470a-a02b-bba5f61865ad.html?chunk=1#story1
Computer security world buzzing about a big Intel bug
The IT industry is bracing for the disclosure of a major bug in Intel chips that could affect processors going back a decade and require significant updates to Windows, Linux and cloud operating systems.
There already have been some reports on market impact, as rival AMD shares rose this morning.
The big question: Making the software changes needed to mitigate the security risk could result in a significant performance drop, though the amount is unclear. Prominent security researcher Dan Kaminsky says that the worst-case scenario fears of a 30% performance hit is unlikely.
"Let's be a bit cautious about presuming to know the impact of the x86 page table vulnerability," Kaminsky said on Twitter. "This is pretty clearly a big deal, but the right people have been working on it. They're not the kind who would blithely ship a 30% across the board (performance) hit."
What we're hearing: Kaminsky told Axios that there could be some scenarios in which the performance impact is that high, but said that it is unlikely to be that severe for typical computing tasks.
Intel declined to comment.
Be smart: The first fixes might not be the last word on this. With a bug this widespread, there is significant incentive to explore multiple ways to solve the security issue and see which method would have the least impact on performance.
https://www.axios.com/newsletters/axios-login-b61379f7-f5f1-470a-a02b-bba5f61865ad.html?chunk=2#story2
How the sensors in your car could alert other drivers to road hazards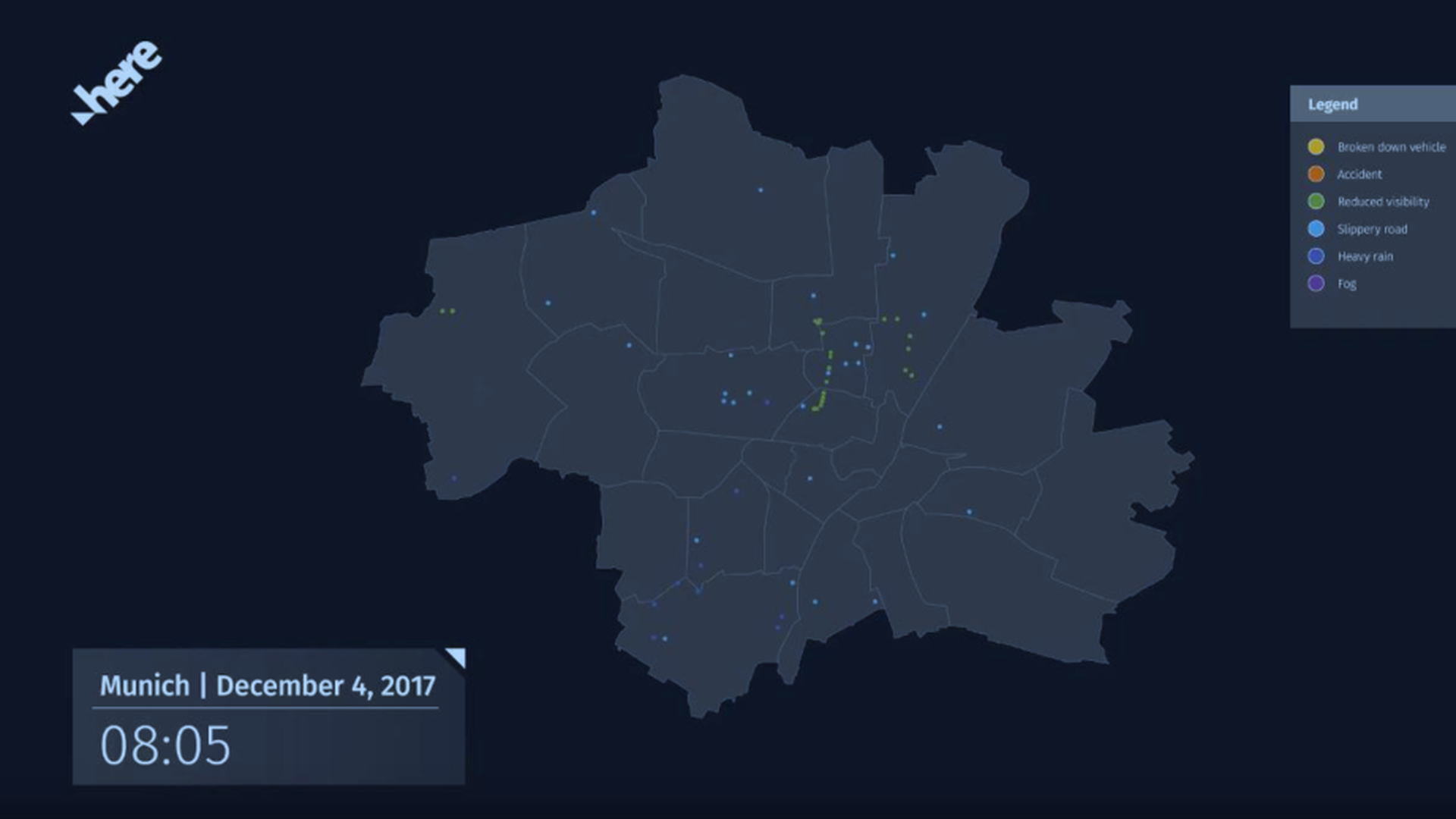 Nokia's former map unit, now owned by a consortium of European automakers, is launching a new effort to aggregate sensor data from millions of cars to help create a real-time map of road conditions.
Why it matters: Understanding not just the map of the road, but what is happening on those roads, is key for autonomous vehicles. It also could help HERE stand out from Google and others in the mapping space.
The details: HERE Technologies says its new service will make use of multiple sensors, including hazard lights, fog lights, cameras, emergency brakes and other components to offer other cars a better sense of what is happening on the road.
BMW will be the first to include the service, which should show up in cars in North America and Europe beginning in mid-2018.
HERE hopes to have tens of millions of cars using the service by the end of 2019.
More: The company has a video showing sensor data it gathered in Munich last month. It uses the sensor information to show road hazards, accidents, stalled vehicles, rain and other incidents.
***
Separately: BlackBerry announced this morning that China's Baidu will be using its QNX platform as the basis for its Apollo autonomous driving open platform. The two companies will also work together in other areas, including in-car mapping and smartphone synchronization.
https://www.axios.com/newsletters/axios-login-b61379f7-f5f1-470a-a02b-bba5f61865ad.html?chunk=3#story3
Tenor taps media companies to turn GIFs into money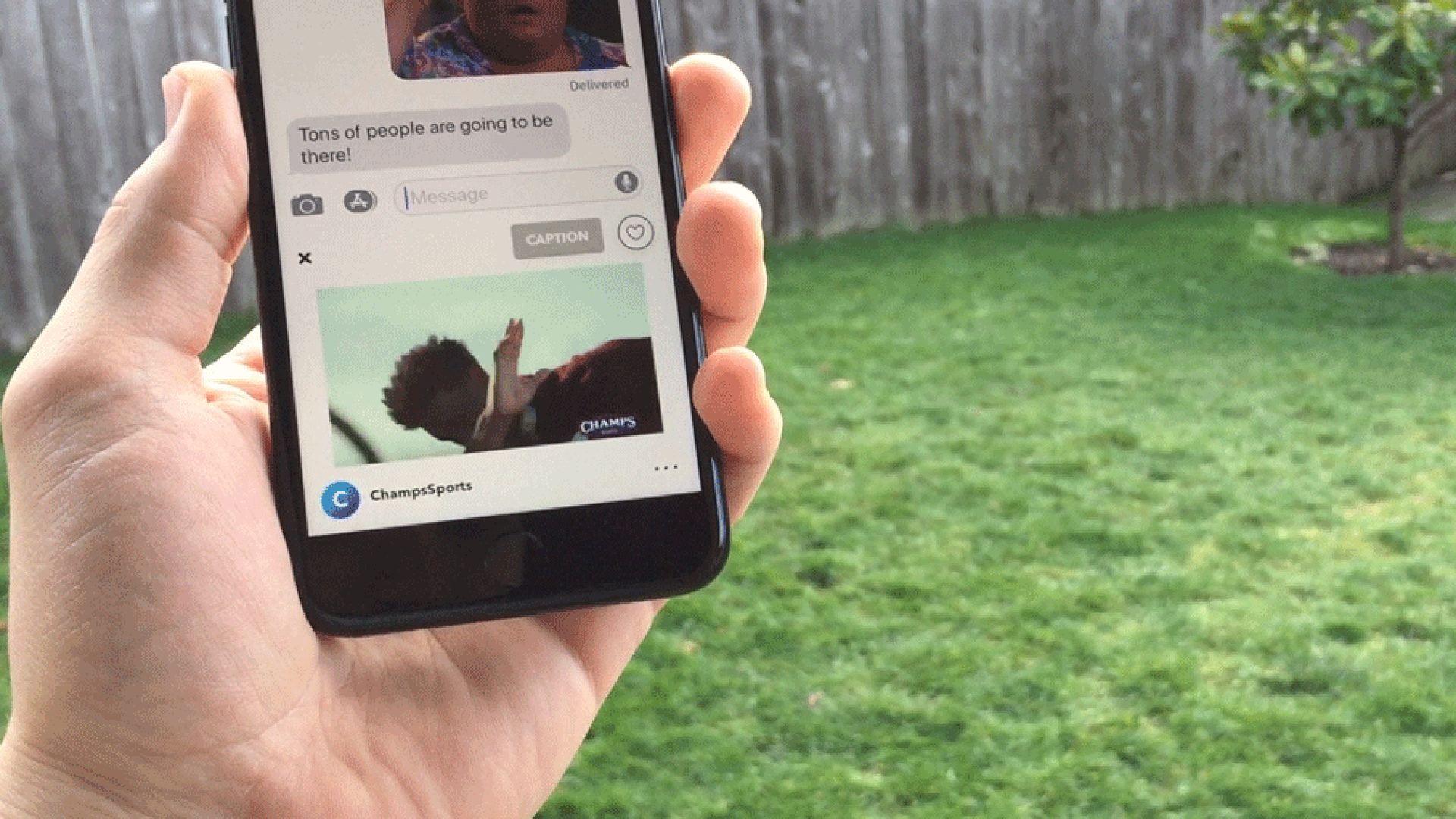 Giphy isn't the only startup trying to build a business out of those lovable, sharable photos known as GIFs.
What's happening: Axios' Kia Kokalitcheva reports that 4-year-old Tenor is expanding the business side of things by allowing select media companies, including PopSugar and Rockyou, to sell GIF sponsorships to their own advertisers and then splitting the revenue with Tenor.
The big picture: That builds on its own efforts to sell campaigns directly to brands, for which it charges between $100,000 and $500,000. Advertisers include AT&T, Wendy's, Nissan, and Domino's.
Tenor says that users made 10 billion searches in November for GIFs via its mobile keyboard and integrations into apps like Facebook Messenger, iMessage, and Twitter, up from 9 billion in September.
The company also says it has 300 million users who search and share GIFs via its apps and integrations, up from 200 million last spring.
Meanwhile, rival Giphy says it has 300 million daily users, who share two billion GIFs per day, the company told Fast Company in October.
Note: It appears the companies define their active users differently, with Giphy counting any user that interacts with its technology to access GIFs.
More: Read Kia's full story here.
https://www.axios.com/newsletters/axios-login-b61379f7-f5f1-470a-a02b-bba5f61865ad.html?chunk=4#story4
How states are crafting their own net neutrality rules
FastCompany reported Tuesday on the ways that states are trying to establish their own net neutrality rules, after the FCC repealed federal protections, Axios' David McCabe writes.
Driving the news:
New York legislators are pushing a bill that would require internet providers that work with the state to comply with net neutrality rules.
A bill in Washington would ban blocking, throttling and allowing paid "fast lanes" on the internet. The federal rules did the same before they were repealed.
Lawmakers in New York and California are also working on additional net neutrality legislation.
Yes, but: The FCC's repeal preempted state action. That could be a challenge to some of these proposals, but critics of the FCC have doubts that preemption is allowed.
What's next: The net neutrality debate isn't going away, it's just changing venues. Expect battles at the state level, in the courts as well as in the halls of Congress.
https://www.axios.com/newsletters/axios-login-b61379f7-f5f1-470a-a02b-bba5f61865ad.html?chunk=5#story5
Take Note
On Tap
The 2018 holiday shopping season kicks off. (Kidding. Mostly.)
Starting this week, Washington State drivers will get tickets instead of warnings when using cellphones while driving, per GeekWire.
Trading Places
ICYMI
https://www.axios.com/newsletters/axios-login-b61379f7-f5f1-470a-a02b-bba5f61865ad.html?chunk=6#story6