Hey there. A big shoutout to Laurel, our newest reader. Hi also to our guests from MIT Solve. And as a reminder to them, if you want to keep getting Login, you just have to sign up here.
https://www.axios.com/newsletters/axios-login-b38eb079-5f62-41fd-bd6c-b65a528b2a94.html?chunk=0#story0
1 big thing: LGBT groups seethe as Apple eyes North Carolina site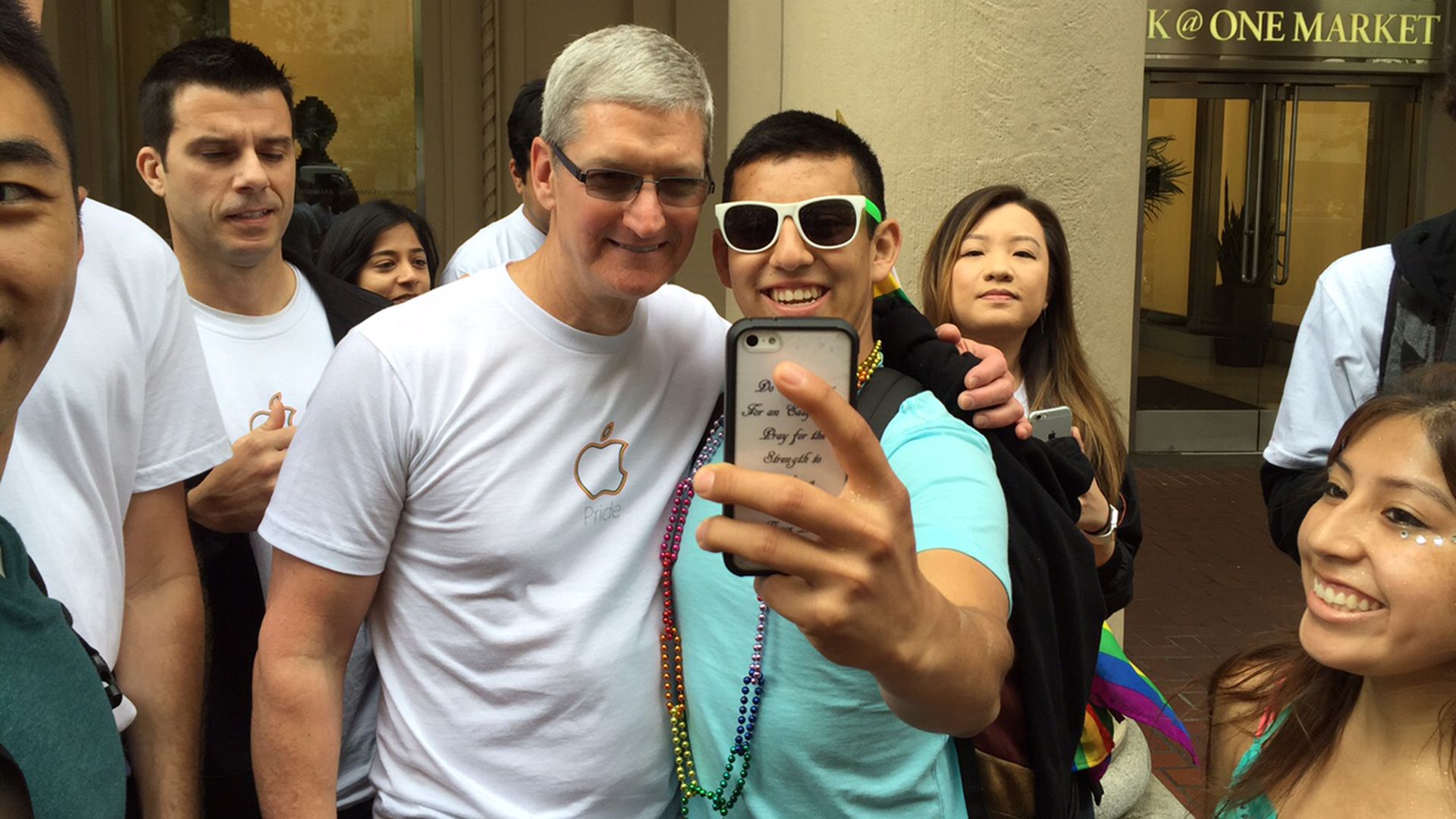 LGBT activists are reacting with anger and dismay at the prospect that Apple might build its new corporate campus in North Carolina. The state is still being boycotted by a number of organizations and state governments for not fully repealing a law limiting the civil rights of LGBT people.
Why it matters: Apple has been one of the strongest corporate allies of the LGBT political movement, and its potential decision is seen as opening the floodgates for others that want to set up shop in states with anti-LGBT laws.
After being elected on the promise to nullify a state law that severely limited the rights of LGBT people, North Carolina Gov. Roy Cooper accepted a compromise that kept in place a ban on cities passing their own protections for LGBT citizens.
"North Carolina is one of the most hostile states in the country to LGBTQ people, with no credible path to progress in the near term ... Under these conditions, it's hard to imagine that any company would decide to take their operations and thousands of employees there."
— an LGBT activist speaking to Axios
Yes, but: Assuming it does choose North Carolina, Apple is likely to make the case that it can do more good as a part of the community than just as a highly vocal outsider. Apple will also likely point to its record of fighting for causes it believes in, including immigration issues and LGBT rights.
Of course, Apple isn't saying anything right now, since it isn't even confirming North Carolina as the likely site.
It's complicated: Officials at national LGBT groups were hesitant to talk publicly about Apple's move, both because they still hope Apple will change its mind and because the company has been a strong partner.
While many groups have been encouraging Amazon and Apple to shy away from North Carolina for their major expansions, some people have made the case that the companies could have a large impact by moving to a state without LGBT protections.
Among those in that camp is American Airlines CEO Doug Parker, whose company has strongly backed LGBT rights.
"I think we're more impactful here than we would be anywhere else," Parker
told The Washington Post
. Speaking about Amazon, he suggested that company might also want to consider going to a place where LGBT rights aren't fully protected. "My personal view is if they care about making a difference, they should go where they can make a difference."
Meanwhile: Those still hoping to get Apple to come to Northern Virginia are trying to make their case, although its unclear whether that region is even under serious consideration.
Virginia state delegate Danica Roem told Axios that Northern Virginia has close proximity to the federal government and two international airports, as well as an educated workforce. And, while the state still has work to do on LGBT issues, it is moving in the right direction.
"We should be rewarding states that are making steps toward progress instead of states where progress has stalled," said Roem —who, in addition to being a passionate voice for bringing business to Virginia, is
the only transgender person in a U.S. state legislature
. "You still have a problematic legislature in North Carolina that is clearly not amenable to any supportive LGBTQ legislation."
https://www.axios.com/newsletters/axios-login-b38eb079-5f62-41fd-bd6c-b65a528b2a94.html?chunk=1#story1
2. Maybe it's time for quotas to close tech's gender gap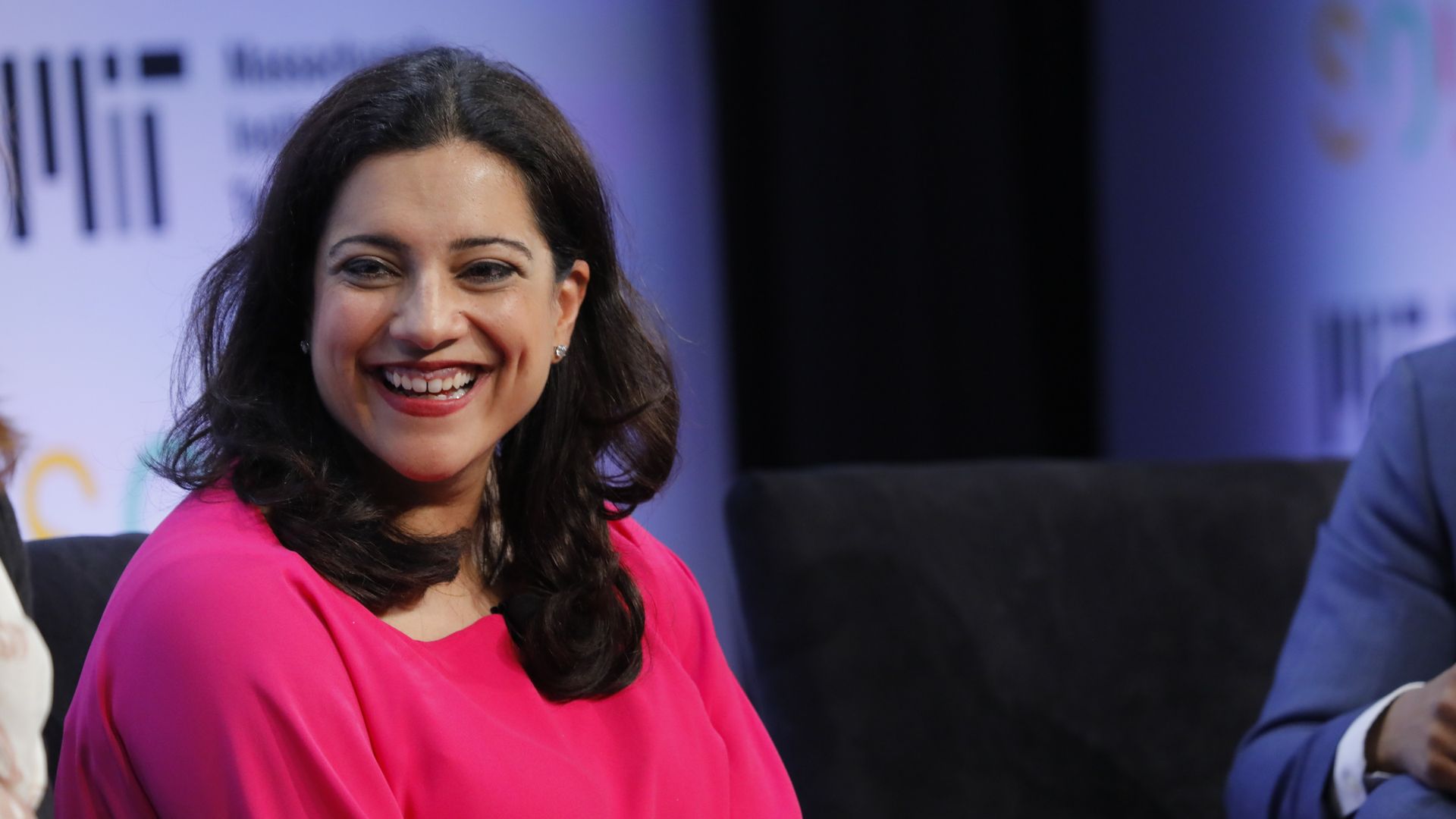 A new set of numbers from Reuters on Thursday suggests that at the current pace it could take more than a decade for many tech companies to reach gender parity. So what's the solution? Girls Who Code CEO Reshma Saujani suggests that companies need to set more concrete goals.
"How are you going to be intentional about recruiting and finding that talent, so these numbers can change not in 100 years but in the next 5?" Saujani said at the sidelines of the MIT Solve conference.
Saujani notes that she still curates each Girls Who Code program as part of an effort to ensure that half of students come from families living below the poverty line.
Time for quotas? The idea has been tried elsewhere. A number of countries, mostly in Europe, have quotas that require a set percentage of corporate board seats to be held by women.
In addition to the lack of women studying computer science, Saujani noted two other big obstacles.
Hiring: "I still have students who do apply for technical internships who don't get offers. I think we need to continue to watch whether that process of hiring is fair and unbiased."
Culture: "We can't take our eyes off culture, but it's really hard to change culture unless you have critical mass. If you are going to hire women, don't split them apart. Keep them together, then you feel you have a sense of community."
Change is coming: If the U.S. tech industry doesn't start addressing its diversity problems on its own, government could start getting involved — particularly in the event that Democrats manage to win a majority in the House in November.
https://www.axios.com/newsletters/axios-login-b38eb079-5f62-41fd-bd6c-b65a528b2a94.html?chunk=2#story2
3. Quantum computing edges toward mainstream
Quantum computing will enter the mainstream faster than most of us realize, a panel of experts told a San Francisco crowd this week — with some important real-world applications emerging within five years.
Why it matters: Quantum computers won't replace the semiconductor-based electronic computers we live with today, but they might speed up the solving of fiendishly difficult problems in fields like molecular imaging, cryptography, probability and artificial intelligence. Once they do that, they will make fortunes, disrupt businesses — and open the door to a host of potential new problems.
"Within 5 years, we're going to see something that makes everyone look up and say, 'Wow, how is this possible?'" said Arvind Krishna, director of research at IBM, at a Tuesday event hosted by the Churchill Club.
How they work: Quantum computers exploit characteristics of subatomic particles — superposition and entanglement — to perform computations using quantum bits or qubits. Conventional bits are binary — they're either 1 or 0, "on" or "off." A qubit can be on, off, or both at the same time.
That enables quantum computers to achieve "a tremendous speedup in the parallel-ness of computation," said Kam Moler, Stanford professor of physics. While Google's 72-qubit computer is the biggest yet, experts say 100-qubit machines are on the horizon.
Today's qubits need temperatures near absolute zero, so they're not coming to your desktop any time soon. But within a few years, quantum computers are likely to render most of today's encryption systems obsolete. Buckle up!
Go deeper with Scott's full story.
https://www.axios.com/newsletters/axios-login-b38eb079-5f62-41fd-bd6c-b65a528b2a94.html?chunk=3#story3
4. Glitch allowed millions to have location tracked
A bug in a service used to track cellphones allowed anyone who signed up for a free demonstration to track any person without consent, ZDNet reports.
That service, LocationSmart, is intended for marketers but was used by another firm, Securus, to provide law enforcement with a controversial phone tracking system.
Why it matters: LocationSmart can be used to track nearly all domestic cell phones in the U.S. and Canada.
The details: The bug was discovered by Robert Xiao, a Carnegie Mellon PhD. student.
LocationSmart offers a demonstration to track the location of a cell phone whose owner documented consent for the trial.
Xiao noticed that the LocationSmart API — an interface between LocationSmart computer code and a users' own computer code — did not properly check that consent was given.
Xiao and a Carnegie Mellon organization called CERT, which specializes in security, notified LocationSmart of the problem.
Our thought bubble: Between this and Securus itself being hacked, it has been a rough 24 hours for creepy phone tracking. 
https://www.axios.com/newsletters/axios-login-b38eb079-5f62-41fd-bd6c-b65a528b2a94.html?chunk=4#story4
5. Google X "Selfish" video explores data-driven life
The Selfish Ledger is a two-year-old video about a future in which the record of our phone use creates a "ledger" of personal identity that shapes our lives like a genetic code.
You might find it Black Mirror-ish and dystopian. Or stimulating. Or pretentious. The 9-minute work is the brainchild of Nick Foster, a design guru from X, the Alphabet/Google "moonshot factory" tech incubator. The Verge got hold of it, and for now, at least, it's on YouTube.
X spokespeople were quick to characterize The Selfish Ledger as a work of science fiction rather than product prototype.
"This is a thought-experiment by the design team from years ago that uses a technique known as 'speculative design' to explore uncomfortable ideas and concepts in order to provoke discussion and debate. It's not related to any current or future products."
Why it matters: While some are criticizing the company for ever having created such a video, a case can be made that the technology to do this exists and we should be confronting that possiblity and deciding how we want to deal with it.
https://www.axios.com/newsletters/axios-login-b38eb079-5f62-41fd-bd6c-b65a528b2a94.html?chunk=5#story5
Take Note
On Tap
MIT's Solve conference wraps up. I'm interviewing a host of folks this morning, including Segway inventor Dean Kamen, emotional AI pioneer Rana el Kaliouby and Tognan Olympic athlete Pita Taufatofua. You can follow along here.
Trading Places
Uber chief product officer Jeff Holden has stepped down.
ICYMI
https://www.axios.com/newsletters/axios-login-b38eb079-5f62-41fd-bd6c-b65a528b2a94.html?chunk=6#story6
After you Login
A-choo! The adorable sneezer in the school play is the 7-year-old daughter of Bloomberg editor Nick Turner.