Axios Login
June 10, 2020
Axios will be hosting a live virtual event on how CEOs are taking action in this time of crisis and preparing for an uncertain future. Join Axios media reporter Sara Fischer tomorrow at 12:30pm ET for a discussion featuring Accenture CEO Julie Sweet and CVS Health president and CEO Larry J. Merlo.
Today's Login, is 1,471 words, a 6-minute read.
1 big thing: Apple's challenges as it swaps out the Mac's brain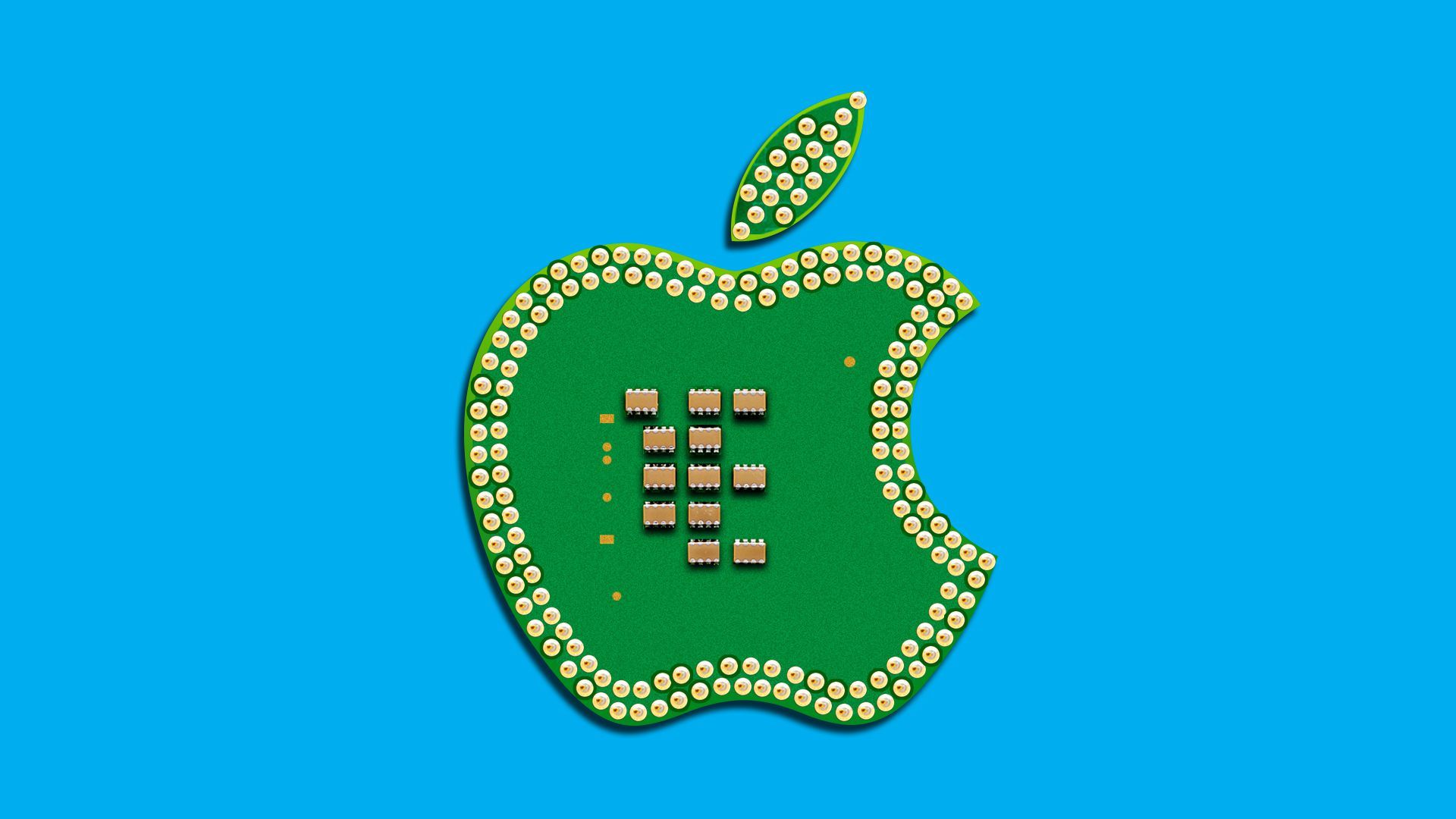 Apple is on the verge of transitioning the Mac from Intel processors to homegrown chips — a move that, even if it pays off in the long term, could mean hassles and tough choices over the next few years for developers and consumers.
The big picture: The move is a blow to Intel, long the U.S. microprocessor leader. Whether it is a win for Apple depends on the eventual cost savings and performance gains, as well as how smoothly Apple is able to handle its transition without losing customers and app developers.
Driving the news: Bloomberg reported Tuesday that Apple may announce its plans for the shift at its Worldwide Developer Conference, scheduled to take place online this month.
The move is not a surprise. Bloomberg has been reporting it for a while, as has Axios. What's new is that the change seems imminent.
Why it matters: The shift creates dilemmas both for customers deciding what to buy and when, and for software developers allocating scarce programming resources.
Consumers and businesses looking to buy a Mac computer in the next year or so will have to decide between two not-so-great options:
Buy one of the last of the old computers, and accept that there will be new software in a couple of years that doesn't work on your machine...
Or hang on to the old computer and buy one of the first new machines, even though it may not yet fully support much or all the software you need.
Developers face a dilemma of their own: when to put resources behind optimizing key programs for the new chips. Even after Apple officially announces the move and provides the tools, developers know that the base of potential users for the new software will start from zero.
Between the lines: Apple has a pretty good track record here, having managed past chip transitions — as well as the shift from classic Mac OS to OS X — fairly successfully. There were bumps, to be sure, and some applications took years to be converted, but in the end, everyone made it across, and the platform was stronger for it.
There will likely be some sort of compatibility layer allowing existing apps designed for Intel chips to run on the new Apple-made chips — as well as tools to help developers convert their programs without starting from scratch.
That said, such approaches have a mixed track record and can slow performance.
Yes, but: This transition differs from Apple's previous ones in a couple of ways.
The Mac isn't the center of Apple's business any more. Most of Apple's revenue comes from iPhones and other non-Mac product lines, including iPads, peripherals and services.
And, speaking of iPhones and iPads, Apple isn't moving to a brand-new architecture, but rather to ARM-based chips similar to those that power Apple's iOS devices. That means some work can be ported from existing iOS apps.
The bottom line: Apple's motivations for the move likely include an opportunity to cut costs, an effort to boost performance, and a desire to control its own destiny. But even if the company gets all those wishes — and manages the transition well — the whole Mac community is probably headed for some short-term pain.
2. Exclusive: Group targets Facebook, Google's ad model
Facebook and Google should be broken up and stripped of their liability shield if they continue to sell advertising, argues progressive think tank the American Economic Liberties Project in a policy brief out Wednesday, Axios' Margaret Harding McGill reports.
The big picture: The report ties together three major threads of the techlash: the idea that tech giants are too big; the concern that they harvest too much private data; and the threat to rein them in by taking away their broad legal immunity.

Details: The brief blames Facebook's and Google's ad-driven business model for the recent spread of conspiracy theories and violent rhetoric on their platforms.
Facebook and Google "turn our society into a click-bait driven culture, because they make money selling ads against click-bait," the paper says.
The paper says regulators should break up the companies and legislators should take away the protections of Section 230 of the Communications Decency Act from companies that profit from advertising.
Section 230, which is also under fire from the Trump administration, protects platforms from liability over content posted by their users.
Of note: While the brief suggests modifying Section 230 to address platforms selling any form of advertising, it also offers an intermediate step meant to force an end to targeted ads. 
"Modification would likely force Facebook and Google to change their business model," the paper says. "They would no longer profit from intrusive tracking of users, because they simply wouldn't be able to sell advertising targeted to any specific person."
Yes, but: Although federal and state regulators are exploring antitrust cases against both companies, actually breaking them up is an arduous prospect that would take years to resolve in court. Meanwhile, Republicans and Democrats alike have threatened to revisit Section 230, but it's unlikely they'll see eye to eye on how to actually change it.
The other side: Facebook and Google have argued they face plenty of competition in their markets, and that Section 230 protections are vital for the online ecosystem.
3. A trickle of Facebook advertisers depart in protest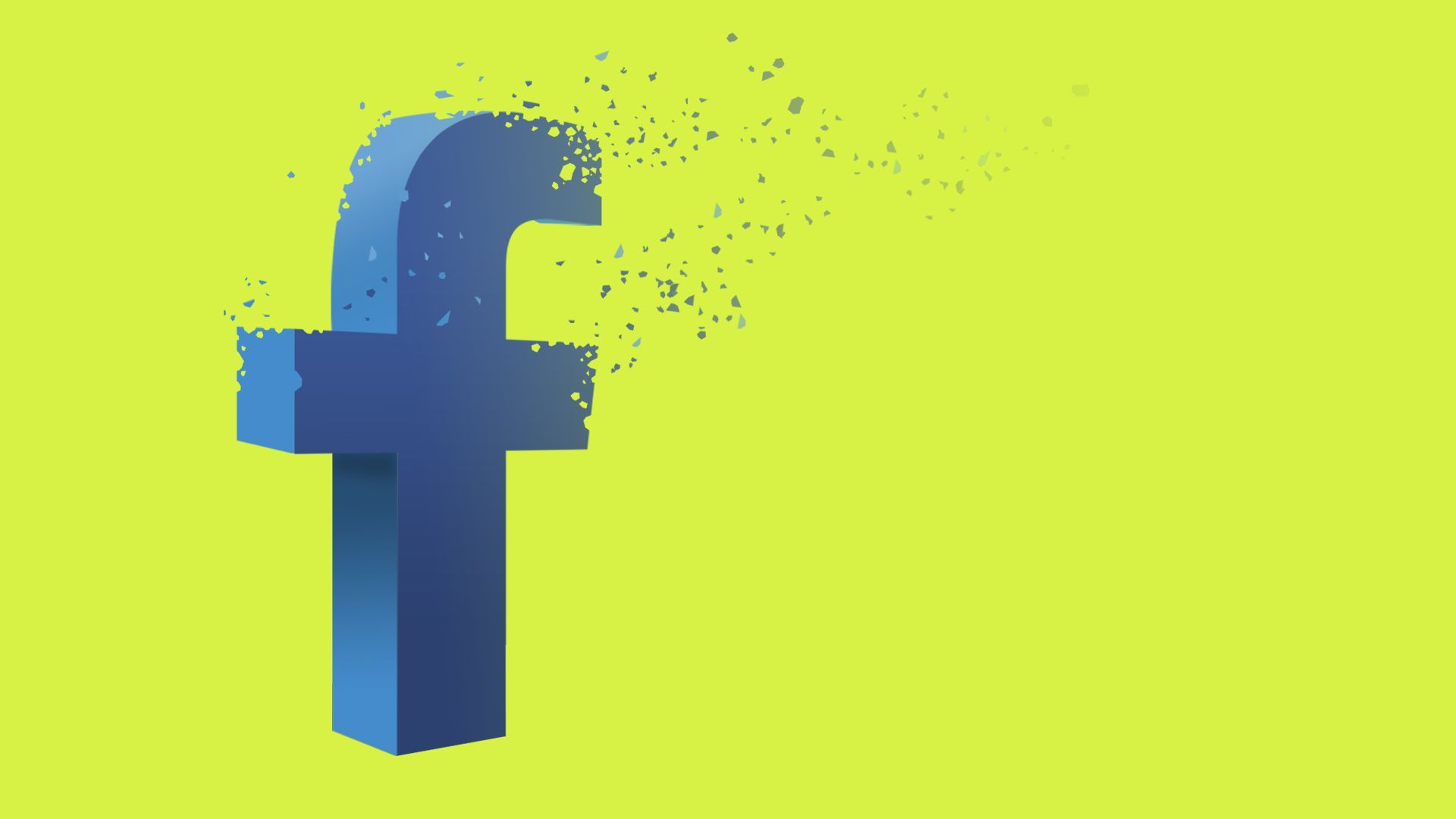 Some smaller advertisers and advocacy groups are turning their backs on Facebook following its decision not to take action against posts, particularly President Trump's, seen as glorifying or inciting violence.
Why it matters: The most important gauge of any controversy's impact on Facebook is whether customers or advertisers leave its platform in significant numbers. It's far too soon to say that's happening here, but it's something to keep an eye on — and you can bet Facebook is doing so.
Details: A New York Times article on Tuesday quoted a number of smaller advertisers who are rethinking their Facebook advertising — although Facebook has millions of such advertisers.
Facebook has garnered criticism, including a sharp rebuke from civil rights leaders, but there's little evidence yet that advertisers are considering yanking their budgets en masse.
For it's part, Facebook says it has more advertisers than ever. "We saw a small amount of advertisers pause around Blackout Tuesday, and it's largely recovered now," Facebook's Carolyn Everson said in a statement.
Meanwhile: New America's Open Technology Institute said Tuesday that it would not accept new funding from Facebook given the company's recent handling of Trump's messages, as well as its handling of comments from people of color. Another left-leaning nonprofit, Public Knowledge, quickly followed with a similar statement.
"Facebook has a clear responsibility to reckon with its role in these systems or risk continuing to facilitate oppression that imperils Black lives," said OTI director Sarah Morris.
Public Knowledge CEO Chris Lewis said platforms like Facebook "shouldn't hide behind the First Amendment as an excuse to allow hate, misinformation, and abuse to run rampant on their services."
By the numbers: OTI received $130,000 in funding in 2019 from Facebook and $120,000 in 2018. Some other programs of New America also received money from Facebook and the Chan Zuckerberg Initiative, but this decision is limited to OTI, according to a representative.
Public Knowledge lists Facebook among the companies that have contributed more than $25,000 in recent funding, but did not give a specific amount, other than to note it does not accept any company contributing more than 10% of its annual budget.
4. Senator asks FTC to probe TikTok rival Zynn
Zynn, a rising TikTok-like service that pays its users, is drawing the attention of China hawk and Big Tech antagonist Sen. Josh Hawley (R-Mo.), who wants the Federal Trade Commission to look into it, Margaret reports.
Meanwhile, Wired reported Tuesday that the service is full of videos reposted without permission from TikTok influencers, and that Google has pulled the app from its Play Store.
Why it matters: Zynn, which pays users both when they watch content and when they refer others to install its video-sharing app, quickly topped the Apple App Store's free app chart just weeks after debuting in May.
What's happening: In a letter Wednesday, Hawley pressed the FTC to investigate Zynn's business practices and its ties to China.
Zynn is backed by Beijing-based Kuaishou, a video-sharing company that competes with the Chinese version of TikTok, The Information reports.
Details: Hawley said Zynn's approach to paying users to convince others to install the app "smacks of a textbook predatory-pricing scheme, one calculated to attain immediate market dominance for Zynn by driving competitors out of the market."
Hawley also warned about Kuaishou's practices in China, where the company has appeared to, by turns, censor and promote content at the Beijing government's behest, according to press reports.
He also questioned whether Zynn is complying with U.S. children's online privacy laws.
5. Take Note
On Tap
The video game trade show E3 would have been this week. And, while it was canceled, so many people posted their musings on the event that wasn't that an E32020 hashtag started trending Tuesday on Twitter.
ICYMI
6. After you Login
This dog is all of us trying to entertain ourselves during quarantine.