Axios Login
June 15, 2022
I'm still feeling inspired by all the speakers at yesterday's Embrace Ambition conference: Dolores Huerta, Billie Jean King and so, so many others.
The full thing is on YouTube, including a panel I moderated with scientists Anousheh Ansari, Nabiha Saklayen and Kate Marvel.
Today's newsletter is 1,210 words, a 5-minute read.
1 big thing: Microsoft's truce may reshape tech's long war with labor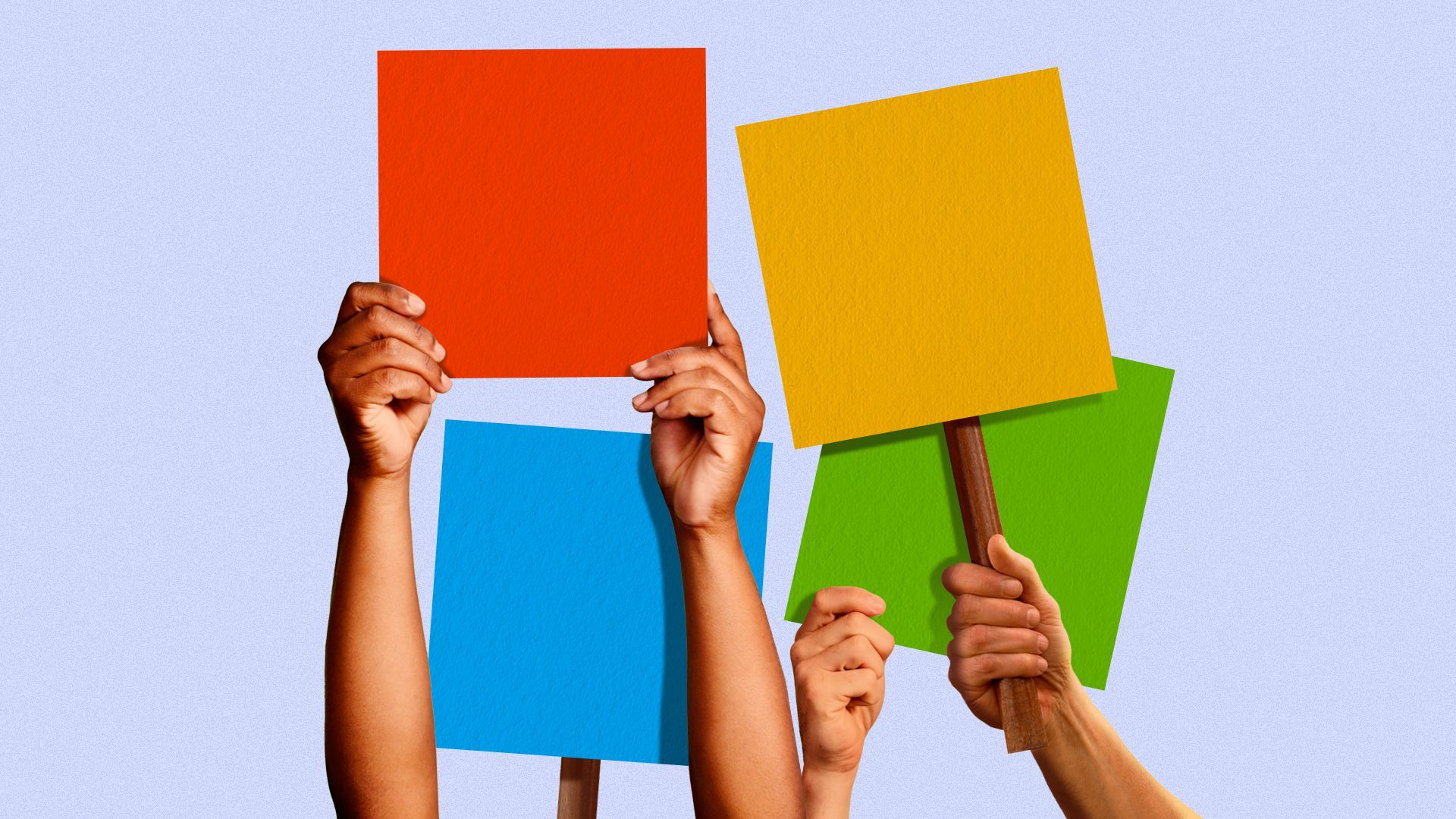 With the seemingly modest step of agreeing not to oppose workers' efforts to unionize, Microsoft has upended long-held assumptions about Big Tech's hostility to organized labor.
Why it matters: Microsoft's move suggests some tech leaders are beginning to accept the inevitability that at least some parts of their maturing industry will end up unionized.
Conventional wisdom has held that union efforts would remain at the periphery of the tech industry, centered primarily on companies that had large retail, delivery or warehouse operations.
Driving the news: In a series of pledges and commitments in recent days, Microsoft said it won't stand in the way of workers who want to unionize and signed an agreement not to interfere with any efforts by Activision Blizzard workers.
The video game industry, known for especially rough working conditions, has been a focal point of unionization efforts in recent months.
A group of QA workers at Activision's Raven Software studio voted to form a union in May, which would be the first union in the U.S. at a big game publisher. That followed years of increasing calls for unionization within the games industry.
Be smart: Microsoft is largely reiterating its support for rights that workers are already entitled to. However, in a world where companies like Amazon and Apple have actively worked to dissuade workers from organizing, Microsoft's move seems downright radical.
Between the lines: Silicon Valley and the broader tech industry have long argued that unions make it harder for startups and big firms alike to stay nimble and profitable in a market that's always changing fast.
Tech workers, particularly those who are well paid and rewarded with stock options that sometimes turn into fortunes, haven't often welcomed organizing efforts.
Some parts of the industry embrace a libertarian philosophy that believes unions infringe individual rights.
Zoom out: While Microsoft has signaled its openness to organized labor efforts, several large tech companies have continued to resist efforts by workers to form unions.
The big picture: A potential warming in tech's stance towards labor would come at a moment when the economy is sputtering and significant numbers of tech workers are being laid off.
To be sure, those workers are more likely to be employed at smaller startups than giants like Microsoft.
But anything that makes workers feel less valued could make union arguments more persuasive.
What's next: Microsoft president Brad Smith has twice in recent weeks told me that Microsoft is simply doing what it sees fit for its own relationship with workers and not trying to push others. However, labor leaders see Microsoft's move as a potential model for others.
"I won't say that it was completely easy for Microsoft to do this, but they did it," Christopher Shelton, president of Communications Workers of America, the union organizing at Activision, told Axios. "We believe lots of big companies should be doing the same thing."
Yes, but: He said it's still way too soon to know whether Microsoft's move will open more doors for labor.
"We'll see," he said. "Maybe someone will look at this and come to their senses."
2. Exclusive: Network startup eyes Ukraine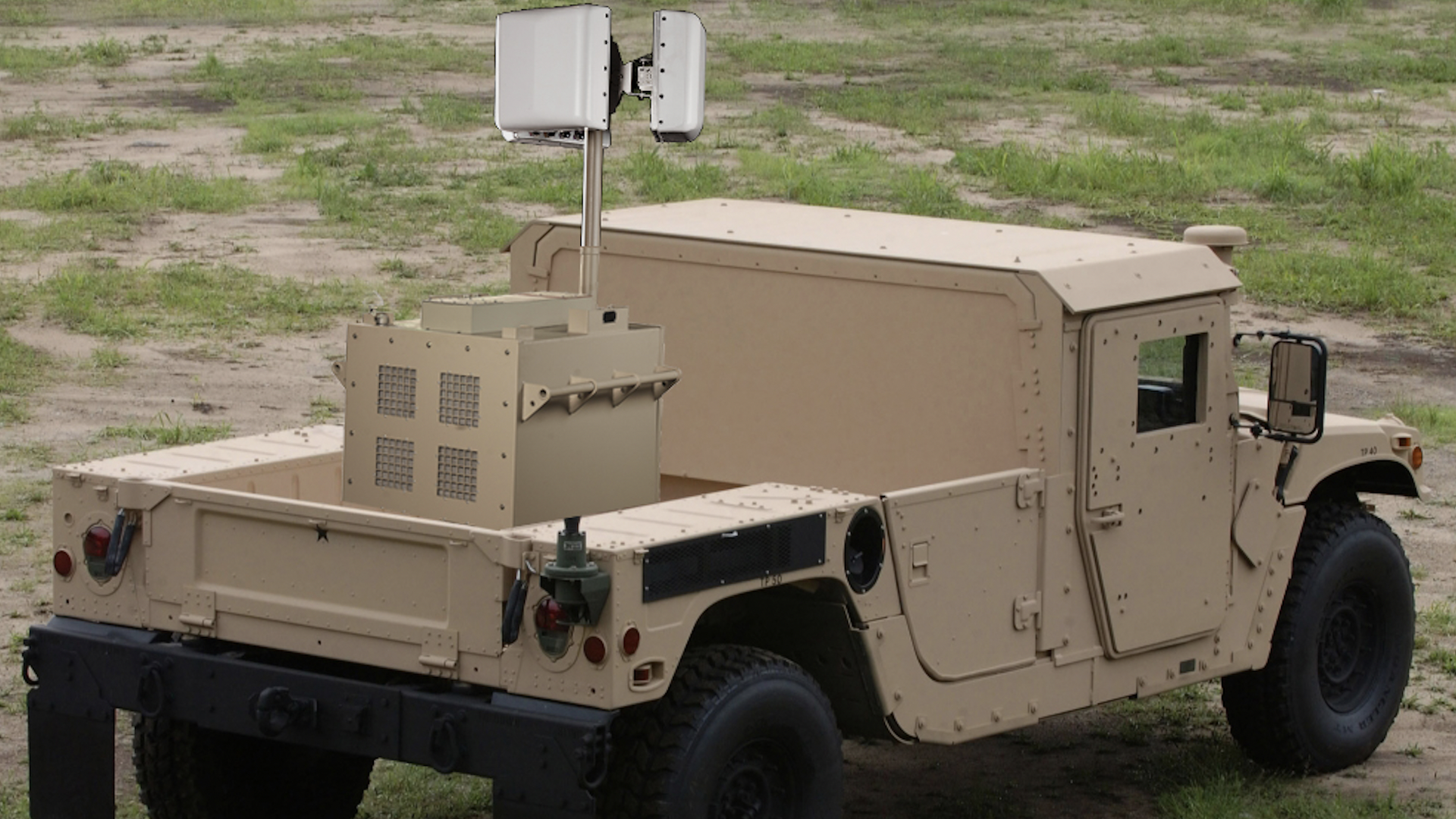 A retired general and former White House official is seeking U.S. approval for his startup to provide its secure communications technology to the Ukrainian military.
The latest: SEMPRE (Secure EMP Resistant Edge), a tech startup run by retired U.S. Air Force Brig. Gen. Robert Spalding, wants to offer its technology to allow Ukrainian soldiers to communicate securely without having to rely on traditional communications networks.
The company has received a request from the Ukrainian military and is seeking Commerce Department approval, required for it to export the technology.
Catch-up quick: SEMPRE landed $20 million in funding last year to develop its secure tower technology, which can be used either in conjunction with satellite and 5G networks or as a series of independent wireless nodes to allow secure communication.
In 2018, Spalding wrote a controversial PowerPoint deck on how the U.S. government could play a greater role in building 5G networks.
With SEMPRE, Spalding is hoping to commercialize some of the ideas he put forth while in government.
The company recently acquired NewSpace Networks, which specializes in ground-based operations for satellite communications.
The big picture: SEMPRE sees a wide range of commercial and government uses for its approach and hopes to begin broader testing of the technology next year.
The 35-person startup creates software to run micro datacenters and, on the hardware side, it builds base stations which use standard networking gear and servers, but have been hardened against an electromagnetic pulse attack.
Yes, but: The company is not looking to replace existing networks, but rather to offer a secure option for first responders and others who value security and resilience.
3. 5 giants own half the global ad market
Five of the world's largest tech companies owned more than half (53%) of all global ad revenues last year, up from 46% last year, Axios' Sara Fischer reports.
Between the lines: Macroeconomic factors like inflation and rising wages are making it harder for new entrants to disrupt the ad market, analysts explain in the latest midyear ad forecast from GroupM.
The world's top 25 ad providers now account for 74% of global advertising spend, up from 68% last year and just 43% in 2016.
While Chinese companies continue to grow their portion of the ad market, they are mostly focused on capturing domestic dollars, with TikTok being the notable exception.
The big picture: 10 years ago, it was mostly U.S. media companies that held a big share of ad revenue: Google, Viacom and CBS, News Corp and Fox, Comcast and Disney.
At the time, they only took up 20% of the global ad market, per the report.
While digital has made the ad market more accessible to a wider array of companies than ever, it's also grown the pie significantly in favor of very large firms.
What's next: The global ad market is expected to grow by 8.4% this year (excluding U.S. political advertising), a slightly lower forecast than what experts initially predicted for 2022.
4. Take note
Trading Places
Time management platform Clockwise has hired tech veteran Vicky Thomas as its new vice president of product.
ICYMI
Dish Network says its 5G service is now live in 120 cities. The announcement came on the day the FCC set as a deadline for the company to launch 5G service covering a set portion of the U.S., as part of the negotiations surrounding T-Mobile's acquisition of Sprint. (CNET)
Microsoft said that it will disable the Internet Explorer desktop app on June 15, almost 27 years after its 1995 launch, and redirect users to the Edge browser. (The Guardian)
5. After you Login
A Shakespearean dating game published in a peer-reviewed journal takes to heart the Bard's line that "The course of true love never did run smooth."