Axios Login
August 24, 2020
Today's newsletter comes from the sadly smokey Bay Area, which is surrounded by the devastating wildfires that have engulfed the state.
Today's Login is 1,493 words, a 6-minute read.
1 big thing: Apple critics smell blood in the water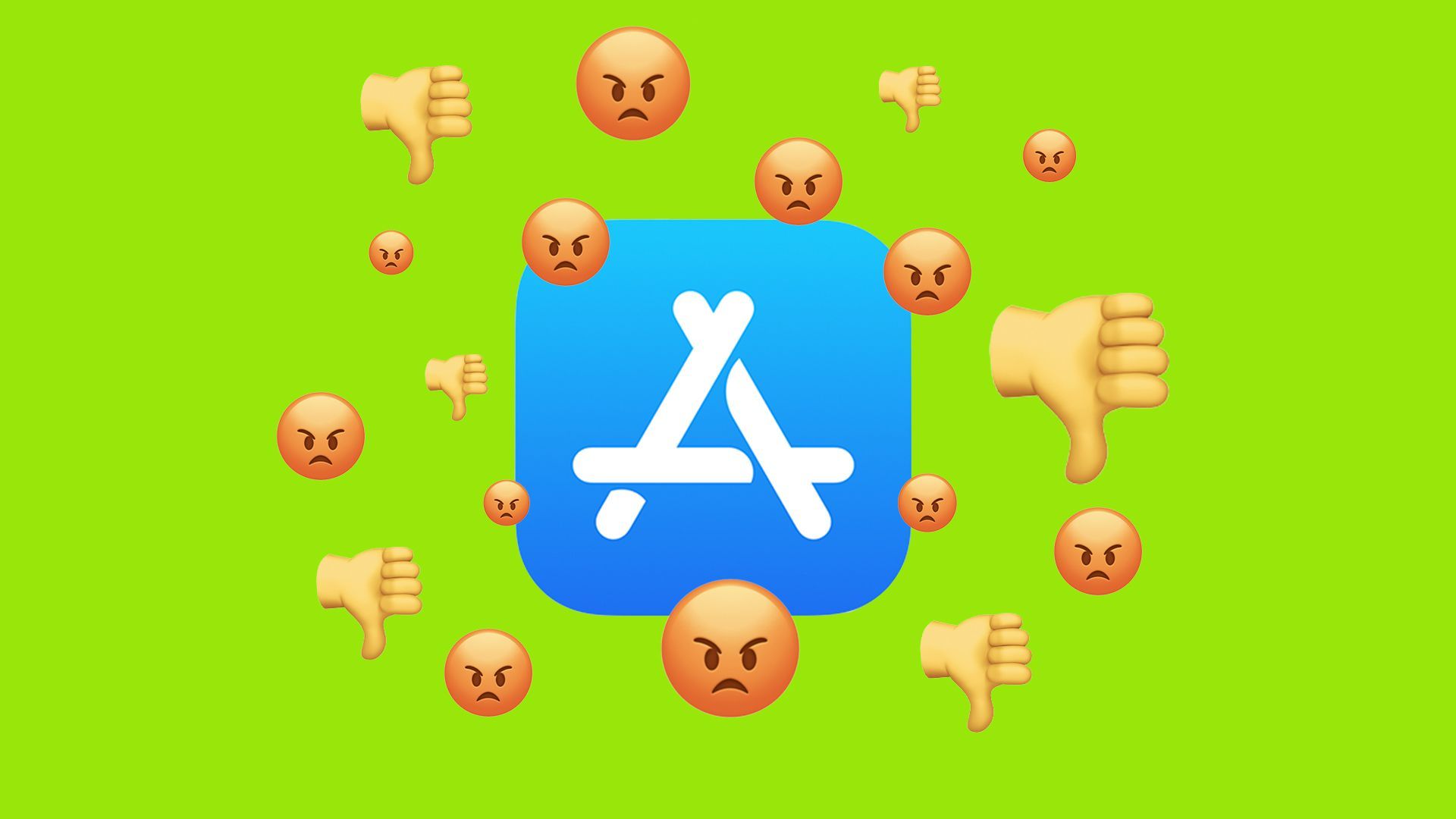 A steady drip of criticism over Apple's App Store policies has become a torrent, as even other tech giants feel emboldened to pile on — but Apple's path to satisfying its critics is uncertain.
Why it matters: Apple's policies aren't that different from those governing other digital marketplaces, but its size and inflexibility could fuel regulatory action from antitrust authorities in the U.S. and beyond.
The big picture: The criticisms of the App Store are many and varied, but most revolve around the 30% cut that Apple takes on sales of apps and other digital goods, with very limited workarounds.
Driving the news:
Microsoft Sunday became the latest company to take aim at Apple, warning in a court filing that a move to restrict Epic Games' access to developer tools could impact lots of games from other developers that rely on Epic's Unreal game engine.
Others recently raising alarm over the way Apple runs the App Store include:
Epic itself, locked in a battle over the 30% commission, which wants a court to restore Fortnite to the App Store and stop Apple from cutting off its developer access. (Apple defended itself Friday, likening Epic to a shoplifter and insisting Epic's issues were a crisis of its own making.)
Automattic, blocked from updating its WordPress app for not letting users buy .com domains through Apple's in-app purchase system, despite not letting users buy such domains directly in the WordPress app at all. (Apple clarified its position and apologized for any confusion over the weekend.)
Plus, a group of news publishers asking for better App Store terms; Facebook, which suggests Apple's terms will hurt small businesses; and Airbnb, which reportedly talked with House antitrust enforcers after Apple asked for a commission on Airbnb's recently launched online experiences.
Between the lines: Most Apple critics want to be freer to use alternatives to Apple's payment systems, while some want to see Apple lower its cut or not apply it to particular classes of goods and services.
Apple has drawn a bright line, saying it is entitled to a cut of all digital goods and services — a fee that doesn't apply to the sale of physical goods and in-person experiences it facilitates.
That position harms competition, several companies have long argued, even before the recent spiraling of grievances.
Spotify, for instance, says Apple gives itself a competitive edge by keeping all Apple Music subscription revenue while eating into that generated by other streaming services. EU antitrust regulators are now probing the App Store, in part due to Spotify's complaints.
Match Group says Apple puts paid services at a disadvantage against ad-funded rivals that don't have to give Apple a cut of their revenue.
Yes, but: Apple's rules are slightly stricter, but not all that different from those on other digital marketplaces, including those run by Amazon, Google and Microsoft.
Our thought bubble: While it's easy to see how Apple's digital versus physical goods distinction can feel unfair or arbitrary, it's hard to see where to draw a different line.
Apple could face pressure to offer developers more alternatives. Notably, Epic also baited Google into pulling Fortnite from the Play Store and then suing, but Epic is still able to distribute Fortnite directly to Android users.
Apple insists that offering such alternatives would make it harder to keep customers safe from malware and privacy invasions.
The bottom line: Expect these arguments to come from more companies in more settings, with courts and regulators likely having to decide if there's an antitrust problem at play.
2. The battle over TikTok heads to court
The Trump administration's move to ban TikTok will now be challenged in court, in what's likely to be an explosive and closely watched court battle.
Why it matters: The Trump administration has given ByteDance, TikTok's Chinese parent company, a deadline to divest its U.S. operations or else see its massively popular social video app banned.
Driving the news:
TikTok confirmed Saturday that it plans to sue directly over the impending ban. TikTok's suit is expected to come later today, sources told Axios.
TikTok has said there was no due process in Trump's abrupt move to ban the app.
Between the lines: The Wall Street Journal reported Sunday that the government action against TikTok was preceded by an aggressive behind-the-scenes lobbying push by Facebook and its CEO, Mark Zuckerberg.
Meanwhile: A group representing WeChat users, per the Wall Street Journal, has sued over Trump's planned ban of the messaging platform, also used for a raft of other functions by people in China and those who do business in the country.
The Trump administration is privately telling U.S. companies they can keep doing business with WeChat in China even if it's banned in the U.S., Bloomberg reported Friday.
Without that allowance, products like Apple's iPhone could become far less appealing in China, where WeChat is central to most people's digital lives. It could even dent sales outside of China considering all the people who rely on WeChat to communicate with loved ones in China or to do business there.
3. Twitter and Facebook's Trump divide abides
Twitter on Sunday flagged election-related misinformation from President Trump as violating platform rules, while Facebook took a softer approach.
Why it matters: It's the latest example of the stark contrast in how the two sites handle controversial posts from the sitting U.S. president. The pressure on both companies is likely to only intensify as the presidential election draws closer.
Details: On Sunday, President Trump tweeted that ballot drop boxes are a "voter security disaster," claiming without evidence that they would pose a COVID-19 risk and "make it possible for a person to vote multiple times."
Twitter obscured the tweet from direct view, only letting users see it after they click through a warning message that the tweet "violated the Twitter Rules about civic and election integrity" but that it may be in the public interest for it to stay online.
Facebook merely pointed people to its voting information center. The company started doing the same last month for all posts, true or false, from federally elected officials that mention voting in any way.
The big picture: Twitter has now taken similar action against a number of other Trump tweets, while Facebook has been much more lenient.
What they're saying: Kristen Clarke, executive director of the Lawyers' Committee for Civil Rights Under Law, praised Twitter CEO Jack Dorsey for the company's action. "Drop boxes are a SAFE and SECURE method for voters to return their ballots in states where available," Clarke said in a tweet.
Between the lines: Criticism from both sides of the political aisle means that social networks are going to take heat no matter what they decide.
Critics on the right argue that any labeling of Trump's posts indicates political bias. Those on the left say that by not banning or more aggressively labeling falsehoods, social networks are becoming weapons of misinformation.
4. What we're playing: Lego Super Mario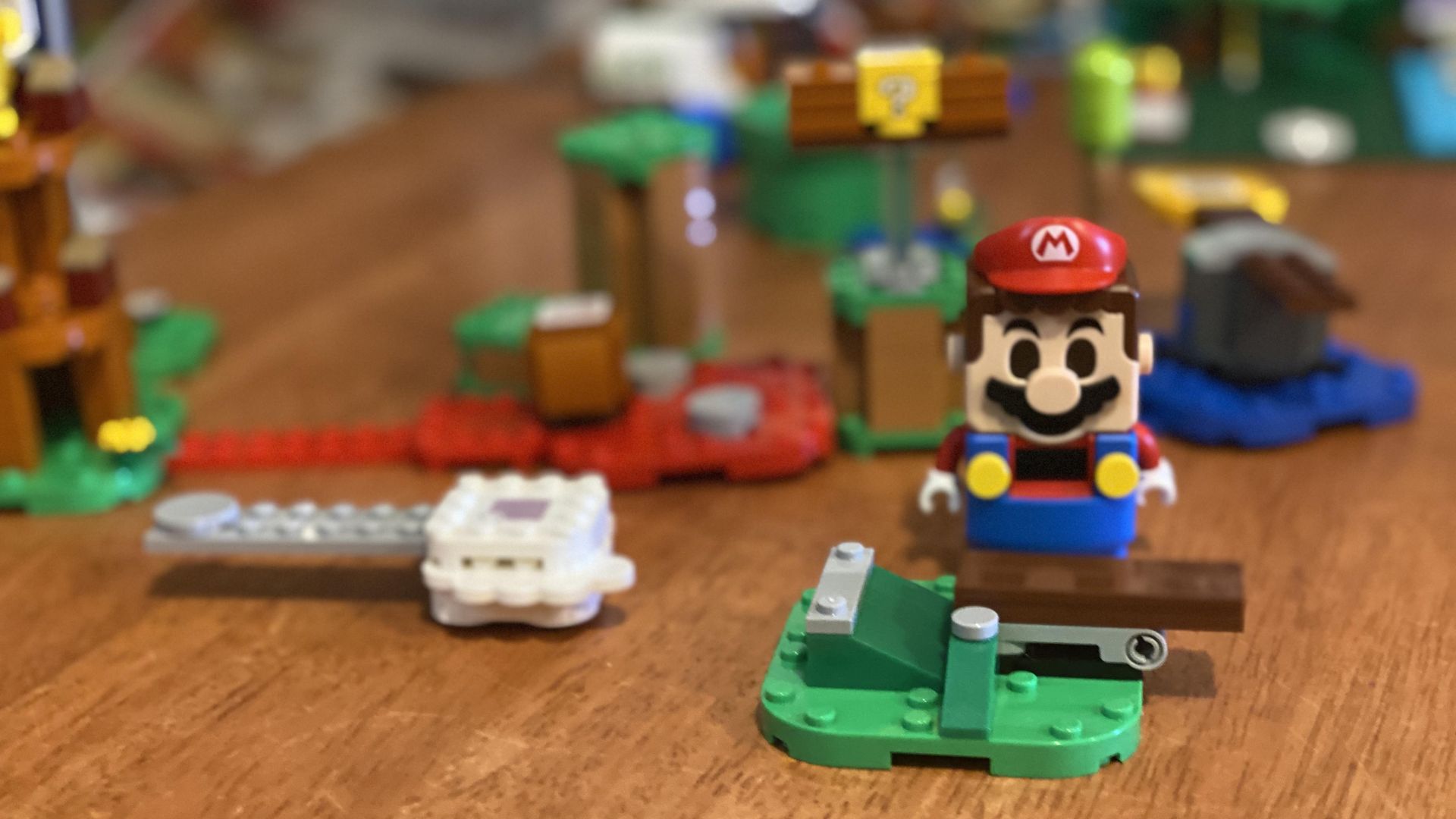 Toymakers have been trying for years to blend the physical and digital worlds, with far more flops than successes, but Lego has finally hit a combo that clicks with its new Super Mario offering.
Between the lines: Lego has made a lot of stabs at this, including its recent Hidden Side augmented reality sets that can come to life when viewed through a smartphone. Until now, the technology has often felt more like a distraction than an addition.
My 7-year-old and I tried out Lego Super Mario during the at-home "Camp Brick" I ran a couple of weeks ago when I was on vacation. It was the finale — and biggest hit — of the week.
How it works: Lego Super Mario, much like the classic video game, has players move Mario around, stomping on villains, banging bricks and collecting coins.
The Bluetooth-enhanced Mario figure scans barcodes in the set's bricks, syncing with a smartphone app to record player progress and achievements.
The $60 starter set, which includes Mario, is, as the name suggests, the starting point. Expansion packs bring in other characters and settings from the Mario universe, while power-up packs give Mario extra abilities and character packs bring in more friends and foes.
Who it's good for: Fans of Mario and Lego.
It's not significantly more expensive than other Lego sets or a single Nintendo Switch game and offers the best of both worlds. The set is easy to put together and the straightforward gameplay lets you really feel like you're inside Mario's world.
Yes, but: The costs can quickly add up through the expansion sets. Mario can also integrate with the new Lego Nintendo Entertainment System, which replicates the 1980s game console, its controller and an old-school TV (at a $230 price tag).
Who it's not good for: Kids who tire of toys quickly.
It's really a single-purpose toy. The expansion packs add new adventures, but the whole thing could eventually run its course.
5. Take Note
On Tap
TikTok is expected to sue the U.S. government over its pending ban, per sources. (See above.)
Trading Places
ICYMI
6. After you Login
Someone hacked the Lego Nintendo set we mentioned above into a working NES using HDMI and a Nintendo Classic console. I already wanted to get the set, but now I want it even more!